Horse Camp 2018 at Asbury University Equine Center
Wilmore, KY
Presenting… our 19th season of popular summer horse camps!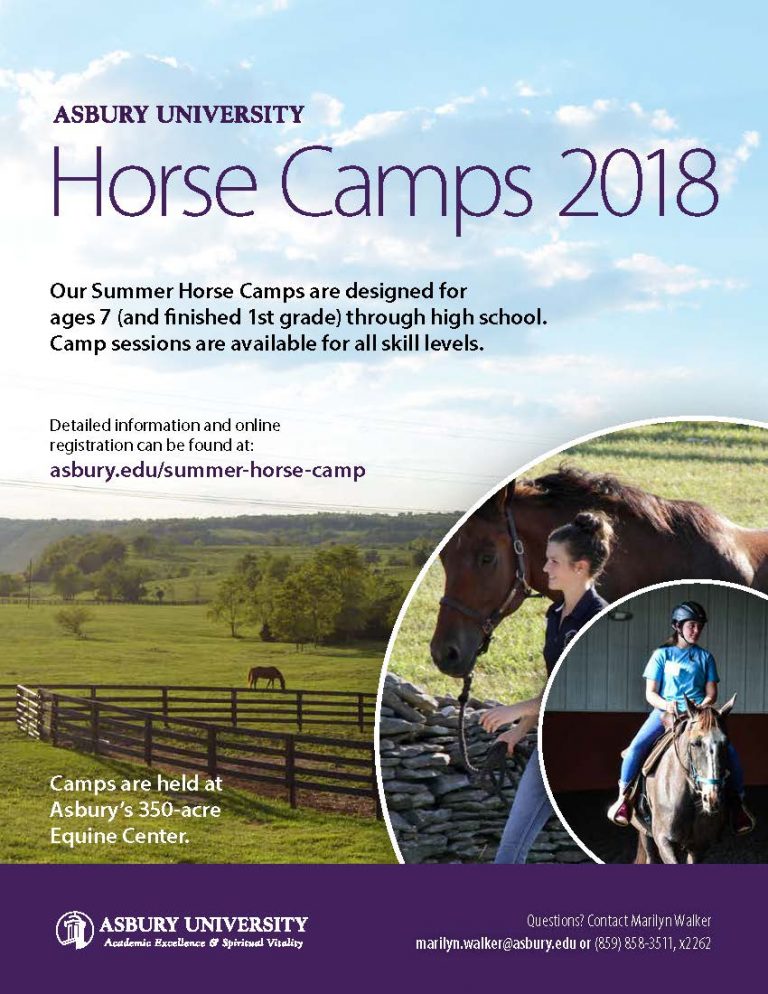 Weekly Day Camps – May 29 – August 2
Ages 7 (& finished 1st grade) through High School
Each week features a variety of camp types, ages & skill levels
Children interested in horses, riding and horse care will be delighted with the opportunity to attend horse camp at Asbury University Equine Center. Under skilled supervision from our responsibly trained equine students children will learn, be challenged, advance their own skills and have fun at horse camp.
These Day Camps are filled on a first come, first served basis so do not hesitate to register early.
Campers must be at least 7 years old AND have completed first grade.
All levels of experience are welcome.
Each day begins with a devotion and prayer.
Starting from a walk, some campers may be trotting by the end of the week.
More advanced riders will canter & be challenged according to personal skill level.
There may be opportunities for trail rides, basic vaulting and other fun activities depending on the theme and schedule for each camp.
Campers will learn the basics of horse care, safety and riding skills.
Themed camps will focus on the emphasis for that camp session.
IMPORTANT: CAMPER AGES AND ABILITIES SPECIFIED FOR EACH CAMP SESSION WILL BE STRICTLY ENFORCED!  CAMPERS SIGNED UP FOR INAPPROPRIATE CAMP SESSIONS WILL BE ASKED TO MOVE TO A CAMP SESSION THAT FITS THEIR AGE AND ABILITY. 
Contact Marilyn Walker
859-858-3511 x2262
Or cell 859-317-3782
For more information & registration…