There are wonderful family fun events and places to visit in Lexington and Central KY.  Click any underlined link for more information.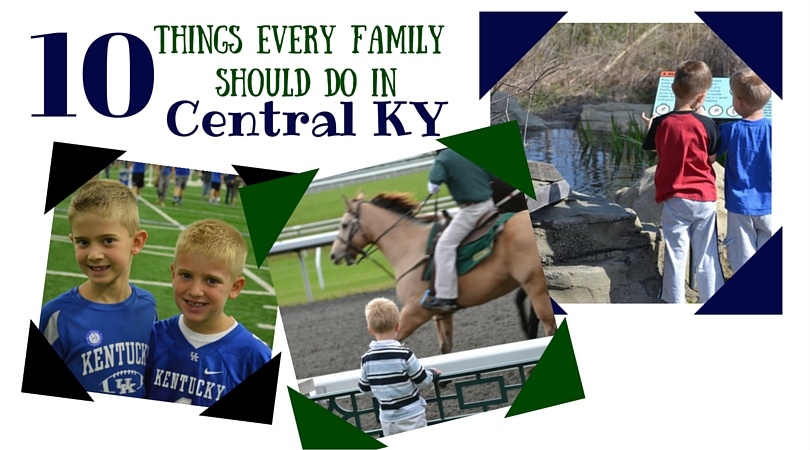 Visit Toyota, Ale 8 1, Old Kentucky Chocolates, Boone Creek Creamery, Old Friends, or another great local favorite.  Many tours are FREE!
Whether it's during a race meet (held each April and October) or for a FREE Kids Club event throughout the year Keeneland is a must see in Lexington.  Race meets offer special events like Breakfast with the Works and Sunrise Trackside held on Saturday mornings.  During these morning workouts families can watch the horses take to the track, meet jockeys, enjoy learning more about racing, and have breakfast.  Kids Club events include an Easter egg hunt, Breakfast with Buckles and Santa, and more!  The best part is the Kids Club is FREE – to sign up CLICK HERE.
Visit McConnell Springs, the birthplace of Lexington, Shaker Village of Pleasant Hill, Fort Harrod or Fort Boonesborough or one of the many other historical places in Central KY.
See Why We're the Horse Capital of the World
Visit the Kentucky Horse Park for an up close look at the animals that make the Bluegrass such a special place.  Take a horse drawn tour, visit the Kids Barn for hands on learning, gaze at the Kentucky Derby trophies, and learn about the history of horses in our world.  Meet retired racehorses at Old Friends Farm or put your feet in the stirrups and go for a ride with local horseback riding lessons or rides.
Learn About Kentucky Animals (We'll throw in the Wildcats here!)
The Kentucky Department of Fish and Wildlife has a very special Education Center in Frankfort.  Salato Wildlife Center features elk, bison, a bear, deer, bobcats, fish, turkey, and much more.  Enjoy interactive exhibits in the visitors' center, enjoy a walk through the grounds to see animals in their habitat, and you can even pick up a fishing pole from the center and catch some local fish!
It's not hard to see what team our local families support.  The University of Kentucky Big Blue Nation bleeds blue year round.  With sporting events held year round there is always a way to support the CATS!  Check out the UK Sports part of the Lex Fun 4 Kids menu and learn more about great family friendly events.  The UK Football Spring Blue White game is free, the Jr. Wildcat Club is a great way for kids and an adult to get in FREE to hundreds of sporting events, have a UK Birthday Party, be a bat kid or ball kid, and more!
Taste Our Local Foods
If you get a chance to take a Kentucky Proud tour you can taste Ale – 8 – 1, our Kentucky made soft drink, or some chocolates at Old Kentucky Chocolates for FREE.  You can also enjoy local Farmers' Markets in many of our local communities.  For tips on visiting the farmer's market with kids click here.  Go out for dinner and try a new restaurant – you can even enjoy a Kids Eat Free or Cheap deal.
Visit the Kentucky River
The Kentucky River runs right through Central KY and offers great views, tours, and adventures.  A great way to see the river is on a Dixie Belle Riverboat ride.  The river boat departs from Shaker Landing near Shaker Village.  Tickets are just $10 for adults, kids 6 – 12 are $5 and kids 5 and under are FREE for this hour long tour.  CLICK HERE for the Lex Fun 4 Kids Dixie Belle Review.  The Valley View Ferry is a free way to cross the river in your car!  I surprised my kids with this quick trip across the river and they thought it was pretty cool to stay in their car seats while taking a trip to the other side and back.  Check to see if the ferry is running on their website before you head out (it sometimes needs to close due to high water levels).  CLICK HERE for the Lex Fun 4 Kids Valley View Ferry Review.  
Enjoy the Outdoors
Central KY features unique places to explore.  There are great parks right in Lexington as well as places like the Red River Gorge within an hour of Lexington.  Raven Run is in Lexington but features lookouts over the Kentucky River, hiking trails and a wonderful nature center.  They offer special programs year round for free. One of my favorites is the Stargazing program.  The telescopes brought out for you to enjoy are AMAZING!!  McConnell Springs is the birthplace of Lexington and features great paved walking paths perfect for strollers.  It's tucked in a spot right near downtown Lexington and has a great nature center to check out.  For a list of great hiking spots CLICK HERE.
Visit Our Parks
Stop by Jacobson Park each summer and go for a pedal boat ride!  It's a cool way to check out the park and fun for all ages!  Boats run from mid-April to early October.  Boats rent for $4 for a half an hour.  Hours are weekends only until Fayette County gets out of school for the summer then again once school starts back in August.
Visit a skate park, dog park, community garden or just play at one of the more than 40 parks in Lexington.  CLICK HERE for a list of park locations. The Parks and Recreation department plans activities throughout the year including Kite Fest, Founders Day, Ballet Under the Stars,  Little Goblins Galore and more!
Take In the Arts
Enjoy art in the Bluegrass!  From theatre to dance and visual arts there are always great ways for your family to experience the arts.  The Woodland Art Fair is held each summer at Woodland Park, the University of Kentucky Art Museum offers FREE admission as well as special Family Days, there are many local theatres that offer performances throughout the year as well as the Living Arts and Science Center FREE Family Fun Day and Family Discovery Nights.  Follow Lex Fun 4 Kids for continuous updates on all the fun and check the Lex Fun 4 Kids Calendar to plan the fun!