If you're looking to escape the busy day to day, need some quiet time to yourself or have a child who prefers quiet activities we have a great list of local events and places to go to get away.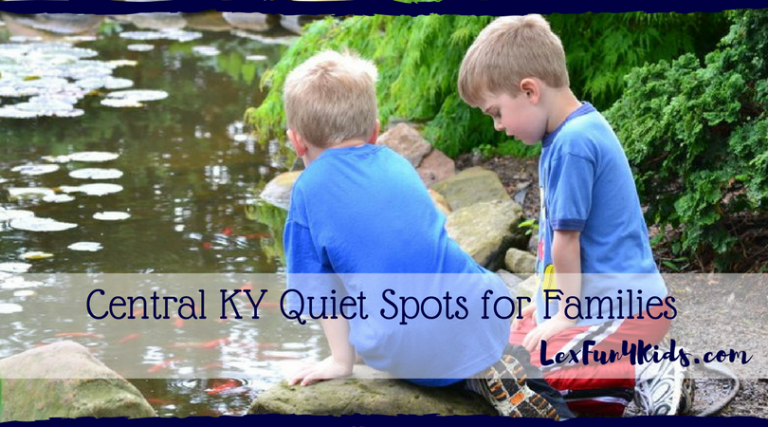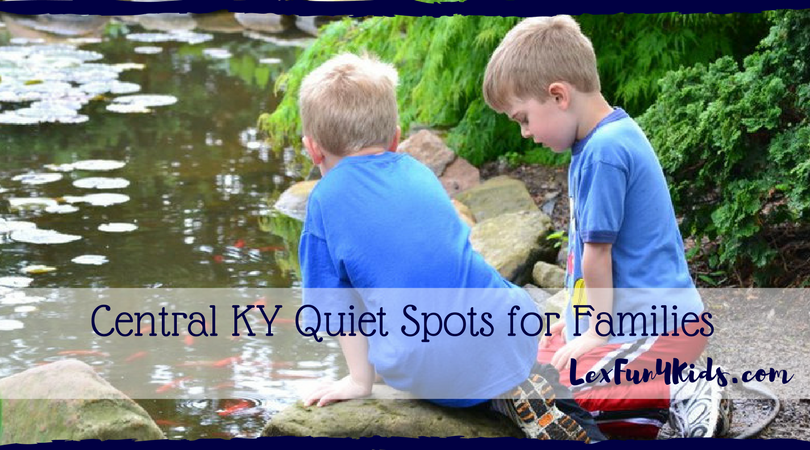 Indoors
Local Libraries – Visiting at a time when it isn't storytime is a great way to enjoy choosing a new book or just sitting in the kids nook to read. The Jessamine County Library and the Scott County Library both recently got remodeled and have very cool areas for kids.
Bookstores – Check out Barnes and Noble or Joseph Beth for quiet stops. Visit when there isn't a special event or during the day when it's less crowded.
UK Art Museum – The museum is free and features a variety of exhibits throughout the year.
Ashland, Henry Clay's Home – Featuring tours, peaceful gardens to explore, and special events like candlelit tours and teas it's a unique spot to learn some history and enjoy the quiet.
Shaker Village – Just outside Harrodsburg, Shaker Village features lots of great buildings to explore how the Shaker's lived. You can also hike or just enjoy walking the grounds. It's a peaceful atmosphere and a great way to take in some history while you're enjoying the quiet.
Local Coffee Shops like Cup of Commonwealth, Common Grounds or Coffee Times are fun for a hot chocolate stop.
Sky Zone Trampoline Park offers special Sensory Friendly jump events. Follow them on Facebook for more information.
Outdoors
The Arboretum and Kentucky Children's Garden – These wonderful spaces feature water areas, gardens, and hands-on fun. There are paths to explore and great for all ages.
Raven Run – On the edge of Fayette County you can explore and sometimes not even see anyone else. Enjoy a hike or a stop in the nature center.
McConnell Springs – This area park is a great place that is stroller friendly and not far from downtown Lexington. Enjoy a walk through the paths or stop by the pond and watch the wildlife.
Lexington Area Parks – If you're looking for quiet you can visit one of the popular parks like Jacobson or Shillito early in the day or check out a more off the beaten path park like Belleau Woods or Waverly Park that aren't as busy.
Legacy Trail – The trail runs from the North Lexington YMCA to the Kentucky Horse Park. Hop on your bikes or scooters and enjoy part or all of this beautiful 12 mile stretch.
Salato Wildlife Education Center – This special spot in Frankfort has a nature center as well as animals like bison, elk, fish, a black bear and more.
Yuko-En on the Elkhorn – This 5 1/2 acre garden featuring Bluegrass landscaping framed in a Japanese style stroll garden is a hidden gem in Georgetown. Walk along the pathways and discover the many elements unique to this garden.
Hiking – There are great spots all around Lexington where you can get out in nature and explore.
Kentucky Horse Park – If you stop by the Horse Park when there isn't a big event going on there are many places to explore that are quiet. There are outdoor barns, pony rides, indoor museums, and more.
Canoe KY – Exploring the Kentucky River or the Elkhorn Creek by kayak or canoe can be a great way to see the quiet beauty of Kentucky. You can rent with Canoe KY and head out for a day of fun.