Central Kentucky offers great tours of locally made products! Check out some of these great Kentucky Proud products and enjoy seeing how they're made! Many tours are free, family friendly, and quick!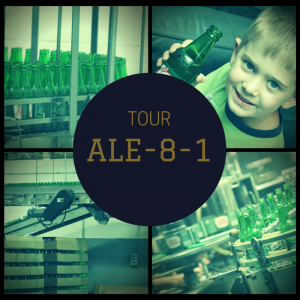 Popular soft drink Ale-8-1 is made in nearby Winchester. The plant offers free tours for children of all ages and is stroller-friendly. My boys loved going to see the bottles moving quickly down the line, seeing pallets full of Ale-8-1 ready for shipping and especially tasting a fresh, cold Ale-8-1 at the end. Reservations are required and can be made by calling 859-744-3484 or contacting tours@ale-8-one.com. More info here. (No tours currently, 2023)
---
The Toyota plant in Georgetown opened in May 1988 and is the largest Toyota plant in North America. The plant offers free one-hour and a half-hour team member-led plant tours. Tours of the 7.5-million-square-foot facility are given aboard electric trams and you must pre-register online. Tours fill up quickly and they do usually schedule months in advance.
I have taken the tour with my kids three times and it's so cool to get a first hand look at how Toyotas move down the assembly line!  They recently updated the visitor's center to celebrate 30 years in KY and added some great interactive things to do.  Enjoy virtual reality with their distracted driving simulator and see the very first Camry and Lexus made at the plant. (Ages 8 and up)
For a great review of the trip and more info about what you'll see check out my Kentucky Family Fun review!

Reservations are strongly encouraged and can be made by calling the Toyota Tour Line at 502-868-3027 or 800-866-4485.
More info here.
---

Tours are held Mon- Fri 9 -5 and Saturday 10-2. There is no limit on the number of people we host, please contact them if you are bringing a group over 6. The tour includes a cheese tasting and some Ky Proud products to sample. You can even have your picture made inside their original cheese pot!!
Check out the Lex Fun 4 Kids Review from our visit! We learned about the cheese making process, saw the cheese in the Hobbit Cave (aging) and got to taste lots of great varieties!
---
Fresh beans imported from Central and South America, the smell of freshly roasted coffee beans, free tastes! This quick, kid-friendly tour is a fun stop in Winchester. You can stop by anytime they are open and get a free tour of the facility. Creative Coffee Roasters focuses on fundraisers for schools and businesses but also creates special labels and packages coffees for businesses and even your own personal projects.
Learn more and find out about the Lex Fun 4 Kids Tour Review of Creative Coffee Roastery!
---
Another sweet stop along the way is Ruth Hunt Candies in Mt. Sterling. Famous for Blue Monday candy bars and local Woodford Reserve Bourbon Balls, you can see how they create their delicious treats. Tours are free, about an hour, and offered Monday through Wednesday. You can make reservations by calling 800-927-0302. More info here.
---
Lancaster is home to Mom Blakeman's candy.  Famous for their creamed pull candy they offer candy sales from their store.  Creamed pull candy is old fashioned and said to have been a favorite of Abraham Lincoln.  It's is cooked and poured on cold marble, put on a puller (it's a taffy), cut into pieces, placed in a warm room and packaged. No tours currently but hopefully they will resume soon! CLICK HERE for more info.
---
Farm fun
Old Friends (Georgetown)
Old Friends is a unique equine facility located in Georgetown. At Old Friends, retired racehorses find a loving home and enjoy the beauty of the Bluegrass. Tours are daily at 10 a.m., 1 p.m. and 3 p.m. Reservations are required and can be made by calling 502-863-1775. Tours are free, but donations are accepted.
More info here.
---
Local horse farms

Local tour companies and various horse farms also offer tours. This is a great way for kids to experience a working horse farm up close. The Visit Lex site has listings for local companies that offer tours (fees apply) as well as contact information for specific farms if you'd like to schedule your own visit.
More info here.
---
Tours are $10/person. Children 2 & under are free. Minimum 4 paying visitors or $40. Field trips are welcome at a discounted rate (20 person minimum). NO PETS ALLOWED. Your visit includes an informal orientation to alpacas, fiber, and some up close and personal time with the herd.
---
Historical Tours
Ashland (Lexington)
Ashland Estate was built in the mid 1800s and was the home of Henry Clay, The Great Compromiser. The grounds around the estate are beautiful and are free to walk through. The home offers docent-led tours that begin on the hour and last about one hour. Tickets may be purchased in the Museum Store in the mansion. They are offered from 10 a.m – 4 p.m. Tuesday – Saturday and 1 pm –  4 p.m. Sunday. The last tour of the day begins at 4 p.m. They are closed in January and in February are open for groups of 15 or more by appointment only. They are also closed Mondays and major holidays. Admission is $10 adults, $5 children (ages 6 – 18), and children 5 and under free.
More information here.
---
Mary Todd Lincoln House (Lexington)
The Mary Todd Lincoln House was the childhood home of Mary Todd, wife of our 16th president, Abraham Lincoln. The home, built in the early 1800s, is located on Main Street in Lexington, just down from Rupp Arena. Tours are offered March 15-Nov. 30, Monday-Saturday (closed Sun.) 10 a.m.-3 p.m. (closes 4 p.m.). Fees are $10 for adults, $5 children 6-12, and free for children under 6.
More information here. (Kids K – 12th grade are FREE each Presidents' Day)
---
Old Fort Harrod (Harrodsburg)
Old Fort Harrod State Park is located in downtown Harrodsburg. This replica of the original fort built by James Herrod in 1774 offers visitors a chance to see how life was over 200 years ago. It was actually the first permanent settlement in Kentucky. Old Fort Harrod is open Wednesday – Sunday.
More information here.
---
Fort Boonesborough State Park (Winchester)
Fort Boonesborough is located just a short drive off I-75 near Winchester and Richmond. Experience life as it was in pioneer times with demonstrations by local artisans and occasional reenactments. The fort has varied opening days/hours depending on the season so check their website for more information. Admission is $8 adults, $5 children (6 to 12) with admission to Kentucky River Museum included on weekends. Children under 6 are free.
More information here.
---
Not Just For Kids
Tours aren't just for kids! Check out some other great places geared toward adults.
I recently traveled with TravelingMom.com and enjoyed tours of Shaker Village, Heaven Hill, Maker's Mark, Town Branch Distillery, Wilderness Trace, Barton's and the Kentucky Cooperage. Check out the Lex Fun 4 Kids Bourbon Trail Tour review!


Buffalo Trace offers many different tours of not just the distillery but one featuring the historical landmarks on their property and a ghost tour!