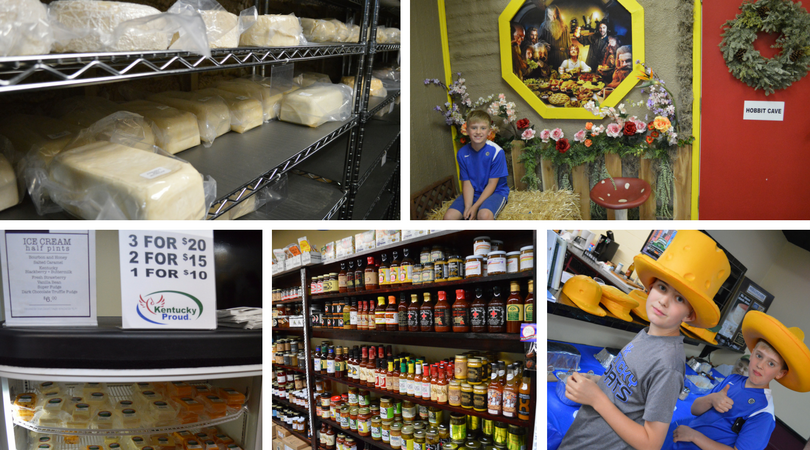 Boone Creek Creamery is located on Palumbo Drive between New Circle Road and Man O War. It's a great local spot and they offer a FREE family friendly tour perfect for all ages. It's a quick tour but a neat way to get a taste (literally) of what it's like to make special, Kentucky Proud, artisan cheese!
They do tours and samplings continuously throughout the day. Tours last about 30 – 45 minutes but leave time to shop in The Kentucky Proud Store.
Groups of 6 or less do not require a reservation, so you can go anytime. They like to be prepared for larger groups so let them know you are coming by requesting your tour online!
Review!
I recently took my kids in one afternoon after school and we had a fun time checking out all the cheeses and taking a look around the Hobbit Cave.
When you arrive you'll be greeted in their lobby and then you'll head back to the main part of the store. There are two rows of chairs so grab a seat and you'll enjoy a quick movie introduction to Boone Creek Creamery, their Cheese Master, and how they make their cheeses. The movie is very well made and just a quick 3 – 5 minute intro to what they do there at Boone Creek.
After the video you'll get a quick run down from your tour guide and then head to the Hobbit Cave and you can peek into the facility where they make the cheese. Feel free to ask lots of questions – they were great to answer all of ours and explain more about the cheese varieties and process.
The Hobbit Cave is where they store the cheese – it's not a big operation so it's a small cooler with loads of varieties of cheeses. You can look on all the shelves and see if one might be a flavor you'd like! These blocks of cheese will age in the cave until they are ready to be cut into smaller blocks to sell.
After your visit in the cave you can peek into the facility where they make the cheese. You'll head back into the area where you watched the movie next and get time to taste – the best part! My kids had so much fun tasting all the varieties, while wearing a cool cheese hat too! Be sure to take some pics in the hats and in the original cheese making pot.
After you taste be sure to shop and grab a flavor you liked or some other great Kentucky Proud products. There are salsas, sauces, snacks, and even ice cream!
(Reviewed 2017)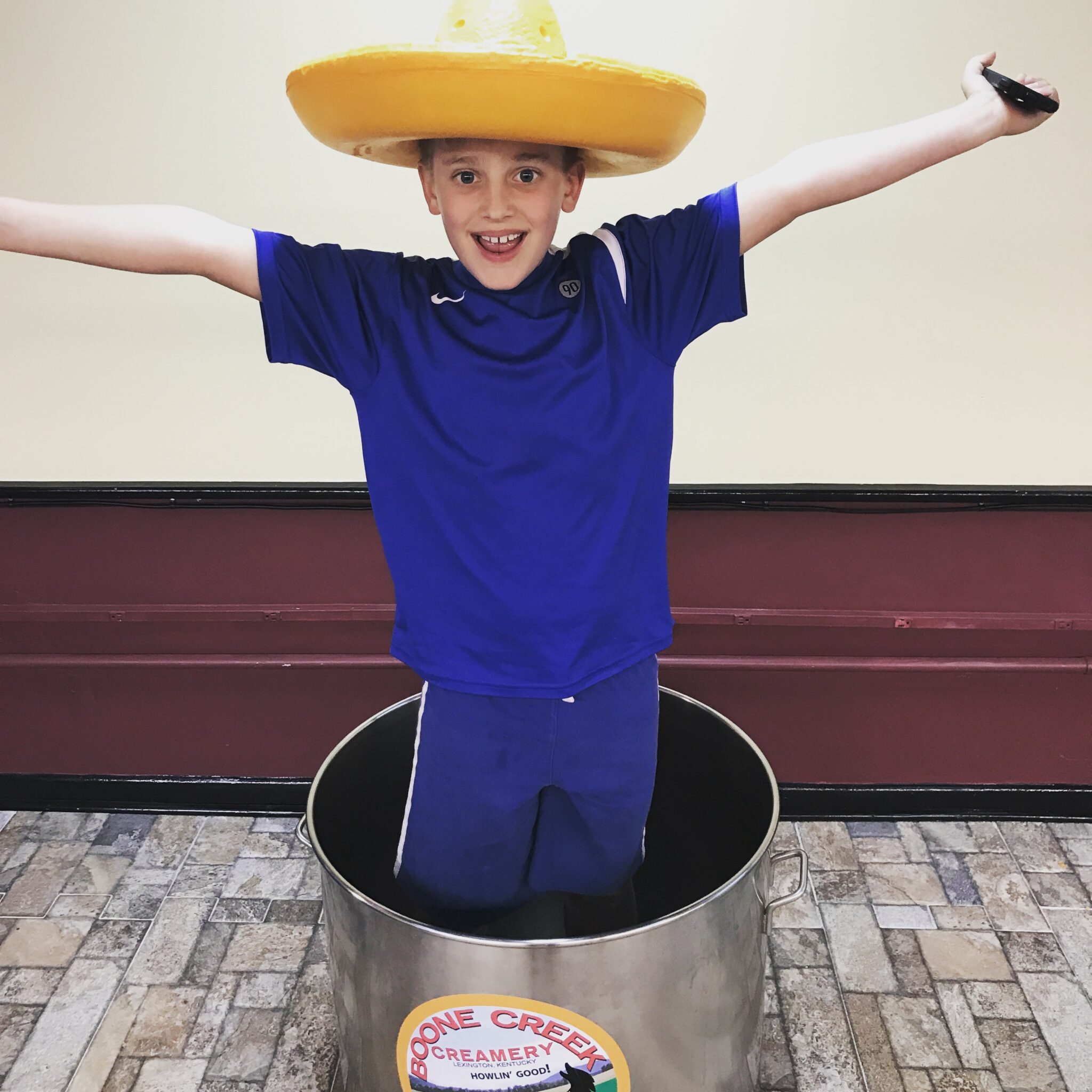 See Cheese Being Made
We make our cheeses by hand using traditional European techniques without a lot of modern equipment. This protects the delicate curds and produces a better cheese. When you come in for a tour, you will get to see cheese being made, cut and packaged. There is always something different going on so you never know what you are going to get to see.
You will get to see a short video about Boone Creek Creamery and the cheese making process. We will even teach you how to make your first cheese.
You can visit our Hobbit Cave where we age the cheeses and you can sample a variety of our unique styles – like Mama Mia, Sassy Redhead, Jerk Cheddar, Scandinavian Bread Cheese, Abbey Road, Kentucky Derby, and more. All of these are our own creations and exclusive to Boone Creek Creamery.
Become a Cheese Minion
From our observation window, you can watch our crew hard at work. We affectionately call them The Cheese Minions because they are always working furiously to make, age, cut, and package cheese. They are constantly fulfilling orders for Farmers' Markets, Shows, Retailers, Restaurants, Online Orders, and of course our retail store. In fact, they never seem to stop working and yet their fun and enthusiasm is infectious. They are a highly respected and critical part of the process here at Boone Creek Creamery, so be sure to wave and say hello.
You can become an honorary Cheese Minion too by having your picture taken in our original cheese making pot. Thousands of visitors from 1 to 100 have crawled into the pot to have their picture taken, so don't be shy.
The Hobbit Cave
After we make our cheeses, they age in our Hobbit Cave at 53 degrees for at least 90 days, but we have some cheeses that are over 7 years old (private stock). This is a super-insulated room that is so efficient that we cool it with a simple window air conditioner. One of our first tours commented that it looks like a mud covered Hobbit House, and the name stuck. Rumor has it that Gollum is hiding somewhere in The Cave, perhaps in the brine tank, so keep your eyes open.
Because we age in vacuum bags, we can allow you to actually tour the cave. This may be the only place in the country where you can enter a cheese aging room. The aroma is amazing.
SCHEDULE A TOUR (For group sizes over 6)
HOURS
Monday thru Friday 10 am – 6 pm
Saturdays 10 am – 2 pm
CLOSED SUNDAY
Address:
2416 Palumbo Dr., Ste 110
Lexington, KY 40509
Phone Number:
E-mail: