About Lex Fun 4 Kids
Lex Fun 4 Kids is a FREE online resource for fun family activities and events in the Central Kentucky area. Established in 2011 as a way to connect the families of Central Kentucky with the resources, events, and businesses available Lex Fun 4 Kids continues to grow and serve the families of Central KY.
60 – 70,000 Average Web Page Hits/Month
20,000 Facebook Followers
1700 Twitter Followers
2200 Instagram Followers
Lex Fun 4 Kids Mission
My mission is to provide the largest, most comprehensive, family-friendly Events Calendar in Central Kentucky and to be the premier One-Stop-Shop for all family friendly content featuring things to see, do, eat, and explore!
Why Advertise with Lex Fun 4 Kids?
Reach a targeted FAMILY audience!
Largest, most comprehensive family-focused events calendar in Central KY
The site averages approximately 60 – 70,000 page views per 30-day period.
Lex Fun 4 Kids has a very large audience that grows monthly, as do @LexFun4Kids' social networks.
Social networks as of June 2023: Facebook: ~ 20,000, Twitter: ~1700, Instagram: ~2200, Pinterest: ~500
No deadlines. Your ad or promotion can be made live any day during the month. Upon approval, depending on your promotion choice, I can have the ad live within 48-hours.
Personal service!  I run the website and all content – when you have questions I'm right here to answer!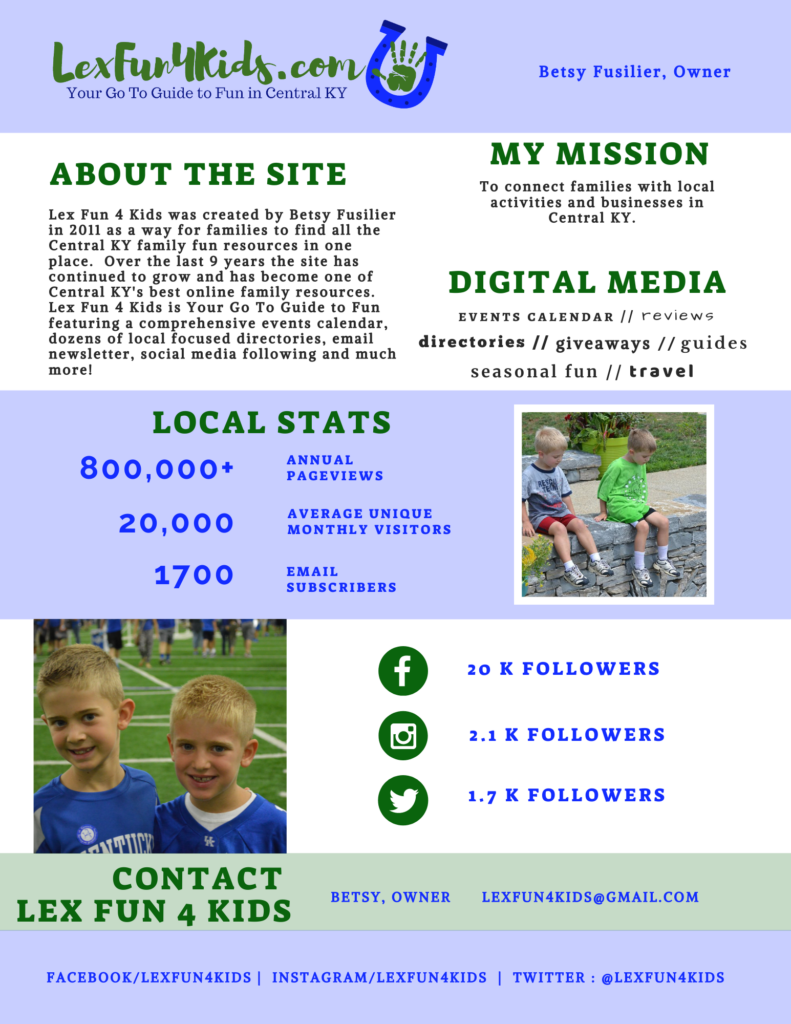 Contact lexfun4kids@gmail.com for more information
Now accepting ads for Summer Camps 2023!
Thanks so much for your interest in Lex Fun 4 Kids!
-Betsy Fusilier, Owner