About Lex Fun 4 Kids
Lex Fun 4 Kids is a FREE online resource for fun family activities and events in the Central Kentucky area.  Established in 2011 as a way to connect the families of Central Kentucky with the resources, events, and businesses available Lex Fun 4 Kids continues to grow and serve the families of Central KY.
40 – 50,000 Average Web Page Hits/Month
15,500 Facebook Followers
1700 Twitter Followers
1500 Instagram Followers
470 Pinterest Followers
Lex Fun 4 Kids Mission
My mission is to provide the largest, most comprehensive, family-friendly Events Calendar in Central Kentucky and to be the premier One-Stop-Shop for all family friendly content featuring things to see, do, eat, and explore!
Why Advertise with Lex Fun 4 Kids?
Reach a targeted FAMILY audience!
Largest, most comprehensive events calendar in Central KY
The site averages approximately 40 – 50,000 page views per 30-day period.
Lex Fun 4 Kids has a very large audience that grows monthly, as do @LexFun4Kids' social networks.
Social networks as of January 2020: Facebook: ~ 15,500, Twitter: ~1700, Instagram: ~1500, Pinterest: ~470
No deadlines. Your ad or promotion can be made live any day during the month. Upon approval, depending on your promotion choice, I can have the ad live within 48-hours.
Personal service!  I run the website and all content – when you have questions I'm right here to answer!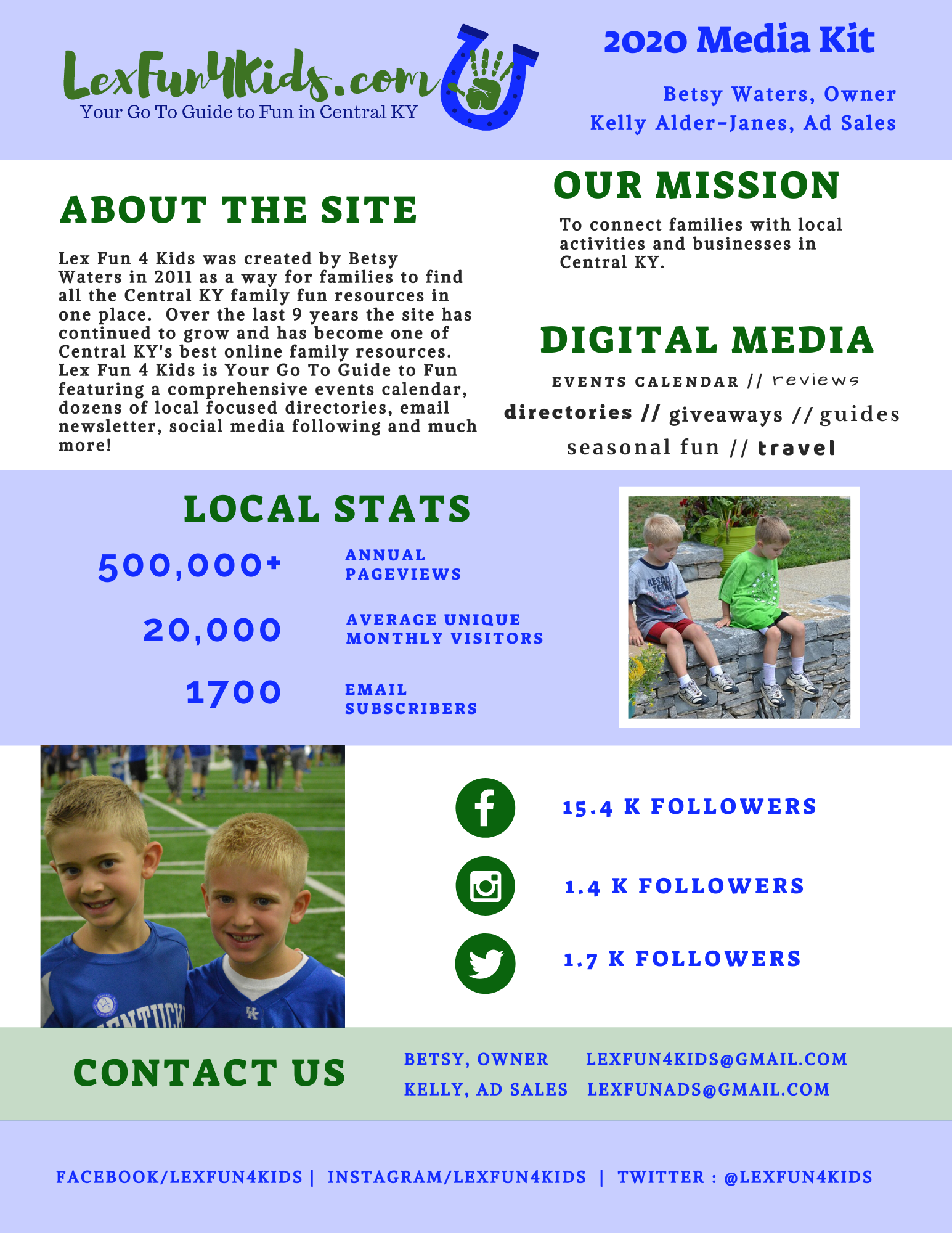 Get Started!
Kelly Alder-Janes is my Digital Media Sales Consultant and can help you get started!  She can provide you with pricing, packages, and answer questions about any advertising options we offer!
Contact Kelly at lexfunads@gmail.com for more information
Now accepting ads for the fall and winter 2020 Guides!
Thanks so much for your interest in Lex Fun 4 Kids!
-Betsy Fusilier, Owner