Breyerfest is a annual event held each summer at the Kentucky Horse Park. You don't need to be a huge Breyer Horse fan to check out all the fun going on all weekend. My boys have been for many years and we always have a blast. Here's some great tips so you can plan your trip!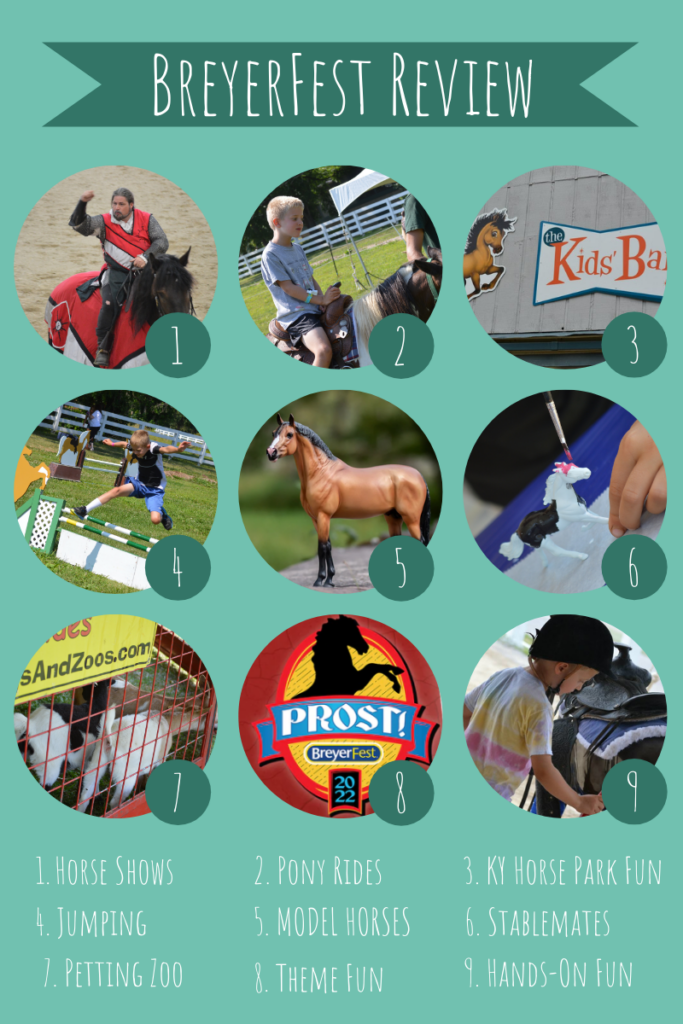 1. Sunscreen! It's summertime in Kentucky and most of the events are outdoors so bring your sunscreen and lather up hourly.
2. Water! It's July and it's HOT. Pack water bottles then you can stop by water fountains, etc. to refill throughout the day.
3. Parking is $5. If you leave and come back you pay again. A 'pass' for multiple trips in and out is $15.
4. Food. Pack some snacks to save $. If you pack a picnic you can leave and head to your car and reenter BreyerFest or the Horse Park over and over. That will really save $ because food on site is pricier. There are food trucks set up in a couple locations. Most is your typical 'fair food' with corn dogs, sausage, kettle korn, nachos, etc. There is a restaurant at the Horse Park (Bit and Bridle) that's good – it's air conditioned if you can find a seat (which we did around 1 pm with no problem). We grabbed chicken strip kids meals with 2 strips and fries and unlimited drink refills in the restaurant and I got a large salad bar plate. Their sandwiches looked good. It's a break indoors and a chance to sit and relax so we were willing to pay the extra.
5. Purchases and 'stuff'. There are lots of shops set up all over the place – plus you get some freebies when you arrive. Bring a backpack. You can also check your purchases at the bag check then come back for them to take to your car.
6. Be sure to visit some of the Horse Park museums and the Kids Barn while you're there. The crowds stick around BreyerFest for the most part so enjoying some of the other fun things at the Horse Park is a perk of your ticket.
7. Patience. If you go early, driving into the Horse Park (from either direction) takes a while. If you wait a little later in the morning or head out after lunch crowds driving in will be a lot lighter. There are special items for sale in the morning and the big BreyerFest fans love to get there early to score the special models. We have had great luck heading out first thing Sunday morning – much lighter crowds and less traffic. The wait to play was very short thoughout the day in the kids area. We took multiple pony rides, played plenty in the Tonka zone, and loved all the other special activities going on.
8. Paint early. My boys LOVE picking their own mini pony figure (lots to choose from) to paint. Snag a seat – this place gets crowded – and take time to sit and paint a special design. Leave your pony to dry with the BreyerFest staff then don't forget to go back to get it – plus, your little one will get a special BreyerFest ribbon for their new show horse!
9. Stop in the Alltech Arena throughout the day! The shows change every frequently and even within that time there will be many breeds and shows. My kids loved seeing knights with swords, 'fancy' saddlebreds, and barrel racing!
10. Take a camera – there are so many cool things for your kids to do it's great to catch it all on 'film'!
Have fun!!! What a cool event to have right here in our backyard!
*Special guests/extra events with Breyerfest change each year. Watch for the special events planned for this year.
Click HERE for tickets for BreyerFest 2022