Summer sun brings sunflower blooms to Kalon's Korner in Nicholasville, KY.  Families can enjoy this beautiful sight during their Sunfest each summer.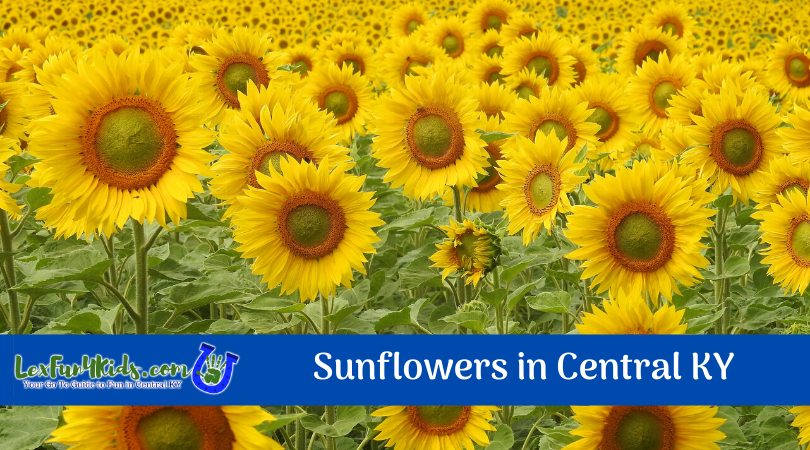 🌻

 Sunfest 2020 

🌻



From Kalon's Korner:  COVID Awareness: As per the governor of Kentucky, we will be following the mask recommendation. Upon arrival and check in, please wear your mask as we will wear ours.
Kalon's Korner is a small family run farm. Sharing what nature gives us
in abundance. It is through the continued support of their family, friends, and neighbors that they are now scheduling for their 4th annual Sunfest.
Once you and your photographer have checked in and shown the fields available, you may remove your masks for your photo sessions. Thank you for respecting and understanding these precautionary steps for the well being of our visitors.
PLEASE NOTE:
*This a working farm, with that comes nature- snakes, bugs, heat, etc.
*They do NOT offer a public restroom.
*They accept payments through CASH or CHECK only. Exact change preferred.
Sunfest is currently scheduled July 20th- August 8th (dates may be extended if nature cooperates and lets the flowers bloom a little later).
🌻Private photography or visitation appointments- prescheduled times with limited numbers for a less crowded experience. Location fee is $50 per hour.
Available every day, all day of Sunfest. Call or message to schedule.
🌻Public open gate, $10 per person (under 3 is free), visiting hours:
7/20 Monday: 9am-Noon
7/21 Tuesday: 9am-Noon and 5pm-9pm
7/22 Wednesday: 9am-Noon and 5pm-9pm
7/23 Thursday: 9am-Noon and 5pm-9pm
7/24- Friday: 9am-Noon
7/25- Saturday: 9am-Noon
7/27 Monday: 9am-Noon
7/28 Tuesday: 9am-Noon and 5pm-9pm
7/29 Wednesday: 9am-Noon and 5pm-9pm
7/30 Thursday: 9am-Noon
(More hours will be added soon)
🌻Please note:
* Cash or check only
* No public restrooms
* Free parking by the barn
* As per governor mandate: masks must be worn for check in.
Please message them on Facebook to schedule your photography appointments now.