Salato Wildlife Education Center is part of the Kentucky Department of Fish and Wildlife and is located in Frankfort.  Just a short drive off I-64 you can find their wonderful education center and acres and acres of habitats and live animals!  Kids can get up close to elk, bison, a black bear, bobcats, and more!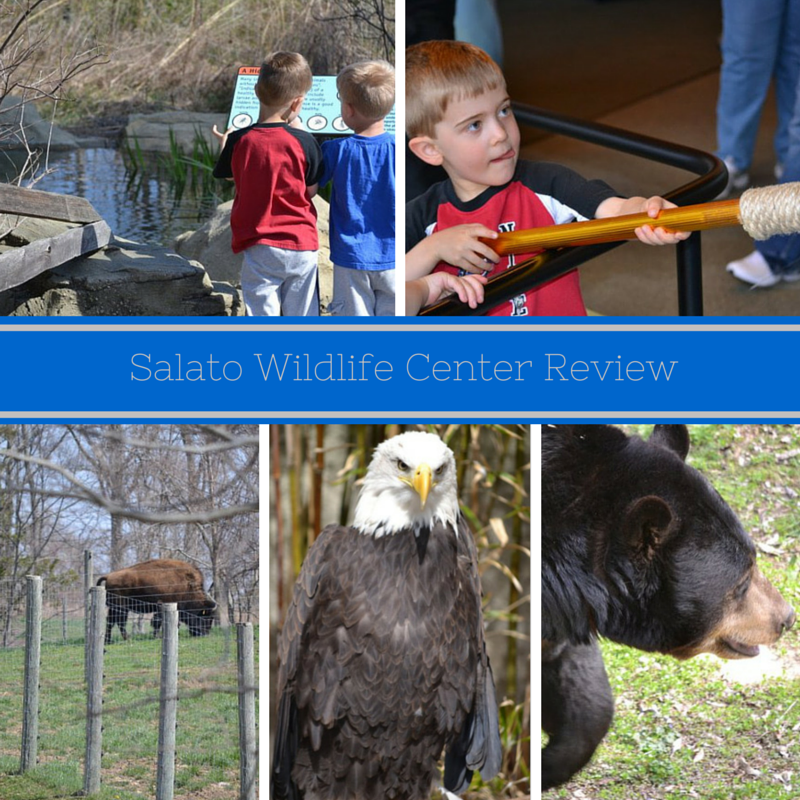 ---
Review
Start your visit at Salato with a walk through the education center.  There are numerous interactive exhibits, animal species to see, animal pelts (skins/fur) to touch, a bird watching area, bee hive, and more.   Learn about native species and ecosystems as well as ways the Department of Fish and Wildlife is working within our state.  My boys love to 'fish' for a catfish hidden among the water (balls) using the huge net!
Explore inside for a bit then step right outside and you'll find what my kids love about Salato!   Salato features various ecosystems native to Kentucky and offers real wildlife as part of each habitat exhibit.  Visit the pond and living stream and see native fish, waterfowl and insects.  A walk through the trails in the park leads you to live bison, elk, deer, turkey, a bear, quail, and wildcats!  Get up close to the animals and be sure to check out the information offered at each exhibit.
My children love to spend a few hours walking the trails (many are paved and easily navigated by strollers or wheelchairs), picnicking, and exploring the indoor center.  We pack a lunch and take a break mid-day at one of the many picnic tables located just outside the visitor's center.  Parking is free and there are plenty of spaces available.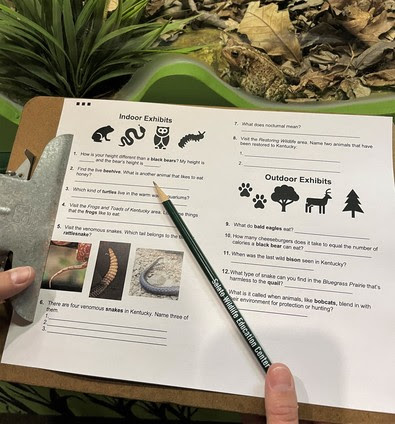 Enhance a child's visit to Salato with their updated on-site scavenger hunts.  These activities can be downloaded from their website.  Simply print and bring with you. Perfect for field trips and families looking to get more from their visit!
There are two stocked ponds on the property for fishing and since it's the Kentucky Department of Fish and Wildlife you can pick up your fishing license right on site!  Fishing poles are available to check out (just leave your driver's license) for you to use at the ponds.  Bring some bait and let the kids fish!  Kids under the age of 16 can fish without a license.  Adults without a license can't cast the line but you can assist in baiting hooks and removing fish.  My boys frequently fish with their papaw and are very good at casting so I was able to offer the help they needed without having my own license.
Hours and Admission
Salato Wildlife Education Center Reopens for the 2023 Season March 14th

The Salato Wildlife Education Center in Frankfort will reopen for the 2023 season on Tuesday, March 14th and resume operating hours of Tuesday through Saturday 9 A.M. to 4 P.M. (Eastern.)
Visitors can view smaller animals inside the visitor's center, including snakes, frogs, turtles, and fish, as well as exhibits highlighting other Kentucky species of interest.  Larger animals, including a bald eagle, black bear, bobcats, deer, elk, and bison, can be seen on the center's outdoor exhibit trail.  The center's Conservation Educators also offer educational programs for visitors.
Scheduled school groups and chaperones – $3.00/person (age 5 and older)
To purchase a membership, stop by the Salato Center during regular operating hours (link to hours), or call 502-564-7863 to purchase using a credit card and they will mail your card to you.  You can also purchase memberships online.
Prices​
Daily Admission
Price
Adults (age 18 and older)
$5.00
Youths (5 to 17)
Guests under the age of 16 must be accompanied by an adult.
$3.00
Children 4 and under
Free
Scheduled school groups and chaperones
$3.00 (age 5 and older)
Annual Memberships
Individual Membership
$20.00
Family
$35 (includes 2 adults in the household and all children in household)
Friend Membership
$50 (family and 5 guests)
Hours and Seasonal Closings
While the Salato Center maintains seasonal hours, the remainder of the KDFWR headquarters complex is open daily from sunrise to sunset.
Days
Hours (Temporary)
Sunday and Monday
CLOSED
Tuesday – Friday
9:00 a.m. – 4:00 p.m.
Saturday
9:00 a.m. – 4:00 p.m.
SEASONAL/HOLIDAY CLOSINGS: We will be closed on all State Holidays.
September 2023