Junior Wildcat Club registration for the 2017-2018 season is officially open!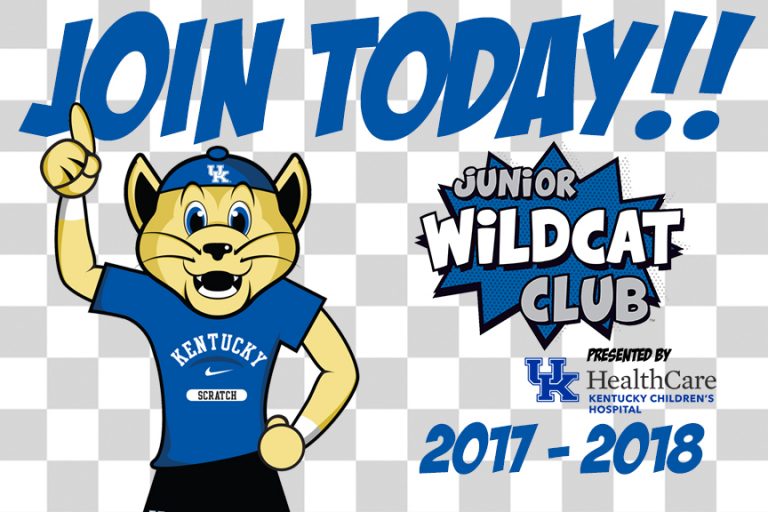 My boys enjoyed their memberships last year and we had a blast at great UK events!  My oldest even got selected to be the ball kid at  UK Men's Basketball game!!  We also loved our tour of the Joe Craft Center and other freebies for collecting punches throughout the season!!  Check out our review HERE!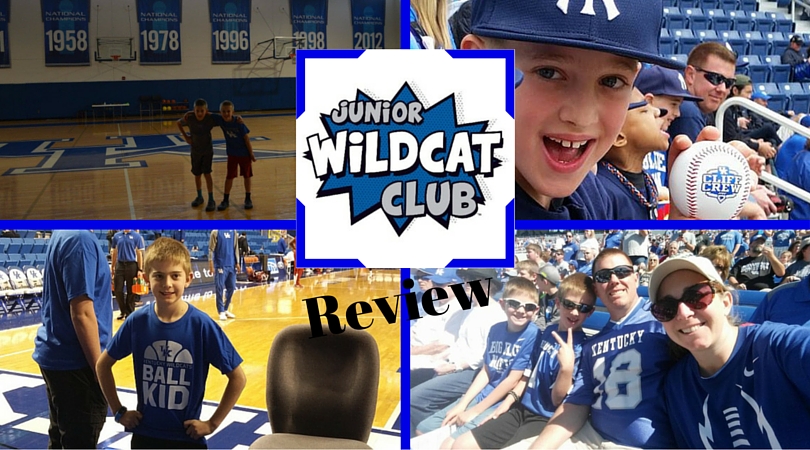 WHAT? The Junior Wildcat Club is an exclusive club designed to give kids an exciting way to be part of Kentucky Athletics. Through awesome membership benefits and events, JWC strives to connect young members of the Big Blue Nation to the UK Athletics family in hopes of building future fans for life.
WHO? Kentucky fans 8th grade and under. Sorry! Those are the rules!
WHEN? Annual membership runs from August to the end of May.
WHERE? UK, of course!
WHY? The awesome benefits! 2017-2018 membership benefits include:
Birthday postcard from Scratch
FREE admission for members & a complimentary guest to the September 30th football game vs. Eastern Michigan
2 FREE tickets to the Men's Basketball Blue & White game
FREE admission to all home Olympic sporting events with JWC Official Event Pass (men & women's soccer, volleyball, women's basketball gymnastics, baseball and softball)
Members grades 4th-6th will be entered into the JWC Ball Kid Lottery for the chance to be a ball kid at men or women's basketball
Complementary tailgate parties at select home sporting events (games selected by UK staff)
Official Club T-shirt and selected JWC gift item
Special promotions, discounts and giveaways available ONLY to club members (while supplies last)
Opportunities to meet UK student-athletes, coaches and staff
JWC exclusive events & more!
JWC REWARDS PROGRAM
Want to become a JWC VIP? All you have to do is check-in at UK Athletics events!
By having your official JWC Event Pass punched at our tent, you can keep track of your progress and unlock cool prizes!
JWC Rewards Schedule:
Football: 9/30/17 vs. Eastern Michigan*
Men's Basketball: Blue & White Scrimmage
Men's Soccer: All Matches
Women's Soccer: All Matches
Volleyball: All Matches
Women's Basketball: All Games
Gymnastics: All Meets
Men's Tennis: All Matches
Women's Tennis: All Matches
Swim & Dive: All Meets
Track & Field: All Meets
Softball: All Games
Baseball: All Games
When 20 games are reached, you will be a JWC VIP member! As a VIP member, you will receive a complementary membership for the following year.
Prizes will be unlocked at the 5th, 10th and 15th game attended.
Follow us on Twitter or like us on Facebook for exclusive information regarding special events, promotions, contests, giveaways and more!
REGISTRATION
Sign up for the Junior Wildcat Club today!
Or
Print the (Membership Form) and mail it to:
Junior Wildcat Club
Joe Craft Center
338 Lexington Ave.
Lexington, KY 40506