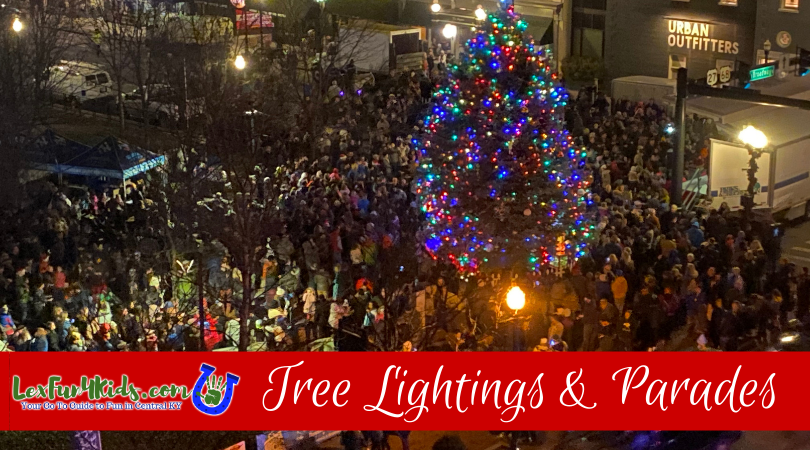 2020 UPDATE – Watch for cancelations or changes to events based on COVID-19 precautions.  If counties determine gatherings to be unsafe they may cancel events.  I will try to update events and information as it is released but please confirm events before heading out as I cannot guarantee all updates will be posted for each event.
Downtown Lexington
Tree Lighting
Sunday, November 29, 2020  3 pm – 7 pm  VIRTUAL 6 pm – 6:30 pm
REGISTER FOR THE VIRTUAL ZOOM HERE
Join us in Triangle Park as we usher in the magic of the holiday season with lights and music transforming downtown into a winter wonderland with the spirit of the holidays as we light Lexington's Official Christmas Tree! Fun for all ages! Guests can enjoy skating, listen to music and enjoy free children's activities as the crowd waits for Santa and the Mayor to light the tree. Check back for social distancing and safety procedures.

Parade
December 12, 2020, 5:30 – 7:30 p.m.
Midland Avenue
Enjoy a reverse parade from the safety of your vehicle. Information will be updated closer to the event.
---
Ashland, Henry Clay Estate
Ashland Illumination
No public event for 2020 
Enjoy the beauty of the Ashland Estate at the holidays by purchasing a ticket for a tour during the holiday season.
---
Downtown Danville
No date set for 2020 *Watch for updates
Mayor's Tree Lighting Ceremony and the 40th Annual Danville Christmas Parade.
The Mayor's Christmas Tree Lighting will be at Weisiger Park prior to the parade at 6pm.
The 40th annual downtown Christmas Parade, sponsored by the Heart of Danville, will start at 7 p.m.   It will be a great day ushering in the holiday season! Hope to see you there!
---
Downtown Winchester
Parade
December 5th, 2020 6 pm
Celebrate the holidays in downtown Winchester with our annual Christmas Parade!
---
Wilmore Old Fashioned Christmas
December 5th, 2020  Events all day long!
Come celebrate an Old-Fashioned Christmas with the City of Wilmore. After the hot chocolate and tree lighting, residents are invited to tour downtown businesses for open houses, carriage rides, and many different musical experiences!
---
Richmond
The City of Richmond and Parks and Recreation have made the difficult decision to cancel this year's Christmas Parade. We made changes early on to attempt to make it safer for all involved, but the increase in COVID-19 rates and logistical concerns have forced us to make the decision to cancel the Parade for safety of our staff and our desire to only present the best possible events to our residents. We are still planning on having our Santa Express program and we will be conducting that as a "mini-parade" where Santa will be accompanied by local Fire and Police through local City of Richmond neighborhoods on December 14th and 15; more info to come. We apologize for any inconvenience this decision has caused and hope to bring back the Parade for 2021!
---
Downtown Georgetown
No date for 2020 yet
---
Tree Lighting
Friday, December 4, 2020
For approximately 30 years, residents andvisitors have gathered at the Jessamine County Courthouse, located at 101 N.Main St. in Nicholasville, to usher in the holiday season with a traditional Christmas Tree Lighting Ceremony, and this year will be no exception.  The 20120 Jessamine County Christmas Tree Lighting Ceremony will be held on Friday, December 4 at 6 PM on the Court Row side of the Courthouse.  As always,the Jessamine County Tree Lighting Ceremony will include music, Christmas readings, pictures with Santa, and refreshments.
Annual St. "Nich" Festival
December 12, 2020   (Events through the day)
Parade 5:30 pm
Activities include shopping at local businesses and eateries, 5-K Run, music, dance, craft show, parade and Santa!
---
Berea
No date set for 2020 *Watch for updates
Chestnut St.

Berea decks the halls and opens its doors wide for this enchanting prelude to the holiday season. Open houses all weekend long. Fantastic shopping in the Artisan Village and College Square. Catch the Christmas Spirit!! For more information visit bereachamber.com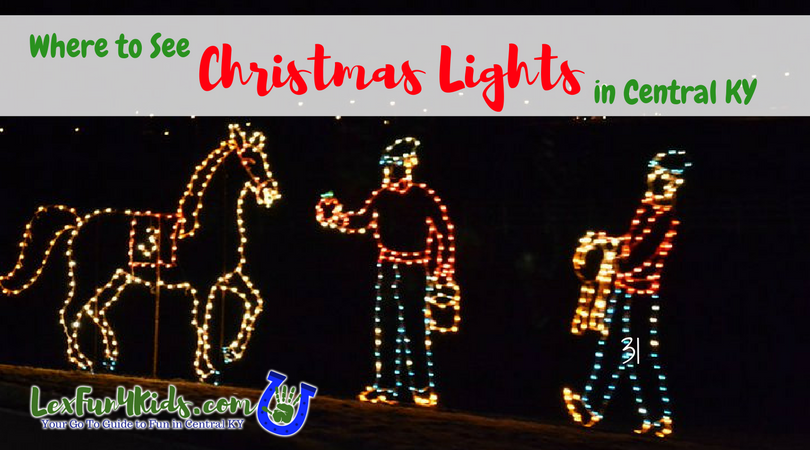 ---
The Holiday Events Guide is HERE!
Find Santa, Music, Train Rides, Trees and more!!