2021 UPDATE – Watch for cancelations or changes to events based on COVID-19 precautions. If counties determine gatherings to be unsafe they may cancel events. I will try to update events and information as it is released but please confirm events before heading out as I cannot guarantee all updates will be posted for each event.
Tree Lighting
Sunday, November 28, 2021
3 pm – 7 pm
Join us in Triangle Park as we usher in the magic of the holiday season with lights and music transforming downtown into a winter wonderland with the spirit of the holidays as we light Lexington's Official Christmas Tree! Fun for all ages! 

Parade
December 4, 2021 11 am
Midland Avenue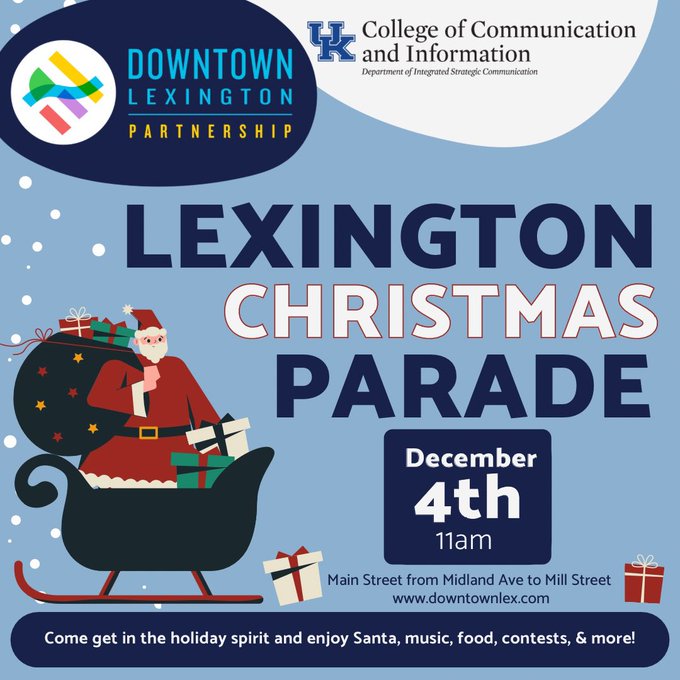 ---

Ashland Illumination
December 4, 2021 Dusk (Around 5:30 pm)
Enjoy the lighting plus a special presentation by the Kentuckians Chorus performing during the illumination. Immediately following the ceremony, Candlelight Tours of Ashland return for the season, and will also be offered on December 9 and 11. Masks will be required INSIDE the mansion.
Ashland encourages community members and their families to safely gather for the traditional Ashland Tree Illumination and further enjoy the season at Ashland by taking the Henry Clay Signature Tour and experiencing Henry and Lucretia Clay's home dressed for the holidays! Tour registration and ticketing is available at www.henryclay.org.

The Gingko Tree Café will be open from 5:00 pm – 7:00 p.m. on December 4, with holiday goodies for sale including hot cocoa, spiced cider, spiced bourbon cider, popcorn, and assorted holiday sweets. The Tree Illumination is free and open to the public with on-site parking of $5.00.
Advance tour tickets may be purchased at www.henryclay.org.
*Regular Tours – 10:00 and 11:30 a.m.; 2:30 p.m. – $25/Students $15. Advance ticketing advised.
*Candlelight Tours – Saturday, December 4 – 5:30 p.m. to 7:30 p.m.; $18/$10. Advance ticketing required.
*Candlelight Tours are also offered on December 9 and 11 – 5:30pm – 7:00pm.
---

No date set for 2021 *Watch for updates
---

Tree Lighting
December 4, 2021 5:30 pm
Christmas reading, Christmas carol singing and lighting of the Christmas Tree in from of the Clark County Courthouse. Kiddos throughout Winchester and Clark County watch for Santa on a firetruck with candy to share! Enjoy the lights & sounds of Christmas!
---

December 4th, 2021 Events all day long!
Come celebrate an Old-Fashioned Christmas with the City of Wilmore.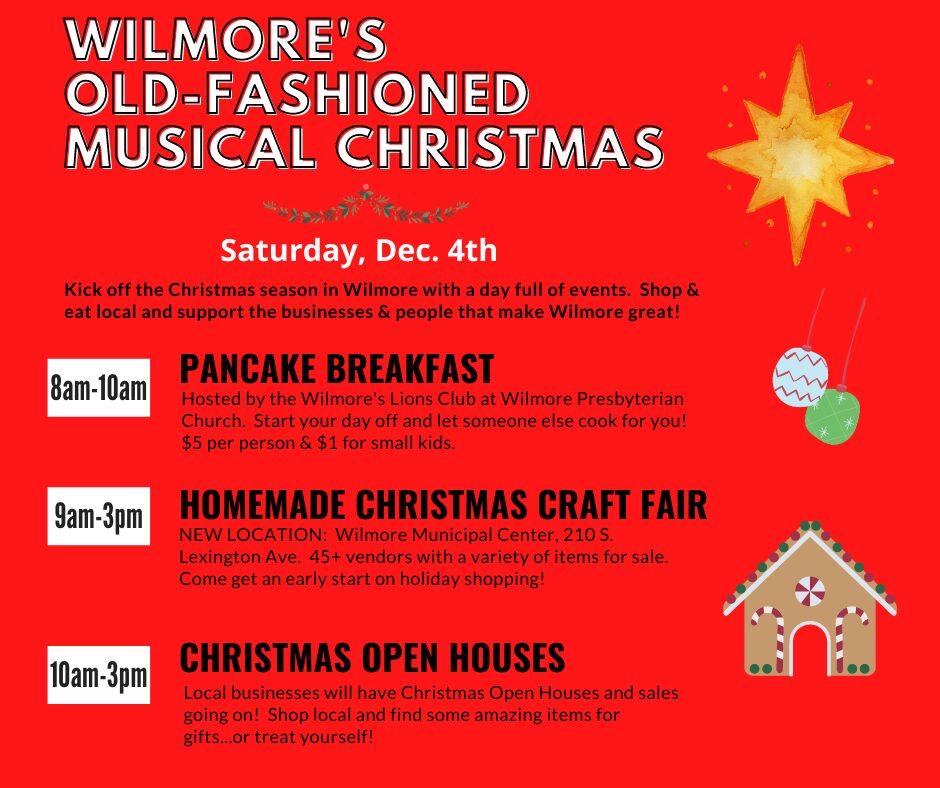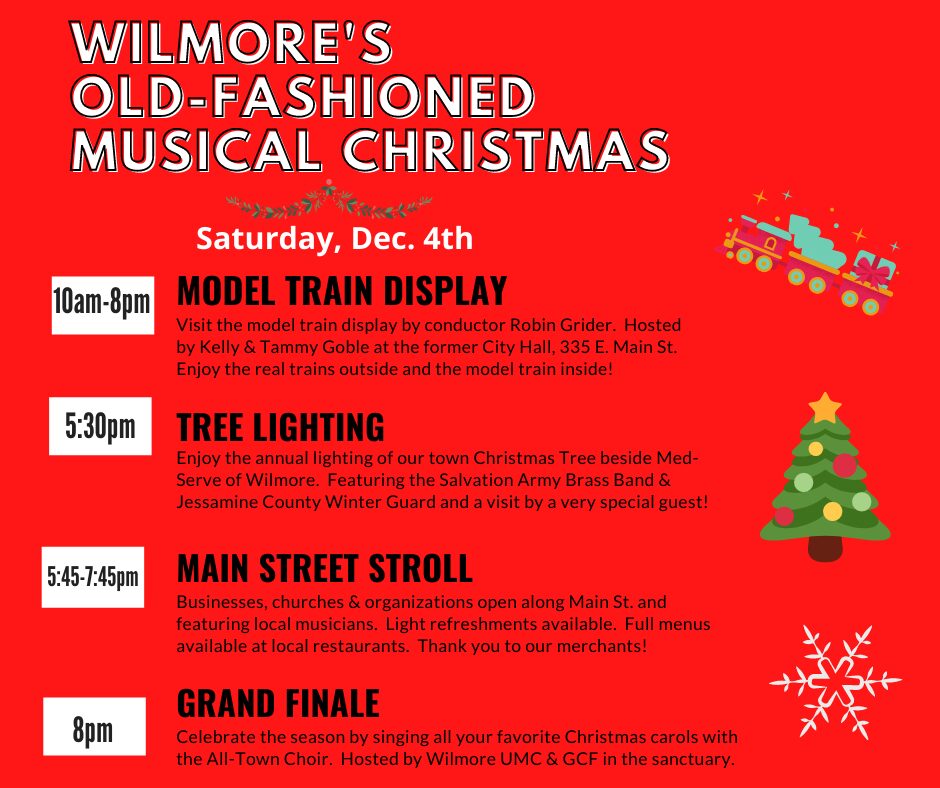 ---
Friday, December 3rd, 2021 7 pm
This year's theme is Christmas Around the World. ROUTE: The parade will leave the Alumni Coliseum Parking Lot at 6:45pm in order to be Downtown by 7:00 p.m. The parade will turn right onto Lancaster Avenue and will continue until Main Street. The Parade ends at Collins Street.
FULL PARADE: The full parade can be viewed after University Dr. when the bands will be inserted into the parade.
---

December 4, 2021 6 pm
Come "Home for the Holidays," on Dec. 4 when Georgetown/Scott County Tourism Commission presents its annual Christmas tree lighting and parade, activities and open houses. Picturesque with its Victorian streetscape and buildings – 200 are listed on the National Registry of Historic Places – downtown Georgetown will be decorated for the holidays and ready to welcome Santa during the parade at 6pm. Downtown Georgetown
---
Tree Lighting
Watch for a 2021 date!
Annual St. "Nich" Festival
December 11, 2021 (Events through the day)
Parade 5:30 pm
Activities include shopping at local businesses and eateries, 5-K Run, music, dance, craft show, parade and Santa!
---

Twilight Christmas Parade
December 4, 2021 6 pm
Chestnut St.

The Berea Chamber of Commerce will host their 35th Annual Twilight Christmas Parade. The 2021 theme is "A TV / Movie Themed Christmas".
---
The Holiday Events Guide is HERE!
Find Santa, Music, Train Rides, Trees and more!!