Are you looking for the best holiday lights in Lexington and Central KY? Find the most beautiful Christmas lights and holiday decorations with the Lex Fun 4 Kids Holiday Lights Guide.
If you have an awesome display to add please complete the submission form at the end of this post.
Businesses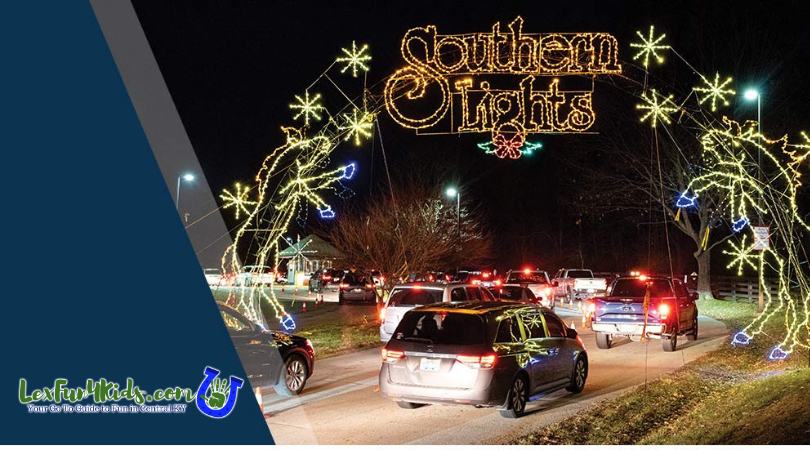 Celebrating its 28th year at the Kentucky Horse Park, Southern Lights presented by Friends of Coal is a magical holiday tradition for thousands of families throughout the Bluegrass and beyond. See over a million twinkling lights from the safety of your car and enjoy a stroll through the Holiday Village featuring safe and family friendly activities for all ages.
When: Nightly from 5:30 pm to 10:00 pm November 26 – December 31.
Where: 4089 Iron Works Pike, Lexington 40511
Cost: $25 per carload
2021 Update: Southern Lights Stroll is back for 2021, Holiday Village is back open. The Holiday Village includes a visit with Santa, Animal Land, Mini Train ride, Bluegrass Miniature Train Display, and the Kentucky Horse Park Gift Shop. Food options will be available.
---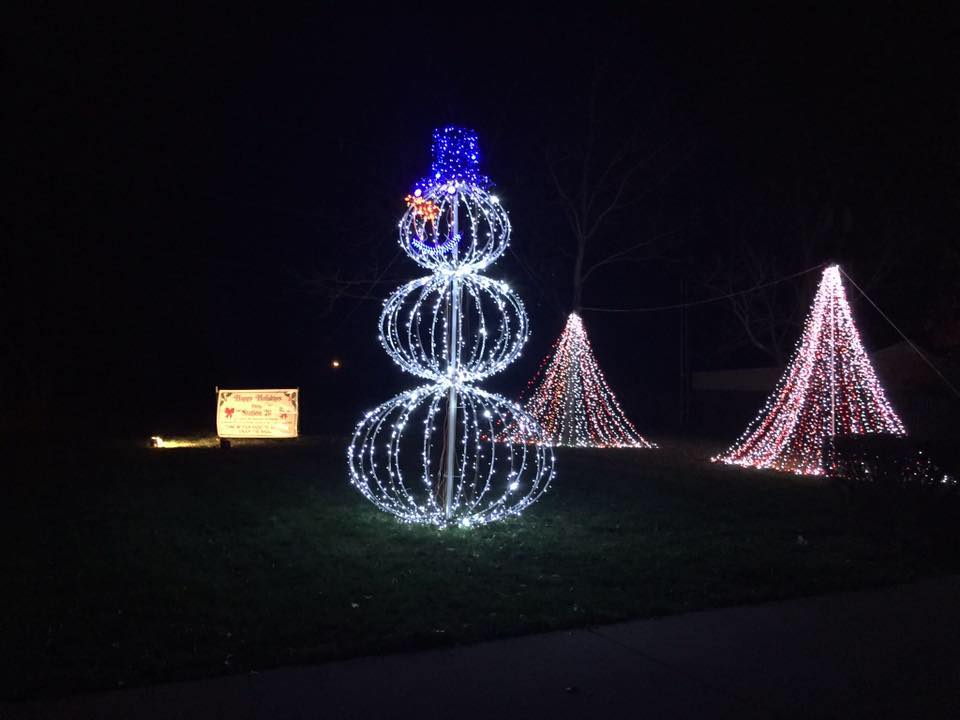 The fire station is a great family tradition! It's timed to music so be sure to tune in while you're there! The channel is posted on a sign just outside the station.
When: Nightly
Where: 3001 Arrowhead, Lexington 40514
Cost: Free (Drop a toy for the Toys for Tots program if you'd like!)
2021 Update: Be watching for info on 2021!
---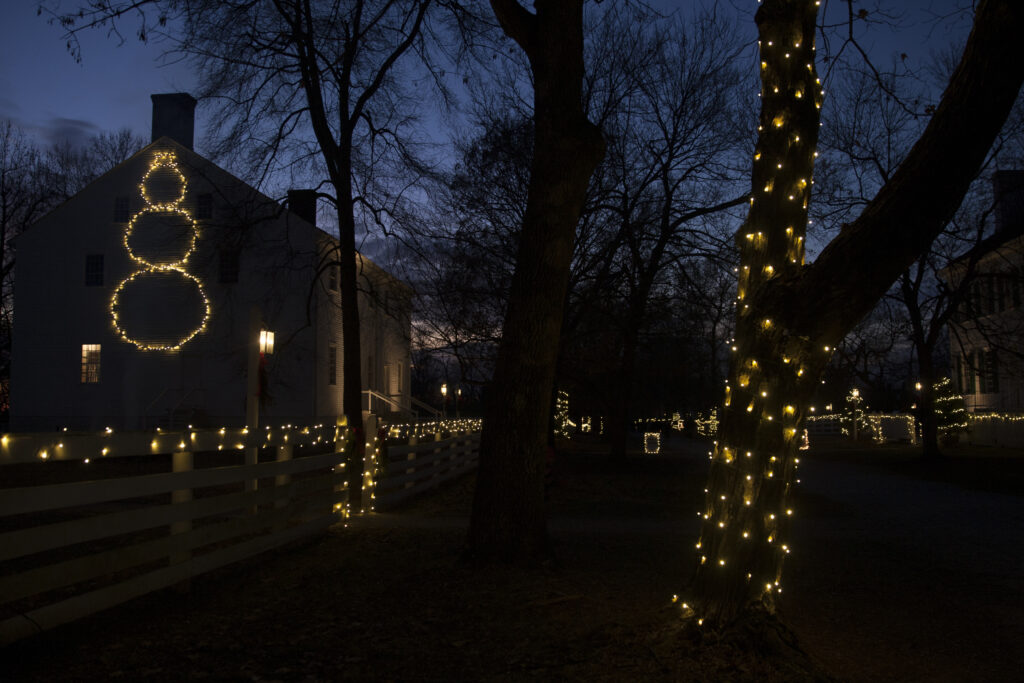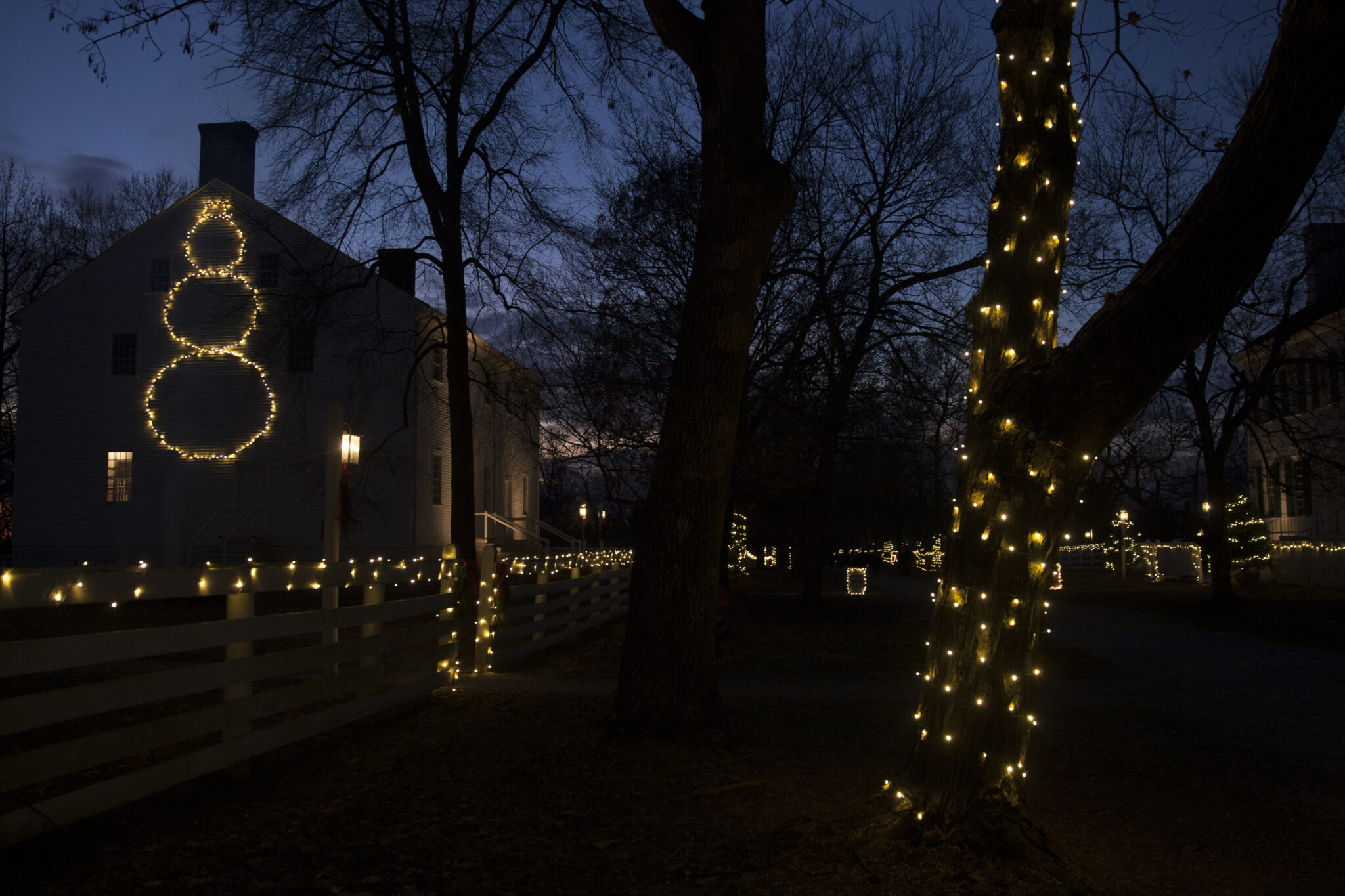 During the holiday season, Shaker Village will bustle with light-hearted moments that remind us of long-ago winter days filled with wonder and laughter. Make time to delight in life's simple gifts with family and friends, as lively music, merriment and candlelight illuminate the Village. In addition to our regular Holiday festivities, Illuminated Evenings will feature holiday music, roaring fires, twinkling lights and an appearance by Mrs. Claus! December 4, 11, and 18 will feature different performers, programs and tours.
When: Saturday evenings in December 4, 11, 18, 2021. 5 pm – 8 pm
Where: 3501 Lexington Road, Harrodsburg KY 40330
Cost: $5 after 5 pm. Donations of new gloves, hats, scarves and non-perishable food for the Shaker Village Giving Tree are encouraged in place of regular $5 admission and will be given to local families in need.
2021 Update: This event is happening for 2021!
---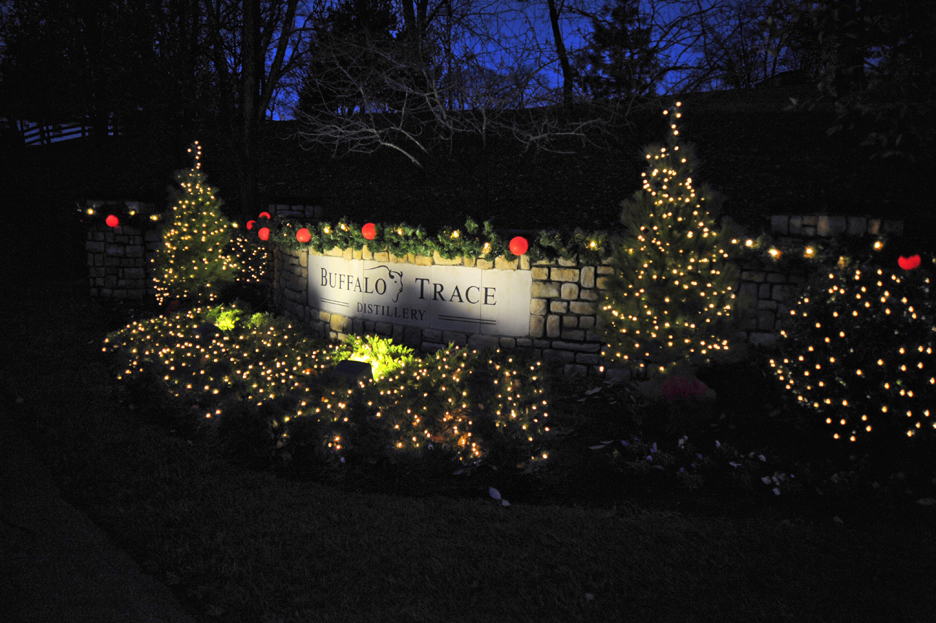 See a kaleidoscope of sparkling lights and displays that captivate your imagination on a drive through Buffalo Trace Distillery nightly from 5:30-9:30p.m.
When: December 2, 2021 – January 1, 2022
Where: 113 Great Buffalo Trace Frankfort, KY 40601
Cost: Free
2021 Update: We will be turning on our holiday lights with a special virtual live countdown on Facebook at 5:30p on 12/2. In an effort to provide a safe experience, our annual in-person events including the Lighting of the Trace and Santa Nights will not be taking place this year. Instead, Santa will make a special socially distanced appearance along our holiday lights route on 12/2 & 12/9 through 12/12, from 5:30pm – 7:30pm! On these special evenings, children may wave at Santa, drop off their letter to Santa and get a pre-packaged treat all while remaining inside their vehicles.
---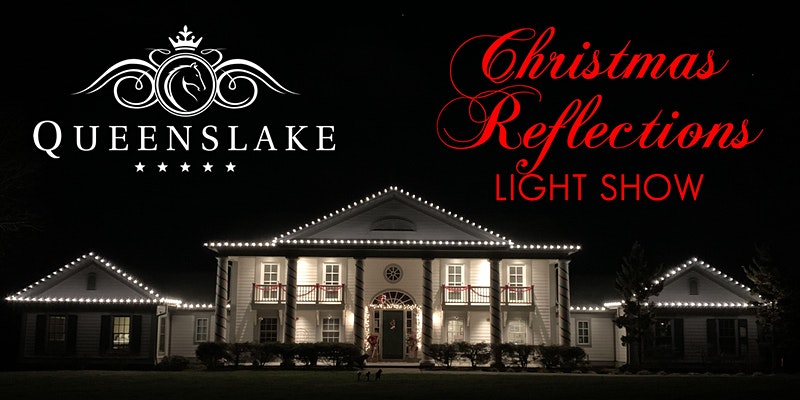 Christmas Reflections at Queenslake Horse Farm in Georgetown, KY is on a mission to provide family-friendly, COVID-safe activities for residents to safely alleviate the adverse effects from pandemic-related isolation. Over 10,000 feet of Christmas lights on the fences, barns, and main house. Floating light displays on the lake, world-class holiday light show on the 6,000 sf. residence, carolers, Christmas barn, photos with Santa Claus. And on New Year's Eve, the midnight ball drop spectacular. Hundreds of carloads of visitors will attend each night.
When: NO EVENT for 2021
Where: 292 Soards Road, Georgetown, KY 40324
Cost: $20 per carload
2021 Update: NO EVENT for 2021
---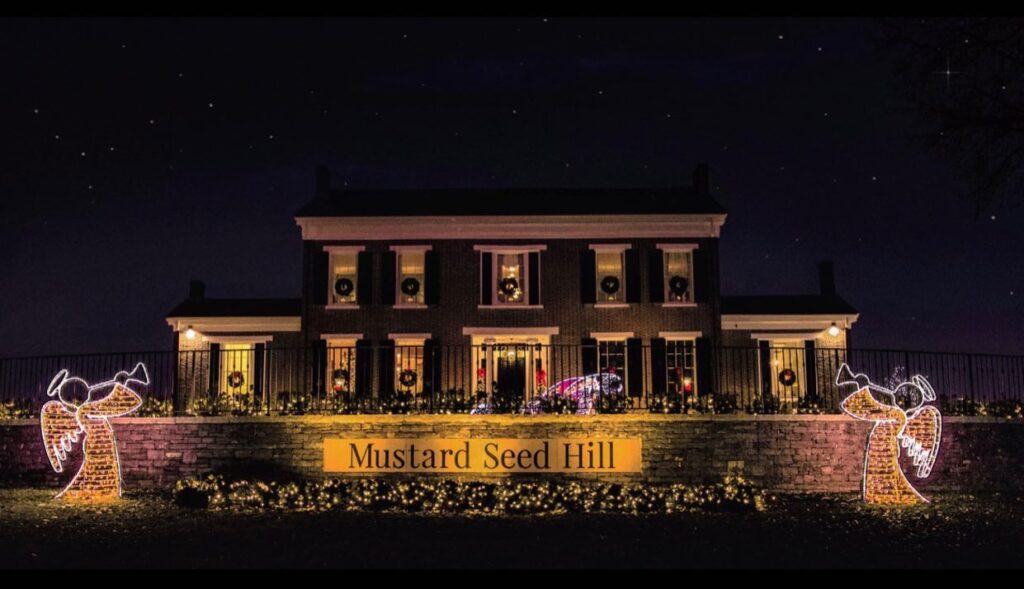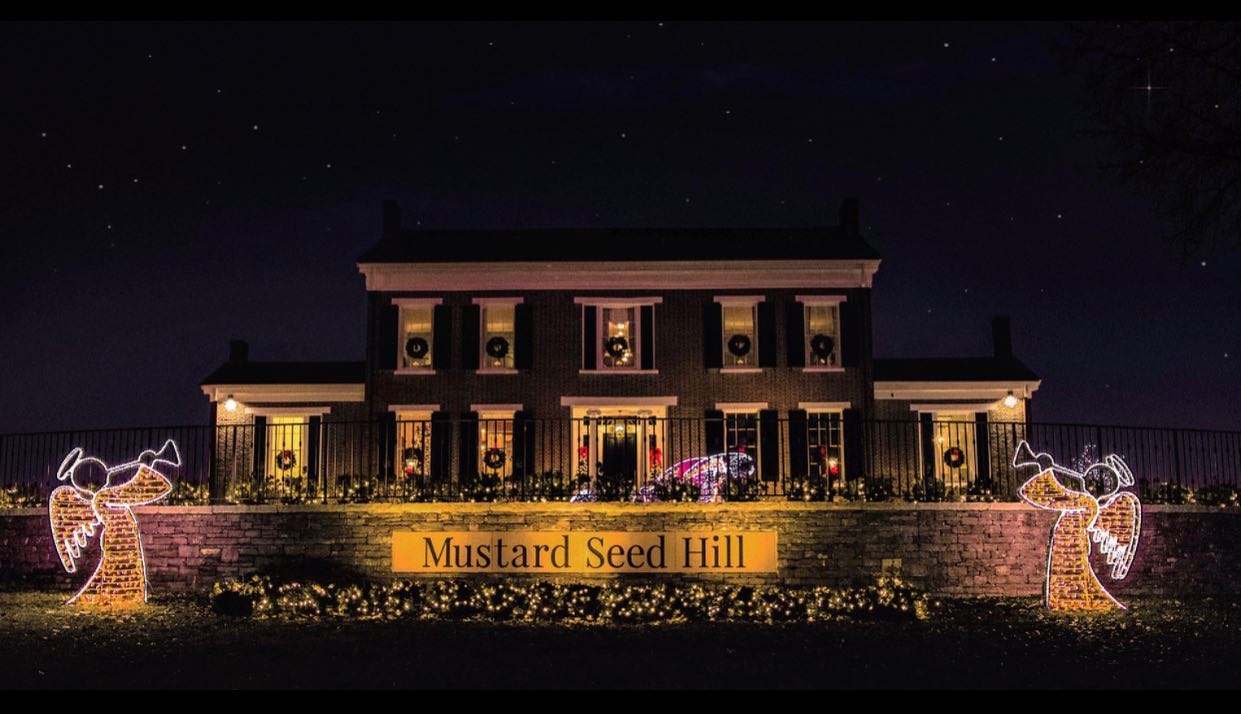 Christmas at Mustard Seed Hill is a spectacular holiday tradition in Millersburg, Kentucky; just 30 minutes north of Lexington in the heart of Bourbon County. Stroll the breath-taking lights, enjoy music, gather with friends, shop for the perfect gift and don't miss the most stunning gingerbread house displays in Kentucky. Visitors throughout the Bluegrass come to experience the magnificent 3-acre Christmas light display, highlighted by a magnificent 30' ribbon tree, 32' glowing ribbon arch, dazzling 20' starburst, Christmas sleigh and more. The incredible 14' illuminated walk-through ornament is the perfect family-photo spot and a beloved location for engagement proposals!
When: Christmas Lights
November 27 – January 1, 2021 5-9 PM Nightly
Artisans' Market & Holiday Cafe and Gingerbread House Display *Gingerbread house display tickets $5
November 27 – December 23, 2021 Wed – Sat – 5-9PM Sun – 3-9PM
Where: 1122 Main Street Millersburg, KY 40348
Cost: Entry Fee – $5 per person
Kids 7 & Under – FREE!
Limited Walk-Up Tickets Available – $10 per person
2021 Update: This event is being held for 2021!
---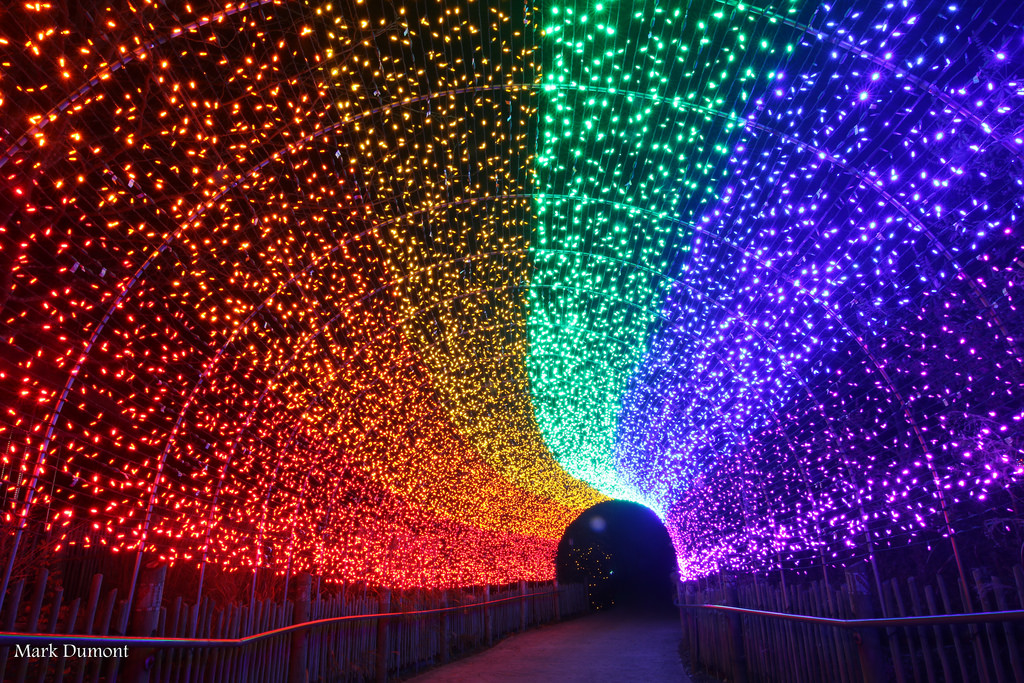 The Cincinnati Zoo will still be shining bright as we're once again transformed into a "Wild Wonderland" for the 39th annual PNC Festival of Lights! In addition to admiring the beauty of 4 million LED lights, visitors can ride the North Polar Express train ride, marvel at the spectacular Wild Lights show on Swan Lake, or snack at one of two S'mores-n-More stands.
When: Nov. 19, 2021 – Jan. 9, 2022 10 am – 9 pm
Where: 3400 Vine St., Cincinnati, Ohio 45220
Cost: Prices vary – see online
2021 Update: This event is happening in 2021!
---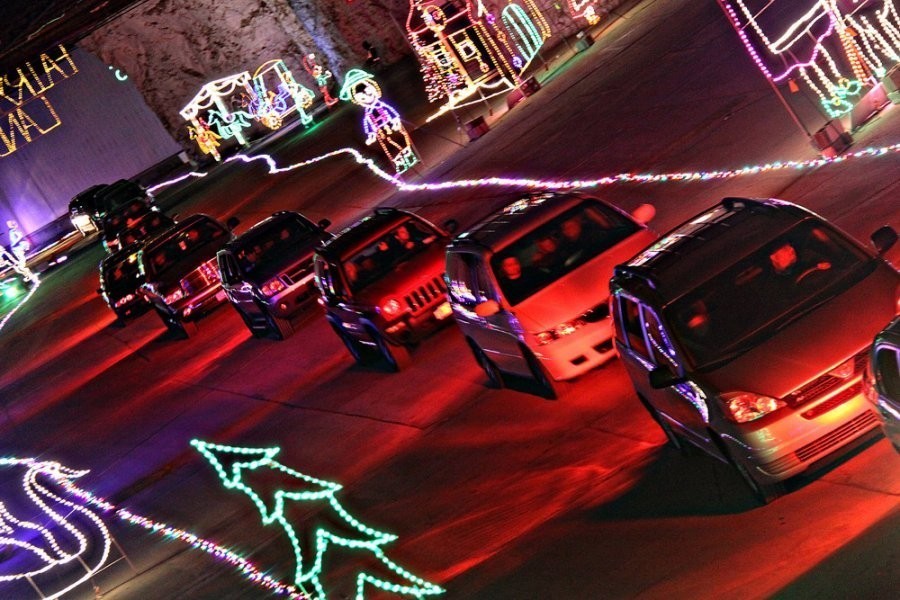 Drive your own vehicle through the MEGA Cavern to experience the ONLY underground holiday light show in the world! Each year the LOUISVILLE MEGA CAVERN is transformed into an underground holiday light spectacular for the Christmas season. Enjoy a 30 minute ride through part of our 17 miles of underground passageways. Featuring over 850 lit characters with over 3,000,000 points of light. It's the only underground light show of its kind on the planet!
When: November 12, 2021 to January 2, 2022
Opening Day: 6pm to 10pm
Daily Hours: 9:30am to 10pm
Thanksgiving Day: 6pm to 10pm
Christmas Day: 5pm to 10pm
Where: 1841 Taylor Ave Louisville, KY 40213
Cost: Prices vary for vehicle type – find ticketing info online
2021 Update: This event is happening for 2021!
---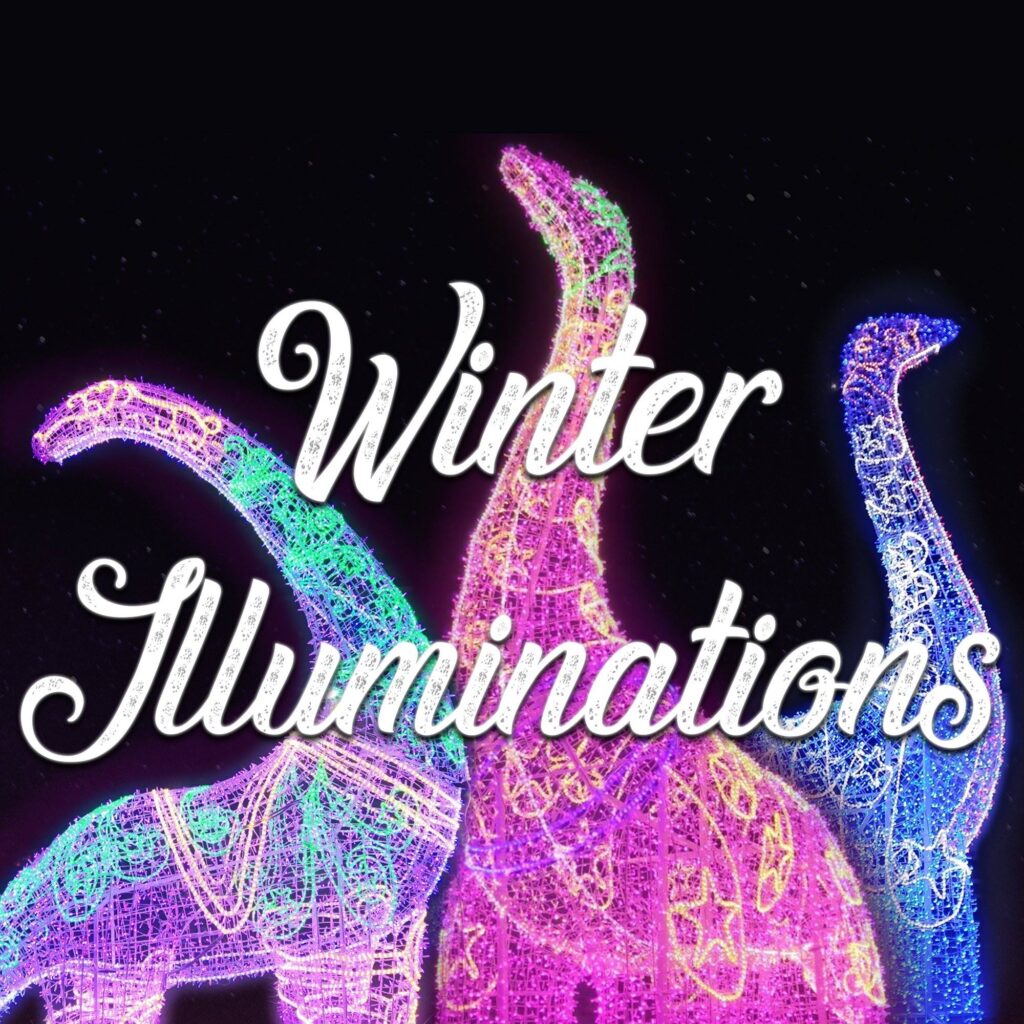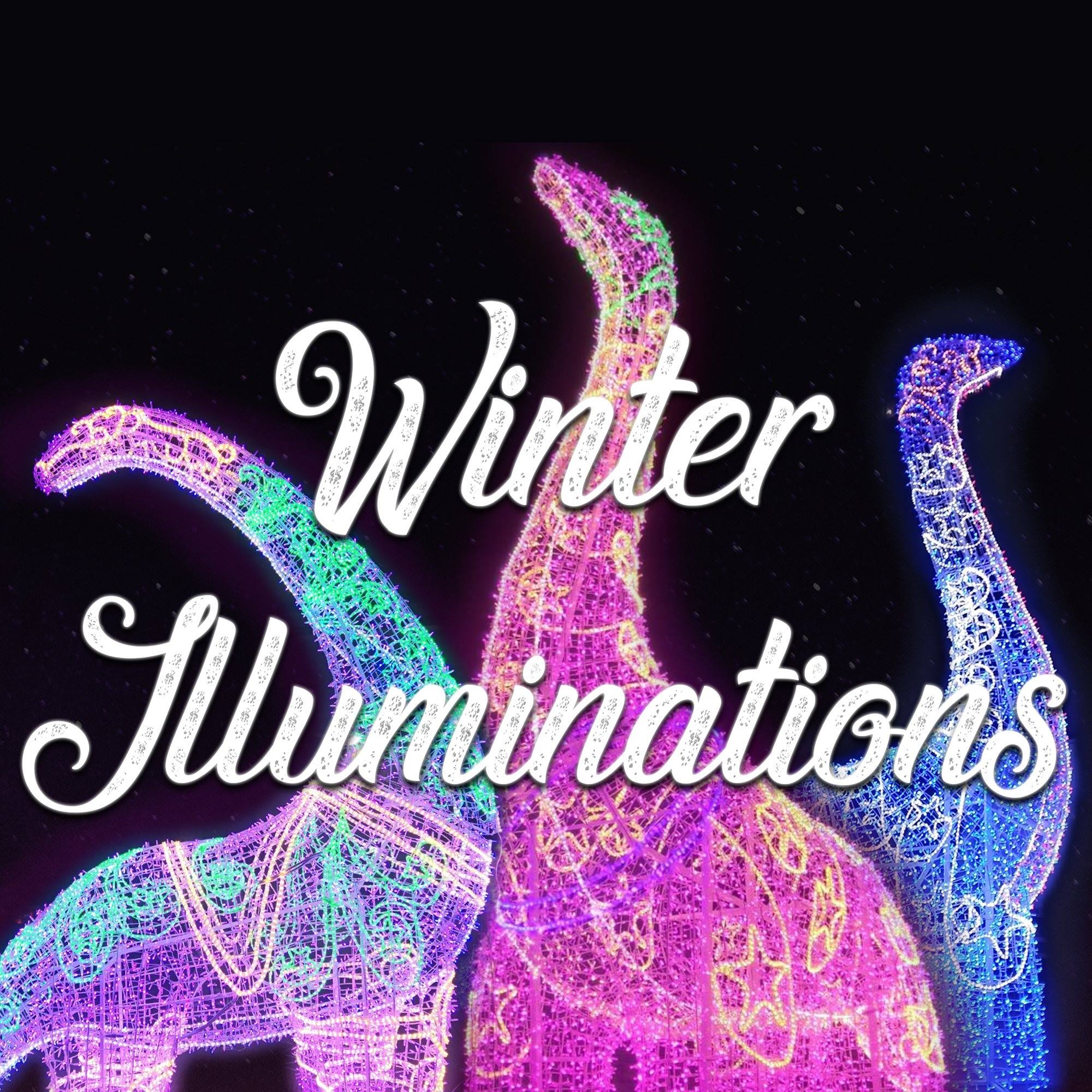 Winter Illuminations is an illuminated trail walk. Designed to be Louisville's premiere winter tradition, the one-mile trail features more than 10 light installations harmonizing light, music and nature. We invite you to bring your family and friends to experience the magic of this one of a kind illuminated trail.|
When: November 19th, 2021 (Friday – Sunday in November, Thursday – Sunday in December) – January 2nd, 2022
Wednesday, Thursday & Sunday: 5:45 pm to 8:00 pm, Friday & Saturday: 5:45 pm to 9:00 pm
Where: 1411 Beckley Creek Pkwy, Louisville, KY 40245
Cost: Prices vary by age and day you visit. Find out more online.
2021 Update: This event is happening for 2021!
---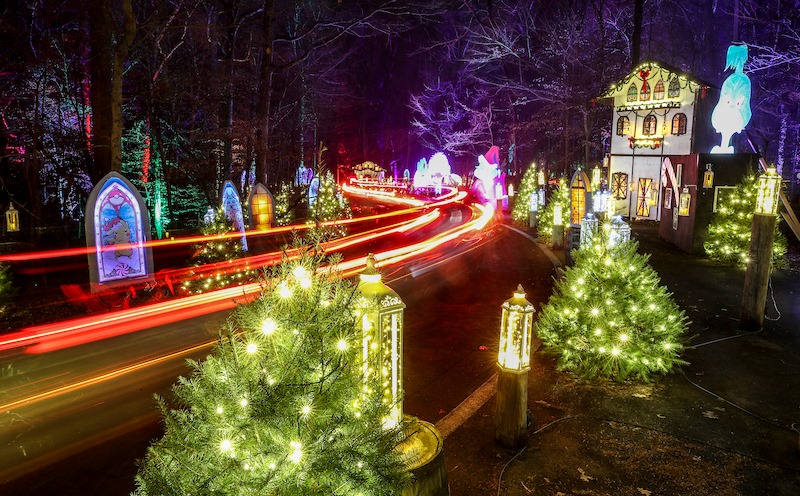 Experience the twinkling of millions of lights as you traverse by car along a winding road nestled in majestic woods, filled with illumination, artistic scenes, and sounds that will delight the senses and transport you to an ethereal winter wonderland. Located in historic Iroquois Park, the Winter Woods Spectacular is a ½ mile drive of lighting and artistry that will explore and celebrate the holiday season.
When: November 26 – December 26, 2021
Where: Iroquois Park, Louisville, Kentucky ~ Entrance at the intersection of New Cut Road and Southern Parkway. For GPS – Use 4800 New Cut Road as your destination.
Cost: $35 Car/SUV/Minivan/Truck, $50 Passenger Van/RV/Limousine, $100 Tour Bus/Limo Bus
2021 Update: Due to COVID-19, there will be no food or concessions served at this year's Winter Woods Spectacular.
---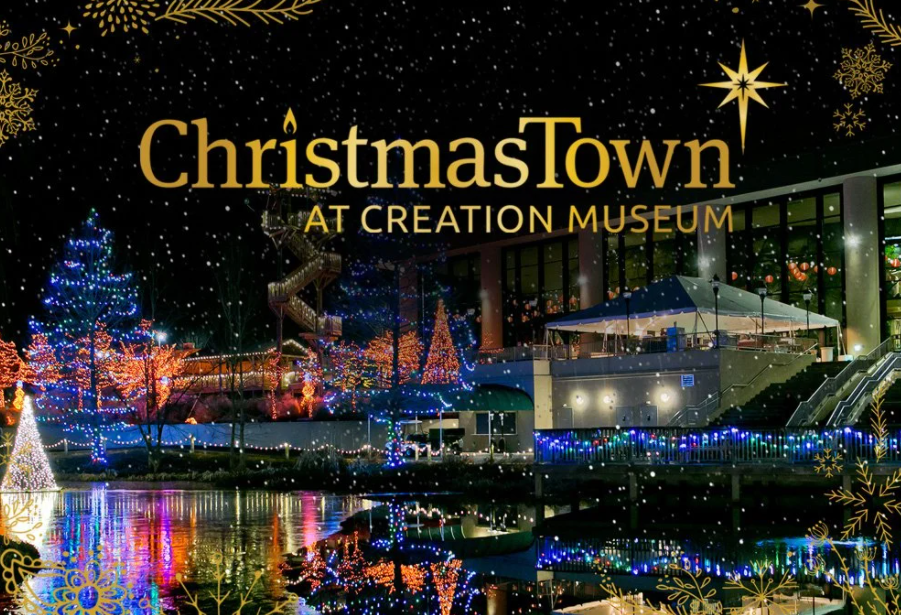 ChristmasTown at the Creation Museum is becoming a Christmas tradition for families in Cincinnati and Northern Kentucky. Stroll through the museum's botanical gardens amid the breathtaking display of thousands of multi-colored lights. Tour the dazzling garden of lights, reflect on the true meaning of the season at the live nativity, enjoy a special holiday dinner, do some unique gift shopping, and experience more during our free, annual ChristmasTown!
When: 5 PM–8:30 PM on Select Days (See Calendar online)
Where: 2800 Bullittsburg Church Rd. Petersburg, KY 41080
Cost: Parking $10, Lights and outdoor nativity experience are FREE. Additional activities are available for a fee or museum admission.
2021 Update: This event is being held for 2021.
Private Homes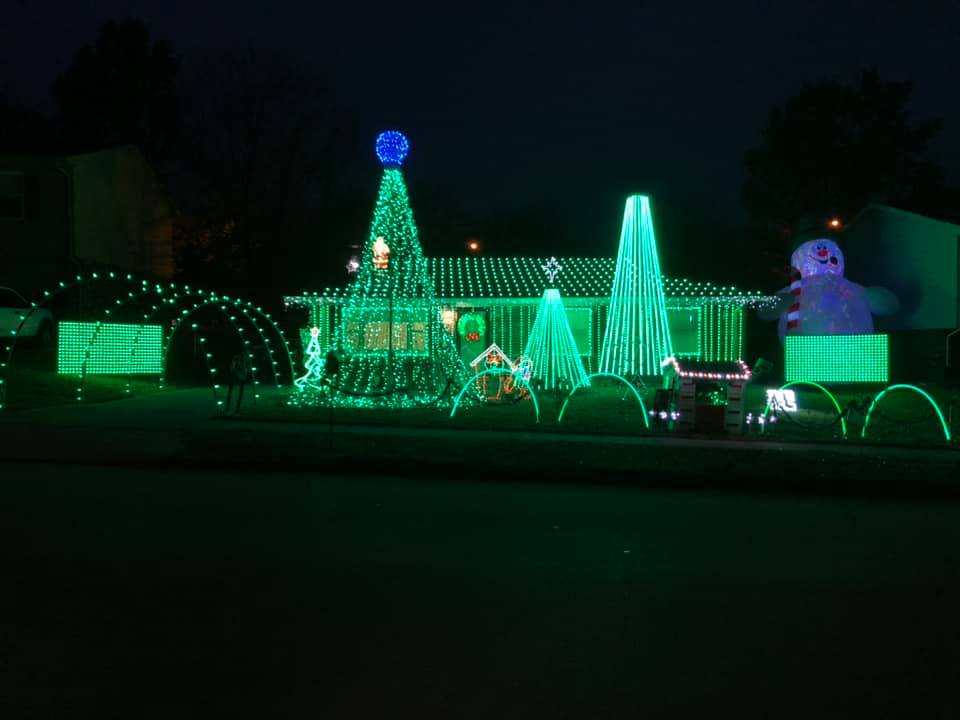 Enjoy this annual tradition with new things planned each year. They typically offer a food donation opportunity so be sure to check their Facebook page for updates on making a non-perishable donation while you are there!
When: Nightly from 5:00 pm to 11:00 pm Thanksgiving through New Year's eve.
November 28th 6:00 pm bring a canned good and get your picture taken with Santa
Where: 2956 Mt. McKinley Way, Lexington KY 40517
Cost: FREE (Food donations encouraged)
2021 Update: The display will be up for all to enjoy!
---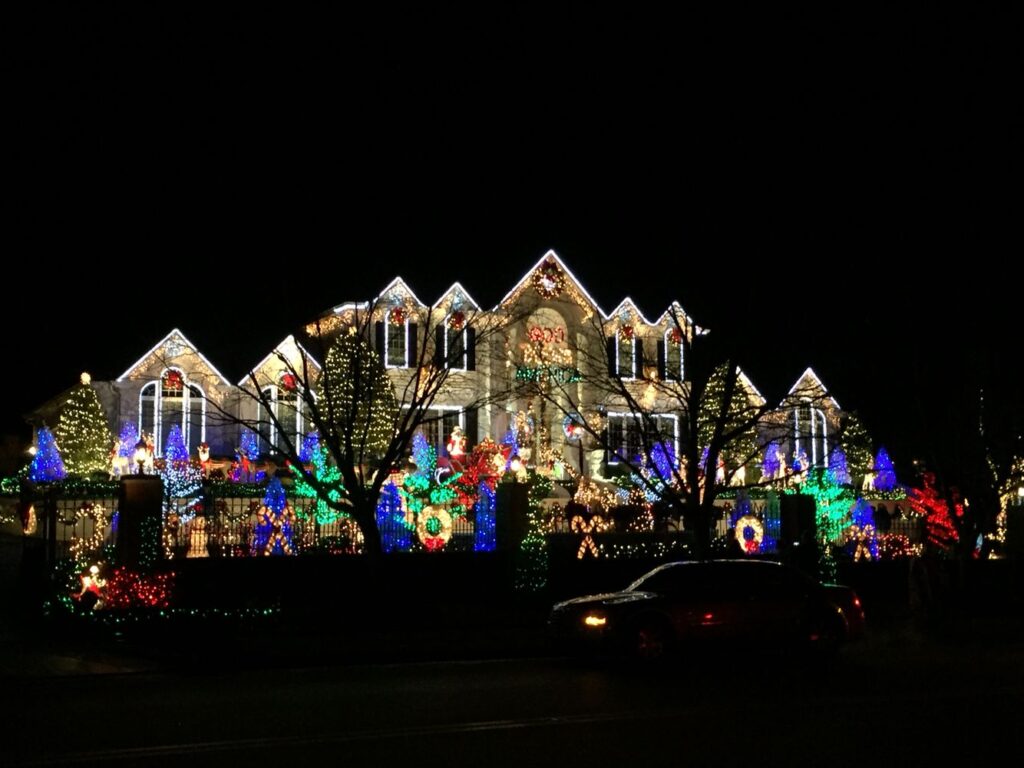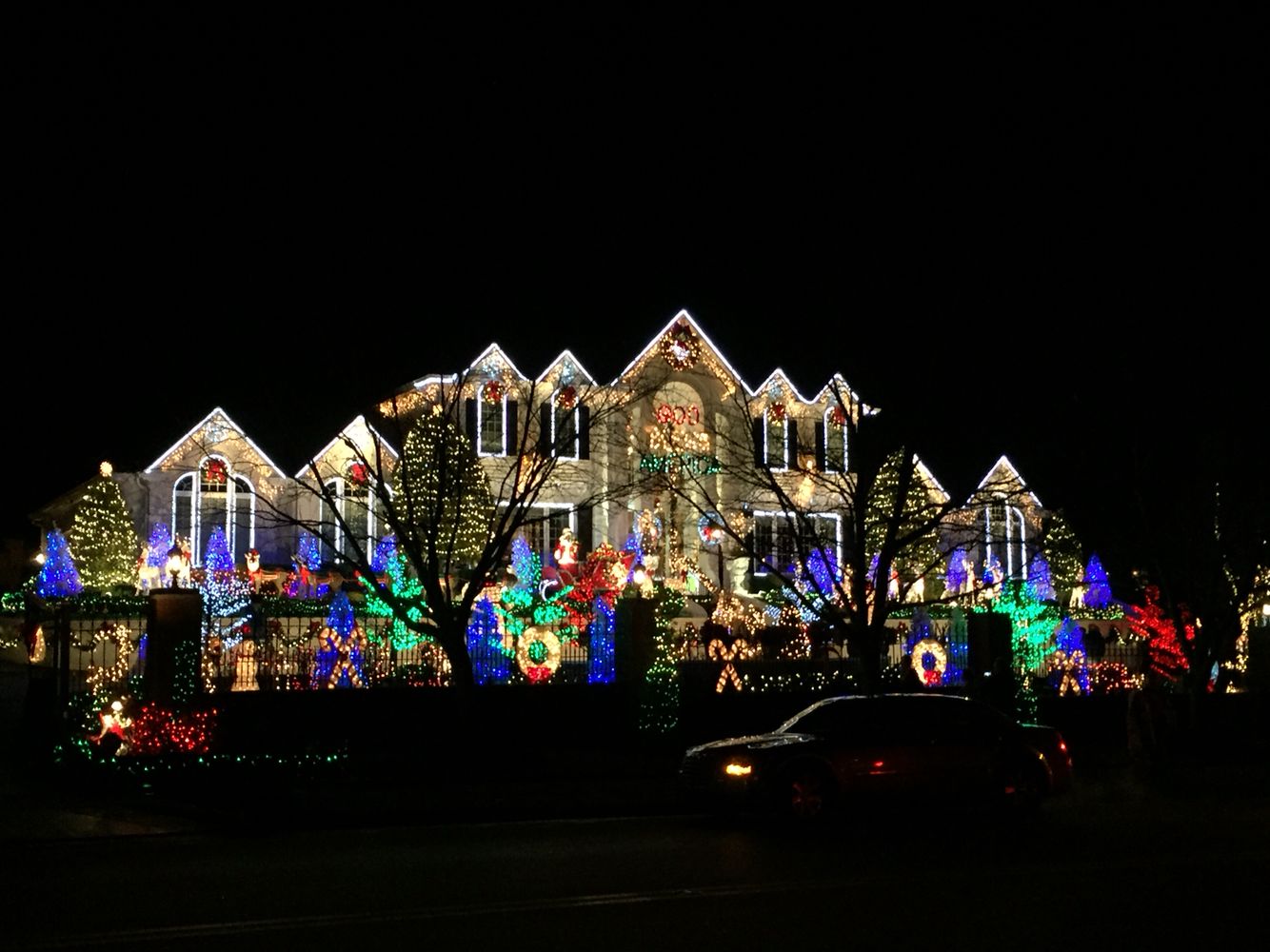 Turner House
The Turner family has been decorating for the holidays for decades and their beautiful light display is always a favorite of families across Central KY!
When: Nightly during the holidays
Where: 1008 Chinoe Road, Lexington KY 40502
Cost: FREE
2021 Update: This display is lit up to enjoy for 2021!
---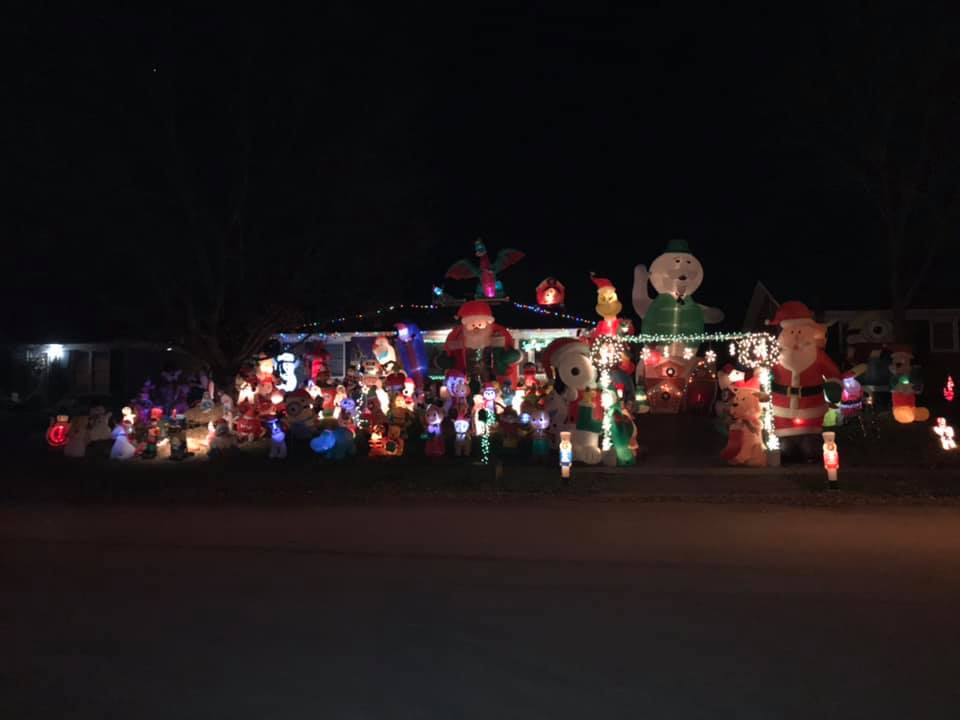 If you're a fan of the colorful, inflatable yard decorations or have kids who love these or want to see some favorite classic holiday and cartoon friends this is the stop for you! Enjoy a HUGE display of fun characters including Rudolph, Mickey, Snoopy, Spongebob and MORE!
When: Nightly from around Thanksgiving through New Year's eve.
Where: 200 Toronto Road, Lexington 40515
Cost: FREE
2021 Update: The display will be up for all to enjoy!
---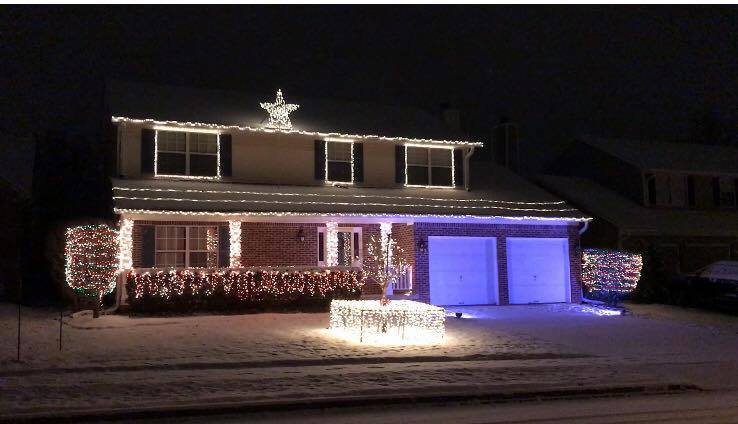 A wonderful display set to music! Tune in to 89.5 and enjoy the show!
When: Nightly from 6:30 pm to 9:00 pm December 1st – January 1st.
Where: 1748 Abbington Hill, Lexington 40514
Cost: FREE
2021 Update: The display will be up for all to enjoy!
---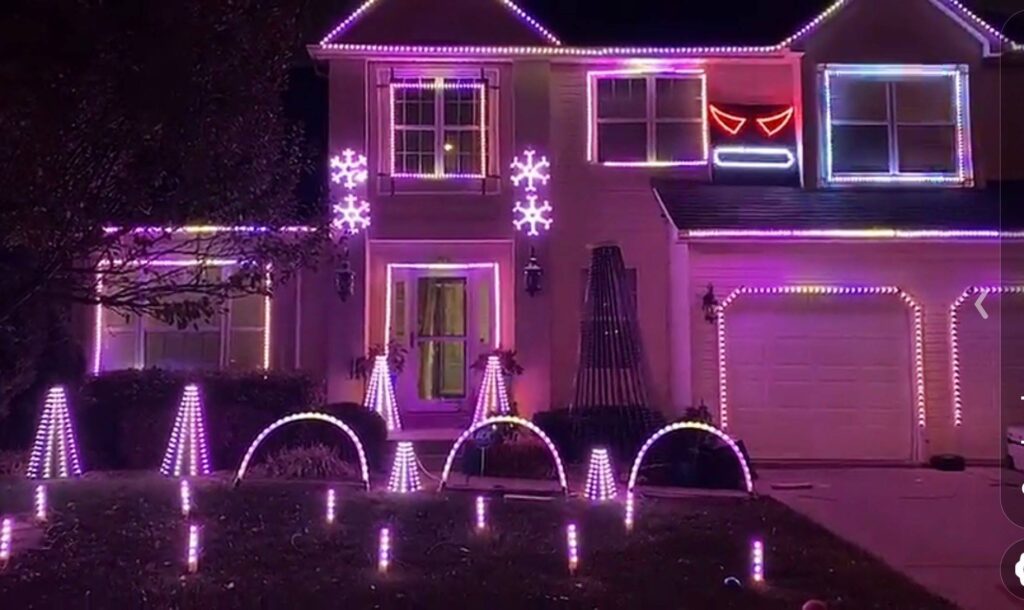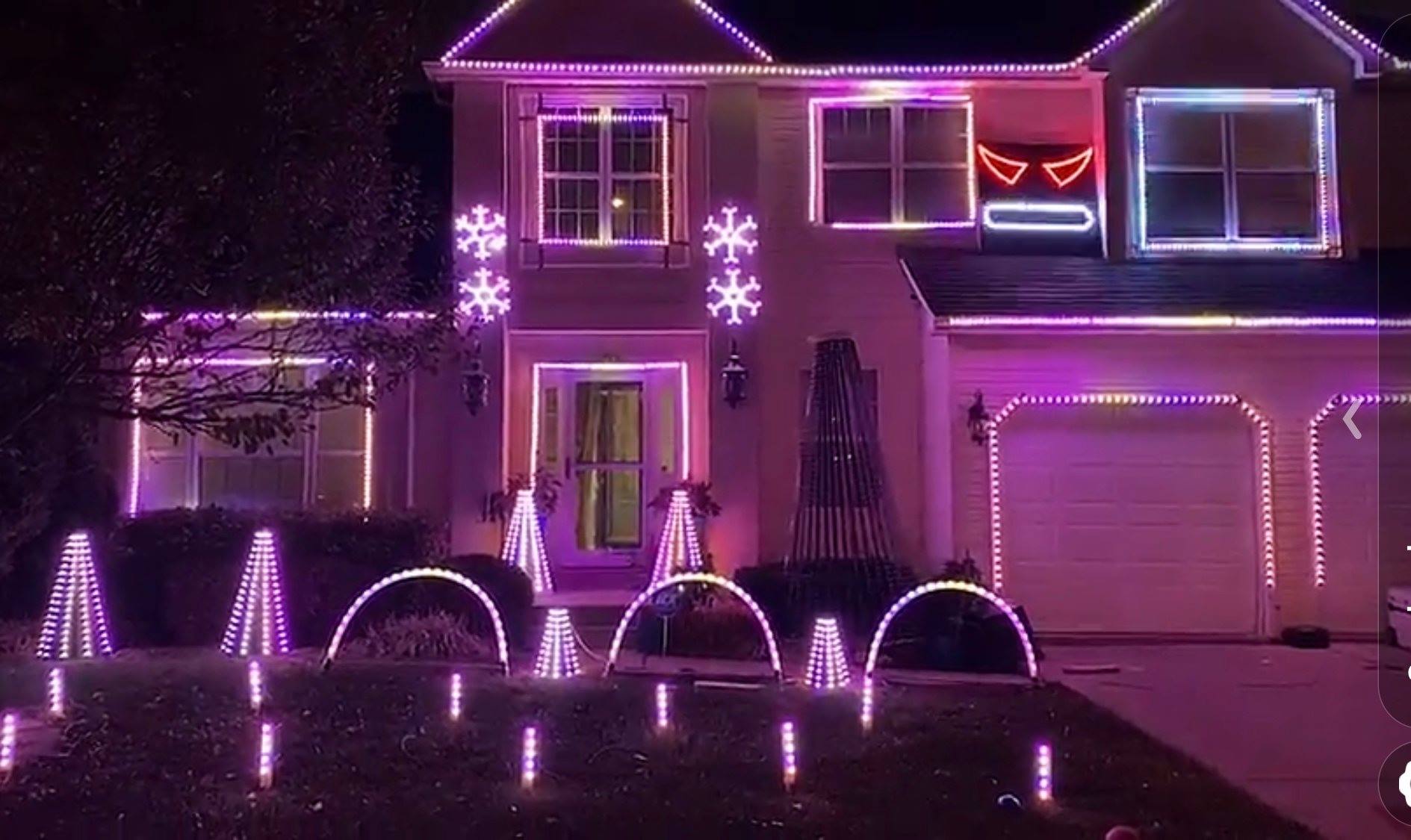 Enjoy this stop just down the street from the Jones Family Christmas Lights! This home is decorated with lights programmed to music.
When: Show starts December 1, 2021
Where: 1713 Abbington Hill, Lexington 40514
Cost: FREE
2021 Update: This is happening for 2021!
---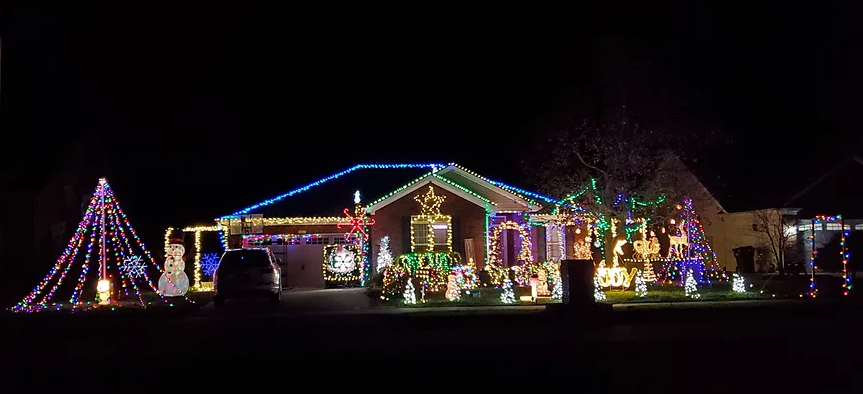 Enjoy this special display a local 14 year old created!! The Wild Lights musical light show in Jessamine County is set to music too! Drive by, tune to 88.5 FM. @WILDLIGHTSKY
When: Nightly starting November 25th
Where: 112 Bernie Trail, Nicholasville KY 40356
Cost: FREE (Accepting food donations to benefit Packin the Pantry)
2021 Update: The display will be up for all to enjoy!
User submitted addresses to check out!
---
Reader submitted addresses from 2020 *Not all have been verified so please let us know if any are NOT having lights this year.
366 Bourbon Acres Road, Paris, KY 40361
106 Briarwood Road, Versailles, KY 40383
400 Farmbrook Circle, Frankfort, KY 40601 – Music synced with lights
3293 Featherston Drive Lexington, KY 40515
720 Pinnacle Court, Lexington, KY 40515 – Tune in on your radio to music synced to the lights
412 Kimberly Place, Lexington, KY 40503 – Lots of lights and displays and Santa and his reindeer are on the roof!
136 Wells Court, Nicholasville, KY 40356
705 Troy Trail, Lexington, KY 40517 – The owners have built a Whoville village in their yard and the lights play to the soundtrack of the Grinch, they also have a Grinch cut out to take a picture with and ornament bags for the kids to take home and decorate.
737 Sundollar Cove, Lexington, KY 40515
3881 Ormesby Place, Lexington, KY 40515
2800 Ashbrooke Dr, Lexington, KY 40513 Dancing lights set to music, dusk to 9:45 pm on weekdays and 10:45 pm on weekends.
1519 Thames Drive
4720 Hartland Parkway Lexington, KY 40515
413 Doubletree Ct. Richmond, KY 40475 Thousands of lights synchronized to music over an FM channel
313 Savannah Dr. Richmond, KY 40475 5:30 pm – 10:30 pm Box set out for a food drive.
The Holiday Events Guide is UP!
Find Santa, Music, Train Rides, Trees and more!!