Where can you see Santa Claus in Lexington and Central KY? Here's some great events in Central KY! Click the event for more information. There are places that offer breakfast, brunch, train rides, visits, photos, and more.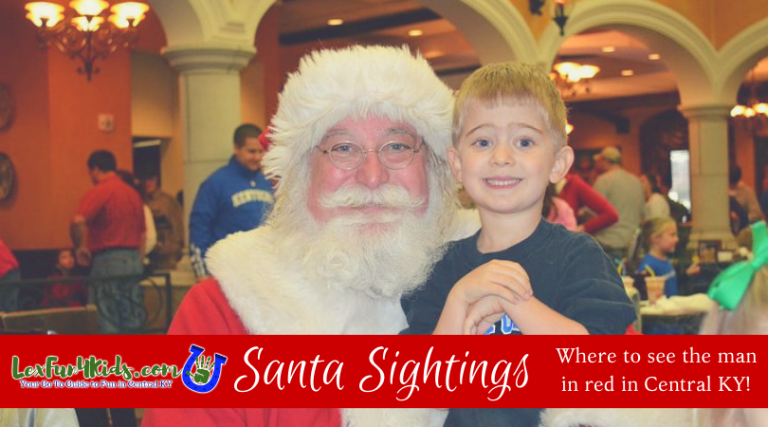 Santa events are happening but with COVID-19 they will look a bit different. Be sure to explain this to your child before heading out. You can check with each event to see how they are staying healthy as they celebrate. Also, confirm events before you go since with numbers changing daily events may be canceled.
Check out these awesome VIRTUAL visits too!!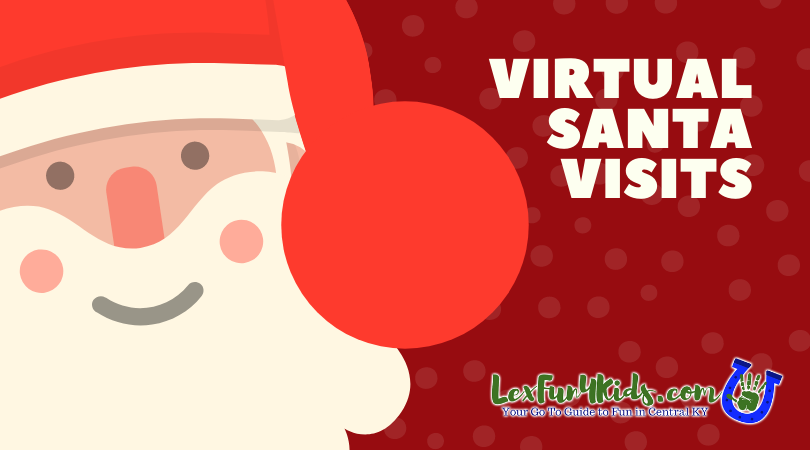 This season, Santa arrives on the best shopping day of the year, Black Friday! Starting November 27th through Christmas Eve, you'll find Santa and his team of elves in the Dillard's Court. Visits will be contactless, with families sitting six feet away to ensure proper social distancing. But don't worry about those Christmas lists! Santa Claus can't wait to hear what's on your list and will still be available to talk with his little elves-in-training. *Virtual visits are also available!
Santa will be available for photos during the following times:
Monday – Saturday, 11am to 8pm
Sunday, 12pm to 6pm
Christmas Eve, 9am – 5pm
Set Closed on 11/30 & 12/7
All guests must schedule their visit with Santa using our convenient online reservation platform, located HERE. You'll select a date and time, purchase your photo package, and then you're ready for the unique 2020 Santa photo experience. Walk-ups will be allowed during the first and last hour of the day, time permitting. All visitors must wear masks before, during, and after photos.
The magic of the holidays is almost here, and we're ready to help you enjoy a season that's truly one to remember! To make a reservation or view a full list of holiday hours, Santa photo and break hours, and more seasonal information, visit our website at www.shopfayette-mall.com.
Please note that our usual holiday events are canceled for this year, including the Santa arrival party, pet photos, and Santa Cares. We hope to bring these fun, family-friendly events back in 2021, and we thank you for your understanding.
---
November 27 – December 24, 2020
Convenient hours at a BRAND NEW fun and festive location!
Online appointment scheduling! Click HERE
Walk-ins are available!
Clean, safe & social distant guidelines followed!
---
November 7 – December 24, 2020
Make a reservation online up to 7 days in advance. Social distancing, temperature checks, plexiglass barrier between guests and Santa, face coverings, and hand sanitizing to make your visit safe.
---
A Kentucky Christmas special event at Hamburg Pavilion – November 29, 2020 1 pm – 3:30 pm
Celebrate A Kentucky Christmas with free horse and carriage rides at Hamburg Pavilion! A professional photographer will be on site to capture family photographs in the carriage with Santa Claus and Midnight, the magnificent Percheron horse! Photographs will be available for free on Hamburg Pavilion's A Kentucky Christmas Facebook event page. Pick up and drop off for horse and carriage rides will be located at Hamburg Pavilion's Gazebo between Ted's Montana Grill and Victoria's Secret. The best way to spread Christmas Cheer is making sure that COVID is not near! Friendly reminder to wear a mask and practice social distance. From all of us at Hamburg Pavilion we wish you a Merry Christmas and a happy holiday season!
---
Saturdays, December 5, 12, and 19, from 12 p.m. – 4 p.m.
Sundays, December 6, 13, 20 from 3 p.m. – 6 p.m.
Like so many of us these days, Santa is working remotely at the Waveland mansion to get ready his big day! If you would like to come by and say hello, Santa will be located on the side porch window of the mansion for those little ones who want to make their requests. What a great photo opportunity for your children to stand next to the grand paned window with Santa seen in the background.
For safety, we will require all families to wear masks until it is their turn to enter the porch. There will be one way in and one way out. 6 ft social distancing will be practiced while waiting.
This is a free event for our guests. No reservation required.
December 14 & 15, 2020 5:30 – 7:30 pm
For a donation of just $10 or more, you can have a 5-minute visit with Santa Claus over Zoom, and finish up with a virtual on-screen photo!
Each photo will consist of a screenshot of the participant(s) with Santa on Zoom, and will be featured in a special digital holiday-themed frame. Photos will be emailed within 2 business days, so please sign up with the email address that you would like your photo sent to.
Each visit is 5 minutes, but multiple members of your household can visit at the same time! If you have multiple children and think you'll need more than 5 minutes with Santa, please select back-to-back ticket times so we can accommodate you.
---
Rotary Club Virtual Santa
Rotary Club of Lexington member Winn Stephens created a virtual Santa experience. Using Zoom and a few special effects, children will now have the option to visit Santa even during a pandemic.
"I believe this is going to be a really effective tool for families. Because appointments are booked in advance, we can share information about the children, their Elf on the Shelf, special requests, etc.," said Stephens. "It's going to make for a much more personal experience than the typical visit with Santa."
Virtual visits are $25, or families can choose a pre-recorded message for $40. All proceeds, including tips, are being donated to the Rotary Club of Lexington endowment to ensure coats are available for children in need.
For bookings, please visit www.santawinn.com.
Appointments are available on Saturday, December 12 from noon – 8:00 p.m., Sunday, December 13 from 1:00 p.m. – 6:00 p.m., Wednesday, December 16 from 5:30 p.m. – 10:00 p.m., and Sunday, December 20 from 1:00 p.m. – 6:00 p.m.
---
Saturday, December 12, 2020 1 pm – 5 pm
For the first time, Bring your children downtown for a Photo Op with Miniature Ponies from the Maker's Mark Secretariat Center, dressed as Rudolph! This first time event is certain to wow your children and provide photos that will last a lifetime!
---
Bring your family to a one-of-a-kind brunch at The Kentucky Castle featuring an appearance by none other than St. Nicholas himself! It's never too early to make sure Santa has you on his list! This year, he will be taking a break from all his busy preparations to visit The Kentucky Castle for a magical, one-of-a-kind Santa Brunch! All ages are welcome to come and enjoy a delicious meal prepared by our expert chef, featuring a build-your-own pancake bar that lets you stack your flapjacks all the way up to the north pole! Santa will entertain the guests and — afterward — pose for photographs.
*"Lap child" 2 years & under may attend without a ticket.
*Tickets are sold by private, socially distanced table. Please, purchase tickets with members of your own household. Some tables may be eligible to add seats, please email mary@thekentuckycastle.com to inquire.
*Per state mandate, masks are required to be worn at all times when a guest is indoors and/or within 6ft. of anyone outside of their own household.
* For the safety of our guests and staff, The Kentucky Castle will require temperature checks prior to entry to the property.
*Tickets are non-refundable.
*Additional Option: To make a reservation for our boutique hotel or farm-to-table restaurant, please call (859) 256-0322 or visit thekentuckycastle.com."
---
Hillenmeyer Christmas (Tates Creek Road in front of Lansdowne Shoppes)
No Santa for 2020
---
November 16 – December 31, 2018
This year Santa will be incorporated into the driving route, where families can wave hello and have the option to drop off letters in Santa's North Pole Mailbox. Download your Santa Stationary here. Forget your letter? Santa's elves will have extra stationary when you arrive, so think ahead of what you want to ask Santa for this year!
---
Saturday and Sunday November 28th and 29th, Dec. 5th & 6th and Dec. 12th & 13th – 2 pm
Also to meet demand, two additional rides 11 am on Saturdays Nov. 28, Dec. 7th, Dec. 14th
Notice: Due to Social Distance required by the Covid Virus, children will not be able to sit with Santa. Instead, Santa will walk the train car aisles and talk with each child. Santa will be wearing a red facemask and gloves. Photographs will only be available in the aisles. *Limited seating and social distancing observed
Once the train pulls out of the station for a 90 minute train ride, Santa visits each train car. Our Conductors and Car Hosts will help you pass the time while waiting for your turn with the jolly old elf. Enjoy singing carols, watching the winter countryside or just relaxing with your family. At the end of the ride, there are candy canes for everyone before Santa gives his final farewell. Then he heads back to the North Pole to await his Big Night.
Reservations are highly recommended.
Purchase Tickets for the Santa Train HERE
---
North Pole Express
December 4, 5, 6, 10, 11, 13, 18, 19, 20
Thursday and Friday evening departures at 7 pm
Saturday and Sunday evening departures at 6 pm
Join us for a magical train ride to pick up Santa! On our journey to the North Pole, enjoy a train excursion while listening to the sounds of the season. Upon arriving at the North Pole, we pick up Santa, who boards the train and travels with us on our way back to New Haven. Families are encouraged to wear their pajamas for the ultimate North Pole experience.

Upon arriving back at the station, you have the opportunity to come into the depot and take your child's photo with Santa while safely socially distanced. The children also love exploring the museum. The model trains are especially delightful during the holidays!
Santa Express
December 5, 6 12, 13, 19, 20
Departures at 3 pm

All aboard the Santa Express! Bring the children on a magical journey to meet Santa. Enjoy a train excursion while Santa visits with the children and maintaining appropriate social distancing. Don't forget your camera!

Adult (Ages 13+) $27
AAA, NRHS, Military & Seniors $24.30
Child (Ages 2-12) $22
Young Child (Under 2 years old w/ accompanying adult) Free

For more information and tickets CLICK HERE
---
Saturdays and Sundays
December 5-20, 2020 from 9 to 11 a.m.
amilies are invited to take part in the time-honored tradition of Breakfast with Santa at Walker's Exchange. Enjoy a traditional holiday breakfast of scrambled eggs, warm cinnamon rolls, mini Belgian waffles, and much more while a socially distanced Santa roams the restaurant, interacting with the children. Children will also enjoy holiday music and festive décor, plus Galt House coloring books, small holiday gifts, and more. Cost is $35 for adults, and $12 for children 6 through 12. Children 5 and under are free. Tickets may be purchased at the link below:
PURCHASE TICKETS
---
Holiday Junction featuring the Duke Energy Holiday Trains opens November 13, 2020 – January 3, 2021
One of Cincinnati's most beloved holiday traditions returns to Cincinnati Museum Center November 13. The Duke Energy Holiday Trains headline CMC's whimsical Holiday Junction featuring the Duke Energy Holiday Trains.
Santa makes his grand arrival on Friday, November 27. Although guests will not be able to sit with Santa to make sure he hears their wish list this year, they will be able to speak with the jolly elf in the Public Landing adjacent to Holiday Junction. Santa will be busy preparing for the big day but will happily pause to speak with guests through a plexiglass barrier.
The Holiday Events Guide is HERE!
Find Santa, Music, Train Rides, Trees and more!!