Where can you see Santa Claus in Lexington and Central KY?  Here's some great events in Central KY!  Click the event for more information.  There are places that offer breakfast, brunch, train rides, visits, photos, and more.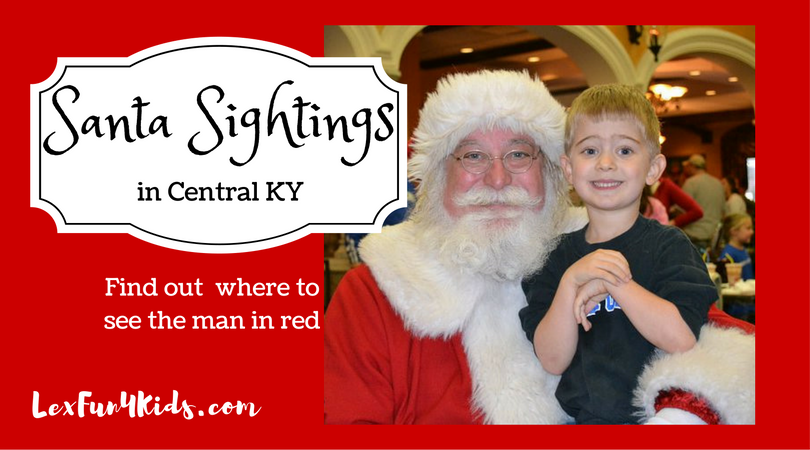 2017 Events  (More events added throughout the season!)
November 18 – December 24, 2017
Located inside The Mall at Lexington Green, on the upper level.   Feel free to book your appointment online by clicking below or contact them at (859) 983-2630 and walk-ins are always welcome.
Christmas Store Hours
November
23: Closed
24: ‪10:30-5:30‬ (Lunch ‪2‬-3)
25: ‪10:30-6:30‬ (Lunch ‪2-3‬)
26: 11-5 (No Lunch)
27: Closed
28: 4-8 (No Lunch)
29: 4-7 (No Lunch)
30: 3-7 (No Lunch)
December
1: 3-8 (No Lunch)
‪2nd – 8th : 11-7‬*
9th  – ‪23rd : 10-8*‬ Daily
24: 10-3 (No Lunch)
*Hours subject to change.  Store will be closed from 2:30 – 3:30 daily for lunch unless otherwise noted
For reservations CLICK HERE or call  (859) 983-2630
For a Price List CLICK HERE
---
November 10, 2017 –  Christmas Eve
Visit Santa in Center Court near Dillard's
Santa's Hours:
Monday – Saturday: 10am – 9pm
Sunday: Noon – 6pm
Please note that Santa takes a break to feed the reindeer from 1pm to 2pm and 5pm to 6pm on Monday thru Saturday, and from 3pm to 4pm on Sunday.
Take the Shortcut to Santa
Purchase a FastPass online to save time when you visit Santa
For photo package information, visit ShopFayette-Mall.com
Pet Photos With Santa
Bring your furry friends for photos with Santa during these special Monday evenings!  Pets are welcome to have their pictures made with Santa on:
Monday, November 27, 6pm to 9pm
Santa's Workshop is located in the Dillard's Court.
Please enter through the mall entrance next to Talbots. Pets must be on a leash or in a carrier, and pet owners are responsible for cleaning up after their pets. Pets will not be allowed in any area of the mall other than the designated Santa photo area in the Dillard's Court. We appreciate your understanding.
Santa Cares (Sensory Friendly Visits)
Santa Cares is a special sensory friendly event for kids with special needs and their families to enjoy a visit and photos with Santa in a calming environment.
Sunday, December 3rd from 9am-11am at Santa's Workshop in the Dillard's Court.  SOLD OUT!!!!
Big Blue Santa
Santa Loves the Big Blue Nation and the Kentucky Wildcats!
Join us for Big Blue Santa, and have your picture made on this special evening with Santa in his Kentucky Blue suit along with the Kentucky Wildcat mascots.
Wednesday, December 6th from 6pm – 9pm at Santa's Workshop in the Dillard's Court
---
Hillenmeyer Holiday Shop Pictures with Santa
Enjoy hot cider, marshmallow roasting, animals, a vintage sleigh and visits from Santa.
Opens November 24th, 2017
Santa Schedule  12 pm – 6 pm on select days

---
Enjoy free visits and photos with Santa Claus while you shop local in Hamburg Pavilion!
Shop 360 and Santa are located between Visionworks and The Children's Place.
Hours are as follows:
Saturday, December 9th from 10 am to 9 pm
Sunday, December 10th from Noon – 6 pm
Saturday, December 16, 2017  10 am – 9 pm
Sunday, December 17, 2017  Noon – 6 pm
Bring your own camera and enjoy FREE photos and visits with Santa as you complete that long holiday shopping list here in #Hamburg!
Our creation station is set up where the kids can write their own letter to Santa (because you've been on the nice list all year!) and make some holiday themed crafts.
While they visit, shop for unique gift items in our Shop 360, a gathering of local vendors. This week, shop with Kentucky Cool Kids, adorably awesome KY apparel and accessories, and Southern Drawl Creations beautiful hand etched glassware!
Don't forget to check in on Facebook for your chance to win $100 gift card at the end of the season!
Bring your own camera!
(Note: Santa will take breaks from 1-1:45pm, and 5-5:45pm on Saturday; 2-2:45 on Sunday)

---
Santa will be at Louis' Flower Power every weekend in December (behind Edley's BBQ & The Children's Play Area)! Louis' will offer complimentary treats & drinks all season long as well as Christmas Trees & décor for sale.
Please follow the link below if you'd like to reserve a time to meet Santa. This $10 ticket lets you skip the line & you receive a professional digital photo emailed to you within the hour of your appointment. Walk-ins welcome but reservations are highly recommended. Happy Holidays, y'all!
Louis' Flower Power Holiday Agenda:
December 2nd: Lights Up | No Reservations Available Due to Event (but Santa Selfies as he tours the property are encouraged!)
Santa will arrive at The Summit by way of WKYT Helicopter next to Louis' Flower Power at 3 pm! He will make his merry way to Whole Foods, then The Green for cookies & cocoa by Ted's Montana Grill, then to The Barn for the Maker's Mark Pop-Up & finally to light the tree outside of Honeywood!

December 9th: Santa 1:00 – 7:00 pm
December 10th: Santa 1:00 – 7:00 pm
Quitting TIme Brass Quintet Live Holiday Music | 2 – 4 pm
December 16th: Santa 1:00 – 7:00 pm
Whole Foods Market Sips & Sweets | 4:00 – 6:00 pm
Eli Uttal-Veroff Jazz Duo Holiday Music | 5:00 – 7:00 pm
December 17th: Santa 1:00 – 7:00 pm
Whole Foods Market Sips & Sweets | 4:00 – 6:00 pm
December 23rd: Santa 1:00 – 7:00 pm
Ross Whitaker Jazz Trio Holiday Music | 5:00 – 7:00 pm
---
Kentucky Horse Park Southern Lights
November 17 – December 31, 2017
Head inside and visit Santa.  We've taken photos ourselves before but their photos are usually available for purchase to support a local charity.
---
When snowflakes start to fly in Kentucky, Santa and Mrs. Claus bring Holiday Cheer to the Bluegrass Railroad Museum. For the 2017 Season, the Claus' will arrive (with help from the Versailles Fire Dept.)
Saturday and Sunday Dec. 9th & 10th and Dec. 16th & 17th, 2017 at 2 p.m.
Also to meet demand, new for 2017 two additional rides at
Saturday,  Dec 9th and Dec 16th, 2017  11 am
---
Santa Express:
During the Santa Express, you will enjoy an approximate 1.5 hour train excursion. Santa walks through the train and visits with the children. Don't forget your camera! We will serve cookies and hot chocolate. Children are encouraged to wear their pajamas.
This event will take place December 2-3, 9-10 and 16-17 and 21,22, 2017
Cost is $25.00 for Adults and $20.00 for children ages 2-12 under the age of 2 is free.
Departure times are 3:00 pm for all dates.
On our journey to the North Pole you will enjoy an approximate 1.5 hour train excursion while listening to the sounds of the season. Upon arriving at the North Pole we will pick up Santa; Santa will then board the train and travel with us on our way back to New Haven. Hot chocolate and cookies will be served. Children are encouraged to wear their pajamas. Make sure and bring your camera. Upon arriving back at the station you will have the opportunity to come in to the depot and take your child's photo with Santa. Don't forget your camera!
This event will take place December 1-3, 8-10 and 15-17, 21 and 22.
Cost is $25.00 for Adults and $20.00 for children ages 2-12 under the age of 2 is free.
Departure times are 7:00 P.M. for December December 1, 8, 15, 22, 2017
Departure times are 6:00 P.M. for December 2,3,9,10,16, 17 and 21, 2017
---
Lighting of the Trace
Buffalo Trace Distillery
November 30, 2017
Embrace the holiday season in all its magnificence as we illuminate the colorful, festive displays at the Distillery. Featuring the Kentucky State University Choir and a visit from Santa. Candlelight Tour at 5:30 p.m., carols and holiday stories at 6:00 p.m., and Santa arrives at 6:30 p.m. No pets allowed, aside from service animals. Complimentary.
Visit Santa at the Trace
Have your children get their wish list ready for Santa as you celebrate the season with Jolly old Saint Nick on December 8th & 9th and 15th & 16th in the Visitor Center from 6:00 p.m. – 8:00 p.m. Complimentary.
---
Dicken's, "A Christmas Carol" at Waveland
Relive Christmas of the past with scenes from the Dickens' classic, "A Christmas Carol" at Waveland State Historic Site. Since this Christmas classic was written in 1843, it only seems fitting to celebrate Christmas of the past in a historic home that was built in the same time period. Follow from room–to-room as the drama plays out right in front of you.  A magical Christmas experience!  Santa will be in the barn each Saturday and Sunday performances an hour before the first scheduled performance. He will be providing photo opportunities for our little guests.Santa Schedule:
Saturday and Sunday's – December 2, 9, 10, 16- Pictures with Santa from 2:30 p.m. – 3:30 p.m. December 3rd will be 3:15-3:45.Performance Schedule:
December 1– 6 p.m., 8:00 p.m.
December 2 and 3 – 4pm., 6pm and 8pm
December 8 – 6 p.m., 8:00 p.m.
December 9th and 10th – 4pm., 6pm and 8pm.
December 15th – 6 p.m., 8:00 p.m.
December 16 – 4pm., 6pm and 8pm.Make sure you stop by the log cabin gift shop for a gift for that special someone!$20.00 Adults, $10.00 ChildrenReservations REQUIRED.  Now accepting reservations.  Limited spaces available!
For Tickets, call:  859-272-3611  If there is not an answer, please leave and a call back number and we will call you back.
---
Danville Hometown Holiday
Saturdays in December
A special treat for the children, Santa will be available Saturdays throughout December (December 2, 9, 16, 23) for Pictures with Santa. More information will be available soon.  Watch on Facebook and their website.
---
Pancakes with Santa
Saturday, December 2nd, 2017  9:30 – 11:00 am
FREE
Morning Pointe, 233 Ruccio Way, Lexington
---
Saturday December 2nd, 2017  8 am – 10 am
Bring your little ones to Historic Boone Tavern to have their picture taken with Santa and enjoy a yummy made from scratch buffet breakfast for just $15 per person!   Breakfast Buffet includes Scrambled Eggs, Bacon/Sausage, Home Fry Potatoes, Biscuits/Gravy, Grits, Oatmeal, Fresh Fruit, Muffins/Danish, French Toast, Milk, Juice, and Coffee.   Reservations required. Please call the front desk and they will happily make your reservation today!  859-985-3700.
---
Toddler Jump Time with Santa at Sky Zone  (He will stick around from 11 am – Noon for older jumpers)
Saturday, December 9, 2017  10 am – 11 am
Sky Zone Lexington will be hosting a very special Toddler Time on Saturday Dec 9th with Santa joining in the fun! Toddler Time is open to jumpers 5 years and younger. Doors open at 9:45am with the jump time from 10am-11am. The price is $12 for one hour (10am-11am) and includes the SkySocks. There is no charge for parents to come watch the kiddos jump ($2 for SkySocks if parents want to go on padded areas that surround the trampolines) We will have cookies and milk for everyone to enjoy!
Santa will be joining us until 12pm if older kids want a chance to say hello! Regular jump time will begin at 11am for all ages!
---
Scott County Humane Society Santa Paws
December 2,3, 9 & 10, 2017
Come have you, your family and/or your pets pictures taken with Santa Claus for only $10 and support your local humane society. The $10 includes a 4×6 or 6×4 photo in a frame, additional photos may be purchased, or we will have the option to purchase a CD.  We will also have a bake sale going on during the same times if you would like to purchase some goodies. ( We will be sending out emails on signing up to bake so if you would like to please let us know)
---
Breakfast with Buckles and Santa
Keeneland
Saturday, December 9th, 2017  8:30 am – 10:30 am
*For Keeneland Kids Club Members – Celebrate the holidays in your favorite pajamas with Buckles and the Keeneland Kids Club. Enjoy special holiday activities and crafts, donuts and hot cocoa. And don't miss the opportunity to have your photo made with Santa and Buckles.  The event is free for Kids Club members.  To learn more about the Kids Club CLICK HERE.
---
Breakfast with Santa at Joseph Beth
Saturday, December 9, 2017  10 am
---
Locations vary, see schedule below
Visit Santa at many locations throughout Berea!
Family Fun Block Party with Santa and McGruff
Sunday, December 17, 2017
An H&R Block retail tax office is now open at 2020 Liberty Road Suite 100 to help residents navigate an increasingly complex tax code and claim all the credits and deductions they are entitled to. To celebrate the grand opening, H&R Block is teaming up with local businesses and the Fayette County Sheriff Department and Fire Department to host a family friendly block party on Sunday, December 17th from Noon to 4 pm.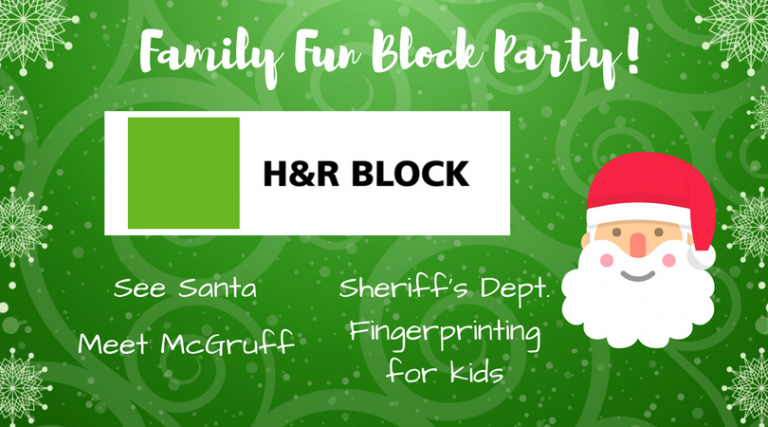 The block party will include pictures with Santa, the Sheriff's Department will be there fingerprinting children so parents can take an Ident-A-Kit home with them, and McGruff will also be in attendance. In addition, The Nest, an organization that supports women, children and families in crisis, will be holding a donation drive. People attending are asked to bring toiletry items and gently used clothing that will go to those in need in the community.
The festivities start right at noon with a ribbon cutting by Councilman James Brown.
"For more than 55 years, H&R Block has been delivering trusted tax advice in neighborhoods across the country," said Chris Good, district general manager for H&R Block. "We're excited to host this event and meet and serve our neighbors."
Block party attendees can talk with H&R Block tax professionals about tax law changes, tax planning and other financial resources available through the office.
---
Meet Santa Claus and Buddy the Elf at Hamburg Taziki's
Tuesday, December 19th from 6-8pm
Kids eat for half off and get a chance to mingle and take photos just in time for the holiday!
---
Brunch with Santa at the Kentucky Castle
December 19 – 23rd   9 am and 11 am
Tickets $15 Kids 12 and Under, $25 Over 12/Adults
Delight the little ones this holiday season with a fun family-oriented holiday breakfast with Santa and his elves at the Galt House Hotel, the Toys for Tots Headquarters on December 2nd, 9th or the 16th. For even more fun, enjoy rides on the Peppermint Express, and Elf School – including how to be an elf and craft activities! Breakfast with Santa and the Elves Overnight Stay Packages are available December 1st, 2nd, 8th, 9th, 15th, and 16th, 2017.
---
Cincinnati Museum Center Holiday Junction – November 10, 2017 – January 2, 2018
The museum center is hosting a very scaled down version of previous years due to massive renovation.  It will take place in the Duke Energy Children's Museum and Santa will also be making visits.  There will NOT be a train exhibit this year either.
Friday November 24:
🎉 Festivities will kick off at 11 a.m.
🎅 Santa arriving- 11:50 a.m.
🎄 Tree lighting- noon
Each year, families make Cincinnati Museum Center the place for their holiday traditions. This holiday season, wonder, joy and merriment will cover 12,000 square feet of CMC's special exhibition gallery in Holiday Junction featuring Brickopolis. Fan favorites like the Thomas the Tank Engine and his friends and the Super-O interactive layout trains will return this year. In addition to a variety of train layouts of different sizes and themes, the riding train will be back, letting riders chug along through a winter wonderland.
In addition to favorites from holidays past, Holiday Junction featuring Brickopolis will include a blizzard of bricks crafted into custom LEGO creations courtesy of the Ohio, Kentucky, Indiana LEGO Users Group (OKILUG). From floor to ceiling, 1,800 square feet of LEGO landscapes will feature motorized trains, whimsical scenes with local flavor and a merry amount of surprises tucked into every pip of their environment
For additional Holiday Hours, Train Exhibits, and more CLICK HERE
The 2017 Holiday Events Guide is HERE!
Find Santa, Music, Train Rides, Trees and more!!