Where can you see Santa Claus in Lexington and Central KY? Here's some great events in Central KY! Click the event for more information. There are places that offer breakfast, brunch, train rides, visits, photos, and more.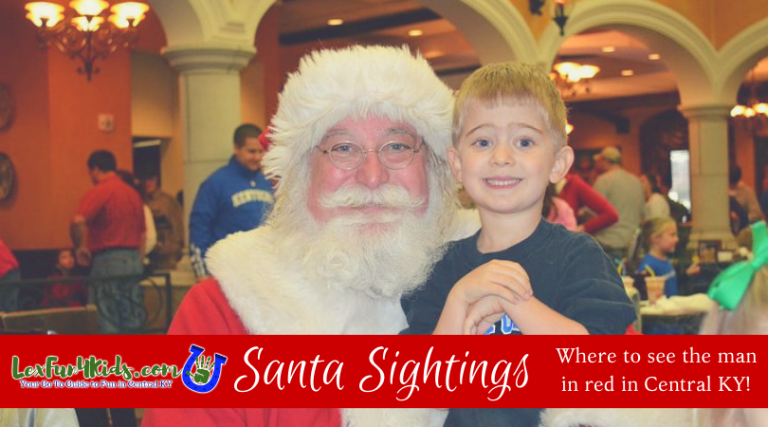 More 2019 Events Coming Soon!!
November Hours
SAT 16th
3-5 pm (Tree Lighting and trolley rides; pictures after)
SUN 17th 11-2 pm
MON 18th – THUR 21st Closed
FRI 22nd 4-7 pm
SAT 23rd 11-6 pm (Lunch Break 2-3)
SUN 24th 12-5 pm
MON 25th – TUES 26th Closed
WED 27th 10-5 pm (Lunch Break 2-3)
THUR 28th Closed for Thanksgiving
FRI 29th 11-6 pm (Lunch Break 2-3)
SAT 30th 10:30-6 pm (Lunch Break 2-3)
December Hours
SUN 1st 11-5 pm
MON 2nd 3-7 pm
TUES 3rd 2-7 pm
WED 4th 2-7 pm
THUR 5th 1-7 pm (Break 3:30-4)
FRI 6th 12-7 pm (Lunch Break 3-4)
SAT 7th 11-7 pm (Lunch 2:30-3:30)
SUN 8th 11-6 pm
MON 9th 2-6 pm
TUES 10th 1-7 pm
WED 11th 1-7 pm
THUR 12th 11-7 pm (Lunch 2:30-3:30)
FRI 13th 10-7 pm (Lunch 2:30-3:30)
SAT 14th 10-7 pm (Lunch 2:30-3:30)
SUN 15th 11-7 pm (Lunch 2:30-3:30)
MON 16th – MON 23rd 10-8 pm (Lunch 2:30-3:30)
TUES 24th 10-3 pm
---
November 8, 2019 – Christmas Eve
Visit Santa in the Dillard's Court
Santa's Hours 2018: (Hours for 2019 will be updated as soon as available)
Monday – Saturday: 10am – 9pm
Sunday: Noon – 6pm
Christmas Eve: 10am – 6pm
Please note that Santa takes a break to feed the reindeer from 1pm to 2pm and 5pm to 6pm on Monday thru Saturday, and from 2:30pm to 3pm on Sunday.
---
The Summit 2019 Holiday Agenda:
November 16, 2019: Lights Up 4 – 8 pm FREE
Welcome Santa to The Summit at our 3rd Annual Lights Up! DJ Forerunner of HOT102.5 will emcee our all-out holiday extravaganza! Enjoy elf caricatures, face painting, Christmas cotton candy, live holiday entertainment, Vendor Village & more!
Our first ever SANTA STROLL will feature Santa entering on the Lexington Parks & Rec Stage with carolers & lighting UP our giant tree on The Green! We will also unveil Santa's Workshop: a photo-worthy pop-up featuring decked-out halls, shopping, photos with Santa & fun festivities for all!
Stay tuned as we announce more merry details!
Activities:
Summit Custom Light-Up Candy Canes in the following stores: Vineyard Vines Lexington, EGG New York-Lexington, KY, Draper James, Fabletics
Yellow Santa Hats in Kendra Scott
Elf Caricatures
Face Painting
Cotton Candy Pop-Up
Lexington Children's Theatre The Nutcracker Mini Performance
Kentucky Ballet Theatre
University of Kentucky Choirs Christmas Carolers
Vendor Village:
Whiskey Bear
PoJo's Pop Station
West Sixth Brewing
IntegriTEA
Stuarto's Olive Oil Company
Birdhat Beard Oil
Orangetheory Fitness Lexington
Water + Oak Outdoor Company
E.leigh's
Grimaldi's
Blo Blow Dry Bar
In partnership with Holiday Road Photography, Santa will be opening his workshop on November 16th (in between lululemon and Texas de Brazil) every weekend beginning November 16th through December 23rd! Please follow the ticket link below if you'd like to reserve at time to meet Santa and purchase photo packages Selfie walk-ins and professional photos walk-ins will be welcomed, but reservations are highly recommended. Happy Holidays, y'all!
Hours of Operation + Dates for Santa's Workshop:
Sunday November 17th: 7:00 pm – 8:00 pm
Friday November 29th: 1:00 pm – 7:00 pm
Saturday November 30th: 1:00 pm – 7:00 pm
Sunday December 1st: 1:00 pm – 7:00 pm
Friday December 6th: 3:00 pm – 7:00 pm
Saturday December 7th: 1:00 pm – 7:00 pm
Sunday December 8th: 1:00 pm – 7:00 pm
Friday December 13th: 3:00 pm – 7:00 pm
Saturday December 14th: 1:00 pm – 7:00 pm
Sunday December 15th: 1:00 pm – 7:00 pm
Friday December 20th: 1:00 pm – 7:00 pm
Saturday December 21st: 1:00 pm – 7:00 pm
Sunday December 22nd: 1:00 pm – 7:00 pm
Monday December 23rd: 1:00 pm – 7:00 pm
Click here to make your reservation!
Santa Paws 2019 at Hollywood Feed
November 17, 2019 4 – 8 pm
Join us to support Lexington Humane Society! A $5 donation gets you a FREE Santa Selfie with the man himself. We will have hooman & doggo treats, sips, store discounts & more! It's sure to be pawsitively awesome! The puppers also say, "Don't forget! Come dressed to impress in your best holiday oufits!" The winner of our Christmas Costume Contest will receive a $200 gift card to Hollywood Feed!
---
Hamburg Pavilion 2019
Coming Soon!
---
Brunch with Santa
Celebrate the season at The Kentucky Castle with a Christmas Brunch in the Grand Ballroom! As you arrive, guests will be led to their table for social seating. Delight in the Christmas decor and enjoy a chef's table brunch, followed with a visit and story time with Santa! Guests are welcome to take photos with Santa after brunch.
December 1, 2019 Noon – 1:30 pm
December 8, 2019 Noon – 1:30 pm
December 15, 2019 9 am – 10:30 am
December 15, 2019 11 am – 1:30 pm
Adults $55, Child (3 – 12) $45, 2 and under FREE
---
Hillenmeyer Christmas (Tates Creek Road in front of Lansdowne Shoppes)

---
November 16 – December 24, 2019
More information coming soon!
---
Saturdays and Sundays – December 7-8, 14-15, 21, 2019
Pictures with Santa from 3 pm – 5 pm
This is a very busy time of the year for Santa, but he has set aside time to visit with good little boys and girls at Waveland. Santa will be ready to listen to holiday requests and even have a special surprise for our little guests. This is a special photo opportunity with Santa in the Winter Wonderland Barn at Waveland!
---
Kentucky Horse Park Southern Lights 2019
November 16 – December 31, 2018
Head inside and visit Santa. We've taken photos ourselves before but their photos are usually available for purchase to support a local charity.
---
Visit with Santa in Berea
---
Saturday and Sunday Dec. 7th & 8th and Dec. 14th & 15th at 2 p.m.
Also to meet demand, new for 2019 two additional rides at 11am on Saturday Dec 7th and Dec 14th
---
North Pole Express
December 6, 7, 13, 14, 19 – 21, 2019
Santa Express
December 1, 7, 8, 14, 15, 21, 22, 2019
Adult (Ages 13+)

$

27
AAA, NRHS, Military & Seniors

$

24.30
Child (Ages 2-12)

$

22
Young Child (Under 2 years old w/ accompanying adult)

Free
---
Embrace the holiday season in all its magnificence as we illuminate the colorful, festive displays at the Distillery. Featuring the Kentucky State University Choir and a visit from Santa. Candlelight Tour at 5:30 p.m., Carols and Holiday Stories, at 6:00 p.m., and Santa arrives at 6:30 p.m. All activities are complimentary. No pets allowed, aside from service animals.
Santa at the Trace 2019
Have your children get their wish list ready for Santa as you celebrate the season with Jolly old Saint Nick. FREE
12/12/19 – 6pm – 8pm
12/13/19 – 6pm – 8pm
12/14/19 – 6pm – 8pm
12/15/19 – 2pm – 4pm
December 7, 14, 21st, 2019
1 pm & 4 pm
Dress your little ones in their holiday finery for an afternoon tea with Mrs. Claus. Enjoy spiced cider, cookies and sandwiches made for little fingers. Afterward, stay for story time with Mrs. Claus!
All children must be accompanied by a paying adult.
Price: $19 per person, all ages
---
December 14, 2019 1:30 – 3:30
Boyle Co. Public Library
Attention all children, parents, and Christmas elves – big and small – Santa is coming to downtown Danville! December 14, Santa will be visiting The Boyle County Public Library in hopes of meeting all the good boys and girls and hearing firsthand their Christmas wishes as well as posing for a photo.
So, start putting the finishing touches on those Christmas list's and plan on coming to visit Jolly Old Saint Nick in downtown Danville.
---
---
November 17, 2019 11 am – 2 pm
Mr. and Mrs. Claus will be making a stop at the market again this year on Sunday, November 17 from 11:00am-2:00pm! Bring your little ones to get their picture with the big guy. Fun children's activities and a kid-friendly snack will be provided.
Sponsored by Pediatric Dentistry of Hamburg
Asmission to Holly Day Market Required
---
Coming soon!
---
Holiday Junction featuring the Duke Energy Holiday Trains opens November 8, 2019 – January 5, 2020
One of Cincinnati's most beloved holiday traditions returns to Cincinnati Museum Center November 8. The Duke Energy Holiday Trains, returning for their 73rd season, headline CMC's whimsical Holiday Junction featuring the Duke Energy Holiday Trains.
Of course, no holiday is complete without a visit to see Santa. Santa makes his grand arrival on Friday, November 29. And though his reindeer are resting up for the big day, Santa will make an airborne arrival at Union Terminal.
The 2019 Holiday Events Guide is HERE!
Find Santa, Music, Train Rides, Trees and more!!