There are great ways to experience a live nativity in Lexington and Central KY.
If you have an event to add please email lexfun4kids@gmail.com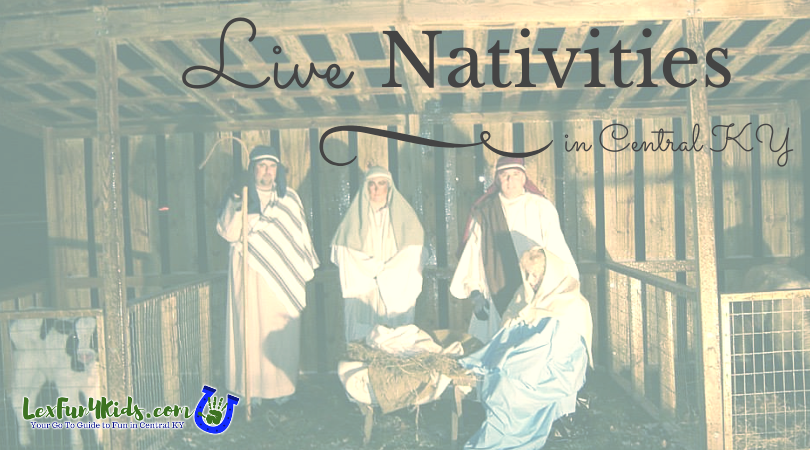 2022 Events
Keep checking back for more 2022 updates!
---
Georgetown First United Methodist Church, 1280 Lexington Road, Georgetown KY 40324
Friday, December 9, 2022 6 pm – 8:30 pm
Saturday, December 10, 2022 5:30 pm – 8:30 pm
This FREE EVENT (which does not require tickets or reservations) literally walks you through the events that preceded the birth of Christ with drama, live animals and authentic sets. There are complimentary refreshments and hot drinks served afterwards in the fellowship hall. It's an unforgettable experience that is suitable for all including small children.
---
South Elkhorn Christian Church
December 10, 2022 6 pm – 9 pm
Start or continue a family tradition on the grounds of South Elkhorn. The night features live characters and live animals! Drive your family through a reenactment of this splendid evening leading up to the birth of Christ! As always, this is a free community event! Cars will be lined up along Harrodsburg Road (coming from Man O War) early. Lines move continuously but it can take a bit to get though the line. Bring some hot chocolate and put on some holiday music while you wait!
---
Lafayette Church of the Nazarene
December 16, 2022 6 pm
Free, live nativity, live animals, live actors and a living message.
---
Sayre Christian Village
Tuesday, December 20, 2022 4:30 pm – 7 pm
Join us for a family-friendly evening filled with holiday cheer. There is NO COST for this event and it's open to the public. It's our way of spreading God's message of HOPE through the birth of Christ with the local community.
LIVE Nativity Scene
Large Display of Nativities from all over the World
Camel & Wise Men Photo-Op
Chili & Beer Cheese Fundraiser
Complimentary Cocoa Bar
FREE PICTURES WITH SANTA!!
Caroling & Kids Craft
Come Hungry!
Back by popular demand, we will also be hosting a chili & beer cheese fundraiser in the Friendship Towers cafe! You can dine-in or carry-out to make dinner a breeze that evening.
Chili Dinner with all the fixings + cornbread
Chef Justin's Beer Cheese Box with veggies + crackers (serves 4-5)
Proceeds benefit the Resident Honor Fund at SCV. Just as Mary and Joseph were searching for shelter long ago, many older adults are also searching for shelter and need benevolent care.
Event is all indoor (no rainouts!) and parking is available on the Sayre Christian Village campus.
Friendship Towers
580 Greenfield Drive
Lexington, KY 40517
---
The Holiday Events Guide is HERE!
Find Santa, Music, Train Rides, Trees and more!!