There are great ways to experience a live nativity in Lexington and Central KY.
If you have an event to add please email lexfun4kids@gmail.com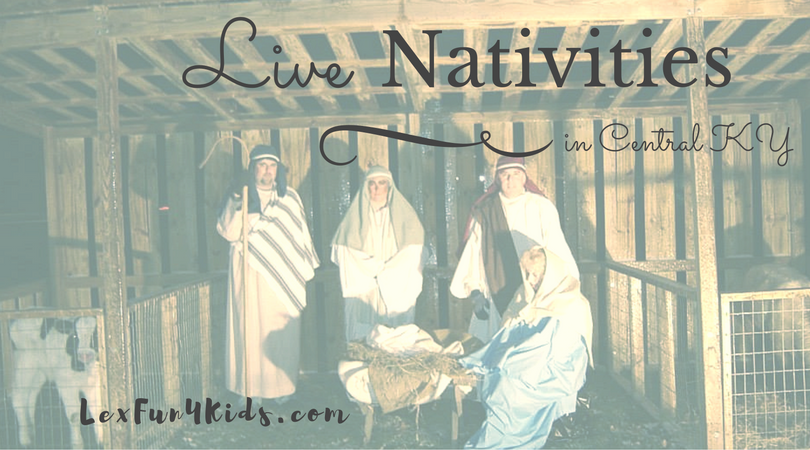 Keep checking back for more 2021 updates!
2021 Events
Journey to Bethlehem
Bedford Acres Christian Church, 5414 Lexington Road, Paris, KY
December 10th & 11th, 2021 *Watch for changes due to weather
---
City of Bethlehem
Georgetown First United Methodist Church, 1280 Lexington Road, Georgetown KY 40324
December 10, 2021  6 pm – 8:30 pm
December 11, 2021 5:30 pm – 8:30 pm
This FREE EVENT (which does not require tickets or reservations) literally walks you through the events that preceded the birth of Christ with drama, live animals and authentic sets. There are complimentary refreshments and hot drinks served afterwards in the fellowship hall. It's an unforgettable experience that is suitable for all including small children.
---
Drive Through Bethlehem
South Elkhorn Christian Church
December 11, 2021  6 pm – 9 pm
Start or continue a family tradition on the grounds of South Elkhorn. The night features live characters and live animals! Drive your family through a reenactment of this splendid evening leading up to the birth of Christ!  As always, this is a free community event!  Cars will be lined up along Harrodsburg Road (coming from Man O War) early.  Lines move continuously but it can take a bit to get though the line.  Bring some hot chocolate and put on some holiday music while you wait!
---
A Live Nativity
Lafayette Church of the Nazarene
December 12, 2021 5 pm – 7 pm
Join us as we present the original nativity and the first Christmas.
There will be live animals, refreshments, and the real reason for the season. Narrators will read the story of Christmas as you see live actors and actresses set the stage for the birth of Jesus.  Everything is free. Be our guest and join us!
---
Live Nativity Drive-Thru
Sayre Christian Village
December 16, 2021  6 – 8 pm
Jesus is the reason for the season. Join us for a FREE beautiful Drive-Thru Nativity on our 27 acre Sayre Christian Village campus. All ages will enjoy this Biblical winding drive by outdoor nativity scenes and Christmas lights.  Route starts at the Friendship Towers building at 580 Greenfield Drive.
C H I L I 🥄 F U N D R A I S E R
Moms & Dads, we have dinner covered!  At the beginning of the route, you'll have a chance to purchase a ticket to redeem for a chili dinner with all the fixings and/or beer cheese box with crudité and crackers upon exit. By the time you get through the nativity, your chili will be ready to pick up as you head out and on your way!  Proceeds benefit the resident honor fund. Just as Mary & Joseph were searching for shelter long ago, many older adults are also searching for shelter.
Our mission is to provide HOPE, HOUSING, AND HEALTHCARE to older adults throughout the Bluegrass. Donations from supporters like you help us continue our ministry.
V O L U N T E E R 🙋‍♀️
Would you like to volunteer at the Nativity? This is a nice way for your family, group, work friends, etc to enjoy a wonderfully memorable night, make a big impact for Sayre, and also reflect on what's really important this year.  Reach out to Director of Campus Life Enrichment, Angela Mullins at amullins@sayre.us.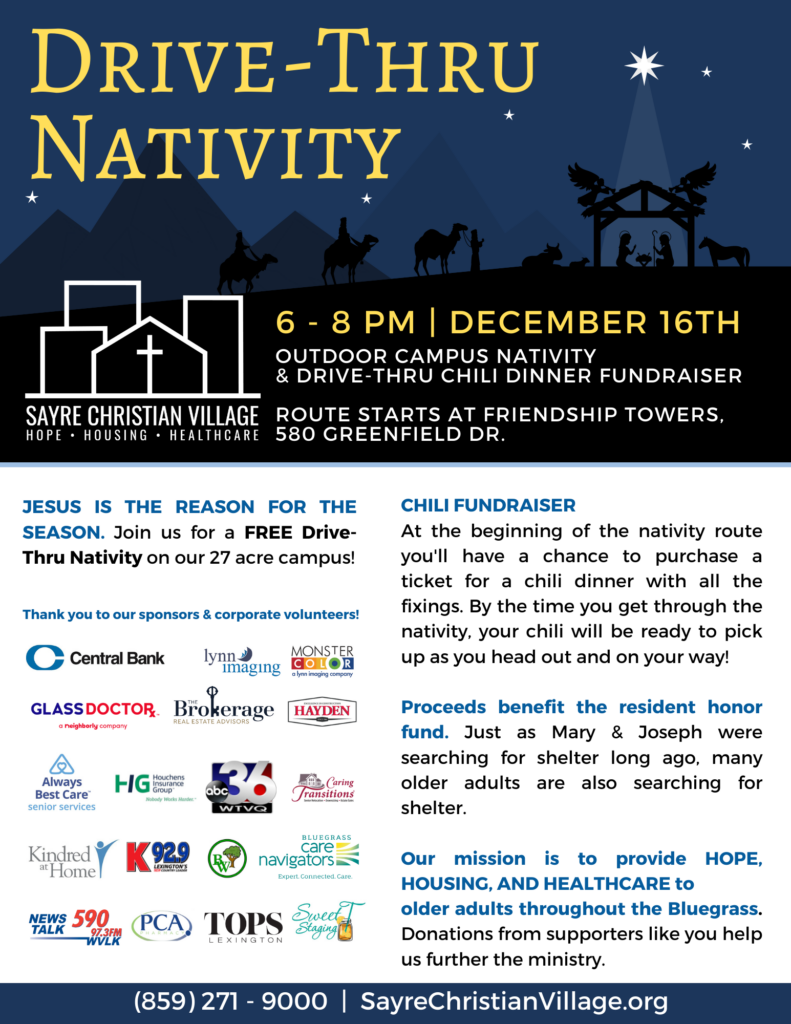 ---
A Night in Bethlehem Living Nativity
Highgrove at Tates Creek, 4251 Saron Drive, Lexington KY 40515
December 16, 6 pm – 8 pm
Come enjoy this great community event featuring a drive-through Live Nativity Scene, feed the farm animals, and enjoy hot cocoa and cookies! 
---
Live Nativity Drive Thru
Pisgah Presbyterian Church, 710 Pisgah Pike, Versailles (Behind the Castle)
December 18, 2021  5:30 pm – 7:30 pm
---
---
The Holiday Events Guide is HERE!
Find Santa, Music, Train Rides, Trees and more!!