Bring your family, friends, lawn chairs / blanket and enjoy a picnic on the lawn of Berea Community School as hot air balloons light up the sky. This is just part of a weekend of fun at the Annual Spoonbread Festival in Berea.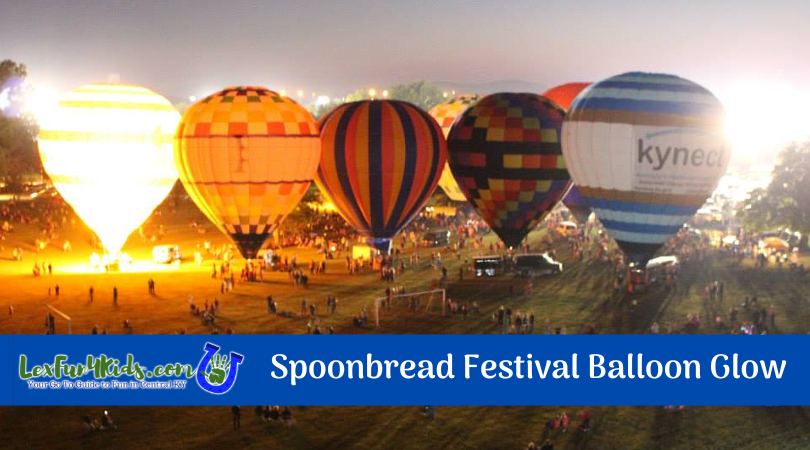 NOTE: Balloon events are always subject to weather conditions.
At the close of the first day of the festival, the hot air balloons will light up the sky with beautiful colors.
Bring the family and lawn chairs and admire this amazing sight that will take your breath away.
Location
Berea Community School (1 Pirate Parkway, Berea, KY)
Event Fee
The Balloon Glow is a sponsored event which allows us to provided it FREE to the public. Please support and thank the sponsors.
Parking
Berea Community School Parking lot and all grassy areas around the school lawn.
Directions
If you plan on visiting the Hot Air Balloon Glow and will be traveling I-75, we encourage you to use Exit 76 if coming from the South and Exit 77 if coming from the North. Please follow the signs.
Parking will be available at 353 Walnut Meadow Rd and 1 Pirate Pkwy. Please come early. The Balloon Glow is only a short walk from the parking location on Walnut Meadow Rd.
The main part of the festival is just a short walk from the parking lot at 1 Pirate Pkwy. If your choose to walk, the path to the festival is paved and an easy walk. However if your prefer, a free shuttle will be running throughout the weekend to the festival grounds.
FREQUENTLY ASKED QUESTIONS
Is this free? YES. This is a free event thanks to our sponsors.
How long does the event last? The time listed on this event is an estimate and the event lasts as long as balloon owners have fuel to light balloons and are willing. If you wish to view the balloons, it is highly encouraged you arrive early.
Is this event wheelchair accessible? Handicap parking is limited and attendees are highly encouraged to arrive early. There are paved areas and accessible sidewalks around the perimeter of the lawn.
---
2023 Spoonbread Festival Schedule
FRIDAY – Sept. 15
3:00 PM- 9:00 PM Festival Open
3:00 PM – 9:00 PM Carnival Rides & Games
3:30 – 5:00 PM Wild Card featuring Rob Ward Berea PD (Entertainment Tent)
5:00 -5:30 PM Force Fusion Cheer Team (Street Performance)
5:30 – 7:00 PM Nic Casetta (Entertainment Tent)
7:00 – 9:00 PM 8 Daze Sober (Entertainment Tent)
8:00 – 10:00 PM Balloon Glow (Berea Community School)
SATURDAY – Sept. 16
10:00 AM – 9:00 PM Festival Open
10:00 AM – 9:00 PM – Carnival Rides & Games
12:00 – 1:00 PM Kentucky Bluegrass Cloggers (Street Performance)
1:00-1:20 PM Spoonbread Eating Contest (Street Set Up)
1:00 – 2:30 PM Hannah Wheeler Band (Entertainment Tent)
2:00 PM Spoonbread Parade (Line-up @ 1pm. Parade Application Form)
3:00 – 4:30 PM BC Comics Character Judging (Entertainment Tent)
4:30 – 5:00 PM Madison Southern & Farristown Dance Teams (Street Performance)
5:00 PM Spoonbread Dog Show Hosted by Core K9 Training (On-site registration 4:00-4:45 PM. Registration Form, Rules & Awards) (Green space behind Russel Acton Fold Center)
5:00 – 6:30 PM Sam L. Smith (Entertainment Tent)
6:30-7:00 PM Tumble Shine Athletics (Street Performance)
7:00 – 9:00 PM Encore (Entertainment Tent)
SUNDAY – Sept. 17
9:00 AM – 3:00 PM Spoonbread Festival Car Show at Berea Community School (On-site registration begins at 9am and ends at 2pm. Judging concludes at 3pm. Pre-Registration and Entry Form)
Noon – 5:00 PM- Festival Open
Noon – 5:00 PM – Carnival Rides & Games
12:30 – 1:30 PM Highwaymen (Outlaw Country Tribute) (Entertainment Tent)
1:30-2:00 PM Hurricane Mixed Martial Arts (Street Performance)
2:00 – 3:00 PM Nashville 99 (90's Country) (Entertainment Tent)
3:00 – 3:30 PM Bubble Man (Street Performance)
3:30 – 5:00 PM (Close) Jeff Parker & Co. (Bluegrass) (Entertainment Tent)