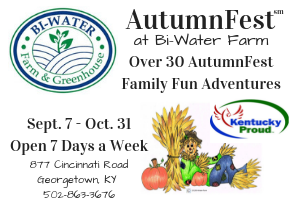 Your Go To Guide to Fall Festivals and Halloween Fun in Lexington and Central KY!!  Keep watching as this site is updated for 2019.
If you'd like your event listed please email lexfun4kids@gmail.com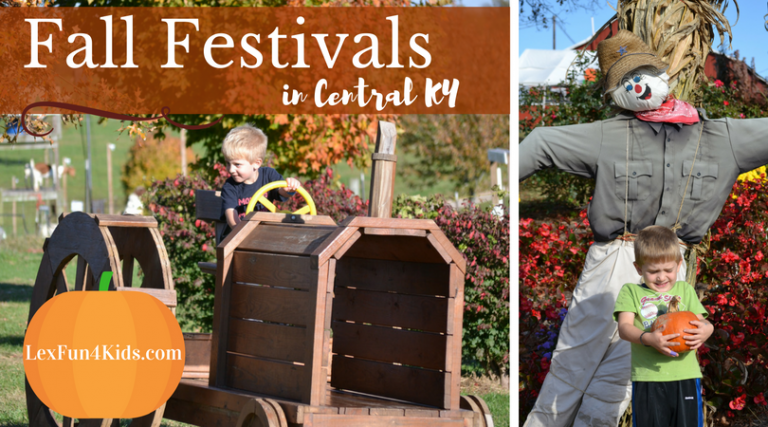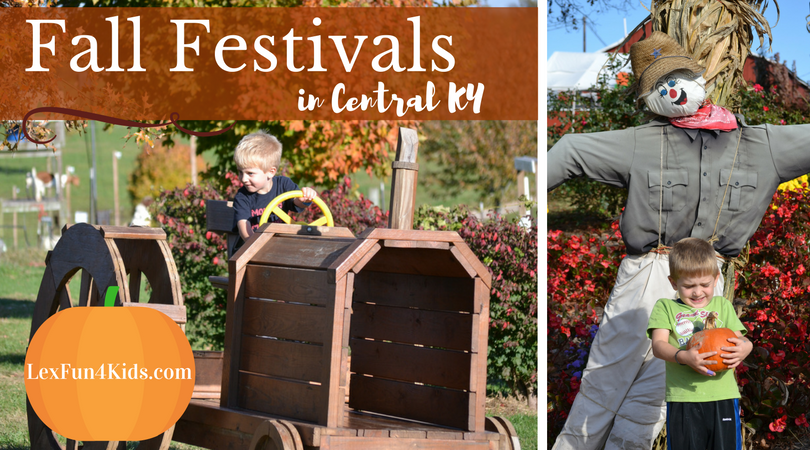 All Season Long…
September 7-September 22
Monday- Saturday 9:00 am -6:00pm
Sunday noon-6:00 pm
 September 23- October 31
Monday – Thursday 9:00 am- 6:00pm
Friday- Saturday 9:00-9:00pm
Sunday noon- 7:00pm
Note:  No admittance 1 hour before closingGeneral Admission.  $11.99 plus sales tax.
2 years and younger are free.
Allows all day access and as many visits as you wish to all of the following Adventures.  Hayrides, Spooky FarmHouse,  Enchanted Barnyard, Pirates Cove, Trike Track, Barnyard Babies, Lost Pumpkin Mine, li'l Pumpkin Play Patch, The Bird House, Bunnyville, Cowboy Corral, Billy Goat Mountain, 5 Acre Corn Maze, Sky High Slide, People Spinners, Bi-Water Ball Park, Pumpkin Vine Zip Lines, Bounce Around Corral, Chutes & Slides.
Boyd Orchards
Apple Fest – Weekends in September starting the 7th
Pumpkin Jamboree Weekends in October
Evans Orchard
Apple Festival September 7 – 8, 2019
Harvest Festival  September 14 – October 31, 2019  (Weekends)
Closed Mondays
Tuesday – Saturday  9am – 6pm
Sunday  12pm – 6pm
Pumpkins and More Harvest Festival at Baldwin Farms
September 26 – October 31, 2019
Celebrate the harvest! Search for your favorite pumpkins and other fall produce at our festival. Enjoy a family day full of memories. Schedule your parties and events.
Featured Activities
Pony Ride $5 (Weekends Only) – Corn Maze $3 – Barrel Cart Rides $5
Other Activities
Huge Pumpkin Patch    Hay Maze  Cal's Adventure Corn Maze    Lots of Farm Animals Baldwin Farms Dragon    Pitching Games    Climb Mt. Baldwin Dirt Hill Hay Tunnel    Kid's Hay Barn   Giant Spiders   Caterpillar Slide
Name the Bunnies    Dig for Pumpkin Seeds   Photo Ops (bring your camera)
Rolling Tumblers    Pumpkin Wagons    Pumpkin Pickers Board
Sunflower Patch    Kiddy Corn Crib    Feed the Goats    Mini-Train Ride    Snacks & Drinks
Buckmeadow Farm Fest
Lawrenceburg, KY
Fridays 5:30 – 9 pm, Saturdays 10 am – 9 pm, Sundays Noon – 6 pm
Kentucky Railway Museum Great Pumpkin Patch Express Train Ride
September 28 – 29, 2019
The Great Pumpkin Patch Express is the best way to celebrate the arrival of fall! You get to meet Charlie Brown and Snoopy upon their arrival by train. In addition to a 45-minute train excursion, there are plenty of activities for the family to enjoy, including a coloring area, mini train rides, temporary tattoos, bounce house, games, and much more! Each child may select the perfect pumpkin to take home. Children are encouraged to wear their Halloween costumes.
Bluegrass Railroad Museum in Versailles
Sat and Sun in October Beginning Oct 5, 2019 – Pumpkin Patch Trains (pick your pumpkin)
A special holiday treat! Each weekend in October our Autumn Leaves trains will stop on the way back from the Kentucky River at the non-profit Life Adventure Center so that passengers can disembark to purchase their holiday pumpkins. LAC is asking for a donation of $3 for small and $7 for large pumpkins (cash only please).
World's Largest Halloween Party at the Louisville Zoo
October 3–6, 10–13, 17–20, & 24–27, 2019
Party starts at 5 p.m. Enter until 8:30 p.m.
(Route open until 10 p.m.)
Special Tickets Required for all Guests (age 3+)
The Party features costumed characters for guests to meet and greet in fanciful, larger-than-life storybook scenes. Trick-or-treating is offered for kids 11 and under. In an effort to be "green," the Zoo requests that children bring their own trick-or-treat bag to the event. The Zoo will not provide bags, but reusable cloth bags will be available for purchase for $2 in the Zoo's gift shop whiles supplies last.
---
September 2019
Freaky Friday Flicks at Moondance Amphitheater
September 27, 2019 6 pm – 9 pm   $2.25 at the gate for adults and children over 13 years of age
September 27: Harry Potter and the Sorcerer's Stone
October 4: Harry Potter and the Chamber of Secrets
October 11: Harry Potter and the Prisoner of Azkaban
---
HarvestFest at Shaker Village
September 28-29, 2019
Celebrate all things apple and kick-off the fall season with a down-home harvest celebration for the entire family! Take a hayride, climb hay stacks and compete in the farm Olympics. Shop for honey, breads and jams at the Harvest Market, then meet the farm animals and tour the apple orchard. Enjoy live music, food trucks and much more!  Included with admission.
---
Fall Family Harvest at Wilson Nurseries (Frankfort)
October 28, 2019  10 am – 4 pm
Dive headfirst into the sights, sounds & tastes of autumn during this family-friendly festival.  Photo ops & shameless selfie spots in our "pumpkin patch".  Watch as Apple Butter is made the old fashioned way.  Petting zoo by Foggy Bottom Farm with llamas, donkeys, silky chickens, sheep, angora rabbits & pygmy goats.  Blake Newton from the University of Kentucky will be talking all about pollinators at 11am by The Butterfly Greenhouse.
Pumpkin painting for all ages (you purchase a pumpkin, we supply the paint)
---
October 2019
Freaky Friday Flicks at Moondance Amphitheater
October 7, 2019 6 pm – 9 pm   $2.25 at the gate for adults and children over 13 years of age
October 4: Harry Potter and the Chamber of Secrets
October 11: Harry Potter and the Prisoner of Azkaban
---
KRZ Halloween Ssssspooktacular!
October 5, 2019  11 am – 6 pm
It's that time again for Halloween herpetological fun! Come out any time during the day and enjoy a tour of the zoo, arts and crafts, extra exhibits, and spend some time with snakes and other reptiles from all over the world!  It's a perfect Halloween family fun day in the beautiful Red River Gorge!
General admission is $10, but if you wear a costume or see one of our flyers and bring it in, it's only $8!  *Special price: Powell and Wolfe county residents only pay $3!*
---
Mary Queen Fall Festival
October 11 – 12, 2019  4 pm – 11 pm
---
Freaky Friday Flicks at Moondance Amphitheater
October 11, 2019 6 pm – 9 pm   $2.25 at the gate for adults and children over 13 years of age
October 11: Harry Potter and the Prisoner of Azkaban
---
South Elkhorn Fall Festival
October 12, 2019  9 am – 4 pm
Each fall on the second Saturday of October, South Elkhorn Christian Church has one of the largest outdoor free craft shows in the Lexington area with over 150 booths presenting crafts of all kinds. Live music from 9:30 AM-3:30 PM. Admission and parking are both free. Bring your family and friends!!!
---
McConnell Springs Little Goblins Galore!
October 19, 2019 – 1 pm – 5 pm
Little Goblins ages 12 and younger are encouraged to dress-up and enjoy a day of trick-or-treating without all the scares.  (Cost $6.00 per child, adults $2)
---
YMCA of Central KY Fall Festivals
October 18, 2019  6 pm – 8 pm FREE
ALL Central KY YMCA Locations
Enjoy Autumn festivities such as face painting, games, fitness activities, inflatable houses, fall crafts and much more!
---
BOO Cruise on the KY River
Saturday, October 19, 2019  Noon, 2 pm, 4 pm
Make waves at this fun Halloween party on the Kentucky River! Wear your costume and enter the costume contest, hear a spooky story, play games, and enjoy light refreshments and festive decorations on this family friendly cruise. All ages welcome! Children must be present with adult supervisor.
Program fee includes one complimentary admission to Shaker Village and one voucher redeemable day-of for 20% off dining at the Trustees' Table (excluding alcoholic beverages). Dining reservation recommended to assure availability – 800.734.5611 x 360. Recommended to arrive 15 minutes prior to launch. Boat will leave promptly at the designated start time.
$15 ages 13+
$10 ages 6-12
$5 ages 5 + under
---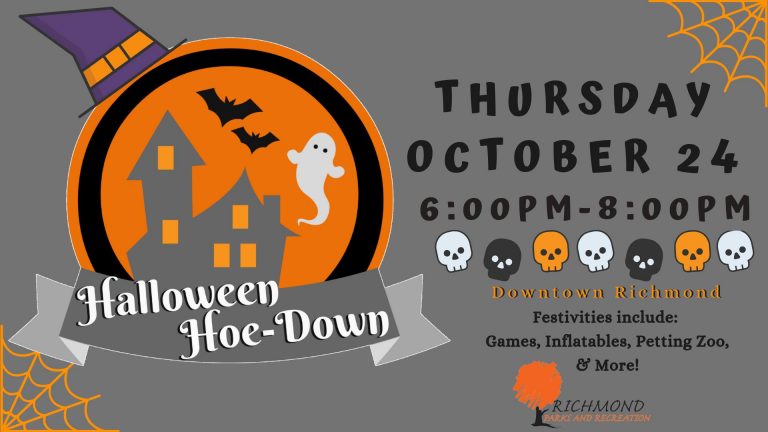 Richmond Halloween Hoe Down
Thursday, October 24, 2019  6 pm – 8 pm
The Halloween Hoe-Down is a family friendly event designed for children 10 and under!
The festival will begin at 6:00pm and continue until 8:00pm. Free Activities include Kids Games and Prizes, Contests, Inflatables, a Petting Zoo, Walk Around Characters, and More!
---
Georgetown Haunted Swamp
Friday, October 25th, 2019  5 pm
---
Safety City Trick or Treat Night
Friday, October 25, 2019  6:00 pm – 8:00 pm
Come walk around Safety City and stop for treats and scares along the way. The event is free and open to the community.
---
Trick or Treat at Shaker Village
Fridays and Saturday, October 25-26, 2019  4:30 pm – 7 pm
Bring the kids for a fun and spooky evening along the Village road gathering treats (and maybe even a trick or two)!  Take a complimentary hay ride, enjoy live music, food + drink, and warm up by the bonfires. Make a kids' craft in-between candy stops and take part in our selfie station costume contest!
Pricing:
$5 – Ages 3 +
Free – Ages 2 and under
Complimentary Tickets for Annual Passholders 
---
Salato Halloween Walk with the Animals
Saturday, October 26th, 2019 12 pm – 4 pm 
Put on your costume and join us from 12pm to 4pm for the best trick-or-treat experience in town! This kind-friendly Halloween event will include a hay bale maze, face painting, and – of course – plenty of candy! Kids will receive a "passport", which they will get stamped at each exhibit after receiving a treat (or trick!) Our staff and volunteers will be on hand to answer your questions, and all of our indoor and outdoor exhibits will be open for viewing. Admission is $5 per person (ages 2+, includes adults). Annual membership holders* and infants too young to participate are free. *Note for Family & Friends Membership holders: five additional guests covered by membership will not be admitted free for this event.
---
---
For all Special Trick or Treat Events and Halloween Events for October 31, 2019 CLICK HERE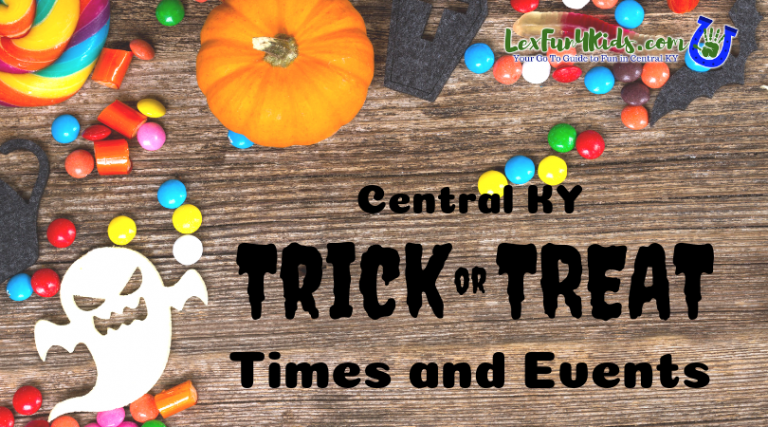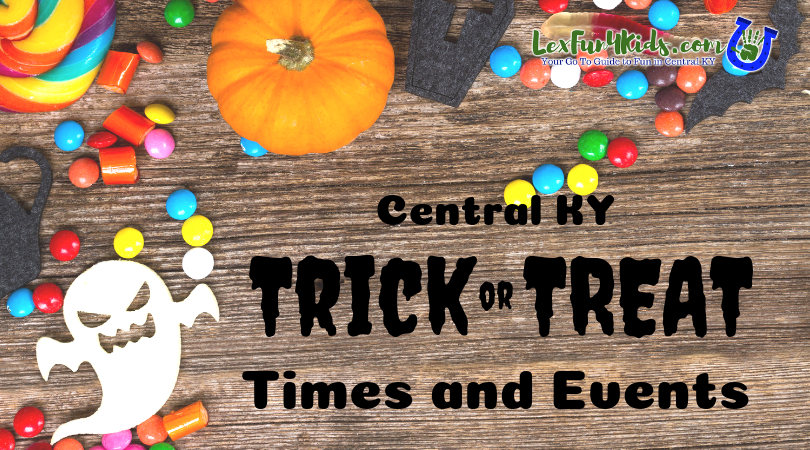 ---