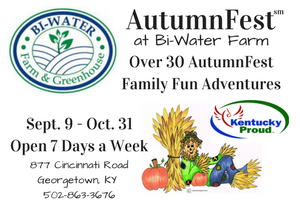 Your Go To Guide to Fall Festivals and Halloween Fun in Lexington and Central KY!!
If you'd like your event listed please email [email protected]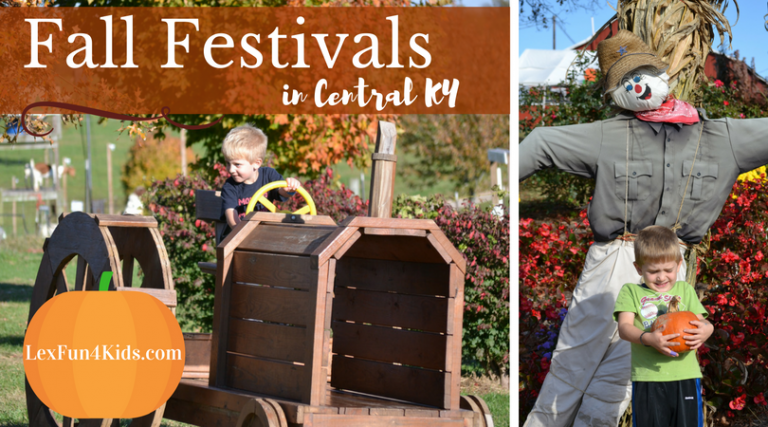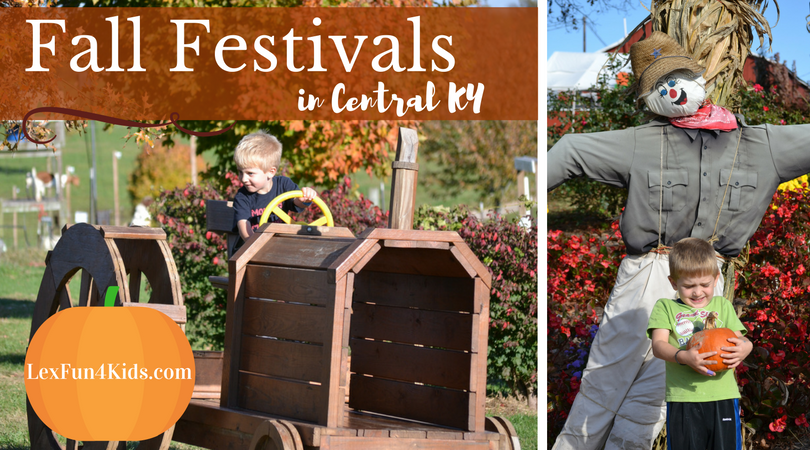 All Season Long…
AutumnFest at Bi Water Farm
September 9-September 24
Monday- Saturday 9:00 am -6:00pm
Sunday noon-6:00 pm
September 25- October 31
Monday – Thursday 9:00 am- 6:00pm
Friday- Saturday 9:00-9:00pm
Sunday noon- 7:00pm
General Admission.  $10 plus sales tax.       2 years and younger are free.
Allows all day access and as many visits as you wish to all of the following Adventures.  Hayrides, Spooky FarmHouse,  Enchanted Barnyard, Pirates Cove, Trike Track, Barnyard Babies, Lost Pumpkin Mine, li'l Pumpkin Play Patch, The Bird House, Bunnyville, Cowboy Corral, Billy Goat Mountain, 5 Acre Corn Maze, Sky High Slide, People Spinners, Bi-Water Ball Park, Pumpkin Vine Zip Lines, Bounce Around Corral, Chutes & Slides.
Boyd Orchards
Apple Fest – Weekends in September starting the 9th
Jumpin Pumpkin Jamboree Weekends in October
Evans Orchard
Apple Festival September 9 – 10, 2017
Harvest Festival  September 16 – October 31, 2017  (Weekends)
Closed Mondays
Tuesday – Saturday  10am – 5:30pm
Sunday  12pm – 5:30pm
Baldwin Farms
Pumpkins and More Festival
September 22 – October 31, 2017
Cemetery Crawl at the Kentucky Horse Park
October 9 – 13, 16 – 20, 28 – 29, 2017
The Cemetery Crawl: History and Mystery of the Kentucky Horse Park tour takes visitors around the grounds by hay ride.  Space is limited and registration is required.
Halloween Lights Drive Thru
Fort Boonesborough State Park
Oct 6 – Oct 28, 2017  /  Dusk – 9:30 pm on weeknights, 10:30 pm on weekends
Enjoy the sights, sounds and scares of over one and one half miles of Halloween lights and displays from your car. Concessions and snacks available.  $5 donation goes to the Fort Boonesborough Foundation. For more information please call (859) 527-3454 or email [email protected]
Bluegrass Railroad Museum in Versailles
Sat and Sun in October Beginning Oct 7, 2017 – Pumpkin Patch Trains (pick your pumpkin)
Friday and Saturday,  Oct 20 and 21 – Halloween Haunted train ride (8pm)
Friday and Saturday,  Oct 27 and 28 – Halloween Haunted train ride (8pm)
$5 After 5 pm Spirit Strolls at Shaker Village
Fridays and Saturdays in October (Starts October 6th, 2017)  5:30 pm and 7 pm
Fridays + Saturday evenings at Shaker Village mean extended hours and special admission! Head out on a spirited stroll to the Shaker cemetery, then enjoy music, roasted marshmallows and hot toddies around the fire pit on the Lawn.  Real history can be more disturbing than any haunted house. Hear spooky and surprising tales about real people, drawn from Shaker journals and letters, as you stroll through the Village to the cemetery.
---
September 
HarvestFest at Shaker Village
September 23 -24, 2017
Celebrate all things apple and kick-off the fall season with a down-home harvest celebration for the entire family! Take a hayride, climb hay stacks and compete in the farm Olympics. Shop for honey, breads and jams at the Harvest Market, then meet the farm animals and tour the apple orchard. Enjoy live music, food trucks and much more!  Included with admission.
Hope Over Jessamine Fall Fest (Downtown Nicholasville)
September 30, 2017  11 am – 7 pm
---
October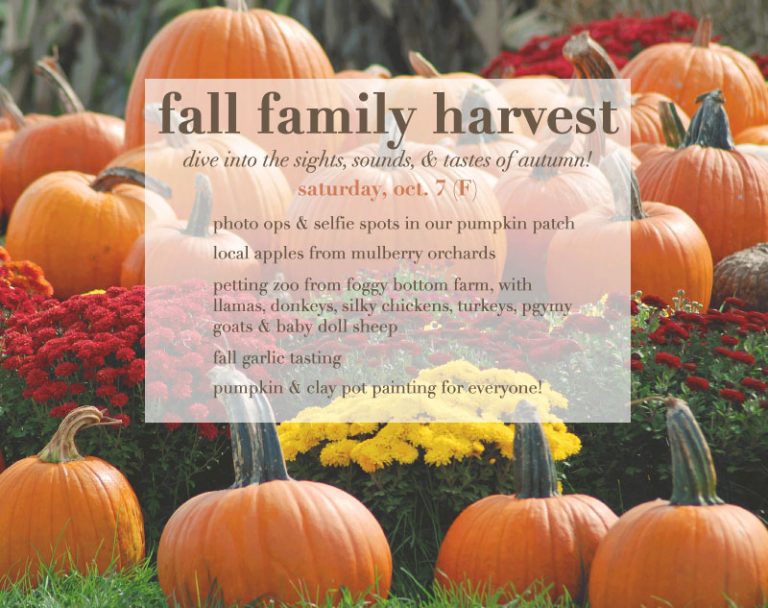 Fall Family Harvest at Wilson Nurseries in Frankfort
Saturday, October 7, 2017  10 am – 3:30 pm
Photo ops & selfie spots in our pumpkin patch.  Local apples & cider from Mulberry Orchards, of Shelbyville.  Petting zoo by Foggy Bottom Farm with llamas, donkeys, silky chickens, baby doll sheep, angora rabbits, turkeys & pgymy goats.  Fall garlic tasting.  Pumpkin painting for all ages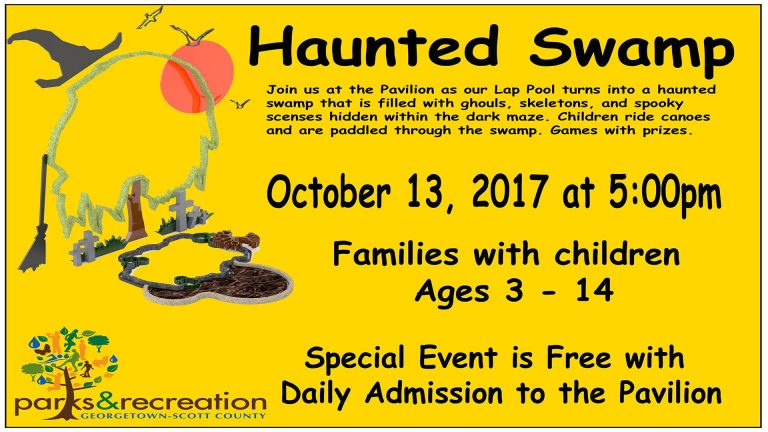 Georgetown Haunted Swamp
Friday, October 13th, 2017  5 pm
Mary Queen of the Holy Rosary Fall Festival (Lexington)
Friday, October 13, 2017
Saturday, October 14, 2017
South Elkhorn Christian Church Fall Festival
Saturday, October 14, 2017  9 am – 4 pm
Over 150 booths presenting crafts of all kinds. Live music from 10 AM-2 PM. Admission and parking are both free.
McConnell Springs Little Goblins Galore!
October 14, 2017 – 1 pm – 5 pm
Little Goblins ages 12 and younger are encouraged to dress-up and enjoy a day of trick-or-treating without all the scares.  (Cost $5.00 per child, adults free)
Fall Festival at Morning Pointe of Lexington, 233 Ruccio Way
Saturday, October 14, 2017  1 pm – 3 pm
FREE – PRIZES, GAMES, PETTING ZOO, PONY RIDES, CRAFTS & FACE PAINTING
FOOD AVAILABLE FOR PURCHASE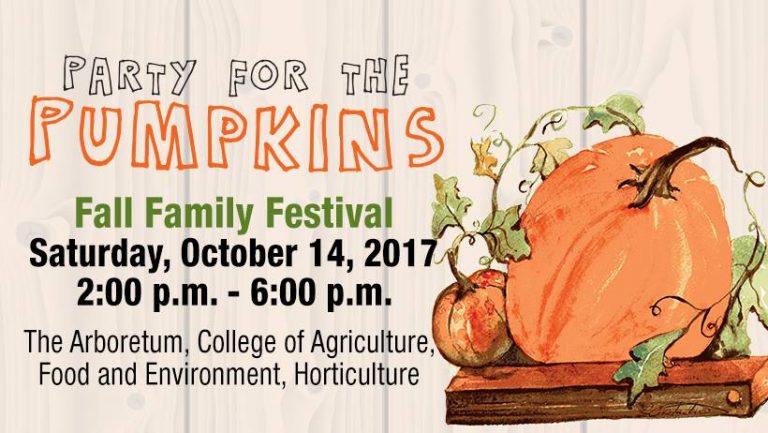 Party for the Pumpkins at the Arboretum
October 14th, 2017 – 2 pm – 6 pm   $7   ($5 for KY Children's Garden members)
Sssssssspooktacular at the KY Reptile Museum
Saturday, October 14, 2017
Join us and our reptile friends for our 5th year of Halloween fun! Come out any time during the day and enjoy a tour filled with games, prizes, crafts, and spend some time with snakes and other reptiles from all over the world!
General admission is $10, but if you wear a costume or see one of our flyers and bring it in, it's only $8!
*Special price: Powell and Wolfe county residents only pay $3!*
It's a perfect Halloween family fun day in the beautiful Red River Gorge!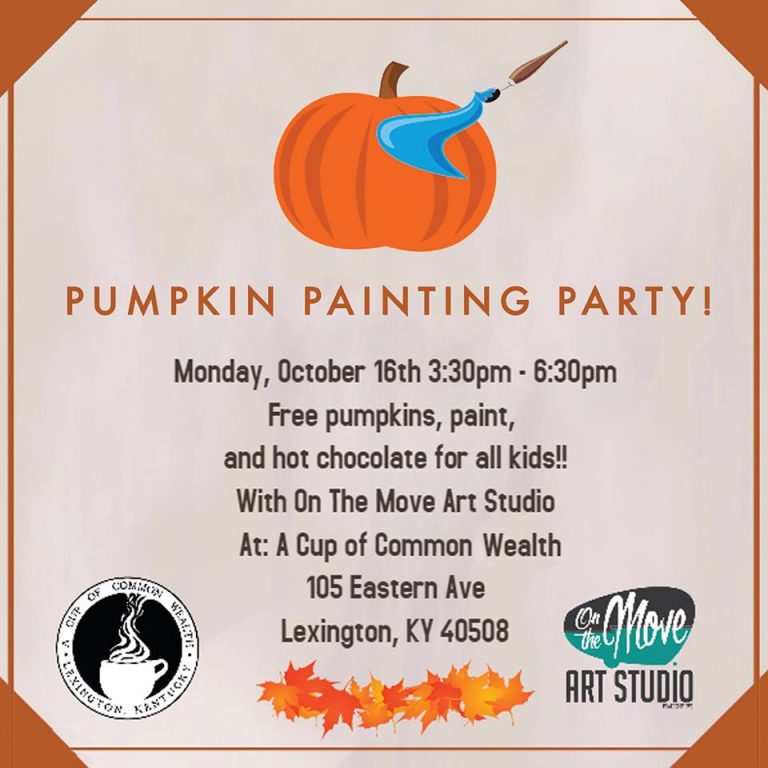 Pumpkin Painting Party with On the Move Art Studio at Cup of Commonwealth
Monday, October 16, 2017  3:30 pm – 6:30 pm
YMCA of Central KY Fall Festivals – Held at ALL Central KY YMCA locations
October 20, 2017 6 pm – 8 pm  FREE
Enjoy Autumn festivities such as face painting, games, fitness activities, inflatable houses, fall crafts and much more!
Join the Y at the event and pay $0 joining fee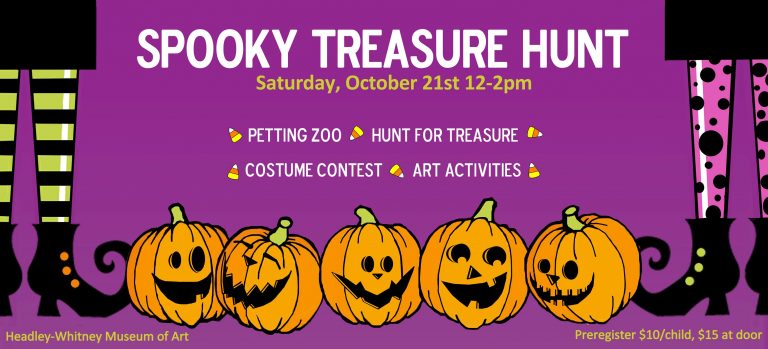 Activities 12 – 2, Egg hunt starts at 1
Children are encouraged to dress up in costume for this fun event. Enjoy some art activities and the petting zoo while waiting for the chance to hunt for some Spooky Treasure on the Headley-Whitney's beautiful grounds.   Tickets can be purchased in advance online or at the door.
Boo Cruise on the Dixie Belle Riverboat at Shaker Village
October 21st, 2017  12 pm, 2 pm, 4 pm, 6 pm
Make waves at this fun Halloween party on the Kentucky River! Wear your costume and enter the costume contest, hear a scary story, play games, and enjoy light refreshments and festive decorations on this family friendly cruise.
$15 ages 13+
$10 ages 6-12
$5 ages 5 + under
Fee includes complimentary admission to the Village, which grants you access to The Historic Centre, The Farm and The Preserve, with a full day of self-guided and staff-led tours, talks, demonstrations, activities, farm experiences and more.
Pumpkinfest at St. Luke's United Methodist Church
Saturday, October 21, 2017  5 pm – 7 pm
Georgetown "Thrilled to Give" Thriller Parade
Saturday, October 21, 2017  6:45 pm – 8:30 pm
Downtown Georgetown at the Courthouse
PumpkinMania at Transylvania University
October 24, 2017  6 pm – 7:30 pm
This year's #TransyPumpkinMania will be re-"vamped!"
Because of the event's increasing popularity, we're going to close off Third Street and bring in food trucks. We'll also spread out more and have music, plenty of candy for trick-or-treaters and free, nearby parking.  On Oct. 24, 2017 we'll light hundreds of jack-o'-lanterns on the steps of historic Old Morrison off West Third Street. Trick-or-treating will be from 6-7 p.m. with the jack-o'-lantern lighting at 7. Everyone is invited. Don't miss this Lexington Halloween tradition!
Halloween Hoe Down
Downtown Richmond
Thursday, October 26, 2017  6 pm – 8 pm
The event will begin at 6:00pm and continue until 8:00pm. Free Activities include Kid's Games and Prizes, Contests, Inflatables, a Petting Zoo, Walk Around Characters, and More! (Kids under 10)
Rector Hayden Realtors Trunk or Treat
Thursday, October 26, 4 pm – 6:30 pm
FREE AND OPEN TO THE PUBLIC
Realtors will have decorated trunks parked in the underground garage at 1099 Duval Street Lexington, KY 40515.
Children of all ages in costume are welcome to come partake in this candy-grabbing event!
Trunk-or-treating will begin at 4PM and end at 6:30PM.
There are bathrooms available for guests in the Rector Hayden office as well as water will be provided!
Crossroads Fall Festival at Andover
October 26, 2017  5:30 – 7:30 pm
• Carnival games (for all ages)
• Food trucks
• Live music
• Lots of apple cider and donuts
• Even more candy. Like, way too much.
Fall Festival is for everyone! All the activities are free. Bring your family, bring your bros, bring a costume—all the cool kids are doing it. It's actually loads of fun, and you're totally invited (whoever you are).
Trick or Treat Night at Safety City
Friday, October 27, 2017
Get the most use out of that Halloween costume this year by joining us on Friday, October 27 from 6 – 8 pm for our third annual Trick-or-Treat Night event! Community organizations and agencies will be handing out candy along with resources and safety information for kids and families. There will be games and children's activities. Families are encouraged to bring new or gently used mittens/gloves, scarves, and/or winter hats to donate to charities benefitting Lexington families. This event is free and open to the community.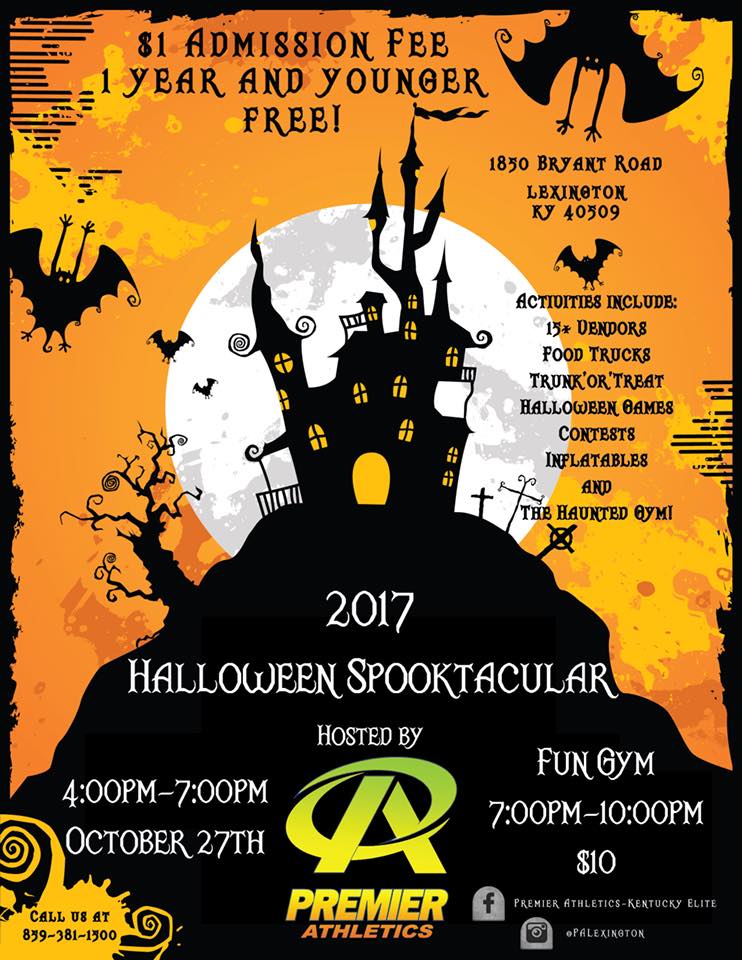 Halloween Spooktacular at Premier Athletics
Friday, October 27, 2017  4 pm – 10 pm
1 admission – Ages 1 and under FREE!!  Food trucks, vendors, and trunk-or-treat!  Buy tickets for games, our haunted gym, face painting and more!!
Fall Family Festival at Man O War Church
Friday, October 27, 2017  6:30 – 8:30 pm
Any and all families are welcome to attend the annual Man O War Church Family Fall Festival! There will be plenty of games, food, and prizes. It's fun for the whole family. Spread the word and invite your friends!  We will have a farm theme this year for our Family Fall Festival. Kids under 12 can dress up for a costume contest!!! And yes, there will be prizes for the best farm costume! We can't wait to see what you all come up with.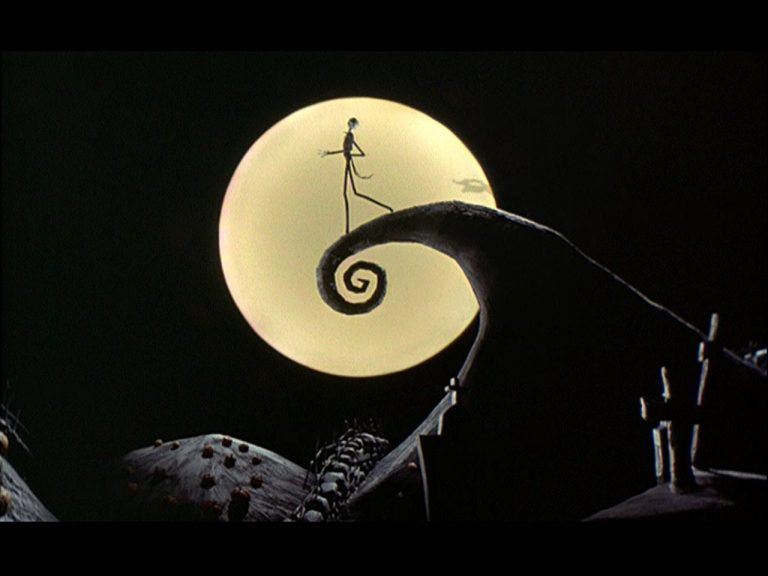 The Nightmare Before Christmas at Regal Cinemas
October 27 – 31st 2 pm & 7 pm
$5 After 5:00: Halloween Festivities at Shaker Village 
October 27 & 28, 2017   5 pm – 8 pm
Bring the kids to trick-or-treat along the Village road for treats and maybe even a trick or two! Sign up for the costume contest, take a hayride and participate in spooky adventures around Shaker Village.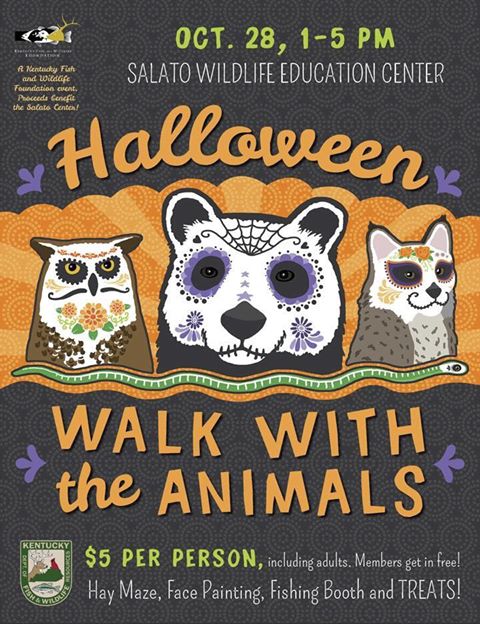 Salato Wildlife Education Center Halloween Walk With the Animals
October 28, 2017
Put on your costume and join us at the Salato Center from 12 pm to 5 pm for the best trick-or-treat experience in town! This kid-friendly event will include a hay bale maze, "Creatures of the Night" exhibit, face painting and – of course – plenty of candy! Kids will each receive a Passport, which they will get stamped at each exhibit after receiving a treat (or trick!). Our staff and volunteers will be on hand to answer your questions, and all of our wildlife will be present and waiting …for you! Admission is $5 per person. Annual membership holders and infants too young to participate are free! No registration required. The Salato Center will be closed until 12 pm on day of event.
Boo-Wow Walk: Trick or Treat for Dogs at the Jessamine County Animal Shelter
Saturday, October 28, 2017   NOON
Sunrise Trackside Halloween Edition at Keeneland
October 28, 2017  7 am – 1 pm
Hummel Planetarium Spooky S'mores & Stars
October 28, 2017    5 pm – 7 pm
You will view the planetarium show called 'STARS: The Powerhouses of the Universe' followed by a spooooooky star talk in the theater, and then venture outside to the plaza for some fun activites! There will be a variety of hands-on activities, games and viewing of the night sky through a telescope! Halloween costumes are encouraged!  Admission for this event is $5 per person, and children under 3 and under are free!
Great Pumpkin on the Lawn at Lexington Baptist Temple
October 29, 2017  5:30 – 7:45 pm
Join us for a free family fun event! We will enjoy an evening of with an inflatable, free food, face painting, watch a movie on the lawn and trunk or treat. We will serve hot dogs, chips & chili. Our guest who register that night will be eligible to win 4 tickets to the Newport Aquarium! Prizes will be given to the best decorated trunk and winner to our annual chili cook-off.  So, bring a lawn chair or blanket to enjoy the movie on the lawn, wear your costumes and bring your appetite for a fun filled night. We are also be collecting non-perishable food for our Thanksgiving baskets if you would like to give.
Downtown Lexington Thriller Parade
Click the above link for registration info
Saturday, October 29th, 2017 – Raindate Sunday, October 30, 2017
Robert F. Stephens Courthouse Plaza
Main Street (Quality to Mill Street)
6:30 p.m. – Dance Showcase (Courthouse Plaza)
8 p.m. – Halloween Parade
8:30 p.m. – Thriller!
Anchor Baptist Fall Festival
Sunday, October 29, 2017  4 pm – 8 pm
Famous chili supper in The Arc Building, Outside inflatables, Pony Rides, Petting Zoo, Games, Facepainting, Candy Trunk or Treat at the end to close the fall festival around 8 p.m. Great fellowship and fun for all ages!
Interactive Trick or Treat Trail
Sunday, October 29, 2017  1 pm – 4 pm
Falling Springs, Versailles
Bring your little ninja, princess, or goblin out to Falling Springs and the Woodford Theatre for a fun afternoon of interactive performances, coffee, donuts, cocoa, and of course – Candy!  Admission: $5 minimum donation.
Winchester Halloween MAINia on Main Street
Tuesday, October 31st, 2017  6 pm – 8 pm