Your Go To Guide to Fall Festivals and Halloween Fun in Lexington and Central KY!!  Keep watching as this site is updated for 2021.
If you'd like your event listed please email lexfun4kids@gmail.com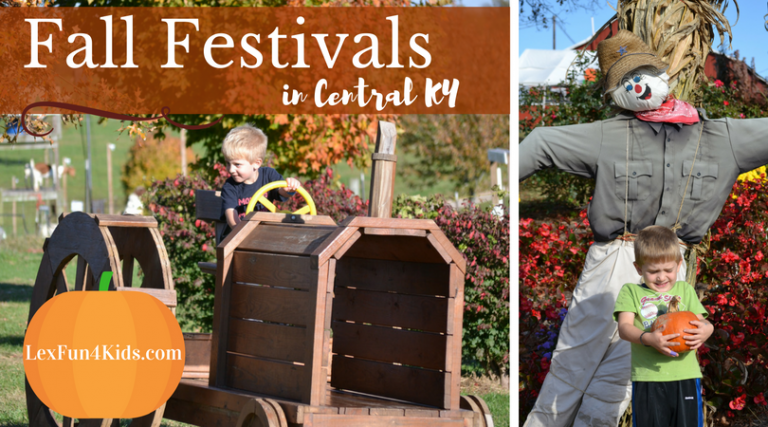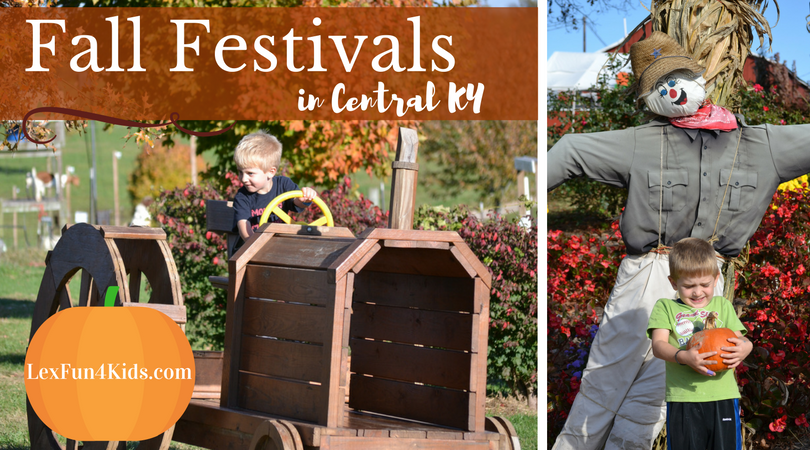 All Season Long…
September 11-September 19, 2021
Monday- Saturday 9:00 am -6:00pm
Sunday noon-6:00 pm
September 20- October 31, 2021
Monday – Thursday 9:00 am- 6:00pm
Friday- Saturday 9:00-9:00pm
Sunday noon- 7:00pm
No Admittance 1 hour Before Closing
General Admission.  $13.99 plus sales tax.   Children 2 years and younger are free.
General Admission tickets include a lot of fun for the family. New for 2021—Jump Zone (Jumping Pillows), Country Coaster, Sorghum Maze. Zinnia Field and Sunflower field. plus Hayrides, 5 acre corn maze, Spooky FarmHouse, Pirates Cove, Petting zoo, Pumpkin Warrior Obstacle , Chutes & Slides, People Spinners and a whole lot more. For a complete List go to www.biwaterfarm.com/attractions. You can enjoy all of these events as many times as you wish all day long, every day of the week! $13.99 (2 and under are FREE)
Click HERE for season ticket information!
---
Eckerts Orchards
Open Tuesday – Sunday 9 am – 6 pm
Applefest in September
---
Evans Orchard
September 11 – October 31, 2021
Fall Fun at Evans Orchard
May-August
Store Hours:
Tuesday-Saturday 10am-5pm
Sunday 12-5pm
Closed on Mondays
Play Area and Barnyard:
Available Tuesday through Sunday.
Includes entrance to play area and barnyard.
$8/per child, $5/adult.
Children UNDER 2 are free with a paid admission.
Ages 2-14 years old qualify as child and 15 years old and up qualify as adult.
Every person that enters the play area will need a ticket.  Last ticket sold 1 hour prior to closing time.
September-October
Pricing coming soon.
Season Pass
$45/ 2 person pass
$15 any additional people
Every person going into the play area and barnyard needs to be included on the pass (including adults)
A photo ID for a named pass member must be shown for each visit.
The season pass is valid for entry to the play area and barnyard for the 2021 season. (May-November)
Season pass are not valid for field trips, special events on the farm such as sunflower festival or birthday parties.
---
Devine's Corn Maze & Pumpkin Patch
September 10 – October 31, 2021
Friday: 2p-10p 
Saturday: 10a-10p 
Sunday: 1p-5p
Each paid admission includes a pumpkin of your choice from the pumpkin patch AND the following activities at NO additional charge..
Wagon rides, corn maze, duck races, slides, critter petting, hamster wheels, corn crib, trike track, zip track, corn hopper, and more!
Regular Admission
Ages 13 & Over………………………. $10.00
Ages 5 – 12 ……………………………. $8.00
Ages 4 & Under………………………. FREE
Admission tickets may be purchased on-site when you arrive or can be purchased online in advance.
General Admission tickets purchased online may be used for the date purchased or any future date within the same season.
Regular Season Pass
Ages 13 & Over……………………… $35.00
Ages 5 – 12……………………………. $28.00
Season passes are valid during normal business hours only September 10 – October 31, 2021.
​Not valid for field trips, special group events, or "Field of Horror".
---
Pumpkins and More Harvest Festival at Baldwin Farms
2021 Info coming soon!
Choose your favorite pumpkins from over 10 acres. Grab a cart and head on out to the pumpkin fields with family and friends. Stop by Kelly House Market and Co-Co House before you leave.  Check out the fall produce to go along with your pumpkins and winter squash.  If the kids get hungry, there are drinks and snacks available.
Featured Activities
Pony Ride $5 (Weekends Only) – Corn Maze $3 – Barrel Cart Rides $5
Other Activities
Huge Pumpkin Patch    Hay Maze  Cal's Adventure Corn Maze    Lots of Farm Animals Baldwin Farms Dragon    Pitching Games    Climb Mt. Baldwin Dirt Hill Hay Tunnel    Kid's Hay Barn   Giant Spiders   Caterpillar Slide
Name the Bunnies    Dig for Pumpkin Seeds   Photo Ops (bring your camera)
Rolling Tumblers    Pumpkin Wagons    Pumpkin Pickers Board
Sunflower Patch    Kiddy Corn Crib    Feed the Goats    Mini-Train Ride    Snacks & Drinks
---
Buckmeadow Farm Fest
Lawrenceburg, KY
Watch for 2021 Info
Saturday: 10 am-8 pm
Sunday: 12 noon-6 pm
Fridays: Contact us to reserve your Special Event
Admission: $10, Children 2 yrs and under: Free
*U-pick Pumpkin Included with Admission*
Group rates available for groups of 15+ paid admissions.  Please call 502-680-1824 to schedule your group
---
Jack O'Lantern Spectacular (Louisville)
Thursday, September 30, 2021 – Sunday, October 31, 2021
Louisville is home to the Jack O'Lantern Spectacular featuring 5,000 carved pumpkins illuminated at night as an "art show". The show runs daily from dusk to 11 p.m., during the week (Sunday-Thursday), and closes at midnight on Friday & Saturday.
---
Special Events
Kentucky Railway Museum Autumn Express
September 25, 2021
Celebrate the beautiful fall season with a train ride and fun activities like picking a pumpkin! Enjoy magic with Aaron Harp Magic, photo opportunities with Spike the Bear and wander the grounds while trying to complete a scavenger hunt! Tickets are limited due to 50% capacity and masks are required indoors, on the train and where social distancing is not available.
Harvest Fest at Shaker Village
September 25 & 26, 2021
Celebrate all things fall and kick off the harvest season with a down-home celebration for the entire family!  Help process sorghum and press apples for cider while learning the history behind these crops at Pleasant Hill (we promise you'll get to taste the fruits of your labor as well).  Take a hayride, paint a pumpkin, climb haystacks, ride a pony and play in the hay maze. Shop for honey, breads and jams at the Harvest Market, watch craft demonstrations, then meet the Farm animals and try Farm-made concoctions.  Live music, an outdoor bar and a variety of food trucks help complete this perfect September weekend.
Entrance to Harvest Fest is included in your general admission to Shaker Village, granting you access to this event, as well as historic tours, exhibits and more!
Mary Queen of the Holy Rosary Fall Festival
October 15 – 16th, 2021
4 pm – 11 pm
Our annual fall festival is back in person for 2021! Join us October 15 & 16 for a weekend of family fun including:
Children's games
Live music including a performance from Lexington's Bent Penny Band
Delicious food & beer garden
Casino games
BINGO
Inflatables
Raffles including the $10,000 grand raffle
Admission is FREE! There is something for every member of the family.
Fall Farm Day at the Bluegrass Regional Marketplace
October 16, 2021
10 am – 2 pm
Bring the whole family out for a fun & free outdoor event! There will be kids games, petting zoo, hay rides, crafts, vendor market booths & food trucks set up.
Bluegrass Railroad Museum in Versailles Pumpkin Patch Trains
Saturdays in October
Train Ride to the Pumpkin Patch. Pick your holiday Pumpkin.
To purchase your tickets, visit https://bluegrass.1steam1.com/bluegrassweb/
Ticket prices are:
First Class (adult) — $22
First Class (children 2-12 years old) — $20
Open Air Car (adult) – $22
Open Air Car (children 2-12 years old) — $20
Coach Class (adult) — $17
Coach Class (children 2-12 years old) — $15
Boo at the Zoo at the Louisville Zoo
October 1-3, 7-10, 14-17, 21-24 and 28-30 (Thursday – Sunday nights, October 1-30)
This year, the Louisville Zoo celebrates 40 years of merry – not scary – fun at its annual Halloween event, Boo at the Zoo presented by Meijer. Tickets go on sale September 1 at 10 a.m. 

Pumpkinmania at Transylvania University
October 24, 2021 Community Carving  11 am – 4 pm (Reserve a timed ticket)
Pumpkins will be lit each night October 25, 2021 through October 28, 2021 and families are invited to visit the steps of Old Morrison to enjoy them!  FREE
The Transylvania and Lexington communities are invited to carve pumpkins Oct. 24 from 11 a.m.-4 p.m. Free, timed tickets are required for those wishing to participate. Reserve pumpkin carving tickets here. 
Jack-O-Lantern Trail at McConnell Springs
October 27 – 30, 2021
This fall Lexington Parks and Recreation will be hosting their second Jack-o-Lantern trail at McConnell Springs. Enjoy an enchanting Halloween experience featuring hundreds of hand carved pumpkins as they light up the night. In addition to marveling at the glow of the pumpkins there will be campfires and s'mores, live owls from Critters in the Classroom and tasty fall food & beverages. Perfect for all ages, this night hike will be a great event for all.
$5 per person (12 and under FREE)
Sozo Church Fall Fest
October 30, 2021
Sozo Church is having their 2nd annual Fall Fest on October 30th from 3pm-5pm! Come enjoy an afternoon of FREE family-friendly activities! We will be celebrating with pony rides, hayrack rides, face painting, cookie decorating, bounce houses, and even a mechanical bull! We will have games and prizes for all ages, not to mention free candy for every child!  There will be food trucks on site. If you would like to purchase food, it will be the only expense at the event. Everything else is 100% FREE! Join us for some fall fun!  You won't want to miss out!
BOO! Cruise at Shaker Village
October 30, 2021
Make waves at this fun Halloween party on the Kentucky River! Wear your costume for the costume contest, hear a spooky story, play games and enjoy light refreshments and festive decorations on this family-friendly cruise.  All ages are welcome.  Adult supervision required.
---
Watch for more 2021 Events!
---
For all Special Trick or Treat Events and Halloween Events for October 31, 2021 CLICK HERE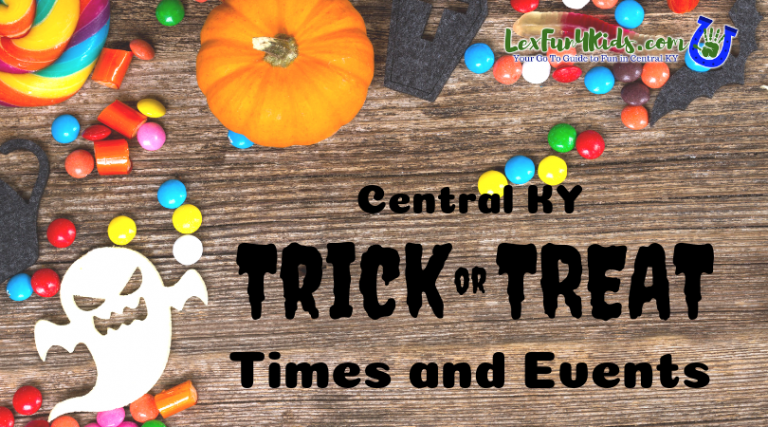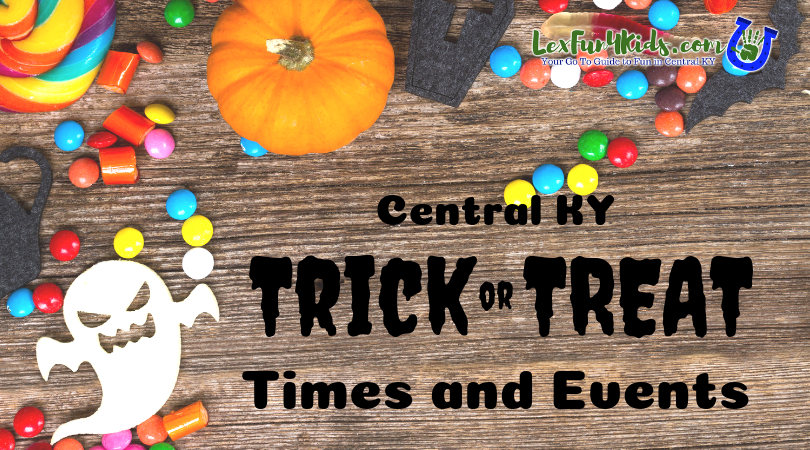 ---
Check out more fall fun on Lex Fun 4 Kids!