Your Go To Guide to Fall Festivals and Halloween Fun in Lexington and Central KY!! Keep watching as this site is updated for 2022.

If you'd like your event listed please email lexfun4kids@gmail.com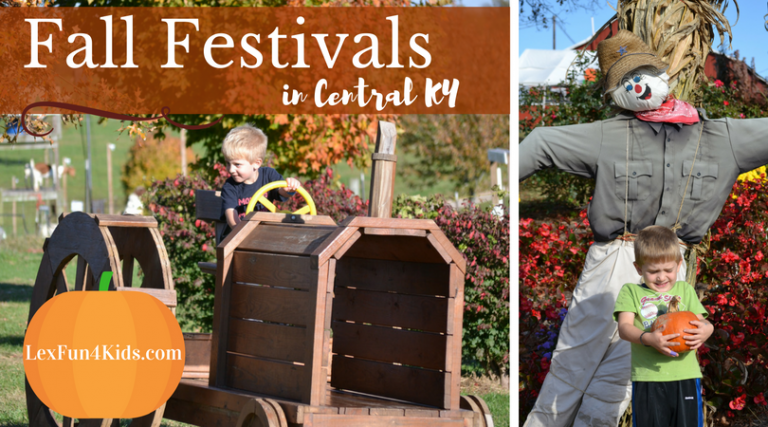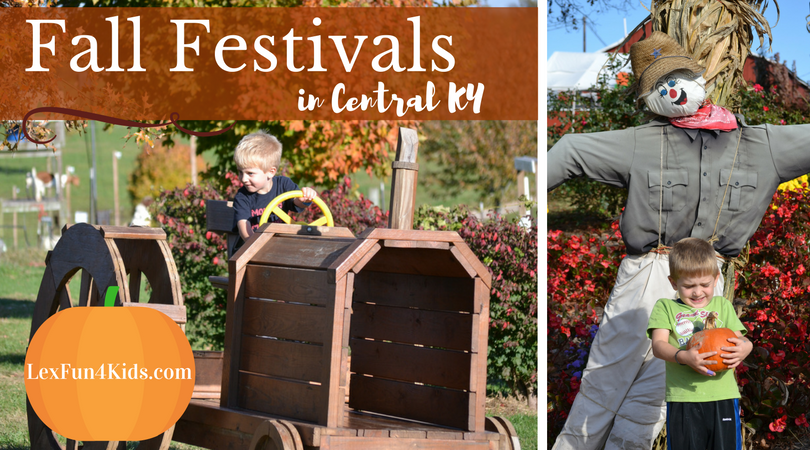 All Season Long…
AutumnFest at Bi-Water Farm
AutumnFest℠ Starts September 10, 2022
Extended Hours Start September 19, 2022 – October 31, 2022
Zip down the zipline or take on the trike track. Enjoy the Barnyard Babies and Bunnyville. Get lost in the corn maze. No matter your speed, Bi-Water Farm has attractions just for you. Hayrides, Spooky Farm HouseSM , Sky High Slide, Bunnyville, Pumpkin Vine Zip Lines,
Chutes & Slides, Paintball Target Shooting, Miniature Golf, Corn Maze, Petting Zoo, and much more. Scroll down to learn about all our attractions. Hungry?? We've got just what you need. FarmHouse Burgers and pulled pork, homemade fries, kettle corn and funnel cakes, all topped off with Kentucky's Best Fried Apple Pies. Is your mouth watering yet? Join us on the farm for delicious eats & treats.
---
Eckerts Orchards
Open Tuesday – Sunday 9 am – 6 pm
Applefest in September
---
Evans Orchard
September 11 – October 31, 2021
Evans Orchard has something for everyone. Bring the kids for a day of fun while enjoying a homemade fried apple pie and cider slushy. All Spring, Summer and Fall, there is a variety of activities for all to enjoy!
---
Devine's Corn Maze & Pumpkin Patch
September 10 – October 31, 2021
Enjoy a 10 acre corn maze, wagon rides, pumpkin picking (pumpkin of your choice is included with every admission!!), petting zoo, huge kids play area with a NEW Feedlot Challenge, zip lines, and more!
---
Allen Farms Fun Fest
October 1 – 29, 2022
Hay ride, corn maze, zip lines, pumpkin Putt-Putt, obstacle course, haymaze, petting zoo, and more!
---
Pumpkins and More Harvest Festival at Baldwin Farms
Late September – October
Choose your favorite pumpkins from over 10 acres. Grab a cart and head on out to the pumpkin fields with family and friends. Stop by Kelly House Market and Co-Co House before you leave. Check out the fall produce to go along with your pumpkins and winter squash. If the kids get hungry, there are drinks and snacks available.
---
Buckmeadow Farm Fest
September 24, 2022 – October 30, 2022
Visit Buckmeadow Farms for a day of fall family fun. A healthy and wholesome day out for the entire family. They offer a wide variety of activities for children and adults. A u-pick pumpkin is included with each admission.
---
Special Events
Harvest Fest at Shaker Village
September 24 & 25, 2022
Celebrate all things fall and kick off the harvest season with a down-home celebration for the entire family! Help us process sorghum and press apples for cider while learning the history of these crops at Pleasant Hill (we promise you'll get to taste the fruits of your labor as well)! Take a hayride, paint a pumpkin, climb haystacks, ride a pony and play in the hay maze. Shop for honey, breads and jams at the Harvest Market. Watch craft demonstrations and play festival games. Meet the Farm animals and try Farm-made concoctions. Live music, an outdoor bar and a variety of food trucks help complete this perfect September weekend. Harvest Fest is included in your general admission to Shaker Village, granting you access to this event, as well as historic tours, exhibits and more! Entrance to Harvest Fest is included in your general admission to Shaker Village, granting you access to this event, as well as historic tours, exhibits and more!
Kentucky Railway Museum Autumn Express
October 1, 2022
Celebrate the beautiful fall season with a train ride and fun activities like picking a pumpkin! Enjoy magic with Aaron Harp Magic, photo opportunities with Spike the Bear and wander the grounds while trying to complete a scavenger hunt! Tickets are limited due to 50% capacity and masks are required indoors, on the train and where social distancing is not available.
Bluegrass Railroad Museum in Versailles Pumpkin Patch Trains
Saturdays in October
A special holiday treat! Each Saturday at 11 AM and 2:30 PM in October our trains will stop on the way back from the Kentucky River at the non-profit Life Adventure Center so that passengers can disembark to purchase their holiday pumpkins. LAC is asking for a donation of $3 for small and $5 for large pumpkins (exact change or credit card please).
Jack O'Lantern Spectacular (Louisville)
October 4, 2022 – October 31, 2022
Louisville is home to the Jack O'Lantern Spectacular featuring 5,000 carved pumpkins illuminated at night as an "art show". The show runs daily from dusk to 11 p.m., during the week (Sunday-Thursday), and closes at midnight on Friday & Saturday.
Bluegrass Regional Marketplace Fall Fun Day
October 8, 2022
10 am – 2 pm
Bring the whole family out for a fun & free outdoor event! There will be kids games, vendor market booths, food trucks and more.
Mary Queen of the Holy Rosary Fall Festival
October 14 – 15th, 2022
4 pm – 11 pm
Our annual fall festival is back in person for 2022! Live music, raffles, kid games, BINGO, games, inflatables, and more!
Boo at the Zoo at the Louisville Zoo
October 1 – 2; 6 – 9; 13 – 16; 20 – 23; 27 – 30 (Thursday – Sunday nights, October 1 – 30).
This year, the Louisville Zoo celebrates 41 years of merry – not scary – fun at its annual Halloween event, Boo at the Zoo presented by Meijer. Tickets go on sale September 1 at 10 a.m.
Fall Festival at Valley Park
October 22, 2022
1 pm – 4 pm
The Valley Park Activities Board hosts a Fall Festival every year. There will be a costume contest, pumpkin decorating contest, traditional Mexican dancing, and inflatables. Bring some food to share and meet your neighbors in the park.
Lexington Halloween Variety Show, Halloween Parade and Thriller Dance
October 22, 2022
Variety Show 5:30 – 6:30
Halloween Parade 7 pm
Thriller 7:30 pm
Curated by Mecca Live Studio, this stage show features a DJ spinning spooky tunes and Halloween-inspired performances by Lexington area arts groups such as Mecca, Dance Attack, Traci Stone Dance Studio, the March Madness Marching Band and many more. Following the variety show is the Halloween Parade featuring floats, costumed characters, and even more performance groups. The festivities culminate with the annual Thriller reenactment where several hundred zombies will dance, dawdle and drag themselves down Main Street to the classic Michael Jackson tune. Pedestrians can watch all along the parade route. The rain date for the parade and Thriller will be Oct. 30.

Pumpkinmania at Transylvania University
The annual community carving event is set for October 23rd, 2022 from 11 am – 4 pm.
Pumpkins will be lit each night October 23, 2022 through October 27th, 2022 and families are invited to visit the steps of Old Morrison to enjoy them!
Jack-O-Lantern Trail at McConnell Springs
Thursday, Oct. 27 | Friday, Oct. 28 | Saturday, Oct. 29 | Sunday, Oct. 30
6:30 – 10 p.m.
Admission | $5 per person at the gate (children 12 and under free)
This fall Lexington Parks and Recreation will be hosting the Jack-o-Lantern trail at McConnell Springs. Enjoy an enchanting Halloween experience featuring hundreds of hand carved pumpkins as they light up the night. In addition to marveling at the glow of the pumpkins there will be campfires and s'mores, live owls from Critters in the Classroom and tasty fall food & beverages. Perfect for all ages, this night hike will be a great event for all.
$5 per person (12 and under FREE)
---
Watch for more 2022 Events!
---
For all Special Trick or Treat Events and Halloween Events for October 31, 2022 CLICK HERE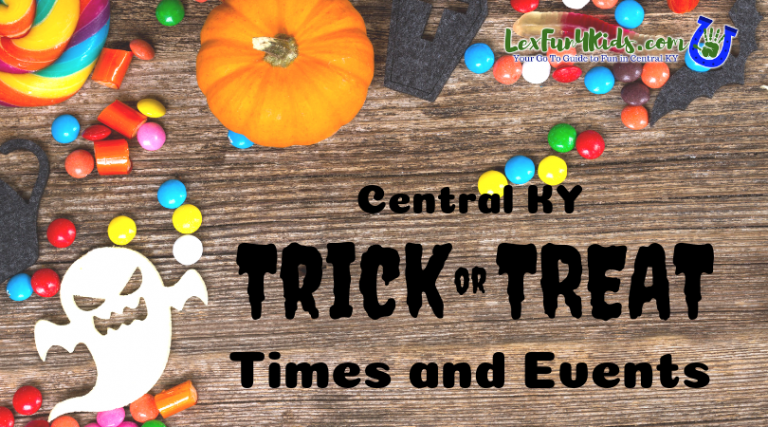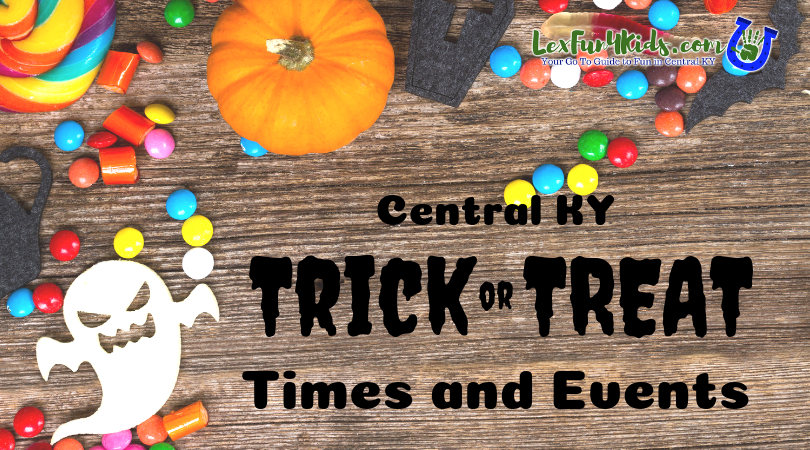 ---
Check out more fall fun on Lex Fun 4 Kids!