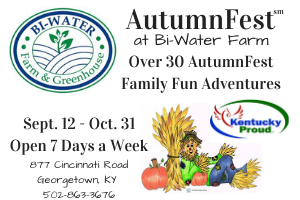 Your Go To Guide to Fall Festivals and Halloween Fun in Lexington and Central KY!!  Keep watching as this site is updated for 2020.
If you'd like your event listed please email lexfun4kids@gmail.com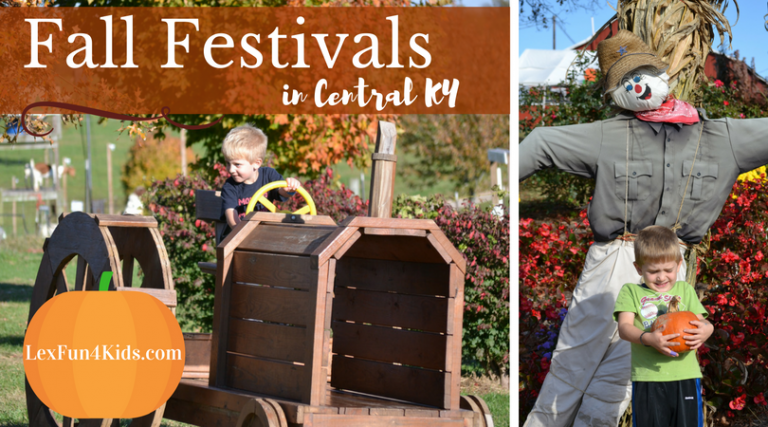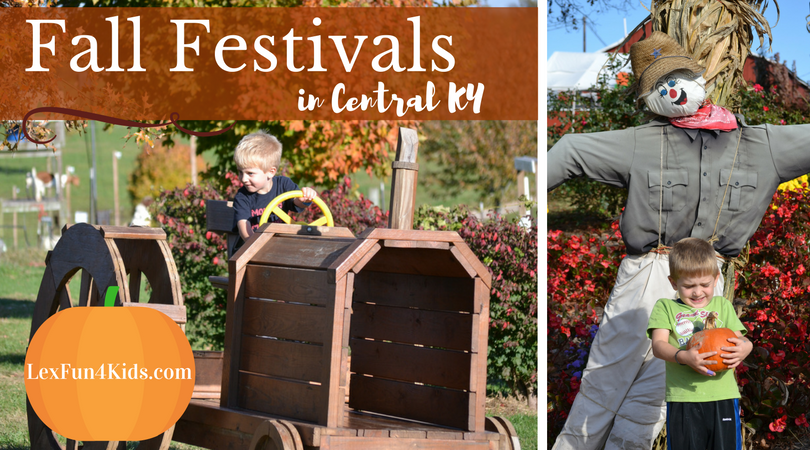 All Season Long…
AutumnFest at Bi-Water Farm
September 12-September 24
Monday- Saturday 9:00 am – 6:00 pm
Sunday Noon – 6:00 pm
September 25- October 31
Monday – Thursday 9:00 am- 6:00 pm
Friday- Saturday 9:00 am -9 :00 pm
Sunday Noon- 7:00 pm
Note:  No admittance 1 hour before closing
General Admission.  $11.99 plus sales tax.   Children 2 years and younger are free.
Allows all day access and as many visits as you wish to all of the following Adventures.  Hayrides, Spooky FarmHouse,  Enchanted Barnyard, Pirates Cove, Trike Track, Barnyard Babies, Lost Pumpkin Mine, li'l Pumpkin Play Patch, The Bird House, Bunnyville, Cowboy Corral, Billy Goat Mountain, 5 Acre Corn Maze, Sky High Slide, People Spinners, Bi-Water Ball Park, Pumpkin Vine Zip Lines, Bounce Around Corral, Chutes & Slides.
Eckerts Orchards
Apple Fest – Weekends in September starting the 12th
Pumpkin Jamboree Weekends in October
Evans Orchard
Play area is now open on a limited basis – tickets are presale and good for three hours
Closed Mondays
Tuesday – Thursday
Play Area $5/person
Tuesday – Sunday
Fall Package: Play area, Hayride, Corn Maze $10/person
Apple Canons:  4 shots $5, 10 shots $10, 20 shots for $15
Barnyard feed: $1.00
Pumpkins for sell $.45/lb
Pumpkins and More Harvest Festival at Baldwin Farms
September 26 – November 1, 2020
Choose your favorite pumpkins from over 10 acres. Grab a cart and head on out to the pumpkin fields with family and friends. Stop by Kelly House Market and Co-Co House before you leave.  Check out the fall produce to go along with your pumpkins and winter squash.  If the kids get hungry, there are drinks and snacks available.
Featured Activities
Pony Ride $5 (Weekends Only) – Corn Maze $3 – Barrel Cart Rides $5
Other Activities
Huge Pumpkin Patch    Hay Maze  Cal's Adventure Corn Maze    Lots of Farm Animals Baldwin Farms Dragon    Pitching Games    Climb Mt. Baldwin Dirt Hill Hay Tunnel    Kid's Hay Barn   Giant Spiders   Caterpillar Slide
Name the Bunnies    Dig for Pumpkin Seeds   Photo Ops (bring your camera)
Rolling Tumblers    Pumpkin Wagons    Pumpkin Pickers Board
Sunflower Patch    Kiddy Corn Crib    Feed the Goats    Mini-Train Ride    Snacks & Drinks
Buckmeadow Farm Fest
Lawrenceburg, KY
Saturday: 10 am-8 pm
Sunday: 12 noon-6 pm
Fridays: Contact us to reserve your Special Event
Admission: $10, Children 2 yrs and under: Free
*U-pick Pumpkin Included with Admission*
Group rates available for groups of 15+ paid admissions.  Please call 502-680-1824 to schedule your group
Kentucky Railway Museum Autumn Express
September 26, 2020
Celebrate the beautiful fall season with a train ride and fun activities like picking a pumpkin! Enjoy magic with Aaron Harp Magic, photo opportunities with Spike the Bear and wander the grounds while trying to complete a scavenger hunt! Tickets are limited due to 50% capacity and masks are required indoors, on the train and where social distancing is not available.
Bluegrass Railroad Museum in Versailles
Sat and Sun in October Beginning Oct 3, 2020 – Pumpkin Patch Trains (pick your pumpkin)
Every Saturday in October, join the Bluegrass Scenic Railroad Museum staff as Life Adventure Center hosts a stop at the pumpkin patch!
Each Saturday in October our trains will stop on the way back from the Kentucky River at the non-profit Life Adventure Center so that passengers can disembark to purchase their holiday pumpkins. LAC is asking for a donation of $3 for small and $7 for large pumpkins (cash only please).
We are charging our special event ticket prices for these train rides. All proceeds from the special event tickets and pumpkin sales go directly to the non-profit Life Adventure Center. Passengers will bring their purchases back on board the train to continue their ride back to the station.
Ticket prices are:
First Class (adult) — $22
First Class (children 2-12 years old) — $20
Open Air Car (adult) – $22
Open Air Car (children 2-12 years old) — $20
Coach Class (adult) — $17
Coach Class (children 2-12 years old) — $15
Boo at the Zoo at the Louisville Zoo
Trick-or-treating will be offered for kids 11 and under. To help us prevent the spread of COVID-19, all guests over the age of 5 must wear a mask to enter the route.  This year, the Zoo will not be handing out individual pieces of candy, but instead, those participating will receive a small sealed treat bag at each booth. Candy will be distributed by Zoo staff who receive health screenings when they arrive at work each day. There will be socially distanced photo opportunities with your favorite costumed characters.

Tickets for Boo at the Zoo are $12.50 for non-members (both adults and children) and $6 for members (both adults and children). Children 2 and under are free and do not require a ticket. To minimize contact points, tickets are now all-inclusive, covering the cost of Boo at the Zoo admission, parking, Spooktacular Carousel, "not-so itsy bitsy" Spider House and the Headless Horseman of Sleepy Hollow attraction.
The Zoo will close early for regular daytime visitors. Gates will close at 3 p.m. with guests being allowed to visit until 4 p.m.
Halloween guests can begin entering the Zoo at their selected times, starting at 5 p.m. The trick-or-treat route closes at 10 p.m.
---
October 2020
KRZ Halloween Ssssspooktacular!
Be watching for info on a 2020 Event
---
Mary Queen Fall Festival
Online raffle event
---
YMCA of Central KY Trunk or Treat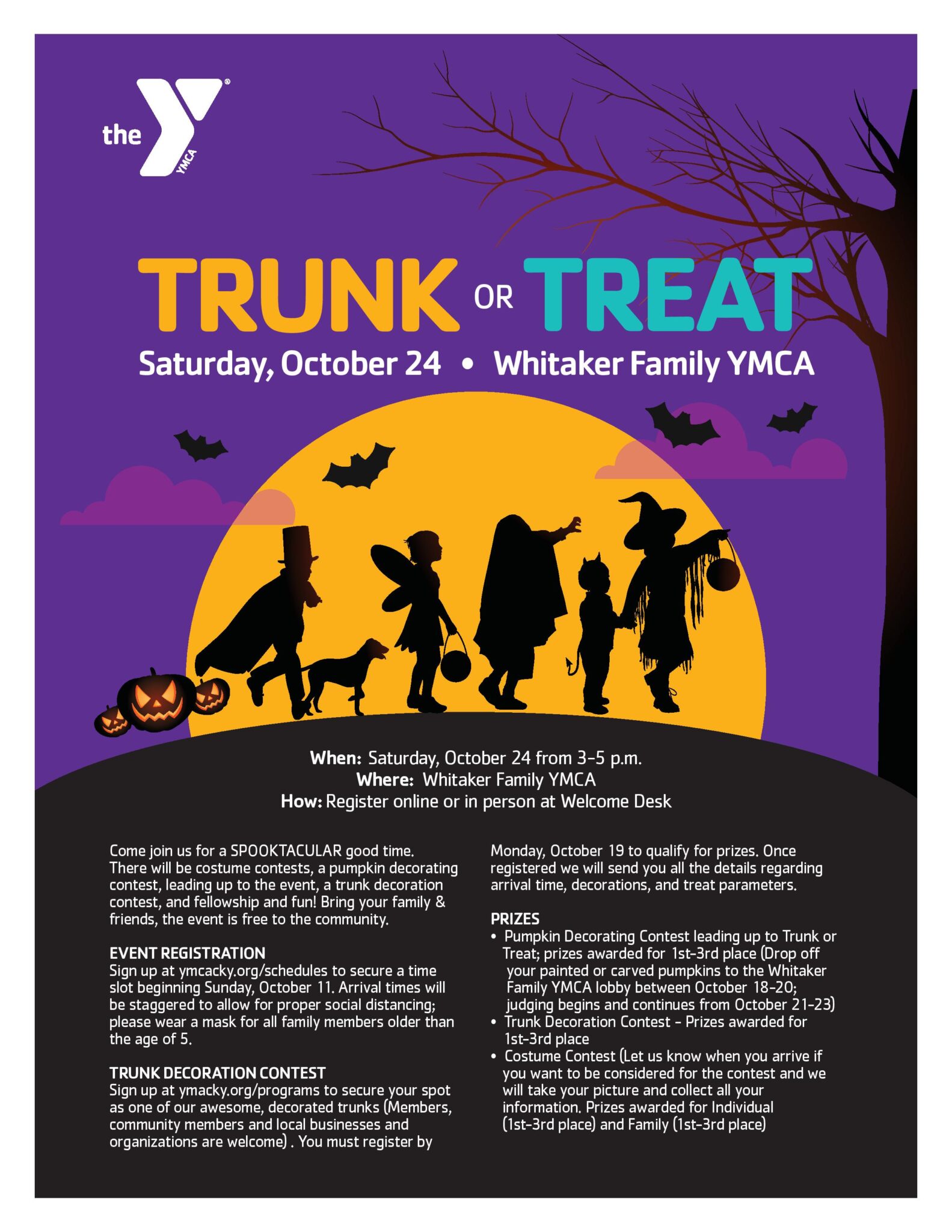 LexCity Church Drive-Thru Trick or Treat Spooktacular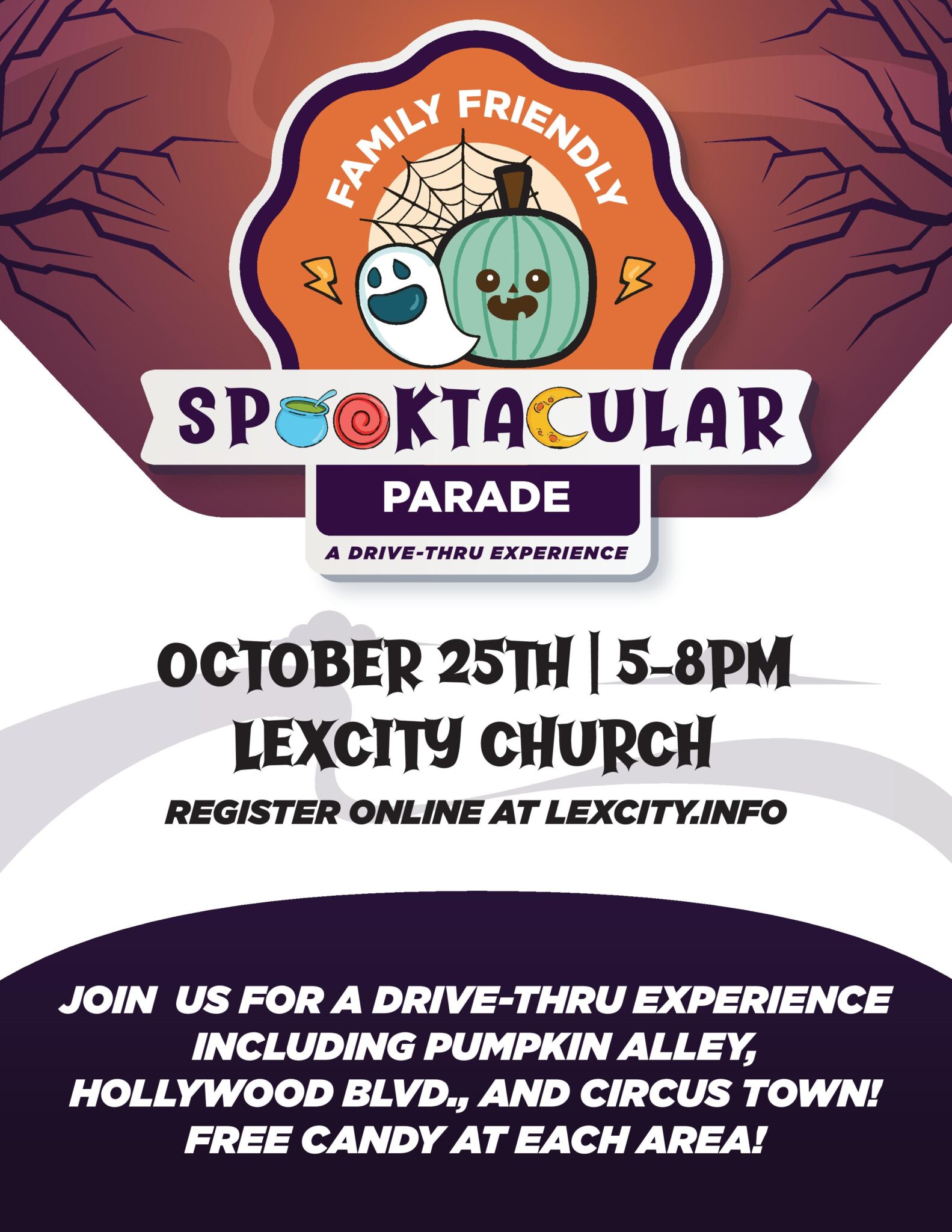 ---
For all Special Trick or Treat Events and Halloween Events for October 31, 2020 CLICK HERE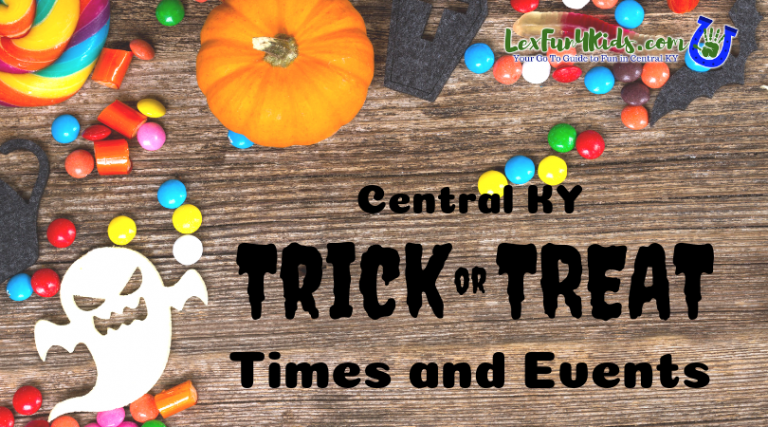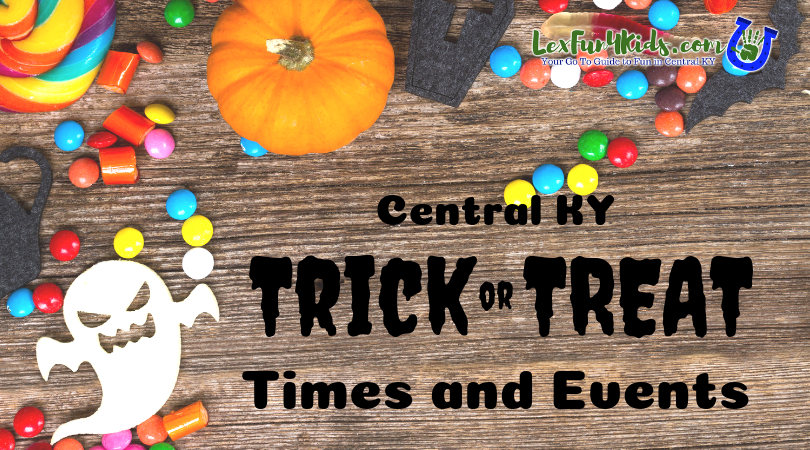 ---