More than 30 years after Michael Jackson's groundbreaking video first aired, zombies and the non-dead still come together in downtown Lexington to celebrate Halloween by re-creating Thriller.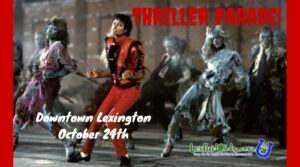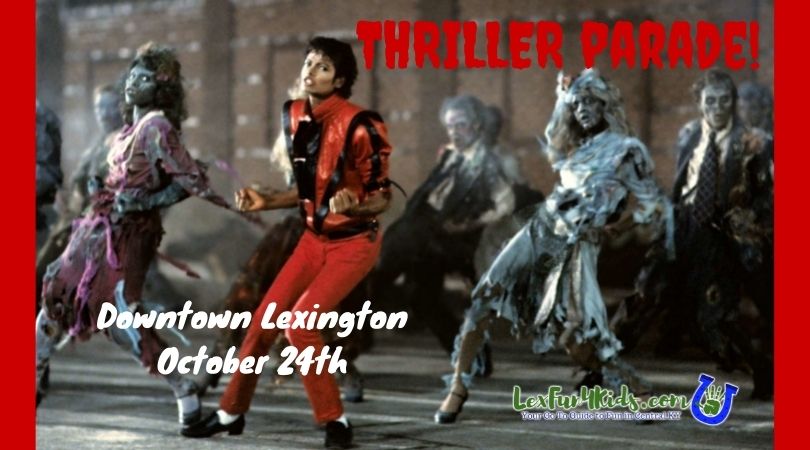 This annual tradition has become a local must-do event as Halloween enthusiasts of all ages descend on downtown Lexington to celebrate the season. Lexington's largest, free Halloween party will kick off with Halloween-inspired art and performances and will culminate with the Halloween Parade and Thriller reenactment. Food and beverage vendors will be onsite serving up good eats and treats.
This event, which has been named a Top 10 Halloween Destination by USA Today and was featured in the Top 25 Best Halloween Festivals Across the U.S. by Oprah Magazine, is brought to you by Lexington Parks & Recreation, Mecca Live Studio, and WRFL.
FREE
2021 Schedule
Sunday, Oct. 24, 2021
5 – 8 p.m.
Events will take place at several downtown locations. 
Halloween Variety Show
5 – 6 p.m.
Robert F. Stephens Courthouse Plaza 
Curated by Mecca Live Studio, this stage show features a DJ spinning spooky tunes and Halloween inspired performances by Lexington area arts groups such as Mecca, Dance Attack, Traci Stone Dance Studio, the March Madness Marching Band and many more.
 
Halloween and Thriller Parade
Halloween Parade | 6:30 p.m.
Thriller Parade | 7 p.m.
Main Street starting at Quality and Mill Street
Following the variety show is the Halloween Parade featuring floats, costumed characters, and even more performance groups. The festivities culminate with the annual Thriller reenactment where several hundred zombies will dance, dawdle and drag themselves down Main Street to the classic Michael Jackson tune. Pedestrians can watch all along the parade route. Rain date for the parade and Thriller Oct. 25.
Halloween parade
The Halloween Parade and Thriller reenactment and will feature zombies, ghosts, superheroes, villains and costumed characters of all kinds.
What are you going to be for Halloween? Before the Thriller reenactment, we hold a parade that is a celebration of all things Halloween! Join us in the parade to show off your creativity and Halloween spirit! Members of the community are invited to submit parade entries, (costumed characters, performances, floats, etc.) displaying their creativity and festive family fun.  There is no charge for costumed characters and entertainers to walk in the parade.

Entry fees for floats, community groups and businesses range from $25 – $150. 
Parade organizers judge the parade and give awards for the most creative entries!