There are so many ways you can encourage your children to give back to your local community. I've included a great list of local ways as well as other tips for national programs. If you have a program to add please contact lexfun4kids@gmail.com
The Ronald McDonald House offers a place to stay for families who have children staying in local hospitals.  They offer dinners, snacks, and basic daily supplies for families.  They have a wish list available that lists items they need.  My kids have included this list with birthday invites and asked for donations instead of gifts.  We enjoy dropping things off and seeing the welcoming home provided for these families.  There are personal rooms, sitting areas, a playroom for siblings, and a kitchen.  Dinners are provided by various groups around the area.  You can call to schedule a way to volunteer to cook a meal.  Follow them on Facebook for updates about the House and needs.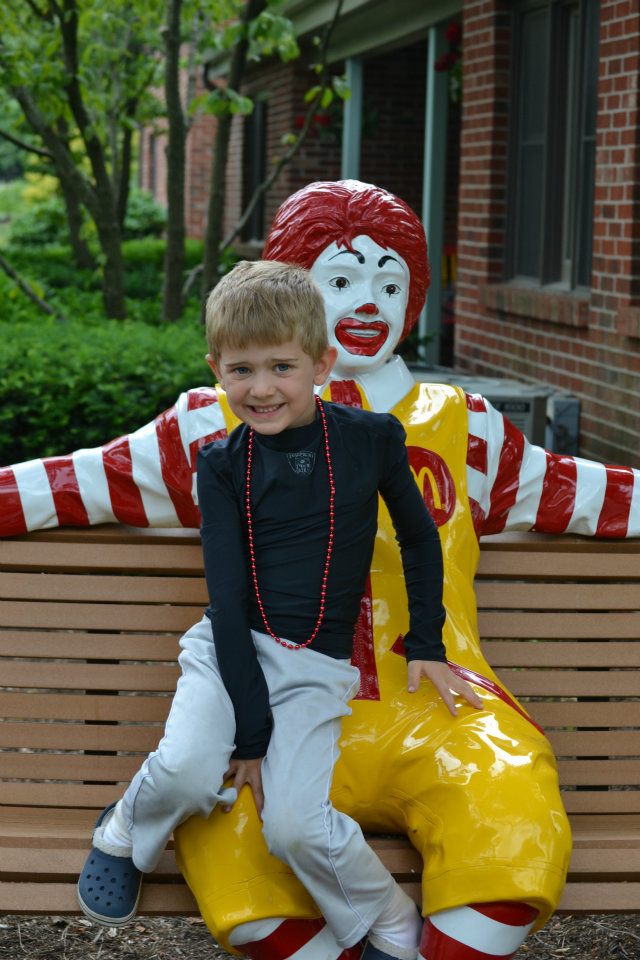 God's Pantry
There are a variety of ways to get involved at God's Pantry!
*Sort food at the pantry
*Host a food drive
*Collect monetary donations
*Participate in annual special events like Thanksgiving or holiday food collections
Click HERE for more information on volunteering
Salvation Army
The Salvation Army offers numerous ways to give back year round and at the holidays with their traditional Kettle Bell program and Angel Trees. Help with the Food Pantry (Monday – Friday; 9:00am -12:00pm),  Clothing Center (Monday – Friday:  9:00am – 4:00pm),  Emergency Shelter, Emergency Disaster Services (Must be willing to attend training sessions and be on-call),  Early Learning Center (Read to children),  Boys and Girls Club, and Music Program year round.  During the holidays find out about the Red Kettle and Angel Tree Programs. 
Catholic Action Center
The Catholic Action Center needs families, local groups, churches, etc. to provide lunches or dinner.  You can sign up online and prepare then drop off the food to directly impact people in need!  This would be a great project for a club, youth group, sports team, or even a group of friends!
Click HERE for more information on their meal programs.
Police Activities League (PAL)
The Police Activities League of Lexington is a crime prevention program that relies on recreation, athletic, and educational activities to build positive relationship between police officers, youth, and the community.
My boys loved visiting with local officers to drop off our donations.  The PAL group accepted various sporting equipment we collected at my son's birthday.
LemonAiD Days
LemonAiD Days is organized by the Salvation Army. Kids can set up a summer lemonade stand and raise money for homeless kids in Central KY!  My boys love a lemonade stand and they're always surprised when folks stop to just donate and don't even want a cup of lemonade.  We also enjoy seeing the giant red kettle at the finale and dropping off our earnings in it.  Also, they have games and refreshments at the finale and we've even been on the local news!
Gavin's Goodies
Gavin Carr is a child from Nicholasville who created this program after facing cancer. Gavin's family helped him start Gavin's Goodies to provide snacks to the children facing treatments at the UK Pediatric Hematology-Oncology Clinic. 
Snacks must be shelf stable, individually wrapped and within the expiration date. Popular items are cookies, crackers (cheese, peanut butter, animal etc), pretzels, granola bars, pop tarts, cereal bars, popcorn, chips, trail mix, fruit snacks, etc.
Snacks can be shipped to
Gavin's Goodies
633 John Sutherland Dr
Nicholasville Ky 40356

Monetary donations can be sent to Gavin's Goodies
C/O GO International
PO Box 123
Wilmore KY 40390
*Monetary donations are tax deductible. I'm sorry but we are unable to offer a tax receipt for snack donations. Please make your check payable to GO INTERNATIONAL. Be sure to write Gavin's Goodies on the memo line so your donation will be credited to Gavin's Goodies. Include your name and address if you would like a receipt as all donations are tax deductible.
Jarrett's Joy Cart
Military Missions
Military Missions exists to support and honor deployed military personnel by sending care packages year round as an expression of appreciation and gratitude.
There are many ways to contribute including purchasing items on their care package suggestion list , volunteering to help assemble packages, donate personal cards written to service men and women (what a great project for a team or part of a birthday party) or , . Items can be dropped off or mailed to our office in Millpond Shopping Center at 3650 Boston Rd., Suite 146, Lexington, KY 40515.
Humane Society
There are many area Humane Society branches. The Humane Society is always in need of donations so collecting items at a party is easy and always helpful. They also have a wish list available. The Lexington Humane Society welcomes volunteers age 14 and up. You can find more information about how to volunteer here.
American Cancer Society Lexington Hope Lodge
The American Cancer Society Hope Lodge in Lexington loves donations any time of year. Feel free to have your family or organization "stop and drop" off baked goods, food, or other donations anytime. They also have a need for families or organizations to come in and cook dinner for their residents. For more information contact:
The American Cancer Society Hope Lodge, Lexington
1500 College Way
Lexington, KY 40502
Phone Number: 859-260-8300
Project Linus
Project Linus collects blankets locally and they are distributed to children in hospitals, shelters, social service agencies, or anywhere that a child might be in need of a big hug. You can make a blanket using their guidelines and give it to a local chapter.
My son was in the hospital as a very young child and got a special Project Linus blanket! This charity is a great way to give back locally in communities across the US! For info on your local unit click HERE.
Other ways to get involved

*Donation drop offs (churches, Goodwill, clothing drives)
*Raise money for a cause or participate in a race for a cause (Relay for Life, Walk to Cure Diabetes, Race for the Cure, etc)
*Adopt an elderly (silver angel) or an angel from the Angel Tree at Christmas through the Salvation Army
*Participate in a clean up like the Kentucky River Clean Sweep or the Downtown Trash Bash
*Help keep Lexington green and plant a tree for Reforest the Bluegrass