Are you looking for free meals, food pantries, or food for your children? Find information about area food banks, free meals and snacks and more. Central Kentucky has a variety of resources available for families in need.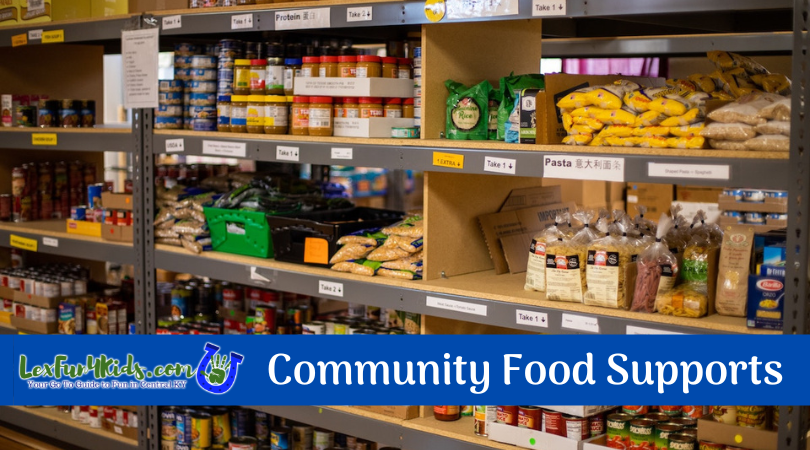 Food Banks
Food banks are available in many communities. Some do require a referral but some you can call and refer yourself. If you need a referral reach out to your child's school or local churches or community centers.
God's Pantry – God's Pantry Food Bank has 4 pantries in Fayette County open Monday – Friday. A referral is needed to visit St. Luke Pantry, Central Pantry, and Cambridge Pantry. Please call 859-259-2308 to schedule a referral.
Jessamine County Food Bank – The pantry has hours Monday, Tuesday, Thursday and Friday. Location is 104 S 2nd St, Nicholasville.
Amen House in Scott County – The pantry is open weekdays. For information about a visit to the pantry click here. Location is 319 E Main Street, Georgetown.
First Baptist Church in Winchester – The FBC Food Pantry supports the residents of Clark County twice a week. The food pantry is open each Wednesday and Saturday from 10am – 1pm. Call 859-744-6624 for more information. Location is 37 N. Highland St, Winchester
Free Pantries
Communities have small pantries set up outside churches, libraries, or other public buildings. These are stocked by community members and groups.
For a current map of free little pantries CLICK HERE.
Free meals for students
Many school systems do offer free meals for students during the school year to all students in certain schools or you can apply and see if you qualify. You may need to complete an online form to received free or reduced meals. Schools also sometimes have 'Backpack Programs' set up where students can get a bag of easily prepared food and snacks for the weekend throughout the school year. Talk to your school Family Resource or Youth Services Center Coordinator or School Counselor. For information about FREE and Reduced Meals in Fayette County CLICK HERE
To find meals for students in surrounding counties visit No Kid Hungry. Click HERE for access to their map.
You can also find these resources by texting the word FOOD to 304-304. Data & message rates may apply.
Free Community Meals or Snacks
Organizations offer meals, fresh vegetables, and snacks in a variety of locations. These are open for everyone!
Glean Kentucky – Glean Kentucky is supporting the agencies who are staying open and starting to work with others to develop different delivery models for fresh produce. You can also apply to receive free produce HERE.

Lexington Rescue Mission – Free breakfast from 9 a.m. to 10 a.m. and hot, nutritious lunches from 12 to 1 p.m. Monday through Saturday. Breakfast and lunch are free and open to anyone in need. All meals are served at our Outreach Center at 444 Glen Arvin Avenue.

Meal Hand Out at FoodChain will now be: Dinner (anyone) Monday, Wednesday, Friday 5:30-7pm. 501 W. Sixth St, Suite 105 (where Jefferson St. meets West Sixth St.)

Lexington Public Library Village Branch – Snacks Monday-Thursday, 4-6 PM (Village Library closed June 11th, 2022 while a new library building is being built. Village Branch is in a temporary location at 1801 Alexandria Drive. )
Lexington Public Library Northside Branch – Snacks Monday-Saturday, 4-6 PM
Summer 2023 Info from Lex Pub Lib.
in partnership with FCPS, we are providing summer meals (lunch + afternoon snack) at Village, Northside, and Tates Creek, Monday – Friday from June 12 – July 28.
Baby food and resources
There are a few local agencies that specialize in helping families with very young children. You can apply for services and receive help.
Women, Infants and Children Support – The Supplemental Nutrition Program for Women, Infants and Children (WIC) provides nutrition education and healthy foods to qualifying women who are pregnant, who are breastfeeding their babies, or who have given birth in the last six months, newborns to 12 months, and children age 1-5 years. WIC services are provided at 650 Newtown Pike. To make an appointment, call 859-288-2483 (for every WIC visit, you need to bring personal identification, proof of income — like a pay stub and your home address)
The Nest – Since 1977, The Nest has been a lifeline for all individuals and families in crisis, facing adversity, or who have unexpected needs. Our holistic approach incorporates four FREE programs: early childhood education, family assistance for basic human needs, counseling and advocacy for survivors of intimate partner violence, and education and support for parents. The Nest is located at 529 N Martin Luther King Blvd, Lexington.
Family Care Center – The Family Care Center provides services to families with young children. Their location is 1135 Harry Sykes Way, Lexington.
SNAP Benefits
The Supplemental Nutrition Assistance Program (SNAP) helps low-income people buy food for healthy meals at participating stores. Kentucky SNAP benefits increase household food buying power when added to the household's income. *Kentucky SNAP Requirements – Any household meeting basic income and other requirements may be able to receive SNAP benefits.
Check out this great new program for Summer 2022! You can double your SNAP dollars and get fresh veggies! Learn more HERE.