Halloween Kids Eat Free Events are happening all around Central KY! Check out the special deals as well as regular Kids Eat Free & Cheap Nights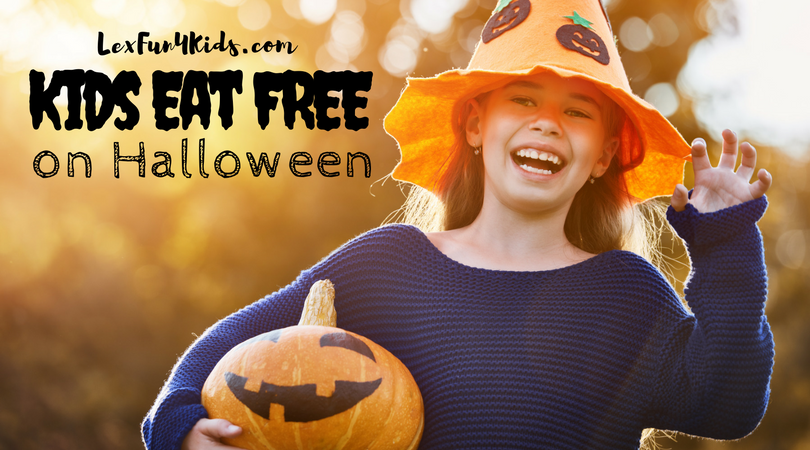 2023 Specials!
Baskin Robbins – 31% off scoops on the 31st of each month so Halloween is a great time to enjoy this deal!
Chipotle – 2023 Boorito! Chipotle Rewards members receive one (1) entrée item for US$6/CAN$7 when using promo code BOORITO at digital check-out via the Chipotle websites or mobile app from participating U.S./Canada locations. Valid only on October 31, 2023 beginning at 3:00 pm local time through restaurant closing; redemption is subject to availability.
Crank & Boom Ice Cream Lounge – Kids and adults get a free scoop or a free howling hot chocolate if they come in costume.
Drake's – 2023 We're giving you a treat; kids eat free at Drake's on Halloween! Come see us for dinner before you head out trick or treating. Offer available for kids 12 and under, up to two meals with purchase of adult entree, dine-in only, kid's menu only.
Frozen in Time (Brannon Crossing) – Free kids cone on 10/31/2023 for anyone in costume.
IHOP – 2023 Scary Face Pancakes are back and kids 12 & under get one free (dine-in only) from 10/24 – 10/31, 4 pm – 10 pm, with adult entree purchase.
MOD Pizza – 31% off on Halloween for kids in costume
Wendy's – 2023 Boo Bucks — Boo! Books™️ are back. So make sure your kiddos have the perfect after school snack — a Jr. Frosty® of course. Each and every $1 Boo! Book purchase gets you 5 FREE Jr. Frosty coupons (no purchase necessary). Also included, an additional 6th coupon for a $1.99 Kids Meal, with purchase.Get yours today from 9/4-10/31/23
---