There are lots of great pumpkin patches and fall festivals in the area but if you're in the mood to be spooked check out these great events!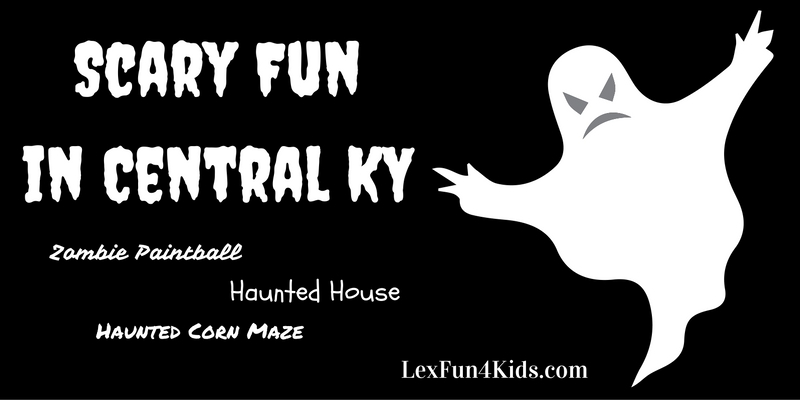 The ScareFest is the biggest Horror and Paranormal Convention in the USA where you will be able to experience three days of the strange, weird and macabre, opening September 30 – October 2, 2016. Come and meet your favorite celebrities in the horror and paranormal community.
Terror on Tates Creek, Nightmare Haunted House, and Quaratine are all open for scares this fall!  Opens September 23, 2016.
Enjoy THREE locations for Fright Nights KY – Opens September 23, 2016.
Thousands of people visit Fright Nights at Jacobson Park each year from Kentucky and beyond as it is the premier haunted attraction in the entire region. Why do thousands of people visit Fright Nights at Jacobson Park? Because we change it up each year in order to give you the scream of a lifetime and for the 2016 season be prepared to witness an entirely different Fright Nights and Jacobson Park. Fright Nights at Jacobson Park offers three haunted attractions at one location spread over 40 acres of terrifying land to give you the scare of a lifetime. Feed your screams into an all new Entrapment, 13 Doors and the fan favorite Dark Forest this October!
Click HERE for the Lex Fun Zombie Paintball Family Hour Review
Fright Nights at Walker Farm offers you a one of a kind haunted entertainment experience with 3 haunted attractions in one location and for one low price. It features Zombie Paintball Hayride, Fright Nights Haunted Hayride and Candyland Cornmaze! Two tractor pulled terrors and one carney infested corn maze will be all you can handle in one night. And if you ever need to take a break then the Kill Zone awaits you where we will have food vendors, live entertainment, horror movies playing on our outdoor projector screens, a bonfire and free marshmallows. And if you think you can handle spending the night with us at Walker Farm then now you can by purchasing a ticket to the most extreme haunted attraction in Kentucky,Fright Nights Campout. Fright Nights at Walker Farm offers you 52 acres of haunted entertainment that you will never forget.
Escape Waveland is Lexington's newest thirty minute escape game! From the creators of Fright Nights, Escape Waveland is a one of a kind historic mansion that will completely immerse you into the world of the unknown as you and your friends solve riddles and crack codes. Escape Waveland is open for a limited time only and offers two different Halloween themed experiences, The House Call and The Serial Killer.
Carter Caves State Resort Park, Olive Hill
Carter Caves Haunted Trail
Oct. 7-8, 14-15, 21-22
If you dare, come and take the walk through the 1/4 mile Carter Caves Haunted Trail and experience thrilling scenes and haunts that will have you shivering with fear!  Our past trail survivors consider Carter Caves Haunted Trail one of the best haunted attractions in the region.  Admission is $10 per person.  Concessions will be available at the beginning of the trail.  The trail is not recommended for young children.  Transportation to and from the trailhead will be provided by the park.  Ticket sales are each event night from 7:30-10 p.m. at Carter Caves Public Pool. Call 800-325-0059.
Ghost Walk
White Hall State Historic Site
Oct 20, 21, 22, 28, 29, 2016 7:00 P.M. – 9:30 P.M.
White Hall State Historic Site has the reputation of being haunted.  A few nights a year spirits of the past come to life to share the incredible stories of the Clay family.  Visit the historic home and experience these tales for yourself.  Afterward guests are treated to hot apple cider and fresh baked cookies.  This production is a history based theater event, not an activity that is intended to scare the participants.  Recommended for ages 12 and up. Tours are from 7:00 PM to 9:30 PM with nine performances each night. This event is by reservation only. Call the park at 859-623-9178 for show times and tickets. Tickets are $10 per person, non-refundable.
Tour of Terror
Cumberland Falls State Resort Park
Oct 21 & 22, 2016  from  7:00 P.M. – 10:00 P.M.
Oct 28 & 29, 2016  from  7:00 P.M. – 10:00 P.M.
Many people visit the park  during the daylight hours, but after dark anything can happen.  There are numerous stories told  about frightful  and super natural happenings around the falls area.    Guides will take you on a Tour of the falls that you will never forget, if you are able to survive the night.    Your adventure will begin at the the visitor center near the falls area.  Cost is $ 10.00 per person.
Haunts and History Downtown Walking Tour (Through the Lex Public Library)
Tuesday, October 25th, 6:30PM to 8:30PM
Thursday, October 27th, 6:30PM to 8:30PM
Join local historian Spence Millard for a walking tour around downtown Lexington to discover some of our city's interesting history and haunted spots. Meet in the first floor rotunda, wear comfortable shoes, and bundle up if necessary. It's going to be a spooky time! Family friendly, registration preferred.  For adults, families, seniors , Registration Required
Haunted Frontier
Old Fort Harrod State Park
Oct 27,  28, 29, 30, 2016 from 7:00 P.M. – 10:00 P.M.
A haunted house 242 years in the making.  Come and experience this haunt that starts in the old fort before entering the wooded area behind the fort, very near the oldest cemetery in the state of Kentucky!  Most of the haunt is outside in the smoky darkness of this historic place. This is a serious haunt, not recommended for children under 10 or the weak hearted! Starts at 7 p.m. each night. Tickets are $7 for adults and $4 for children under 12. Call 859-734-3314.