There are lots of great pumpkin patches and fall festivals in the area but if you're in the mood to be spooked check out these great events!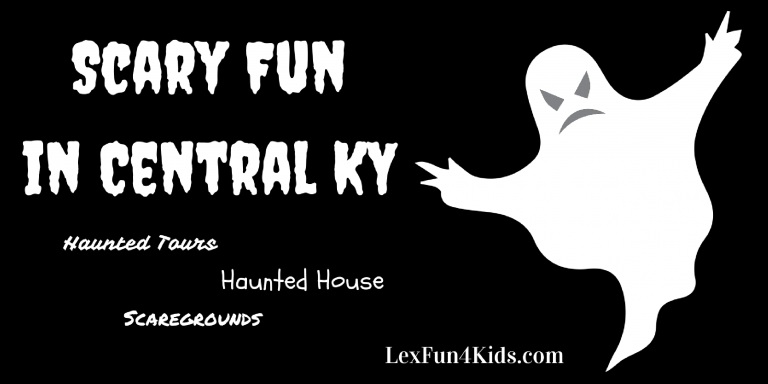 The ScareFest is the biggest Horror and Paranormal Convention in the USA where you will be able to experience three days of the strange, weird and macabre, opening September 12 – 15, 2019. Come and meet your favorite celebrities in the horror and paranormal community.
Terror on Tates Creek, Nightmare Haunted House, and Quaratine are all open for scares this fall starting September 20, 2019!  Open Thursdays – Sundays (Plus Wednesday 10/30)
Fright Nights KY at Jacobson Park
Enjoy THREE attractions in one location for Fright Nights KY.  Open Friday – Sundays.  September 27 – October 31, 2019
Jacobson Park Location ONLY (The Walker Farm and Waveland locations are NOT offering programs this year)
Thousands of people visit Fright Nights at Jacobson Park each year from Kentucky and beyond as it is the premier haunted attraction in the entire region. Why do thousands of people visit Fright Nights at Jacobson Park? Because we change it up each year in order to give you the scream of a lifetime and for the 2019 season be prepared to witness an entirely different Fright Nights and Jacobson Park. Fright Nights at Jacobson Park offers three haunted attractions at one location spread over 40 acres of terrifying land to give you the scare of a lifetime. Feed your screams in Entrapment, 13 Doors and the revamped fan favorite Dark Forest this October!
Carter Caves State Resort Park, Olive Hill
Carter Caves Haunted Trail
Oct. 4-5, 11-12, 18-19, 2019
If you dare, come and take the walk through our 1/4 mile wooded trail, and experience thrilling scenes and haunts that will have you shivering with fear.  Our past trail survivors consider Carter Caves Haunted Trail as one of the best Haunted Attractions in the region.  Admission is $10 per person.  Concessions will be available at the beginning of the trail.  The trail is not recommended for young children.  Transportation to and from the trail head will be provided by the park.  Ticket sales are each event night from 7:30 p.m. – 10:00 p.m. at Carter Caves Public Pool.
Haunted Frontier
Old Fort Harrod State Park
Oct 25, 26, 30, 31, 2019 from 7:00 P.M. – 10:00 P.M.
A haunted house 245 years in the making.  Come and experience this haunt that starts in the old fort before entering the wooded area behind the fort, very near the oldest cemetery in the state of Kentucky!  All of the haunt is outside in the smoky darkness of this historic place. This is a serious haunt, not recommended for children under 10 or the weak hearted! Starts at 7 p.m. each night. Tickets are $7. Call 859-734-3314.
AutumnFest at Bi-Water Farm
Daily September 7 through October 31, 2019
Bi-Water Farm has a Spooky House and a Haunted Mine that are great for little ones wanting some spooky fun but not too much of a scare!