Keeneland Race Course opened in 1936 and has been helping create memories ever since. It's a wonderful place for families and kids of all ages will enjoy a visit. You can visit during race meets (held each April and October) or stop by other times during the year just to explore and take some photos. The Keeneland Kids Club offers special events for members throughout the year and it's FREE!
Fall 2024 Meet is set for October 6 – 28, 2023 with racing Wednesdays – Sundays.
---
I have many memories of Keeneland racing as a child. My father was in the horse business and we would visit during every meet. We would perch on the rail to watch the horses thunder past, enjoy a close up view from the paddock, taste fresh burgoo, and so much more. It's been wonderful to take my kids and I enjoy making memories with them now. We've especially enjoyed the Kids Club events like Breakfast with Santa and Buckles!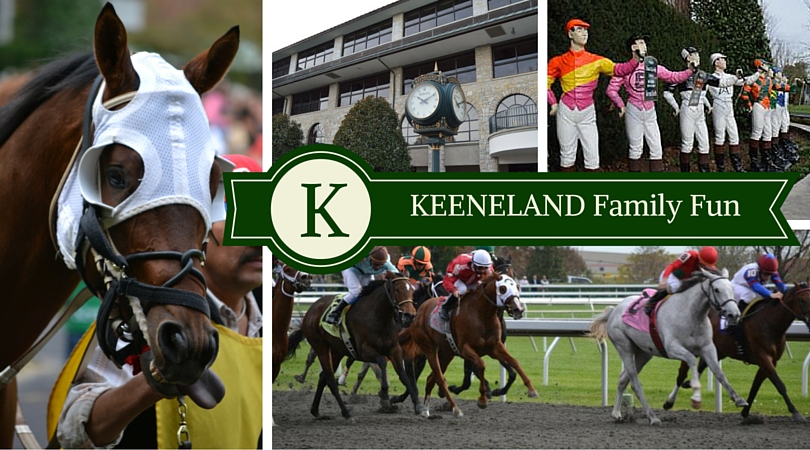 ---
Keeneland Race Meets held each April and October are open to the public. You can go on the cheap and grab general admission tickets. Tickets have already started selling out so be sure to purchase your tickets early.
General Admission: $7 Wednesdays & Thursdays; $10 Fridays, Saturdays, & Sundays; $15 Opening Weekend
Children 12 and under are admitted free when accompanied by an adult.
General admission does not include seating. Park benches are available trackside at a first-come, first-serve basis.
Post time for the first race is 1:05 pm. Races begin approximately every half an hour.
Other ticket options include dining reservations or clubhouse tickets (only available for purchase by a Keeneland Club Member).
---
Sunrise Trackside
Sunrise Trackside – Bring the whole family out to Keeneland for Sunrise Trackside to experience the morning sights and sounds of morning works. The Starting Gate concession stand will offer coffee and donuts to enjoy while watching morning works. From 8:00 – 10:00 AM, children can take part in exciting activities under the grandstand including a meet and greet with Buckles, get their face painted, play fun games, get a jockey silk photo and more! Kids can also meet and greet with a horse from 8:30 – 9:00 AM in the Walking Ring. During this time, mini tours with one of our will be available starting from the welcome stand in the Paddock.
October 7, 14, 21, 28
---
Experience morning training at this historic racecourse. Available year-round.
Best for guests who want to know more about Keeneland and Thoroughbred horse racing, suited for those new to racing, racing enthusiasts and anywhere in between!
---
Learn about the life of racehorses in training on this tour of the stable area at Keeneland. Available April through October.
Best for guests who want to see behind-the-scenes into the daily lives of the racetrack, from the main track to the training barn and everything in between – this is an insider's look!
---
Be a part of the race day action at Keeneland!
Best for guests who want to walk in the foot and hoofsteps of horse racing's athletes, including a look into the Jockey's Quarters and watching morning training. Get the inside scoop on racing here!
---
Experience a race day at Keeneland like a racehorse owner does!
Best for guests who want to know what it's like to have a horse in the race – without the training fees! See behind-the-scenes into the life of a racehorse owner!
---
An in-depth look at Keeneland's sale operation
Best for guests looking for the inside scoop on one of the leading Thoroughbred auction houses in the world, including insight into buying and selling Thoroughbred horses.
You can visit for Oaks Day or Derby Day and enjoy an amazing atmosphere of fun and excitement! For those wanting a casual, outdoor experience come early and watch live coverage from Churchill Downs while enjoying a picnic or food from the open air grills in the Keeneland paddock and grandstand area. General admission on Derby Day is just $5; free on Oaks Day.
---
The Keeneland Kids Club is a FREE club for kids ages 12 and under.
New members will receive a personalized membership packet, special emails each month from Buckles with highlights from other members of the thoroughbred community. Kids Club members will receive a birthday card and exclusive invitations to gather for annual events. Register now for your FREE Keeneland Kids Club Membership.
If you have any questions, please email their team at kidsclub@keeneland.com.

We have loved the Kids Club events and have fun being at Keeneland for fun outside of racing. Kids can enjoy Breakfast with Buckles and Santa, an Easter Egg Hunt, as well as events within the community and during race meets.