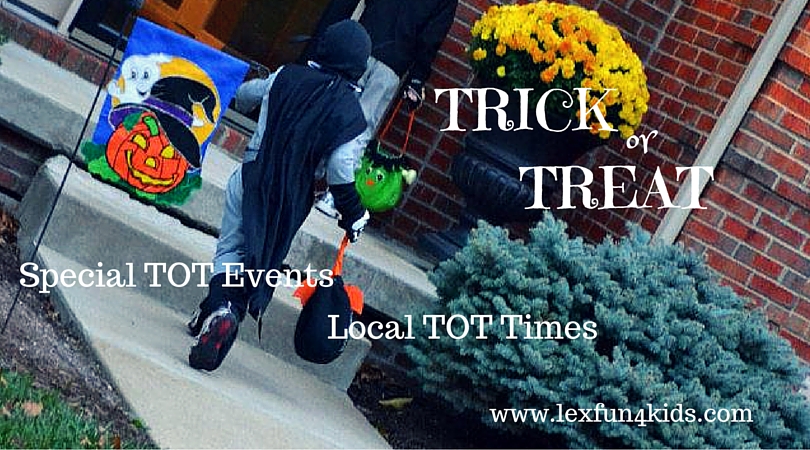 Local communities are setting Trick or Treat times.  There are also churches and other places that are offering Trick or Treat events.  Please message [email protected] if you have an event to add.
Scroll down to find Church and School Listings for additional events.  Many offer trick or treating!!
2016 Dates are being added!!
October 21 and 22, 2016
Halloween at Shaker Village 5 pm – 8 pm
Bring the kids for a fun and spooky evening trek along the Village road — gathering treats and maybe even a trick or two! Take a hayride and Spirit Stroll, then warm up around the huge bonfire. Enjoy live music, food and drink, kids' crafts and a selfie costume contest.  $5
October 25, 2016
Transy PumpkinMania 6 pm – 7 pm Trick or Treat, 7 pm Pumpkin Lighting
Man O War Church Fall Festival
October 26, 2016  6 pm – 8 pm
This year we are having a Classic Movie theme and costumes are encouraged. There will be a chili cook-off, inflatables, games, candy, and prizes. This event is for everyone in your family, young and old. Please RSVP on our Facebook events page!
October 26, 2016
Georgetown Baptist Church Trunk or Treat/Fall Festival  6:30 – 7:30 pm
We are decorating trunks and dressing up in Halloween costumes and trick-or-treating around our large parking lot. This year we will also have free food (hotdogs) and plenty of games for the kids. If you don't already have a costume idea in mind, you're welcome to join in the theme and dress up like a prince, knight, court jester, dragon, etc. Get as creative as you like and come join the fun!
October 27, 2016
Pumpkin Patch Festival at Crossroads Christian Church
Thursday, October 27th, 2016  5:30 – 8:30 pm
Everything you love about fall – costumes, carnival games, hayrides, face painting, Wandering Woods Trail, live music and Trunk R Treating – all for FREE! Food will be available to purchase, invite your friends and neighbors to celebrate the fall season!
October 28, 2016
Trick or Treat at The Willows  6 pm – 8 pm
We invite the community to join us for our Trick or Treat Night!
Lots of fun for all ages! We will have a raffle, pumpkin painting, face painting, costume contest, Halloween treats and witches brew!
Trick or Treat at Safety City 6 pm – 8 pm
Get the most use out of that Halloween costume this year by joining us on Friday, October 28 from 6 – 8 pm for our second annual Trick-or-Treat Night event! Community organizations and agencies will be handing out candy along with resources and safety information for kids and families. There will be games, children's activities, and a costume photo booth. Families are encouraged to bring new or gently used mittens/gloves, scarves, and/or winter hats to donate to charities benefitting Lexington families. This event is free and open to the community.
October 29th, 2016
Salato Wildlife Education Center Halloween Walk With the Animals
Saturday, October 29, 2016
Put on your costume and join us at the Salato Center from 12 pm to 5 pm for the best trick-or-treat experience in town! This kid-friendly event will include a hay bale maze, "Creatures of the Night" exhibit, face painting and – of course – plenty of candy! Kids will each receive a Passport, which they will get stamped at each exhibit after receiving a treat (or trick!). Our staff and volunteers will be on hand to answer your questions, and all of our wildlife will be present and waiting …for you! Admission is $5 per person. Annual membership holders and infants too young to participate are free! No registration required. The Salato Center will be closed until 12 pm on day of event.
Joseph Beth Booksellers Trick or Treat Storytime 11 am
Mall Wide Trick or Treat at Lexington Green 11 am – Noon, Vendors and Food Samples at Whole Foods from 12 pm – 4 pm
October 30, 2016
Trunk or Treat at South Elkhorn Christian Church  5 pm 
Join us for a fun evening of costumes, candy, and family fun! You are invited to dress up, deck out your trunk with decorations and goodies, bring a picnic meal and enjoy a fun-filled evening with your church family!  Fire pits available to roast your own hot dogs or marshmallows.
If it rains, we will meet inside the church. We will encourage adults to decorate classrooms so children can walk around the building trick or treating. We will then eat dinner inside the CMC, but will not have the fire pits, so please plan your picnic meal accordingly. Come and join us!  Prizes for best costume(s) and best trunk!
October 31, 2016
City Trick or Treat Times

Lexington/Fayette County 6 – 8 pm
Winchester/Clark County: 6-8:00 p.m.
Frankfort/Franklin County: 6-8:00 p.m.
Lancaster/Garrard County: 6-8:00 p.m.
Cynthiana/Harrison County 6-8:00 p.m.
Nicholasville/Jessamine County: 6-8:00 p.m.
Berea/Madison County: 6-8:00 p.m.
Mount Sterling/ Montgomery County: 6-8:00 p.m.
Danville/Boyle Co. 6 pm – 8 pm
Paris/Bourbon Co. – Businesses 3 pm – 5 pm, Neighborhoods 6 pm – 8 pm
Georgetown/Scott County: 6-8:00 p.m.
(Times from Lex18.com)
Fall Fun Night at Northeast Christian Church 6:30 pm –8:00 pm
All Elementary age children and families are invited to a fun, safe Halloween alternative at NorthEast! There will be inflatables, candy, games, and lots more!! It's all FREE and you're invited.  Northeast Christian Church, 990 Star Shoot Pkwy, Lexington, KY 40509, USA
Fayette Mall  6 pm – 8 pm  (Will be crowded)
Participating retailers throughout the mall will offer special treats to little ghouls & goblins in a fun environment. While supplies last.
Be sure to stop by the Mall-O-Ween Photo Booth, located near the Guest Services Center, to have your picture made!
All children (12 and under) must be in costume and accompanied by an adult. Adults: please no masks.
Enter any mall entrance and visit participating retailers for candy and treats!*   *While supplies last
Halloween Mania in Winchester  6 pm – 8 pm
Trick or Treat down Main Street! All are welcome to this Free and Family Friendly event. Main Street will be closed to traffic from Lexington Avenue to Washington Street for a spooktacularly safe evening.
Treats on Main in Wilmore  6 pm – 8 pm
Trick or Treat on Main Street in Danville 5:30 pm – 7 pm