Wondering where you can get a fresh cut Christmas Tree?  Here's a great list of where you can get live Christmas Trees (cut your own or pre-cut) at area Christmas Tree Farms and Shops in Lexington and Central KY.  Grab a live tree and enjoy the smells of the holiday season indoors.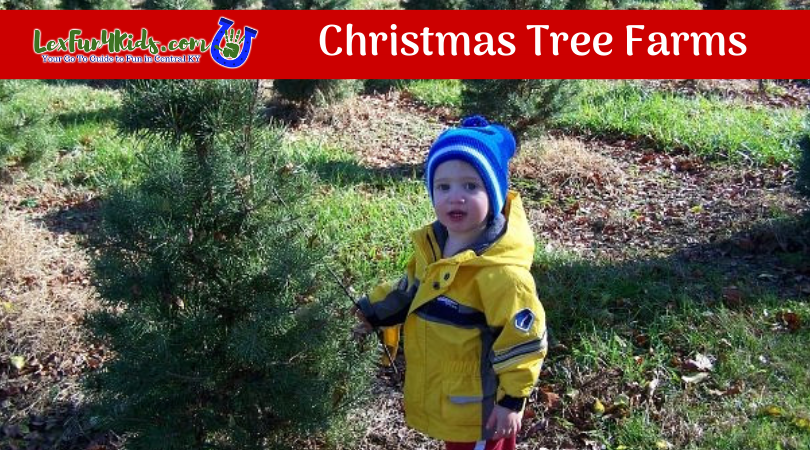 Choose and Cut or Pre-cut trees
Many will SELL OUT for the season quickly – call or check their website before you go!
Baldwin Farms (Richmond) – Closed for 2021
1113 Tates Creek Road
Choose and Cut Pine and Spruce, Pre-cut trees also available
Barker's Tree Farm  – MUST HAVE A RESERVATION FOR 2021 – Reservations open November 1
1500 Deer Haven Lane (Near I75 and Todds Road)
Choose and Cut Pine and Fir, Pre-Cut Trees also available
Cathole Bend Farm (Lancaster)
Nov. 26, 27, 28
Dec. 3, 4, 5
10AM to 5PM
Call for later dates.  (859) 985-7044
1243 Cathole Bend Road
Lancaster, KY 40444
Huge overgrown spruce trees to cut. No Wimps! Bring Big Strong Crew!  We also sell Wreaths, Garland, Swags and other greens. Saws will be provided. Trees can be shaken and baled / wrapped.
Christmas Tree Memories Farm
Open weekends only – Dec. 4-5 and Dec. 11-12, 2021
Saturdays 9:00 AM until dark
Sundays 2:00 PM until dark
4890 Keene Road (off Harrodsburg Road)
Choose and Cut Pine and Fir
Kovalic's Tree Farm (Winchester)
Opens the Friday after Thanksgiving from 11 am – 5 pm.
Remaining days in the season hours are Friday 1 pm – 5 pm and Saturday and Sunday 11 am – 5 pm.
487 Ecton Road
We have pre cut Frasier Fir trees this year that will mostly range between $70-250 depending on size, with most between 7-9 feet tall.
SOLD OUT for 2021. 
November Cutting Times
Saturday, November 20th – Sunday, November 21st
Monday, November 22st – Wednesday, November 24th
Saturday, November 27th – Sunday, November 28th
9:00 AM to Dusk
December Cutting Times
Saturday, December 4th – Sunday, December 5th
Saturday, December 11th – Sunday, December 12th
Saturday, December 18th – Sunday, December 19th
9:00 AM to Dusk
5100 Sulpher Lane (Near I75 and Todd's Road)
Choose and Cut, Frasier Fir
---
Kentucky Christmas Tree Association is a great resource for all your tree questions!!
For more listings in Kentucky check out their site! CLICK HERE
---
Pre Cut
Hillenmeyer Christmas Shop 
3391 Tates Creek Road
King's Gardens
4560 Nicholasville Road
Kroger
Whole Foods
Lowe's
To add a farm or shop you know please email lexfun4kids@gmail.com
The Holiday Events Guide is HERE!
Find Santa, Music, Train Rides, Trees and more!!