One of our Lex Fun 4 Kids writers took her son out for some ice skating at the Unified Trust Ice Skating Rink at Triangle Park in downtown Lexington.  She has 5 great tips for you to plan your visit!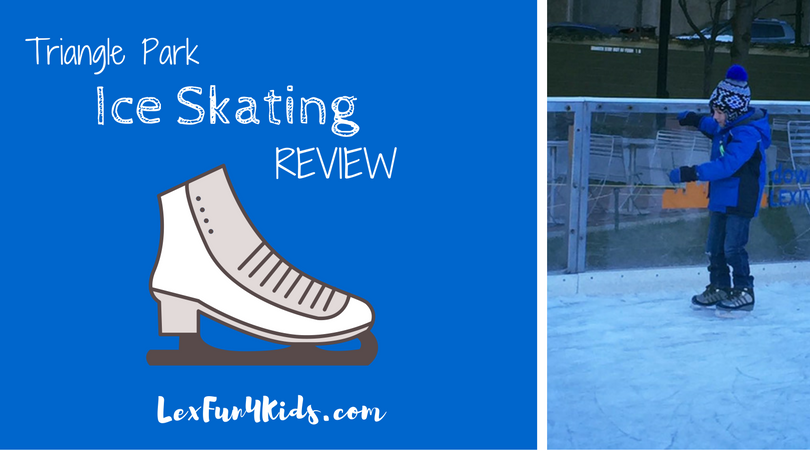 (2017) The week before Christmas during school winter break, my husband and I took our 5-year-old son ice-skating for the first time at Triangle Park! We had thought about it last year but by the time we got around to it, they were closed for the season already. But we finally did this year and had a great time! I hadn't skated in many, many years but was happy it came back to me although my much older body struggled a little! My son started off slow but kept trying and towards the end of our skate time started to get the hang of it and was more confident and wants to try again!
Some tips for you if you plan to go…
1. Hours of Operation
Their season is short (starts in November and ends in mid January) which has surprised me in past years because I don't start feeling in a winter mood until January when it's wrapping up! So you've been warned, go early or you'll miss it! Also, check out their Hours of Operation because they're open longer when school is closed…
2019 Hours and Info 
Hours of Operation During School Week:
Monday through Thursday: 4p to 10p
Friday: 4p to 11p
Saturday: 10a-11p
Sunday: 1:30p-9p
Hours of Operation During Holidays: Dec. 23-Jan. 3.
Monday through Thursday: 10a to 10p
Friday and Saturday: 10a to 11p
Sunday: 1:30p to 9p
The rink will be closed on Thanksgiving and Christmas day.
2. Cost
The cost to skate is $15 (2019-2020) for 90 minutes of skate time, which includes skate rental. The price is the same for everyone (kids, adults, etc) but they do take credit cards. You might be thinking "we only get 90 minutes?"…trust me that's all you'll need. You'll be tired and ready to go at that point! (in fact we took a couple of short breaks on the benches outside the rink during the hour to rest our legs).
3. Crowds
We went on a day when schools were on break and I was worried about the crowds and how they'd be. We found it to be crowded but could still skate and didn't feel like we were bumping into people too much. Also, I would recommend this activity for 4 year old and older (or maybe an adventurous 3 year old). Any younger than that and you'll have trouble finding skates that fit and I'd worry they'd get run over by people who won't see them.
4. Bundle Up! (A helmet might help too!)
Unless it's an unusually warm day, be sure to bundle up! The ice rink is in Triangle Park, which sits right behind Rupp Arena and the hotel and so is shaded which makes it feel colder than it is. But we wore our hats, scarves and mittens and we were good! I actually might recommend a helmet for kids. We didn't bring one for my son and after he fell and hit the ice, I wish I had brought his bike helmet just to be safe. (they don't provide them there)
5. End with Hot Chocolate!
Their website says that there is a place to buy Hot Chocolate in the park but we didn't see it or it wasn't open the day we were there. So we went across to Starbucks and warmed up there! It's a must after some ice-skating!
If you have any questions, here is the link to their website. Have fun!
-Jennifer, Lex Fun 4 Kids Writer