Raven Run is a 734 acre nature sanctuary located just at the southern end of Fayette County. A short drive down Old Richmond Road or out Tates Creek Road will lead you to Raven Run located just off Jack's Creek Pike. The sanctuary is run by the Fayette County Parks Department and is FREE to visitors.
What's great about Raven Run is that it is truly a great hike but still within the city limits. You can always head to Red River Gorge and Natural Bridge for a big day of hiking but Raven Run offers a beautiful day in nature right here in Lexington!
Raven Run has numerous trails running through the park. When I took my boys (2 and 4 years old at the time) we headed toward the creek and I easily navigated the trails. There are other trails that lead to wonderful Kentucky River overlooks and various habitats. You can easily spend the entire day within the park so pack plenty of water and snacks or a picnic lunch. The path we took to the creek is a true hike in the woods with rocks and inclines. I was super impressed with my boys when they made it that far. It was early, not too hot and we weren't needing naps. Plan appropriately if you take little ones on a trip like this.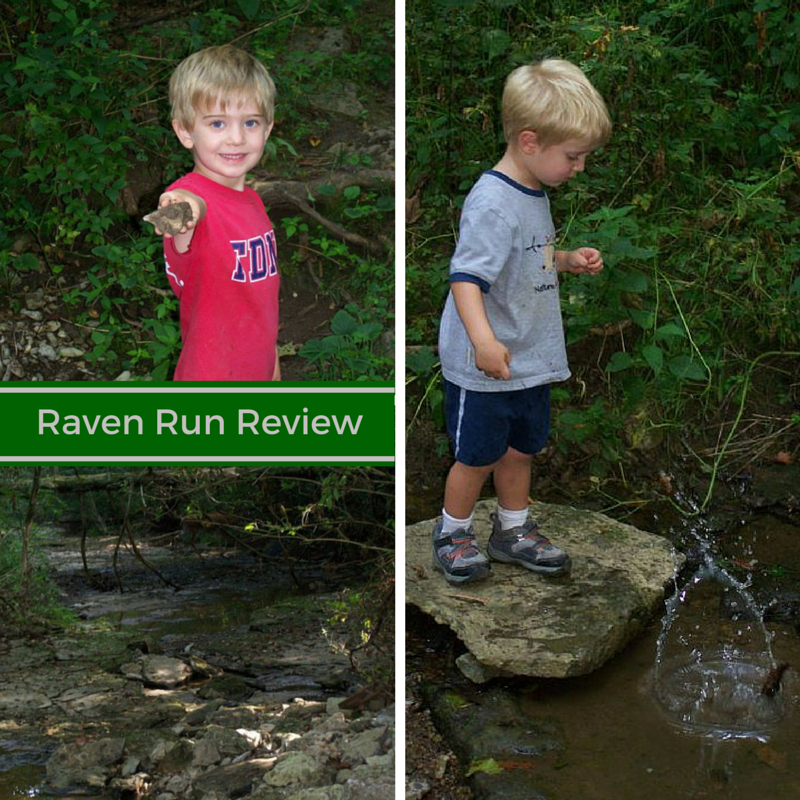 The trails are longer so be prepared for more of a hike with your kids. The trails are not stroller friendly and are not paved. McConnell Springs features paved walkways and a great nature experience so if you still have one in a stroller check it out. For more info on McConnell Springs click here. Salato Wildlife Education Center in Frankfort is paved, has live animal exhibits and is also very stroller friendly. For more information on Salato click here.
During our adventure to the creek we were visited by a doe and her fawn. They walked down the stream then crossed about 50 feet from us. The kids were so excited to see deer right there in front of them and it was a great teachable moment. Be prepared to see other creatures along the way and be respectful by taking care of their home and not leaving anything behind on your adventure.
Raven Run has a nature center at the trail head and offers special programming throughout the year. Their full calendar is available online and some events are great for children as well as adults.  We've enjoyed spring break activities at Raven Run as well and were very impressed with how educational and fun they were – and they're FREE!  Call ahead to register for an event.   (859) 272-6105
Stargazing nights at Raven Run are a special treat. My husband and I enjoyed a date night at the Stargazing event once and I was amazed at the telescopes local astronomers bring out for visitors to use. We saw the Space Station fly overhead, planets, constellations and other things in the night sky. Some events are held as early as 7:30 pm (time depends on sunset) and would be great to take kids to.
2018 Dates

March 17   8 pm

April 14   8:30 pm

May 12th  9 pm

June 9th  9:15 pm

July 14th  9 pm

August 4th  9 pm Perseids Meteor Shower Watch

August 11th  8:30 pm

September 8th  8 pm

October 6th  7 pm

November 3rd 6:30 pm
Call ahead or check their Facebook page to make sure the event isn't canceled for weather.
Raven Run is open daily 9 a.m. – 5 p.m. (trails close at 4:30 p.m.). They are closed Thanksgiving, Christmas Day, and the day after Christmas.
To learn more and view the calendar for the year click here.  Call ahead to register for an event.  (859) 272-6105
2018 Upcoming Events
December

December 1st
– Volunteer Day at Raven Run – 10am
Come out and help the Sanctuary with some volunteer service. Volunteers might clear
brush, pick up trash, mulch trails or engage in any other type of work that Raven Run
might happen to need help with. Our volunteer day is weather dependent so please call
us at (859) 272 – 6105 before you come out.
December 8th
– Winter Birding – 10am
Our morning bird walk offers visitors the opportunity to see and hear dozens of our
year-round resident bird species. Binoculars are available on request to help you learn
how to identify birds "on the wing". Identification of birds by their songs is also
presented. Please call ahead to register for this hour-and-a-half program at 859-272-
6105. This program is weather dependent so call the park (859) 272-6105 before you
head to the program.
December 15th
– Scout Skills at Raven Run – 10am
You don't have to be a scout to learn and benefit from traditional scout skills. Whether
it's tying knots and lashings or using a map and compass, Raven Run's Scout Skills
program will benefit kids from all walks of life. This program is designed for boys and
girls ages 10 years and older. Please call ahead to register for this program 859-272-
6105.
December 24 – 26th
– Closed for Christmas
December 29th
– Little Explorers "Winter Wildlife Treats" – 10am
Our "Little Explorers" programs are designed for elementary-aged visitors who want to
explore the park and get a chance to complete an art project, all in the same tour! Each
Little Explorers program has a different theme, so feel free to register for more than one
program. We supply all the equipment for out trail explorations and well as all the art
supplies you will need to complete your project. Parents or guardians are required to
stay with young participants during the program. Please call ahead to register for this
program 859-272-6105.