Veterans Park is one of the largest parks in Fayette County offering mountain bike trails, ballfields, monuments honoring Veterans, a life size tank, and playgrounds! There are two small but unique playgrounds that are part of the Veterans Park area. One small play area suitable for young children sits beside one of the park shelters near the Veterans Park Southeastern Cal Ripkin Baseball fields. The other playground is at the end of Rockbridge Road in the Cumberland Hill neighborhood.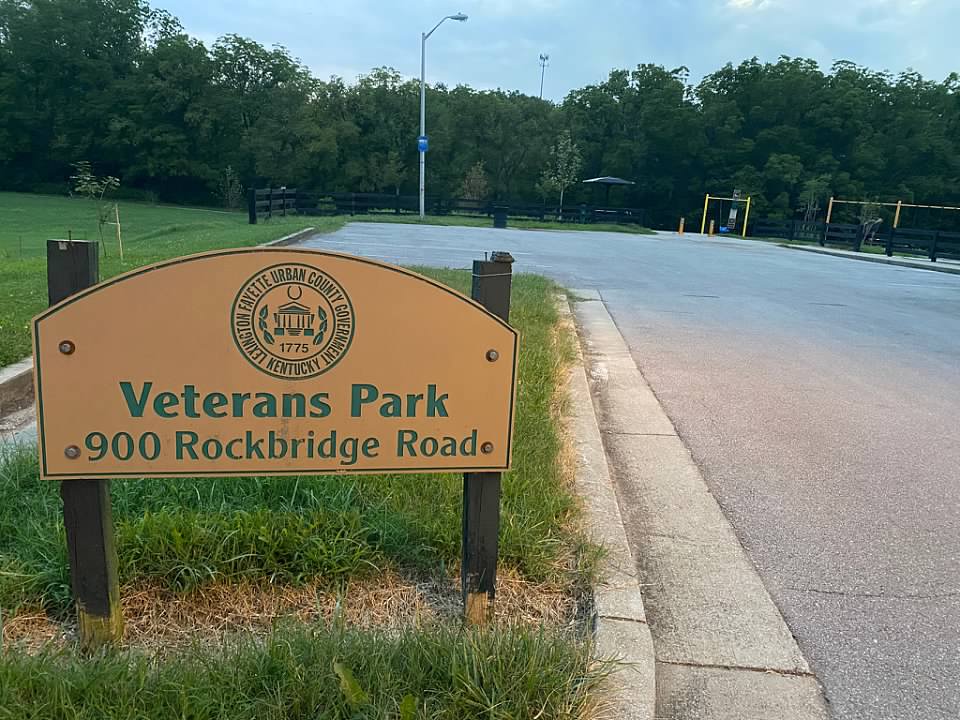 The park that sits at the end of Rockbridge Road is great for all kids. There are swings that include bucket swings, regular swings, and even a plastic bucket swing that allows for a second rider to sit on the swing and ride with the child in the bucket swing!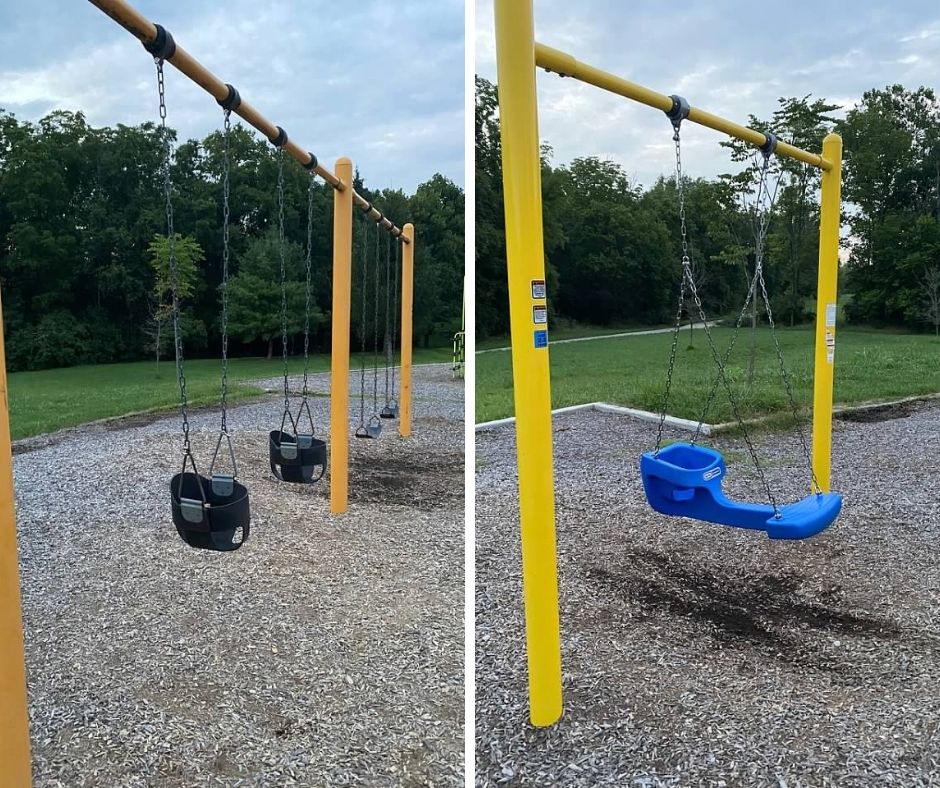 There is one climbing structure that features a small slide and steps as well as climbing sections. There is a structure with ropes for climbing as well as a spinning structure that kids can sit on and spin around in.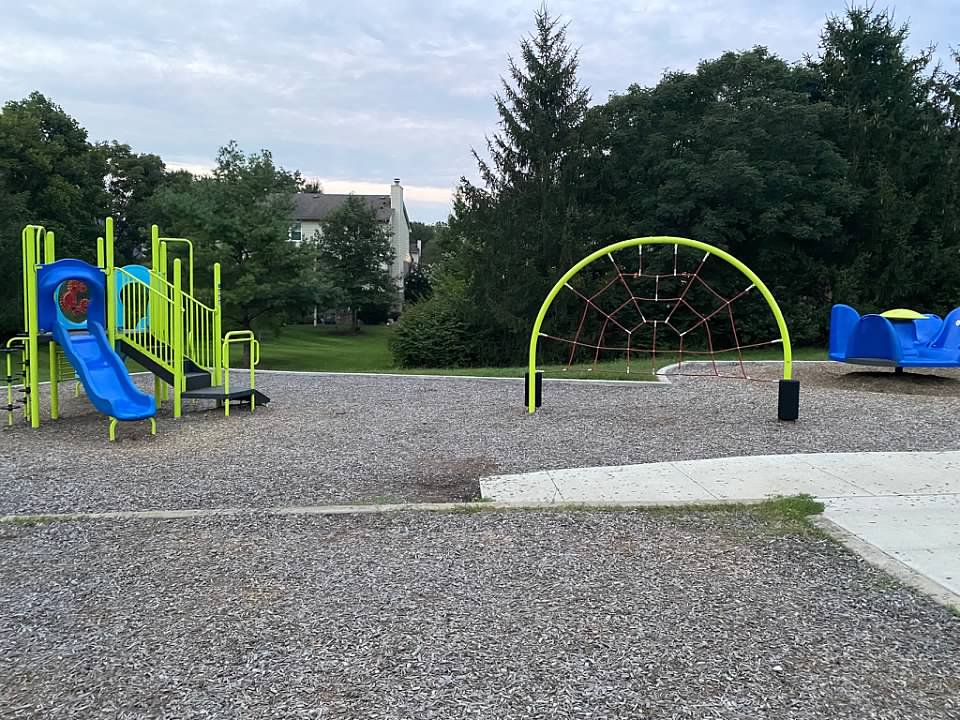 There is a small picnic table as well as a water fountain at this section of the park. The water fountain features a water bottle refill station and a little doggie bowl fountain too!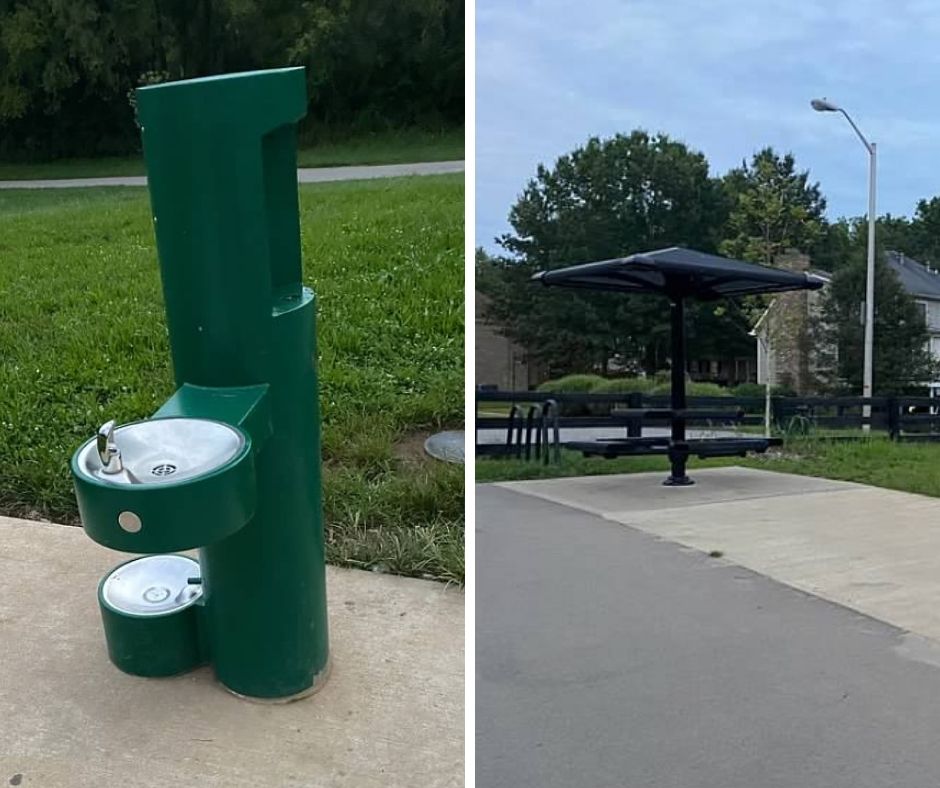 Beyond this area of the park there are so many walking paths. The paths lead to different sections of the park as well as the mountain bike trails that are wonderful to walk or ride. There is a creek you can walk along and even wade it. One path (left from the playground area) from the Rockbridge Road Playground leads to the top section of the park near the Babe Ruth fields. Along that path there is a shelter (not able to be reserved) not too far from the playground. It features one picnic table but room for you to bring your own. Once you cross a bridge along the path and head up the hill you will see the ball fields. This is also the location for the new dog park. There are three shelters in that area as well as restrooms. Those shelters you can reserve (#2, #3, #4 on the map).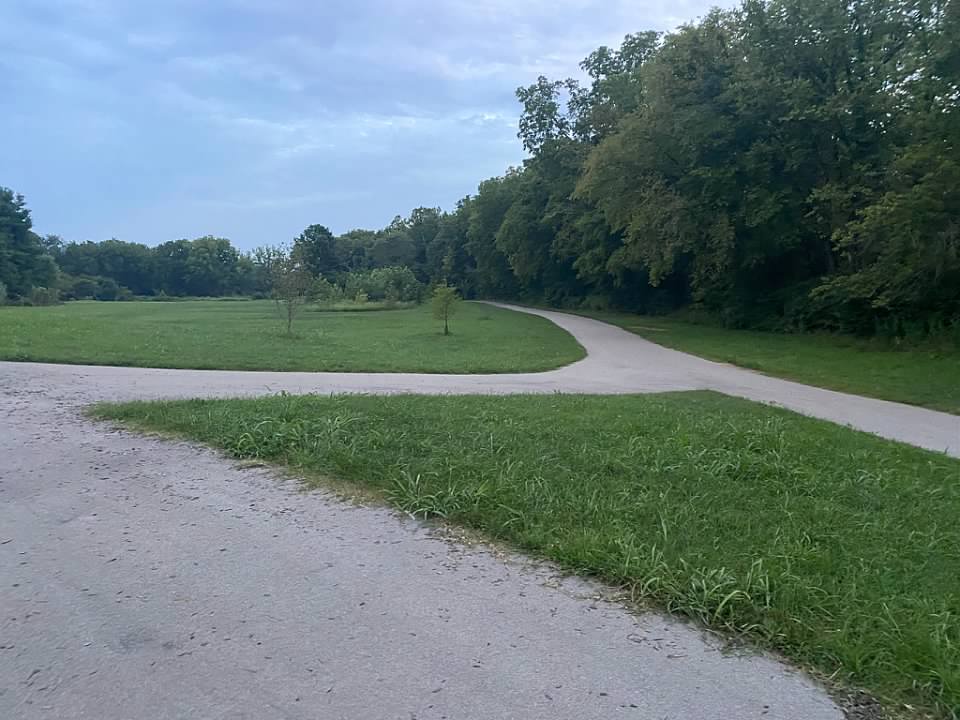 Along with the Babe Ruth fields there are Cal Ripken fields at the bottom of the hill. The path from the Rockbridge Road playground that leads to the right takes you across a different bridge and over to those fields. There you will find restrooms, a basketball court, as well as a second cute playground and more climbing structures.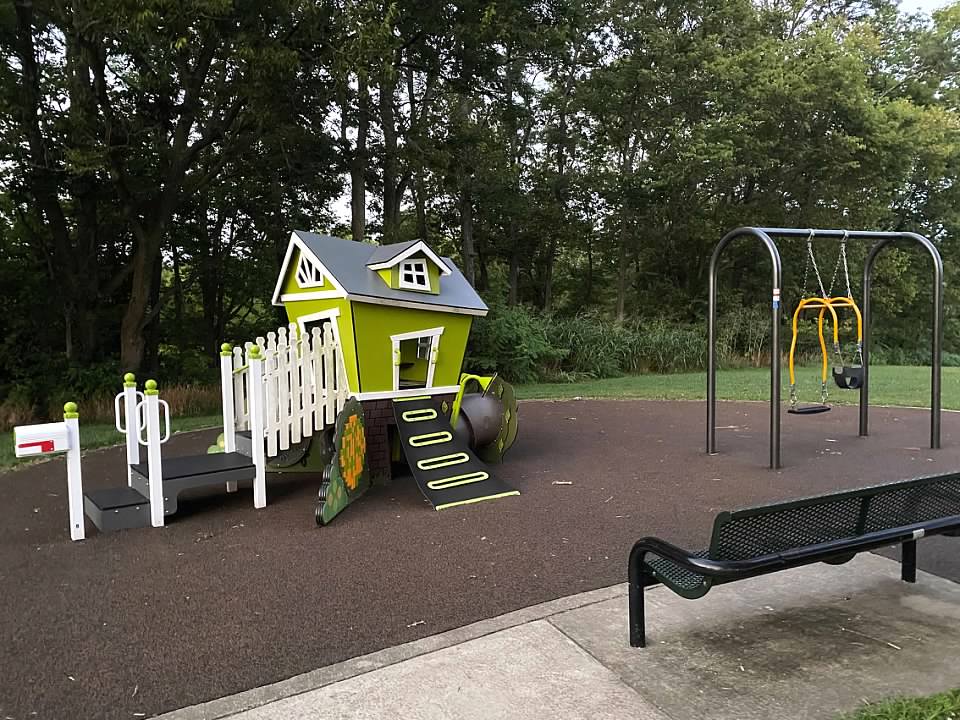 This small playground features a cushioned rubber surface as well as additional structures with mulch if you walk down some stairs just to the left of the structure. There is also a shelter at this location that you can also reserve (#1). The area is very wooded and you can often see deer, bats, groundhogs, many types of birds, frogs, and more!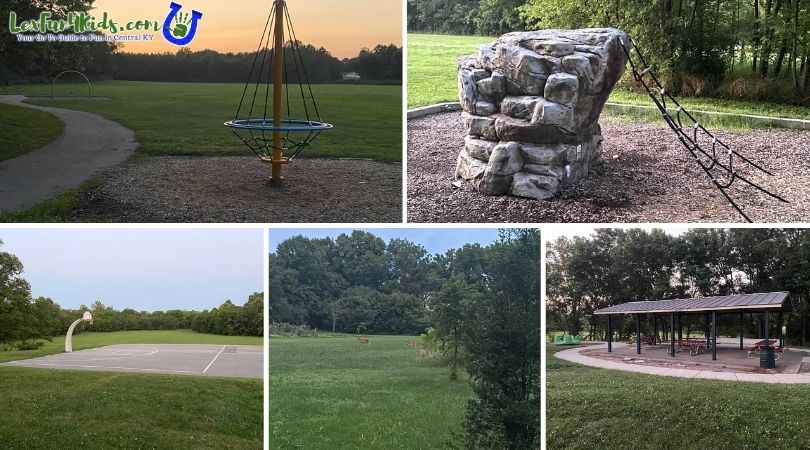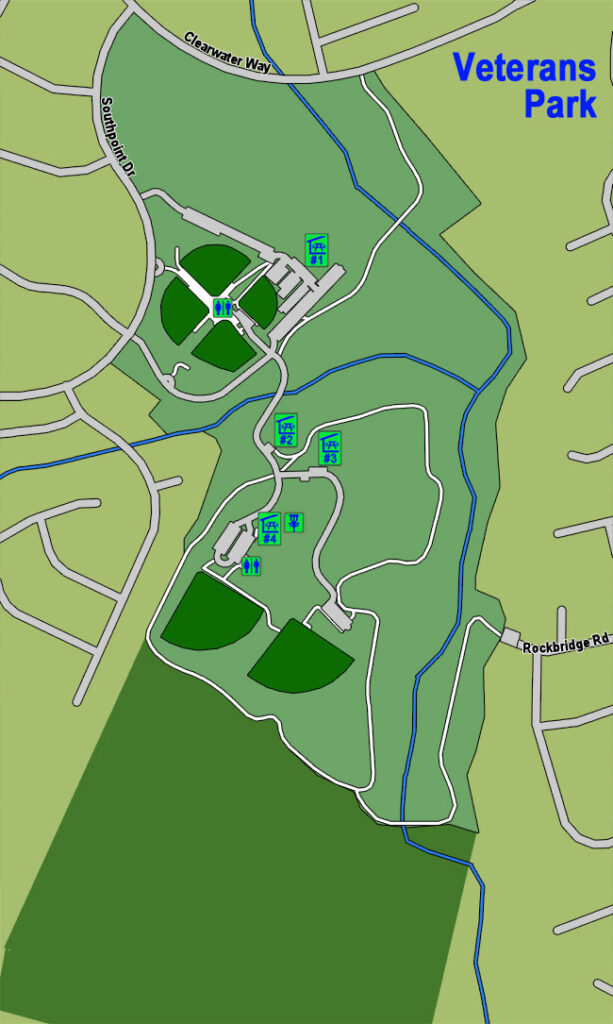 The area all connects to the Veterans Park Mountain Bike trails which are wonderful for riding or walking! I have a full write up of those trails as well! CLICK HERE!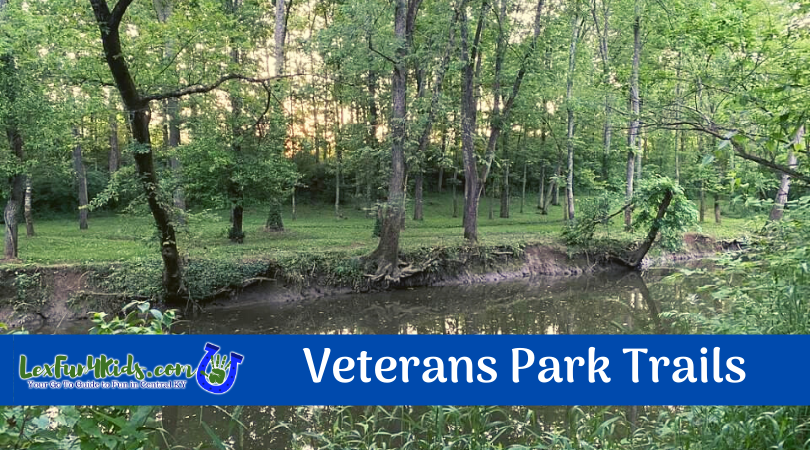 Park Info
Location: 900 Rockbridge Road, Lexington, KY 40515
Features: One climbing structure plus a rope climb, one small spinning piece of equipment
Swings: 2 traditional, 2 infant buckets, 1 special partner swing
Surface: Mulch
Bathrooms: Yes, around 1/4 mile away at the ballpark accessible by walking path
Water fountain: Yes, also features a dog bowl fountain
Shade: Yes, but only in the grassy areas surrounding the park.
Shelter: Yes, it is a short distance from the park along the walking path. This shelter is first-come, first-served and can NOT be reserved. *Shelters are also near both ballparks that you can reserve
Sports Fields/Courts: Baseball fields and a basketball court are within walking distance
Walking Trails: Plenty of paved paths around the park that connect the various areas of Veterans Park (ballfields, mountain bike trails, small playground)
Parking: A small parking area for around 10 cars and street parking available
Check out the Lex Fun 4 Kids Playground and Park Profiles – More to come!