Twenty-six years ago, the Kentucky Horse Park Foundation presented the first ever driving tour of holiday lights, aimed at attracting the local community. Today Southern Lights has evolved to attract over 120,000 visitors each year from across Kentucky and surrounding states and is regularly chosen as a Top 20 Event in the Southeast by the Southeast Tourism Society.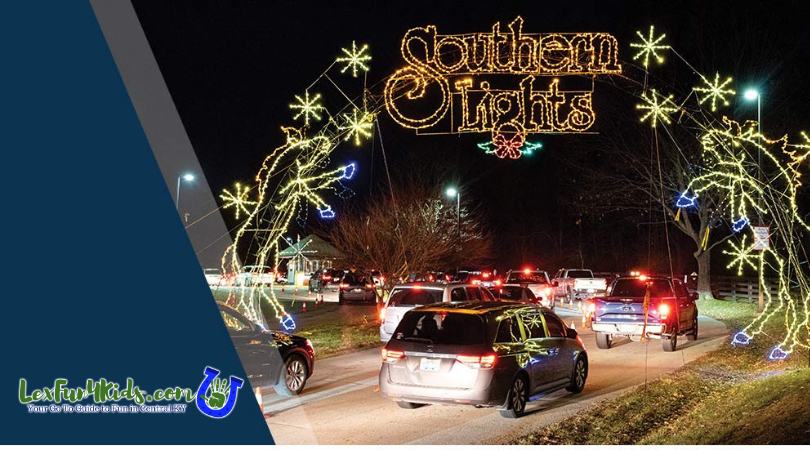 2020 Dates and Information
Nov. 22, 2020-Dec. 31, 2020
Time:  5:30-10:00 pm.
Tickets are $25 per carload, purchase online tickets to expedite entry or at the gate with cash or card.
*NOTE – The 2020 Southern Lights Stroll has been canceled for 2020
Celebrating its 27th year at the Kentucky Horse Park, Southern Lights presented by Friends of Coal is a magical holiday tradition for thousands of families from throughout the Bluegrass and beyond. In 2019, more than 100,000 individuals in nearly 25,000 vehicles traveled through the miles of dazzling holiday light displays along the charming farm lanes at the Kentucky Horse Park.
Where:
Campground Entrance of the Kentucky Horse Park (3785 Campground Road, Lexington, KY 40511)
*Please note that you must access Southern Lights ONLY from Iron Works Pike through the Campground Entrance. LISLE ROAD IS NOT AN ENTRANCE TO THE KENTUCKY HORSE PARK.
---
Editor's Note: Some electronic map services available on Apple and Android mobile and auto GPS devices are not providing accurate directions to the Kentucky Horse Park. We recommend that guests input directions to the KHP Campground, the entrance to Southern Lights, at 3785 Campground Road, Lexington, KY 40511.
Insider Tip: We suggest visitors use Interstate 75, Exit 115 (Newtown Pike) instead of Exit 120 (Iron Works Pike) to access the Southern Lights entrance at the KHP Campground from the east to help avoid congestion from the interstate to the west and a left-hand turn across traffic into the park.
---
Named one of Kentucky's Top 10 Winter/Holiday Festivals and Events by Kentucky Travel and Tourism, Southern Lights is a favorite holiday tradition throughout the Bluegrass and beyond. Southern Lights is a three-mile driving tour of lights that is a joy for the whole family! This year Santa will be incorporated into the driving route, where families can wave hello and have the option to drop off letters in Santa's North Pole Mailbox. Download your Santa Stationary here. Forget your letter? Santa's elves will have extra stationary when you arrive, so think ahead of what you want to ask Santa for this year!
At the end of the route, visitors have the option to park and explore Animal Land (included in admission), ride a Camel ($6/person), or Pony ($6/person), and visit the Merchandise Tent for Southern Lights keepsakes!
Food trucks and kettle corn will be available at the end of the route near Animal Land.
Public restrooms are available by the Campground Entrance and Animal Land.
All indoor attractions are closed this year due to COVID. Our staff is working diligently to keep everyone safe and healthy while experiencing the brilliant holiday lights!
Have more questions? Call us (833)-KY LIGHT (833-595-4448)
---
What is open this year?
Besides the driving route, Animal Land, pony and camel rides will be open this year.  They are open every night from 5:30 p.m.-10:00 p.m.  The Visitor Center, Craft Fair, Parakeet Experience, Train Exhibit and Mini Train Ride WILL NOT be open this year due to Covid-19 restrictions.
What is Animal Land?
Animal land is a live exotic zoo that is located under a tent. We ask guests to obey the Executive Order set by Kentucky's Governor.  Wearing masks when outside your vehicle is strongly encouraged, especially when you cannot keep a safe 6-foot distance from outside parties. Masks will be required when entering Animal Land.
What animals will be at Animal Land?
There will be a variety of animals, including baby camels, kangaroos, mini donkeys, mini Zebras, sheep, goats, and alpacas.
How much does it cost to feed the animals?
$1 feed cone, $3 cup of carrots. No coin machines this year.
How much does it cost to ride a pony or a camel?
$6 per pony ride, $9 for a picture & a pony ride, $6 picture on a pony only, and $6 per camel ride.
Is there an age requirement to ride a pony or a camel?
There is no age requirement to ride either a pony or a camel.
Is there a weight limit to ride a pony or a camel?
There is a 100-pound weight limit on the ponies. Weight limits are at the discretion of the camel caretakers.
Are there vendors this year?
There are no craft vendors this year due to Covid-19 restrictions.
Will the Kentucky Horse Park Gift Shop be open?
Due to its location in the Visitor Center, the gift shop will be closed this year.