Twenty-six years ago, the Kentucky Horse Park Foundation presented the first ever driving tour of holiday lights, aimed at attracting the local community. Today Southern Lights has evolved to attract over 120,000 visitors each year from across Kentucky and surrounding states and is regularly chosen as a Top 20 Event in the Southeast by the Southeast Tourism Society.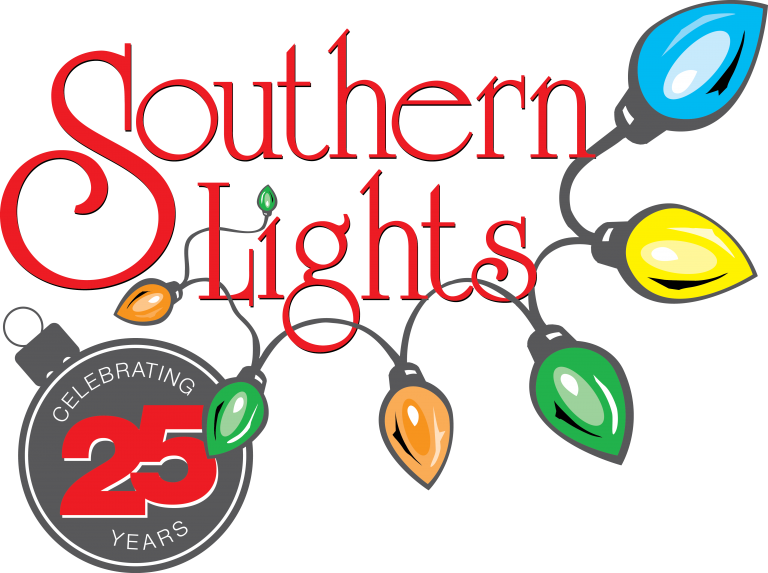 Kentucky Horse Park
Nov 29-Dec 31, 2019
Driving route open nightly Nov. 29 – Dec. 31 (Non-Driving Holiday Festival activities closed Dec. 24-31)
Time:
5:30 p.m.-10:00 p.m.
Tickets:
Monday-Thursday: $20.00 per car (up to 7 people per passenger vehicle)
Friday, Saturday, and Sunday: $25.00 per car (up to 7 people per passenger vehicle)
Extended Van or RV: $35.00 (up to 15 people)
Mini Bus: $65.00 (up to 25 people)
School Bus: $80.00
Motor Coach: $160.00
Southern Lights 2019 – Visitor Center Attraction Prices
Visit with Santa – FREE
Photo with Santa – $5 cash, $6 card
Carousel – FREE
Train Rides – FREE
Model Train Exhibit – FREE
Pony Ride – $5
Ride and picture with a Pony – $8
Picture only – $5
Camel Ride – $5
Petting Zoo – FREE
Food for petting zoo – $3 cup of carrots, $1 feed cone, $.50 handful of feed
*no outside food can be fed to animals
Parakeet experience – $3
Food vendors – prices vary
Shopping vendors – prices vary
Where:
Campground Entrance of the Kentucky Horse Park (3785 Campground Road, Lexington, KY 40511)
*Please note that you must access Southern Lights ONLY from Iron Works Pike through the Campground Entrance. LISLE ROAD IS NOT AN ENTRANCE TO THE KENTUCKY HORSE PARK.
---
Editor's Note: Some electronic map services available on Apple and Android mobile and auto GPS devices are not providing accurate directions to the Kentucky Horse Park. We recommend that guests input directions to the KHP Campground, the entrance to Southern Lights, at 3785 Campground Road, Lexington, KY 40511.
Insider Tip: We suggest visitors use Interstate 75, Exit 115 (Newtown Pike) instead of Exit 120 (Iron Works Pike) to access the Southern Lights entrance at the KHP Campground from the east to help avoid congestion from the interstate to the west and a left-hand turn across traffic into the park.
---
WHAT TO EXPECT AT SOUTHERN LIGHTS
Given record turnouts last year, we suggest you consider a weeknight – the lines are shorter and the ticket price is lower. Same great attractions! Another tip, arrive as close as possible to opening time (5:30 pm), the lines will be shorter and you will have more time to visit our Holiday Festival (non-driving) attractions in the park's interior!
Boasting over three miles of lights, Southern Lights continues to grow and improve each year, adding additional holiday displays along the driven route and expanding its Holiday Festival attractions to enjoy on foot.
After driving through the lights, guests are invited to park and enjoy the attractions in the park's interior, which are designed to entertain every member of the family-from local crafts, model trains and mini train rides, visits with Santa, to the ever popular exotic petting zoo. These additional Holiday Festival attractions are open Nov. 29 – Dec. 23.
---
FREQUENTLY ASKED SOUTHERN LIGHTS QUESTIONS
Q: What form of payment is accepted for Southern Lights?
A: Cash or credit/debit cards are accepted for admission to drive through the lights. Photos with Santa are cash, check, or credit/debit cards. Pony and camel rides are cash only. (ATM machines are located in the KHP Gift Shop.)
Q: When is Santa at Southern Lights?
A: Santa is at Southern Lights Nov. 29 – Dec. 23 from 5:30 p.m. to 10:00 p.m.
Q: Are the Holiday Festival attractions open every night?
A: The on foot attractions (which include the craft fair, exotic petting zoo, Santa Claus, Mini Express Train, pony and camel rides, Kentucky Horse Park Gift Shop, food vendors, and Bluegrass Railroad Club Model Trains) are open Nov. 29 – Dec. 23 from 5:30 p.m. to 10:00 p.m.
Q: Does your admission to Southern Lights include the Holiday Festival?
A: Yes, the Holiday Festival attractions are included with admission. There are additional costs for pony/camel rides ($5 each-cash only), photos with Santa ($5 cash/$6 credit card) and any food you may wish to purchase.
Q: Can you visit the Holiday Festival attractions before seeing the lights?
A: No. The Southern Lights entrance is one way, and begins with the light display. You will enter Southern Lights at the Kentucky Horse Park CAMPGROUND entrance for the driving tour, arriving at the Holiday Festival attractions at the end of the driving route.
Q: Is Southern Lights open if it is raining or snowing?
A: Southern Lights is open rain or shine! On very rare occasions, when driving conditions are deemed extremely hazardous due to ice or heavy snow, we might cancel the event. Local media outlets would carry the closing on their list of weather related closings in that event.
Q: Can you ride your horse or bicycle through the lights?
A: No. The Southern Lights Tour is a vehicle tour only for your safety, no other modes of transportation are allowed. No walkers, runners, or bicyclists are allowed.
Q. Is it possible to take a carriage ride through the lights?
A. Unfortunately, at this time we are not able to offer carriage rides.
Q. How do you become a Southern Lights vendor?
A. Vendors can apply by filling out the following form and emailing it to foundation@foundation.org or mailing it to 4037 Iron Works Parkway, Suite 180 Lexington, KY 40511.