Horses and Bourbon.  Two things that make Kentucky unique and wonderful.  I've been around horses all my life, I rode as a child, have gone to Keeneland dozens of times, and have enjoyed The Kentucky Horse Park, Churchill Downs, and more pony rides with my kids than I can imagine but…. I hadn't gotten to really experience Bourbon until now.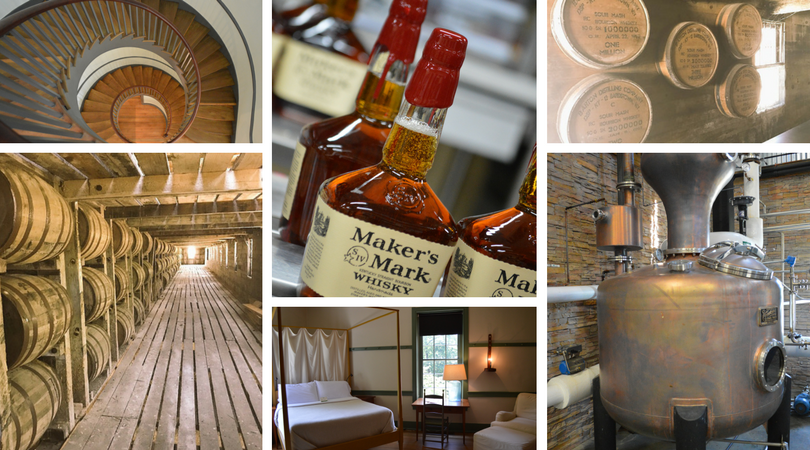 Recently, I was treated to a wonderful weekend with some other bloggers ("Moonshine Mamas") exploring the Kentucky Bourbon Trail and Shaker Village.  This awesome weekend was hosted by TravelingMom.com and included stops at great local distilleries, restaurants, and time to explore the history of Shaker Village.  It's hard to put into words how gorgeous and stunning this trip was so I've included lots of photos.  I highly recommend taking time to check out the wonderful stops along the Bourbon Trail whether it's a family trip, couples retreat or girlfriends getaway.
We started our time at Shaker Village of Pleasant Hill, enjoyed dinner at The Rickhouse in Bardstown, toured the Kentucky Cooperage (where they make those famous Bourbon barrels), took in the history of Bourbon at Limestone Branch distillery, explored the beautiful grounds and famous wooden mash pots at Makers Mark, learned some science behind Bourbon at Wilderness Trail Distillery, enjoyed facts and photos at the Heaven Hill Bourbon Heritage Center, grabbed a great Kentucky lunch at Talbott Tavern in Bardstown, and even got to visit to the World's Largest Bourbon Barrel at Barton 1792.  All along the way we tasted and shopped and learned so much about what makes each Bourbon special.  Our group traveled in style with Central Kentucky tours so we didn't have to worry about getting lost and enjoyed chatting and taking in the scenery along the way.
I have notes and photos about each stop along the way.  Feel free to comment below with more tips about a stop or ask questions.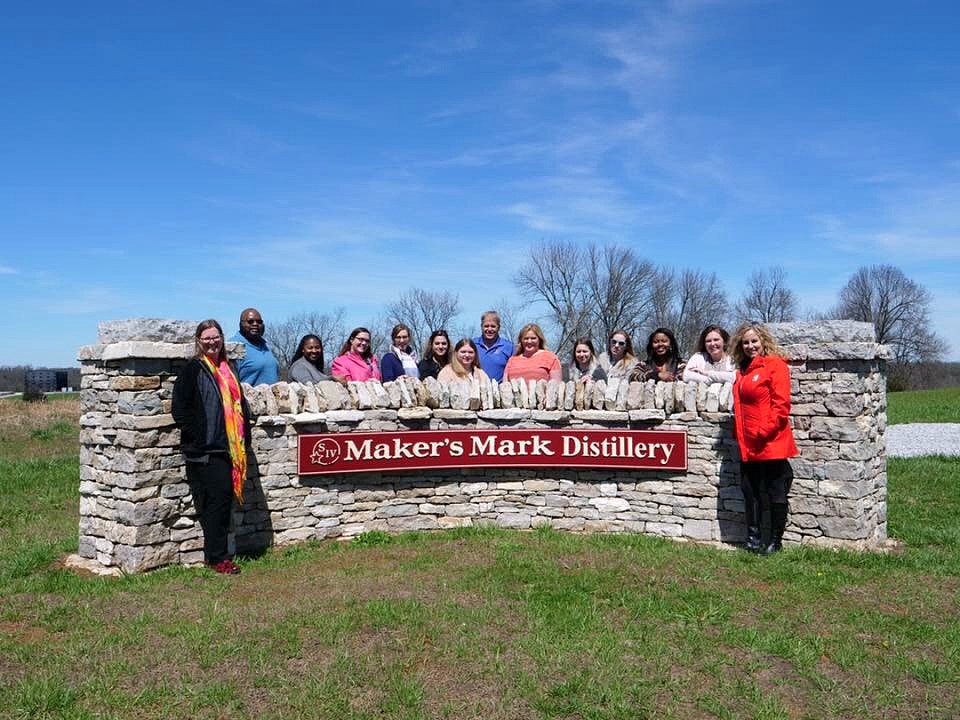 The Kentucky Bourbon Trail®
"In 1999, the Kentucky Distillers' Association formed the Kentucky Bourbon Trail® tour to give visitors a firsthand look at the art and science of crafting Bourbon, and to educate them about the rich history and proud tradition of our signature spirit."  -http://kybourbontrail.com/
Many area distilleries are part of the KBT and the Kentucky Bourbon Trail® Craft Tour but some aren't officially on the KBT but are still great stops along the way in the region.  The KBT Tour features ten stops in the KBT and a special Passport you can stamp along the way to earn a t shirt.  The Craft Tour has 13 stops and you can also get a Passport for the Craft Tour.
Travel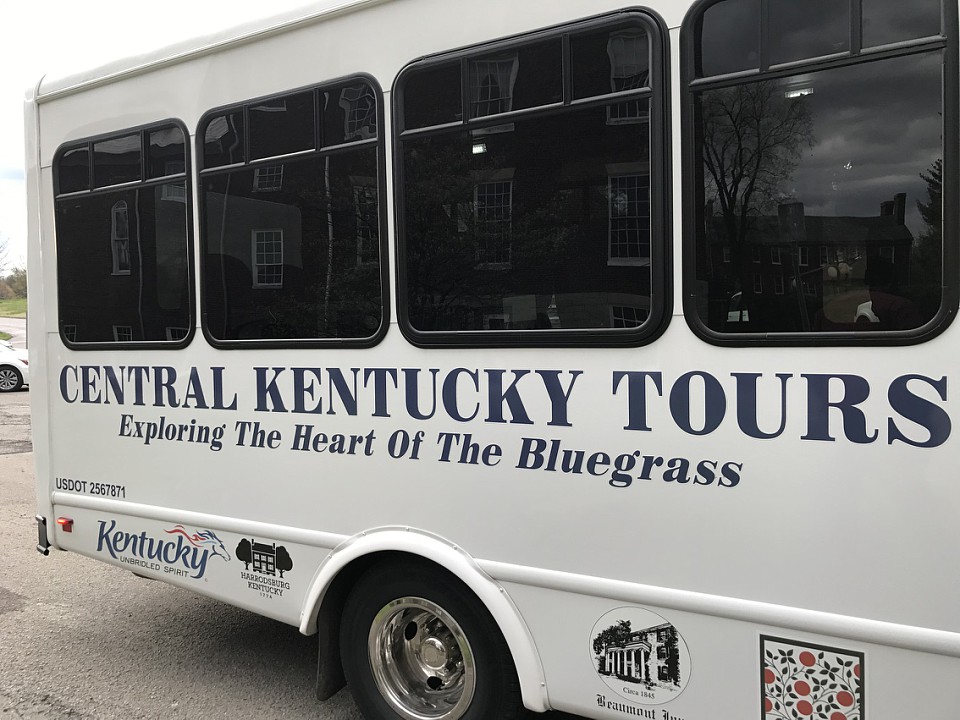 Our Moonshine Mamas traveled with ease with the help of Bruce from Central Kentucky Tours.  He was our fabulous driver and tour guide through the area.  We enjoyed the Barrel to Bottle Tour offered by Central KY Tours that leaves from Shaker Village each morning (M – F), stops for a pick up at the Beaumont Inn (an area Bed and Breakfast) then heads to the cooperage as well as three great distilleries.  It was great to have time to take in the sights, talk with the other guests and best of all – not get lost!  Central Kentucky Tours offers a variety of tour destinations including horse farms, Churchill Downs and Keeneland, craft beer breweries, and more.  One tour features three days of stops so you can fill your Bourbon Trail Passport with all 10 stamps to earn a special t-shirt.  Tours depart from various locations including the Marriott in Lexington, Shaker Village and the Beaumont Inn.
Bourbon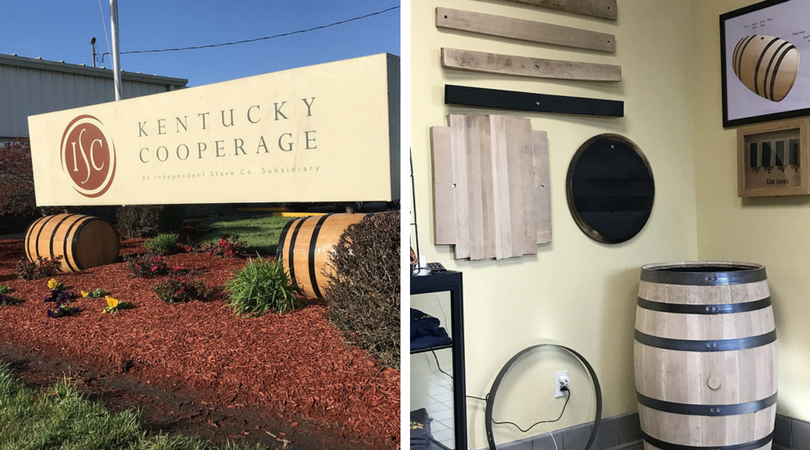 It all starts here.  Those famous charred oak Bourbon barrels.  The cooperage is located in Lebanon not far from Maker's Mark.  It was one of my favorites along the trip and I highly recommend a stop for anyone.  This would be a great stop for families because kids will love the action happening all around them and of course fire billowing out of freshly fired barrels.  When you arrive you get to watch a quick video about the process and more about the company.  The ISC has two cooperages (Kentucky and Missouri) so this tour is great to experience since you can't really see this anywhere else!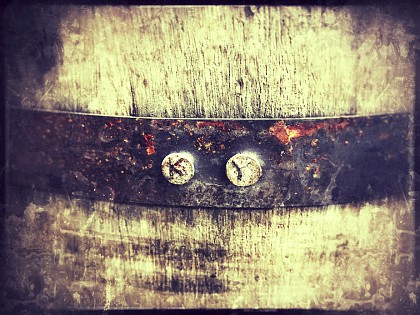 After your video you will venture into the factory.  It's noisy but you have a headset so you can hear your guide during the tour.  You'll see how the staves (the oak pieces used to make a barrel) are selected and arranged into the barrel, how hoops are put on, how each barrel is identified to tell you where it was made (KY or MO), and of course how they char them.  There are four levels of char and each is determined by how long the barrel is fired.  When the barrels get fired it's awesome to see fire billow out as they finish and roll down to cool.  This is the part the kids will love!  As you tour distilleries along the way ask about how they like their barrels charred and when you're looking through rickhouses check out those signature rings and see if it's a KY or MO barrel.
*Tours are around 30 – 45 minutes
* NO cameras allowed inside
*You must wear closed toed shoes
*Children under 16 must be accompanied by an adult
*Tours are offered M – F at 9:30 am and 1:00 pm and are $5/person
You can book your tour ONLINE.  CLICK HERE.
Limestone Branch Distillery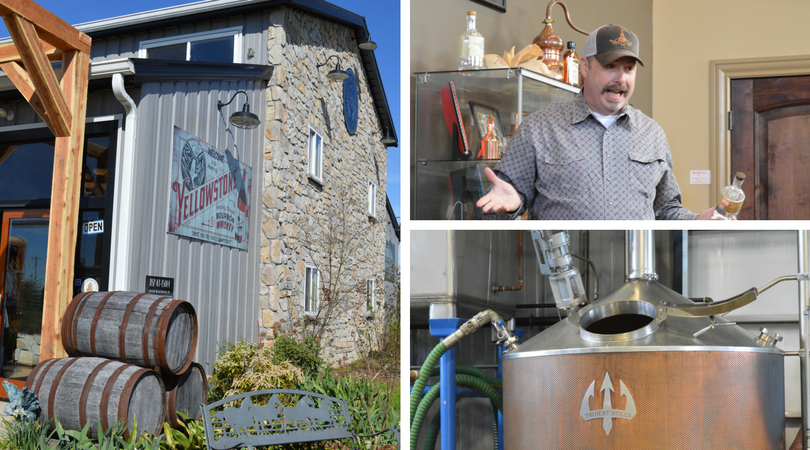 Limestone Branch Distillery is part of the Kentucky Bourbon Trail® Craft Tour.  This stop along the trail is a must for the storytelling part of your tour!  Our guide did a fabulous job of giving us so much history and detail into the story behind their Bourbon.  He told the story of two famous names in the Bourbon industry, Beam and Dent.  You'll read more about them as you tour the Bourbon Heritage Center at Heaven Hill.  There are lots of pieces of memorabilia there in the distillery as well as a gift shop.  When you take the tour at Limestone Branch you'll sit back and enjoy the story then you'll head to their mash pots and still.  It's a smaller facility and you'll even get to see how they hand bottle each bottle of Bourbon.
After you walk through the distillery you can enjoy a wonderful tasting.   This was one of our favorites, especially for those of us who don't enjoy straight bourbon.  Limestone Branch offers more than just their bourbon.  They also make MoonPie Moonshine in a variety of flavors as well as their Sugar Shine.  Our guide had great tips on what to pair with those and offered tastings of some great mixers.  We tried Orange Creamsicle, Tootsie Roll, and lots of Sugar Shine mixes.
Tour FAQ
Tours begin at the top of every hour, with the last leaving at 5 pm.
Monday – Saturday 10 am – 5 pm
Sundays 1 pm – 5 pm
Evening and private tours available upon request.
Maker's Mark Distillery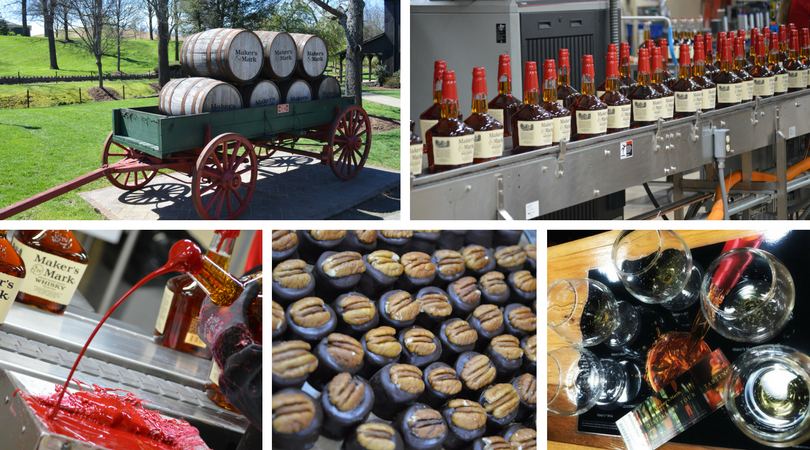 Maker's Mark is one of the most famous brands of bourbon in the world.  It is part of the official Kentucky Bourbon Trail.  Seeing the signature red wax topped bottles being hand dipped makes this stop a must along your bourbon trail adventure.  Maker's Mark is a larger distillery and their tours are for larger groups and are a bit less personal than some others we experienced like Limestone Branch and Wilderness Trail.  You do get to learn a lot and you'll see a great deal of the process throughout the grounds.
We started our tour at the visitor's center where you will pay and get your ticket (don't lose it – you'll need that at the end when you get to taste!).  You may have to wait for a few until your group is filled and ready to depart.  Once you have a tour group ready you will leave the center and walk through the grounds on your way to the various buildings.  You'll stop at each important spot for a brief talk from your tour guide.  You'll see the stills, mash pots, bottling, labeling, and then of course the tasting.  I'm not a straight bourbon drinker but it was very interesting to taste the differences between the various types of Maker's Mark.  They finish with a stop in the gift shop so you can grab some bourbon, chocolates, Maker's Mark merchandise or even dip your own bottle!
*The tour is $12 per adult over 21.
*Hours are Monday – Saturday: 9:30 a.m. – 3:30 p.m. Sundays: 11:30 a.m. – 3:30 p.m.
*Tours are closed Easter Sunday, Thanksgiving, Christmas Eve, Christmas Day and New Year's Day.
*Tours may be delayed or cancelled due to inclement weather.
*Tour spots are assigned on a first-come, first-serve basis, and our tours are mostly outdoors – so be prepared for changing weather.
*Wear comfortable shoes – you'll be doing lots of walking and you'll climb stairs.
*The regular distillery tour is about 1 hour long, and the wait time between tours may vary depending on the number of visitors.
*Groups are smaller Sunday – Thursday and more crowded on the weekends.
*For groups of five or more, please pre-purchase tickets online at tours.makersmark.com
*All ages are welcome, but you have to be 21 to join our sampling or dip your own bottle. Photo ID required.
NO – Pets,  Smoking, Weapons, Open-container beverages
Star Hill Provisions is open and Wednesday through Sunday serving lunch from 11:30 a.m.–4:30 p.m. We tried lunch in this newly opened restaurant. Prices are a bit higher for a lunch but they know you're there and can't really go anywhere else.  It's freshly made and they offer some good Kentucky foods.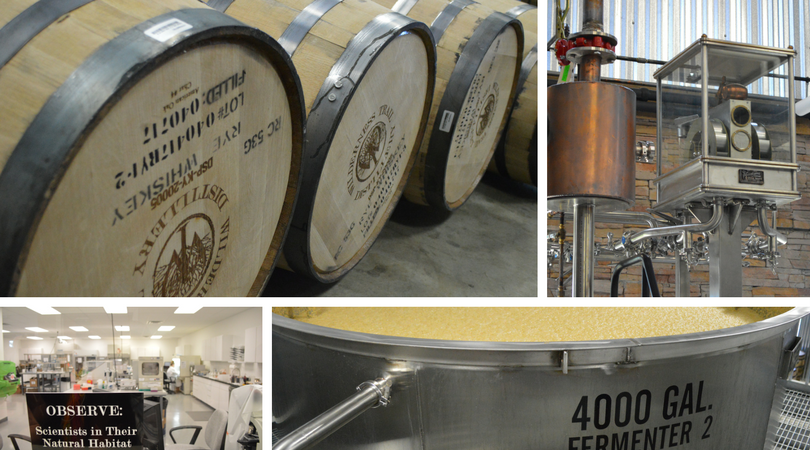 Wilderness Trail Distillery has a great story to it's beginning.  The brains behind Wilderness Trail really are some serious brains!  They started out servicing the science needs of local distilleries – they have a lab for testing mash for bacteria and for making yeast that is crucial in the making of Bourbon.  This led to the creation of their own distillery where they make bourbon, rum, rye whiskey, and vodka.  They have a special section on their website dedicated to teaching you some science behind the making of spirits and it's great to learn the how and why during your tour.
During your tour you can take a peek into the lab and watch their staff testing and working in their 'natural habitat', see the kinetic spirit safe, learn how they locally source their corn and wheat grains, and get a taste right off the still of some very strong spirits!  Their bourbon is still aging but you can taste the rum and vodka during your tasting.  Their Blue Heron Vodka and their Harvest Rum both won awards at the San Francisco World Spirits Competition this spring (2017).  Wilderness Trail is part of the Kentucky Bourbon Trail® Craft Tour so it's a stop you can grab a Passport stamp from!

Wilderness Trail Distillery – Kinetic Spirit Safe from Wilderness Trail Distillery on Vimeo.
*Tours are offered Tuesday—Saturday 10 am-4 pm
*Tours start on the hour.
*Gift Shop & Tastings available Monday—Saturday 10 am – 5 pm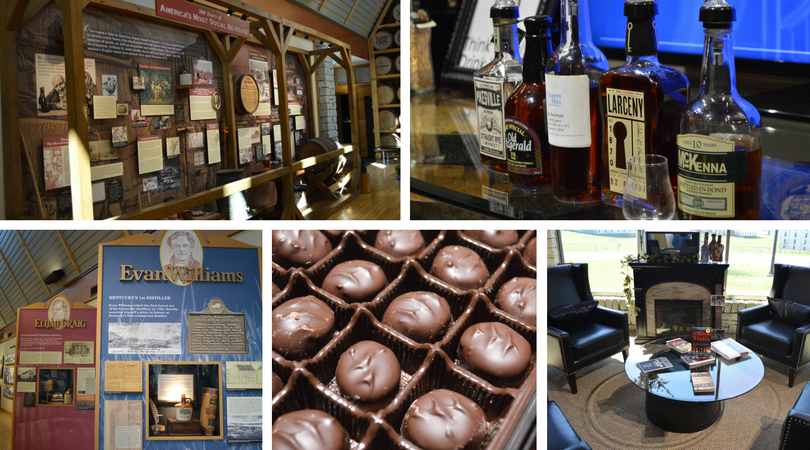 Heaven Hill doesn't distill on their site in Central KY but you can experience the Bourbon Heritage Museum and a couple great tastings.  You can choose from two different tour options where our experienced Bourbon Hosts will guide you through the history and heritage of America's original whiskey.  We enjoyed the connoisseur experience and learned a lot about the history of Heaven Hill as well as the variety of spirits they offer.  You'll watch a video as an introduction and learn from the tasting host all about the types of bourbons you are sampling.  We even got to sample "Bad Bourbon" and find out why the aging process and the rickhouse methods are so important.  My favorite part was the chocolate bourbon ball sampling!  He even let us take a few for the road!!
MASHBILL TOUR, $10.00
Learn about both the fascinating history of Bourbon as well as the story behind Heaven Hill Distillery, family owned and operated since 1935. Our Host will lead you to Rickhouse Y discussing how we age and produce some of the world's finest Bourbons. Later, you will enjoy three of our nationally acclaimed American whiskeys, each from a different mashbill, in the world's largest Bourbon Barrel.
WHISKEY CONNOISSEUR EXPERIENCE, $20.00
During this 40-minute experience, your host will share a short history of Heaven Hill Distillery. You'll then discuss the unique characteristics of four of our premium or limited release American whiskeys, focusing on the color, aroma, taste and finish. When your tasting is complete, you can take your tasting glass home as a keepsake.
BOURBON HERITAGE CENTER HOURS
JANUARY & FEBRUARY
Monday: CLOSED
Tuesday-Saturday: 10AM to 5PM
Sunday: Noon to 4PM
MARCH-DECEMBER
Monday-Saturday: 10AM to 5:30PM
Sunday: Noon to 4PM
*Last tour offered one hour before closing.
HOLIDAYS
The Bourbon Heritage Center will be CLOSED on the following holidays:  Easter Sunday, Thanksgiving Day, Christmas Eve, Christmas Day, New Year's Day
**Please contact them at (502) 337-9593 with questions or to book your large group reservations.**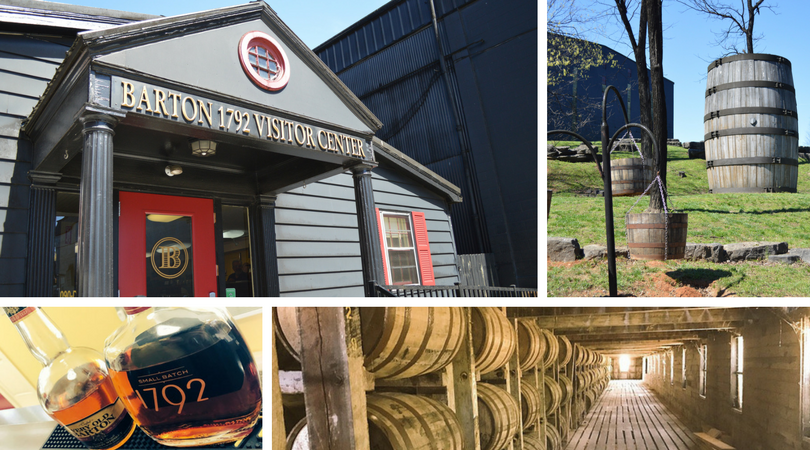 Barton 1792 is another large distillery featuring acres of land with rickhouses, numerous mash pots, a local spring and the World's Largest Bourbon Barrel!  We started our tour in the visitor center then moved to various spots throughout the distillery.   You'll see the still, mash, and of course rows and rows of barrels aging. Our tour included a lesson in grains, a visit to the still, and time to taste.  Barton 1792 had delicious bourbon balls and a couple different bourbons to try.  You start and end at the visitor center which features a gift shop with lots of unique items to purchase.
*All tours at Barton 1792 Distillery are complimentary, rich in history, and conclude with a complimentary tasting of the award-winning products made at the Distillery.
*Walk-ins are welcome to join the Barton Tradition Tour and Bushel to Bottle Tours, however reservations are strongly suggested for large groups. *Call 1-866-239-4690 or email us with questions regarding tours.
*The Visitor Center is open 9 a.m.-4:30 p.m. Monday through Saturday. The last tour leaves the Gift Shop at 3 p.m.
Barton 1792 offers three different tours
The Barton Tradition – This is an hour-long tour in which visitors get a look at the Distillery's daily processes and inside Warehouse H, a traditional barrel rickhouse built in the 1930s.  This tour takes off from the Gift Shop on the hour from 9 a.m.- 3 p.m. Mondays through Saturdays.
Bushel to Bottle – On this tour, visitors follow the bourbon-making process from grain to the bottle, and get a full look at the fermentation, distillation and the bottling processes.  This tour begins at the Gift Shop at 9:30 a.m. and 1:30 p.m. Mondays through Fridays and lasts for an hour-and-a-half.
1792 Estate – On this tour, guests have the unique opportunity to walk through what is believed to be the world's largest palletized barrel aging warehouse. This two-hour motorized tour takes visitors behind the scenes to see each step in the distilling process, including the barrel filling and dumping processes. Stops also include the World's Largest Whisky Barrel, and the Tom Moore Spring that the Distillery draws its iron-free limestone water from, and much more.  This tour begins at 11:30 a.m. Mondays through Fridays and because of the vast amount of ground the tour covers on the 196-acre property, is limited to groups of five. Reservations are required for this tour.
Dining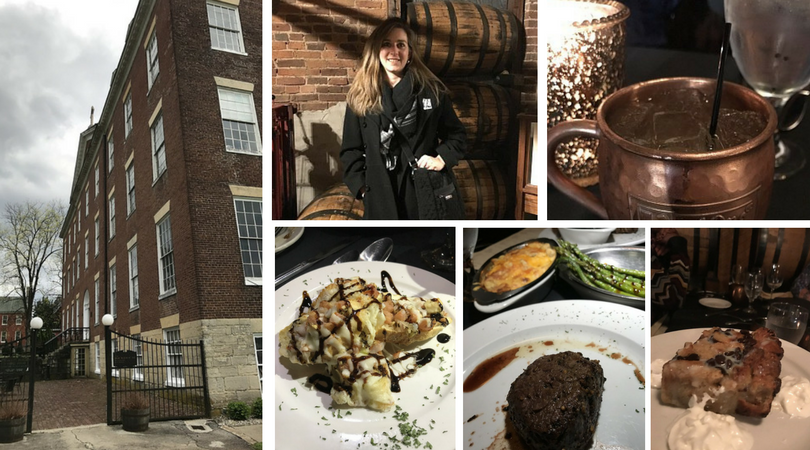 A rickhouse: a whiskey aging warehouse where barrels are stored in "ricks," or racks that stack barrels three high and store them on their sides.
The Rickhouse Restaurant in Bardstown is named after those famous huge buildings you'll see all along your Bourbon Trail adventure.  It's housed in the basement of Spalding Hall (home of the Oscar Getz Museum of Whiskey History – another stop you'll need to add to your adventure!).  The atmosphere is cozy and quiet with lots of small rooms featuring barrels and exposed brick.  Our appetizers were tasty after a full day of exploring at Shaker Village.  We tried the bruschetta as well a southern favorite, shrimp and grits.  Dinner arrived and my filet and sides were delicious.  The sides are very large and great for sharing so another Moonshine Mama and I got different sides so we could try lots.  We had the mac n cheese and scalloped potatoes as well as the asparagus and brussels sprouts.  They were all wonderful and were devoured quickly.
They feature dozens of bourbons, a wine list as well as other drinks.  I enjoyed my first Kentucky Mule the night we went and it was wonderful!  I highly recommend trying something unique and new!  Don't skip dessert because they have a Bourbon brownie a la mode and a bread pudding that make saving room totally worth it!
They are open for dinner Tuesday – Thursday from 4:00 pm – 9:00 pm and Friday & Saturday 4:00 pm – 10:00 pm.  For information on their menu CLICK HERE.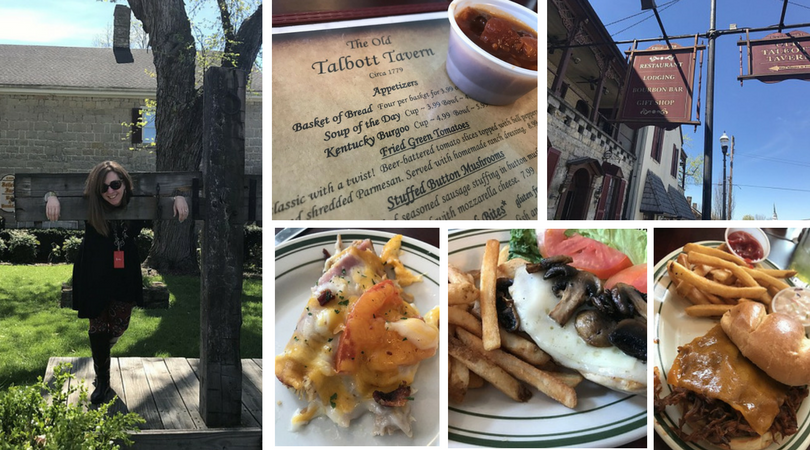 "The Old Talbott was built in 1779 and has been called the oldest western stagecoach stop in America. It was a haven of hospitality to those sturdy pioneers who carved an empire out of the threatening wilderness. From its simple, rough beginnings the tavern mellowed with the years, typifying the gracious living than burgeoned in the Old South." -Talbotts.com
I love learning the history behind places I visit.  It makes the experience much more meaningful and it's fun to learn something new along your travels.  The Talbott Tavern was a great stop in historic Bardstown and perfect for anyone traveling along the Bourbon Trail.  We stopped for lunch but the Tavern also offers lodging, a bourbon bar and a gift shop.
Lunch featured some great Kentucky favorites like hot browns and fried green tomatoes as well as a tasty cup of burgoo!  If you haven't tried any of those southern favorites you should definitely give them a try.  Most of the folks in our group stuck with sandwiches for lunch and they all looked great.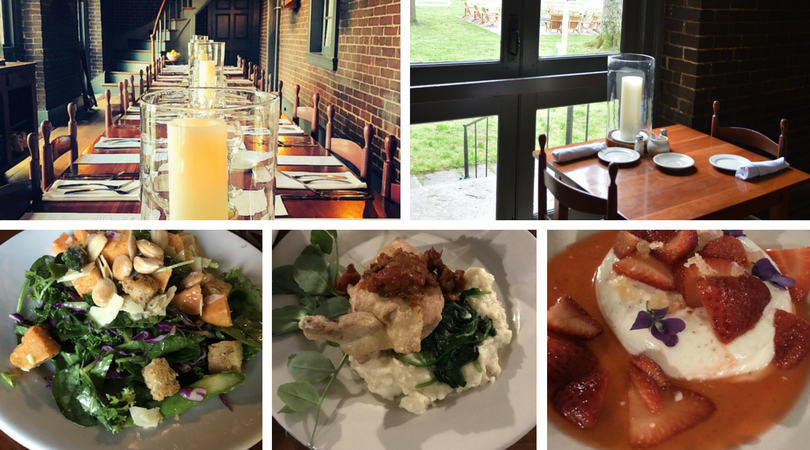 Shaker Village has wonderful dining throughout the day.  You can start your day with their breakfast buffet featuring bacon, sausage, eggs, grits, potatoes and more.  Their lunch and dinner menu focus on seed to table foods that, during the growing season, feature things grown right there in the Shaker Village garden.  We enjoyed a dinner at the Trustees Table that was incredible.  We couldn't stop talking about the salad with fresh asparagus and butternut squash with a Caesar vinaigrette dressing!  The menu changes frequently and you can always check out what is currently being featured on their website.  They also host special events during the year and you can learn more about those online as well.  It was such a beautiful setting and we had excellent service from the staff.  We got a chance to meet the farm manager and also speak with the dining manager to learn more about their focus on locally grown and farm fresh food.
Lodging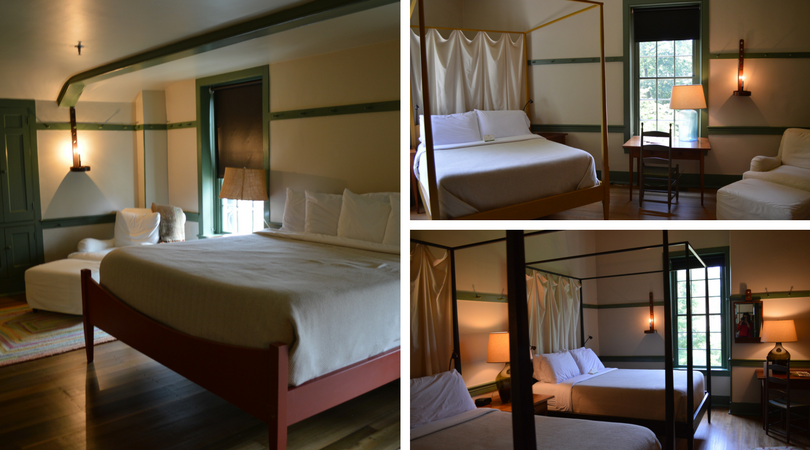 Shaker Village is a wonderful family friendly destination in Kentucky.  You can spend days enjoying hiking, fishing, touring the historical buildings, learning about the life of the Shakers through their daily programming, and relaxing in their guest rooms.  You can just spend the day exploring Shaker Village but they have wonderful rooms for couples or families if you're wanting to enjoy a weekend or a few days of adventure.  They offer king size rooms, doubles, and even family suites.  Rooms are spread out all over the grounds so you may stay in the Trustees Building or just down the walking path in the East or West Family Dwelling.  Each building has it's own unique features as well as modern amenities (yes, you can watch TV in your room!).  The family suites and gathering rooms in the buildings have games to share while you are there as well as libraries.
I've toured the buildings before and have seen many different types of rooms.  See the photos for some samples as well as a peek into the gorgeous furnishings.  You'll feel a bit like you've stepped back in time with the simple and rustic feel.  If you do stay the night all guests receive complimentary admission to The Historic Centre, The Farm and The Preserve for the length of your stay.
And of course while you're there enjoy dining at The Trustees Table for breakfast, lunch or dinner.
Learn more about Shaker Village and all the fun you can have exploring the grounds check out the Lex Fun 4 Kids REVIEW.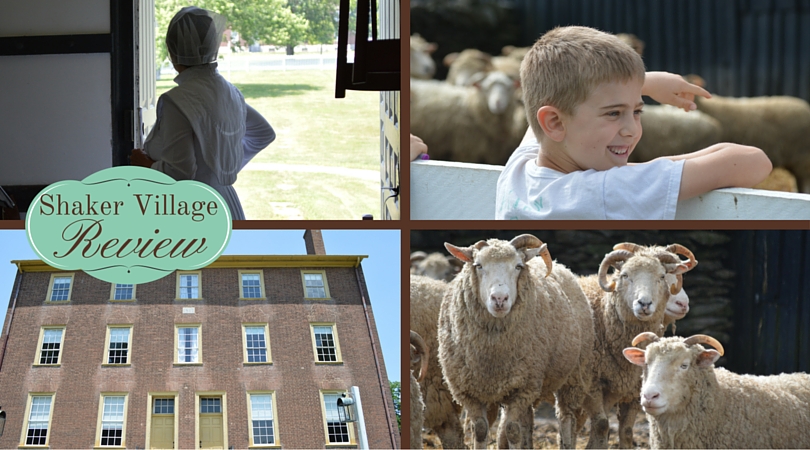 Important Links