It's always fun for the kids to enjoy a night out and even more fun when the grown ups get a night out too!  Here are great places to drop the kids for when you need a night out as well!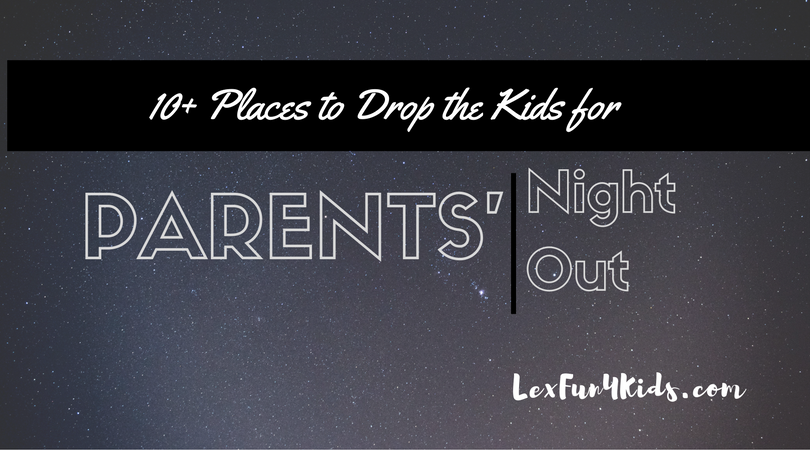 ---
They offer Parents Night Out (Held on select Fridays from 6 – 10 pm, $18 non-members, $15 members)  as well as Tween Nights (Select Fridays 6:30 – 9 pm for $15)
---
Parents' Survival Out is offered each month on a select Friday from 6 – 10 pm and includes pizza, gym time, and a craft – $30 for members/$35 non-members.
---
Their evenings are offered monthly (usually 6 – 9 pm on a Saturday) and include pizza for $25.
---
The YMCA of Central Kentucky offers Parents' Night Out throughout the year. Activities include gym games, swimming (for children ages 5+ ), crafts, games, a light snack and more. Swimmers must pass a basic swim test or wear a life jacket.   $13 for Y members only.
---
Open gyms are every Saturday from 6-­9 pm with the exception of major holidays and special events. Children 5 and up may stay unattended; all others may have a parent accompany them in the gym. The cost is $15 per participant. Concessions are available at most open gyms; snacks, candy, drinks, and pizza (per slice) are $1 each. Concessions Cards are available for purchase at any desired amount during open gym sign-in. Pre-registration is recommended and is accepted until 5:00 pm the day of.
---
This gymnastic and cheer spot is open Monday – Thursday 10 am – 2 pm during the school year and Friday/Saturday Nights 6 pm-11 pm all year long for open gym.  $4 per hour, per child.  *Children younger than Kindergarten require parental supervision.
---
Mathnasium of West Lexington hosts a Parent's Night Out on select Fridays usually from 6-9 pm. Children will enjoy crafts, math games and pizza while you enjoy a kid-free night on the town!  Cost is $15 and spaces are limited.
---
Parent's Night Out is offered as a service to MOL families and friends (children attending PNO do not have to be enrolled in MOL – you friends are welcome to sign up, too). Parents will enjoy a night out while children enjoy a fun evening of musical games and activities. Children are welcome to bring sleeping bags – we will be watching a family-friendly movie on a large screen projector.  Held throughout the year on select Saturdays from 5:30 – 9:30 pm for $17/child.
---
There are occasional programs within Lexington Parks and Recreation for a Parent's Night Out.  Watch the Lexington Parks Facebook page or city calendar for special events.  McConnell Springs offers a program on their calendar seasonally.  These events to require pre-registration on the Parks & Recreation.
---
Parents' Night Out is held on select Fridays or Saturdays during the year from 6 – 9 pm for $20/child with a sibling discount. Kids will enjoy a movie, dinner, games and a craft.  Follow them on Facebook for updates or call for info.
---
$20 PER PARTICIPANT* This event is an open-gym-like supervised free time in the cheer and tumbling facility.  Children ages 5 to 14 may participate. Participants will also receive a drink and a light snack, but should eat dinner before attending. Cost is $15 per participant if registered online BY NOON DAY OF. Siblings receive a $5 discount. PARTICIPANTS MUST HAVE A CURRENT WAIVER ON FILE AND MUST BE PICKED UP PROMPTLY BY 9PM.