16th Annual Kentucky Highland Renaissance Festival
Themed Weekends!!
June 5th – July 18th, 2021
Weekends Only
10:00am – 7:00pm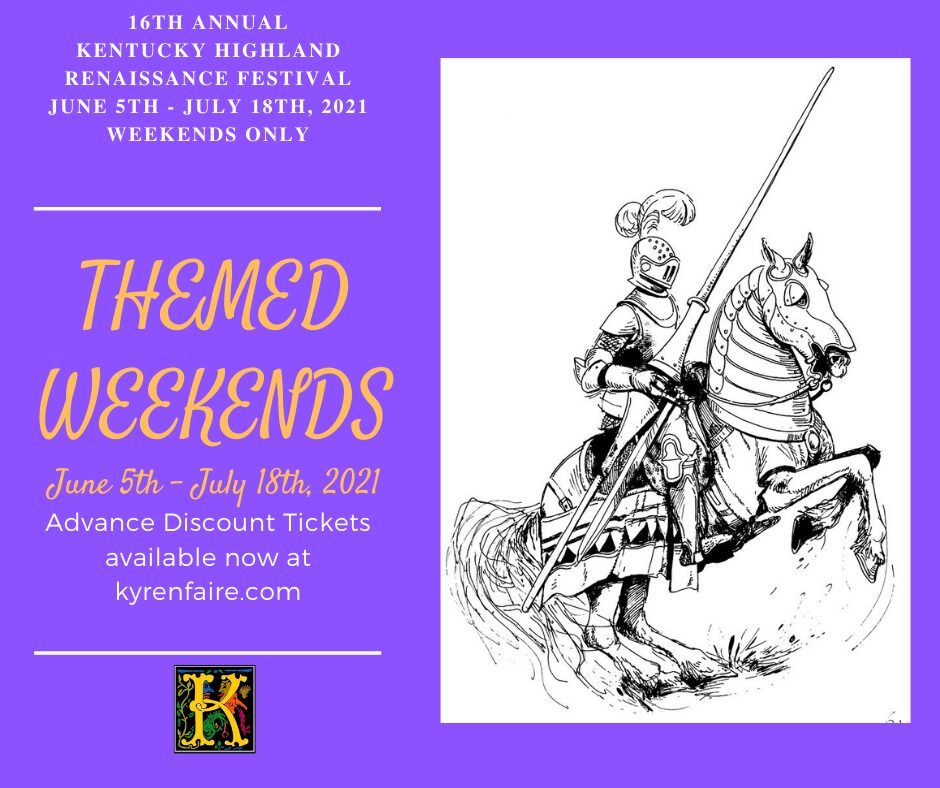 Festival Site Address:
955 Elm St
Eminence, KY 40019
06/5 & 06/06 Opening Weekend!!
Come help us kick off our 16th YEAR!!!! Come join us as we celebrate the opening of the 16th Annual Highland Renaissance Festival! Entertainment & Fun for the Entire Family!

06/12 & 06/13 Pirate & Children's Weekend!!
AAAARRRRGGGG!!!! Set sail for a swashbuckling good time! Children 12yrs & under receive ½ Price Admission with a paid Adult Admission. This will be a fun filled weekend of Pirate Shenanigans for entire family! (child discounts available at the gate only)

06/19 & 06/20 Viking Weekend!!
A thunderous weekend of drums, dancing, Vikings and more! Dress in your best Viking Garb for a chance to WIN a 2022 SEASON PASS!!!

6/26 & 06/27 Steampunk Weekend Gears, Gadgets & More!!!
Come see all the unique Steampunk Attire! Come dressed in your best Steampunk Garb for chances at prizes & a 2022 SEASON PASS!

07/03 & 07/04 Tournament Weekend!!
Bring on the Cheer! Tournament Weekend is one not to miss!! Come cheer on your favorite Knight to win Knight's Champion, enjoy the Traditional Archery Tournament (open to the public) & more!

07/10 & 07/11 Fools & Villains Weekend!!
We invite the mightiest heroes and heroines and gather the darkest villains and vixens. Come dressed in your best or most foolish heroic / villain finery for $2.00 off admission at the gate.

07/17 & 07/18 Celtic Weekend!!
Let's celebrate our closing weekend Celtic Style with LIVE MUSIC & MORE!! Come help us celebrate the final weekend of the 16th Annual Highland Renaissance Festival with LIVE Celtic Music, dancing and other activities! Let us see your best Celtic spirit this weekend for a chance to win a 2022 SEASON PASS!!!
ADVANCE DISCOUNT TICKETS AVAILABLE NOW at www.kyrenfaire.com