Ballet Under the Stars, Lexington's premier outdoor dance celebration, allows the community to experience a night of professional ballet at Woodland Park.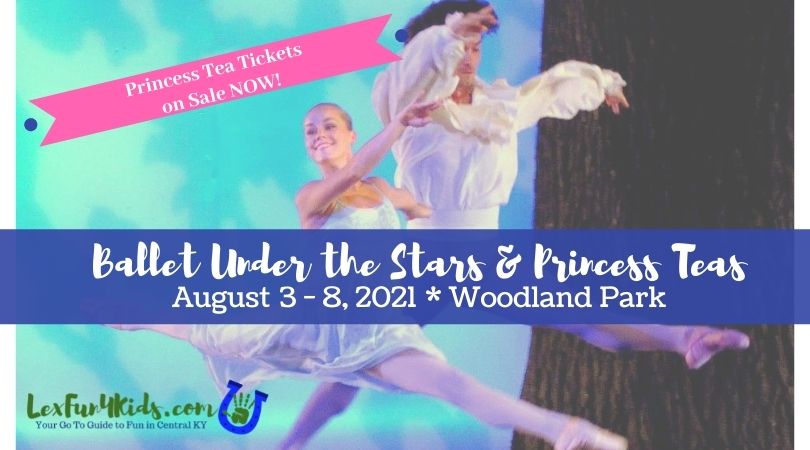 Details
Details coming soon!
Woodland Park
About Ballet Under the Stars
At this unique event, audiences experience a night of professional ballet, complete with stage, lighting and costumes, at Woodland Park. The event begins with a pre-show youth production at 8 p.m. The main show featuring professional dancers from Kentucky Ballet Theatre begins at 9 p.m.
Bring lawn chairs or blankets for seating. Patrons may pack a picnic dinner or buy concessions onsite. For more information, call (859) 288-2925.
Ballet Under the Stars Preshow
The preshow is a wonderful chance for young dancers from all area dance schools to come together in Kentucky's premier outdoor ballet event. This is truly a community production and an excellent opportunity to showcase the young talent and quality dance instruction of central Kentucky.
Preshow auditions are April 30, 2022.  1 pm – 5 pm  For more information CLICK HERE


Woodland Park

For children ages 3 – 8 years old (suggested)
$15 per child | No charge for guardian.
Lexington Parks & Recreation hosts a very special tea party in honor of the Ballet Under the Stars preshow. This year's children's ballet will be Sleeping Beauty's Dream and will feature stories from Goldilocks and the three Bears, Pinocchio, Little Red Riding Hood and Peter Pan. 
Before the ballet, children may don their best tutu and tiara and join in for a magical, fun-filled event! All of the little ones will learn a special dance while enjoying fancy foods, music and games, a special live performance of kid songs by a real princess and a meet and greet with the show characters. Attendees may bring their camera to take a picture with the characters. 
Note: Tickets cover the child's admission to the Ballet Under the Stars show. For those accompanying the children to the evening's Ballet Under the Stars performance, admission is $6 per person and may be purchased upon arrival at the tea party.