Enjoy FREE Fishing Weekend in Kentucky! June 4 – 5th – No fishing license is required in the state for all ages.
Every year Kentucky offers free fishing days the first weekend in June (June 4-5, 2022). On free fishing days no license (including the Kentucky trout permit) is required of residents or non-residents to fish any Kentucky waters. All other fishing regulations remain in effect. Free fishing days are offered to promote fishing and National Fishing Week.
"Free fishing weekend is a great tool for teaching kids how to fish," said John Gutzeit, aquatic education coordinator for the Kentucky Department of Fish and Wildlife Resources. "This is also a great time for those lapsed anglers who've gotten away from fishing to get fishing again and come back into the fold."
Anglers across Kentucky may fish without a fishing license or need a trout permit on Free Fishing Weekend. Size and creel limits still apply during this time.
*No Fishing License or Trout Permit required
*Residents + Nonresidents
*Statewide, public + private waters (landowner permission still required on private property)
*Daily catch, fish size & other limits still apply
-Fishing Regulations: https://go.usa.gov/xmsG5
Need help getting started? Visit the Department of Fish and Wildlife Resources' website at fw.ky.gov and type, "Learn to Fish," in the search box. Here you'll find instructional videos covering knot tying and preparing a fish for the table.
Don't know where to fish? Click the "Fishing" tab on the department website to access the annual fishing forecast for great tips and places to try.
The fishing page also includes a link to the Fishing in Neighborhoods (FINs) lakes. FINs offers dozens of easily accessible, specially stocked lakes near population centers throughout the state.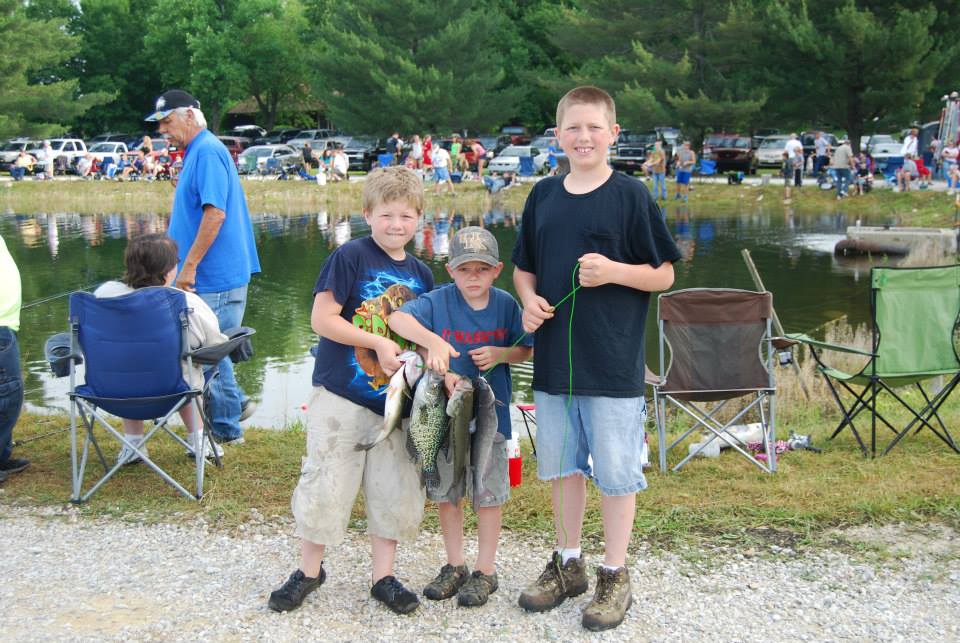 Special Events
Want to take the kids or grandkids fishing but still not quite sure where to go? Considering dropping by one of the following free fishing events on Saturday, June 4. All listed times listed are local.
Bullitt County
Youth Fishing Derby
Horticulture Area Road
Shepherdsville, Ky.
9 a.m.-1 p.m.
Directions: From I-65 at Exit 112, turn onto KY 245; right onto Horticulture Area Road. (Near Bernheim Forest, across from Jim Beam Distillery)
Campbell County
Alexandria Community Park
3965 Alexandra Drive
Alexandra, Ky.
10 a.m.-noon
Ages 14 and under
Free lunch and T-shirt while supplies last
Clay County
Daniel Boone National Forest
Little Double Creek Pond
Pond located behind Redbird District Office
91 Peabody Road
Big Creek, Ky.
9 a.m.-noon
Ages 3-15
Register onsite beginning at 8 a.m.
Children must be accompanied by an adult
Daviess County
Take a Kid Fishing Event
Panther Creek Park Lake
5160 Wayne Bridge Road
Owensboro, Ky.
Ages 3-15
Children must be accompanied by an adult
Fishing from 9-11 a.m.
Registration opens at 8 a.m.
Bring your own fishing pole; limited loaner equipment and bait available
Door prizes; grand prize for catching tagged fish
Hot dog, chips, water provided for participants
Franklin County
Kentucky Fish and Wildlife Headquarters
1 Sportsman's Lane
Frankfort, Ky.
Upper lake next to main building open to kids ages 15 and younger from 9 a.m.-noon; open to all ages afterward
Special stocking of fish Friday afternoon; upper lake closed from noon Friday until Saturday fishing event
Lower lake will remain open to all ages
Limited equipment and bait available on first-come, first-served basis
Kenton County
Kids Fishing Derby
Middleton-Mills Park
3415 Mills Road
Covington, Ky.
9 a.m.-noon
Kids of all ages
Catch and release tournament, prizes
Bait and equipment provided
Concessions sold at park
Laurel County
Laurel-London Optimist Club
KY 6266/Reed Road, just off the Hal Rogers Parkway, approximately 3½ miles east of the KY 192 intersection in London. Look for signs.
Ages 5-12
8:30-11:30 a.m.
Register onsite beginning at 7:30 a.m.
McCracken County
Noble Park Fish Out
Lake Gerry Montgomery
2801 Park Avenue
Paducah, Ky.
Catch and release
9-11 a.m.
Ages 5-12
Limited equipment and bait available
Goodie bags for first 75 kids registered
Prizes for fishing contest
Registration begins at 8:30 a.m. at Noble Park Shelter 10
For more information: 270-444-8508
McCreary County
Kids Fishing Derby
Barren Fork Horse Campground
Barren Fork Road
Pond located 1 mile from Stearns District Office, 3320 U.S. 27N, Whitley City, Ky
8-11 a.m.
Ages 5-15 accompanied by an adult
Hot dog lunch and prizes
For more information: 606-376-5323, ext. 108
Montgomery County
Easy Walker Park Pond
1395 Osborne Road
Mt. Sterling, Ky.
Ages 15 and under
Registration begins at 8 a.m., first cast at 9 a.m.
Free hot dogs and drinks (while supplies last)
Prizes and casting contest
Rowan County
Cave Run Kids Fishing Derby
Minor Clark Fish Hatchery
120 Fish Hatchery Road
Morehead, Ky.
Ages 15 and under
Online registration through 6 p.m. (EDT) on May 31: https://bit.ly/3NbCoEw
Children must be accompanied by an adult
Grounds open at 6 a.m., fishing from 7-11 a.m.
Note: Some walk-ups will be accepted on the day of the event until capacity is reached
Russell County
Catch a Rainbow Kids Fishing Derby
Hatchery Creek at Wolf Creek National Fish Hatchery
50 Kendall Road
Jamestown, Ky.
9 a.m.-1:45 p.m.
Up to 15 years old; times staggered for different ages
Kids 5 and up must provide own equipment; no fly rods
Kiddie pool fishing with equipment provided for kids under 5, 9 a.m.-noon
Register at location 30 minutes in advance
For more information: www.friendsofwolfcreeknfh.com
Trigg County
Kids Fishing Day at Land Between the Lakes
Golden Pond Visitor's Center
238 Visitor Center Drive
Golden Pond, Ky.
10 a.m.-2 p.m.
Fishing poles and bait provided
In addition to free fishing derbies for kids, no fee permit will be required to use Bee Rock Boat Ramp, Clear Creek Boat Ramp, or boat ramps outside of developed campgrounds at Cave Run Lake or Laurel River Lake on Saturday, June 4 and Sunday, June 5. Public fishing at National Forest locations will not be permitted at derby locations from the day that fish are stocked until the end of the event.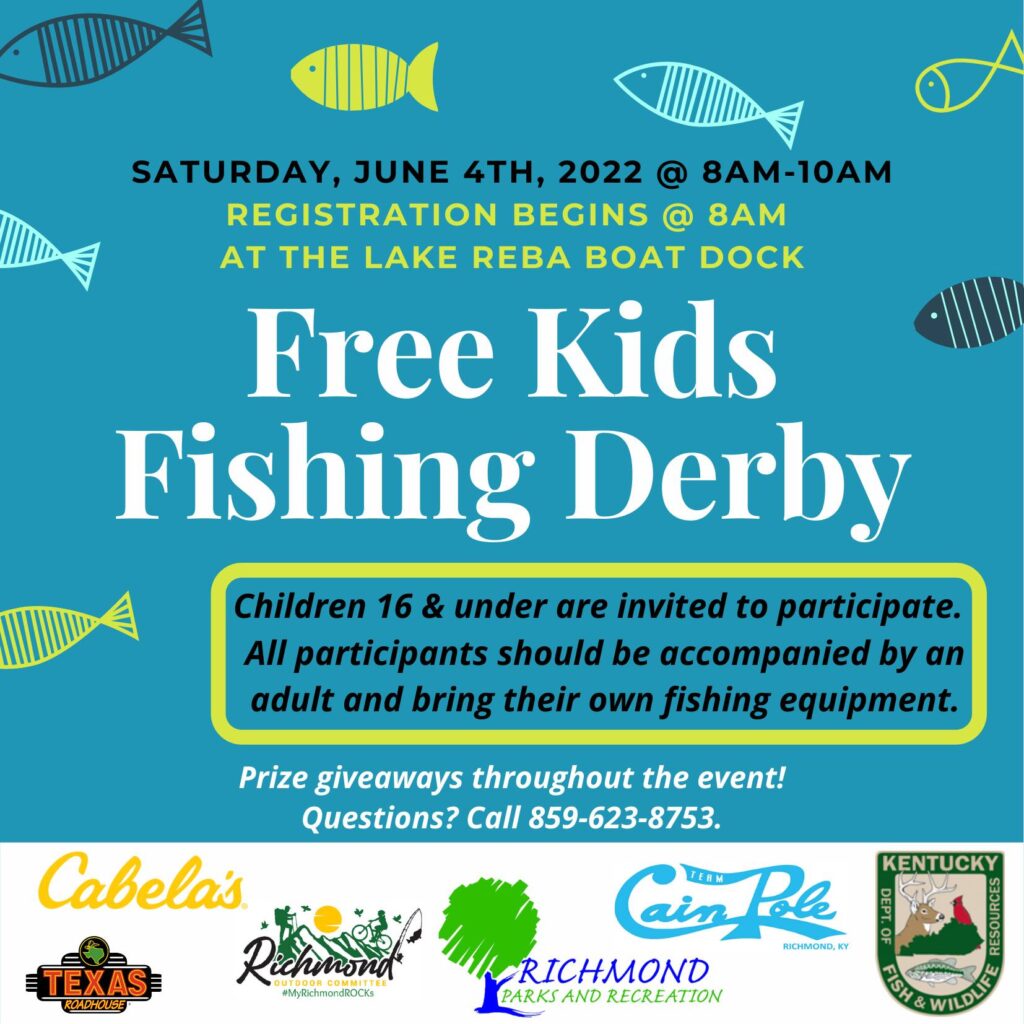 ---