Summer is full of great music events all around Central KY! Many are FREE and great for all ages.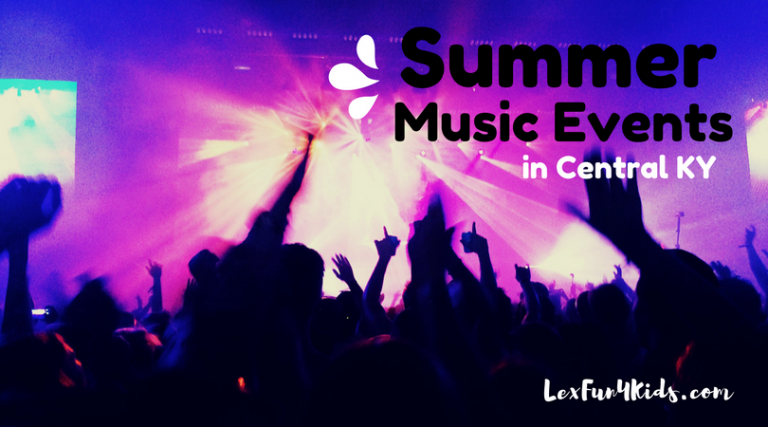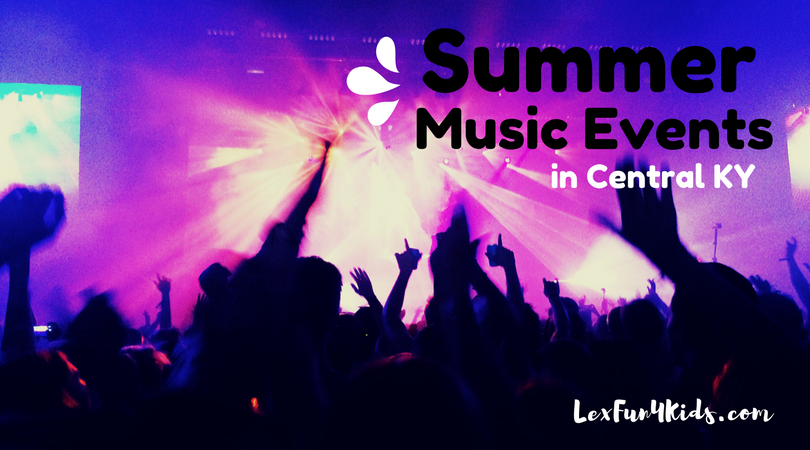 Tuesdays
Big Band and Jazz at Moondance Amphitheater and Ecton Park FREE
The return of spring means the return of one of Lexington's longest-running and most beloved concert series – Big Band & Jazz. With a full schedule of live music planned, concert-goers can enjoy weekly big band or jazz music at Moondance Amphitheater and Ecton Park. Picnics are encouraged and patrons should bring a lawn chair or blanket for seating.
Details
Big Band & Jazz at Moondance Amphitheater
Start time: 7 p.m.
May 17 – Young At Heart Big Band
May 24 – The MetroGnomes
May 31 – Bluegrass Area Jazz Ambassadors
June 7 – DiMartino/Osland Jazz Orchestra
June 14 – Walnut Street Ramblers
June 21 – Brass Impact
June 28 – Lexington Summer Concert Band
Big Band & Jazz at Ecton Park
Start time: 7 p.m.
July 5 – Miles Osland Little Big Band w/ Vince DiMartino
July 12 – Brett Evans Trombone Jazz Ensemble
July 19 – Ozmosis
July 26 – Tim Lake and the Blue Jazz Persuaders
August 2 – Uncle Sam's Bait Shop
August 9 – Osland/Dailiey Jazztet
Moondance Amphitheater​
1152 Monarch St.
Lexington, Ky.
Ecton Park
956 Turkey Foot Rd.
Lexington, Ky. ​​​​​​
---
Thursdays
Get downtown every Thursday for live music, local food and beverage vendors, and the hottest party in town. Central Bank Thursday Night Live will return to Fifth Third Bank Pavilion in Downtown Lexington on April 7, 2022 from 5:00pm – 8:00pm for beverages, tasty food, and of course, great music by live bands! TML runs until October 13, 2022.
Apr 7 – Cherry Bomb
Apr 14 – Kimberly Carter &
Carryin' On
Apr 21 – Greener Time
Apr 28 – Project X
May 5 – Jordan English Band
May 12 – Positive Movement Band
May 19 – Lauren Mink
May 26 – Ward Haydon &
The Outliers
Jun 2 – Five Below Band
Jun 9 – Paul Childers
Jun 16 – The Johnson Brothers
Jun 23 – 64West
Jun 30 – Nightflyer: The Ultimate Eagles Tribute Band
Jul 7 – Honeychild
Jul 14 – The Ranahans
Jul 21 – Boogie G & The Titanics
Jul 28 – Encore of Lexington
Aug 4 – The Big Maracas
Aug 11 – Tim Talbert Project
Aug 18 – The Twiggenburys
Aug 25 – Kenny Owens &
Group Therapy
Sep 1 – Mercy Men
Sep 8 – The Binders
Sep 15 – Canvas
Sep 22 – Rebel Without A Cause
Sep 29 – Superfecta
Oct 6 – Mojo Tones
Oct 13 – To Be Announced! (But already booked!)
Southland Jamboree is a free Bluegrass Music Concert on Thursday evenings during the summer at 7 p.m. at the Moondance Amphitheater in Beaumont Center. Food is available for purchase from food trucks, but you can also bring your picnic and cooler. Well-behaved dogs are also allowed.
Bring a lawn chair or a blanket, and join us for some bluegrass music! Play an instrument? Bring it with you and join us for the jam after the concert!
First show June 2, 2022
6/02/2022 Jim Hurst Bluegrass Band –
6/09/2022 Fast Track
6/16/2022 Blue Eagle Band
6/23/2022 Custom Made Bluegrass
6/30/2022 Wolfpen Branch
7/07/2022 Maddie Murray and Darren Wasson Band
7/14/2022 Hammertowne
7/21/2022 Cane Run Bluegrass
7/28/2022 Alan Bibey & Grasstowne
8/04/2022 Olde Towne Project
8/11/2022 Don Rigsby
8/18/2022 Ida Clare
8/25/2022 New Coon Creek Girls Reunion
9/01/2022 Fenced In
9/8/2022 TBD (reserved for rain date)
Northside Nights at Castlewood Park
Lexington's newest outdoor concert series brings live music to the northside! Bring your lawn chairs and blankets for seating and enjoy a fun evening of great R&B, soul, funk and dance music.
Start time: 7:00 p.m.
May 27 – Honeychild
June 10 – The Positive Movement Band
June 24 – Special Sessions
July 8 – Benny J & Friends
July 22 – Elite 7 Band
Aug. 5 – 1SoundBand
Aug. 19 – The Tim Talbert Project
Sept. 2 – Rhythm & Soul
---
Fridays
What better way to unwind after a long week than at an open-air concert with friends. Especially when the concert is free!
About Summer Nights in Suburbia
Moondance Amphitheater will once again offer a summer concert series featuring genres to include jazz, bluegrass, indie rock, blues and folk, just to name a few. In addition to the live music, there will also be food trucks. Bring your lawn chairs/blankets and come enjoy the music.
Start time: 7 p.m. Gates open 5:30 pm
June 3 – DJ Rice Band
June 17 – Lauren Mink Band
July 1 – Bedford Band
July 15 – Brother Smith
July 29 – Honeychild
August 12 – DeeOhGee
August 26 – NVRMND
---
We are delighted to announce the return of the Levitt AMP Berea Music Series. The 2022 concerts will take place between July and September.
Check out First Friday event info belowl!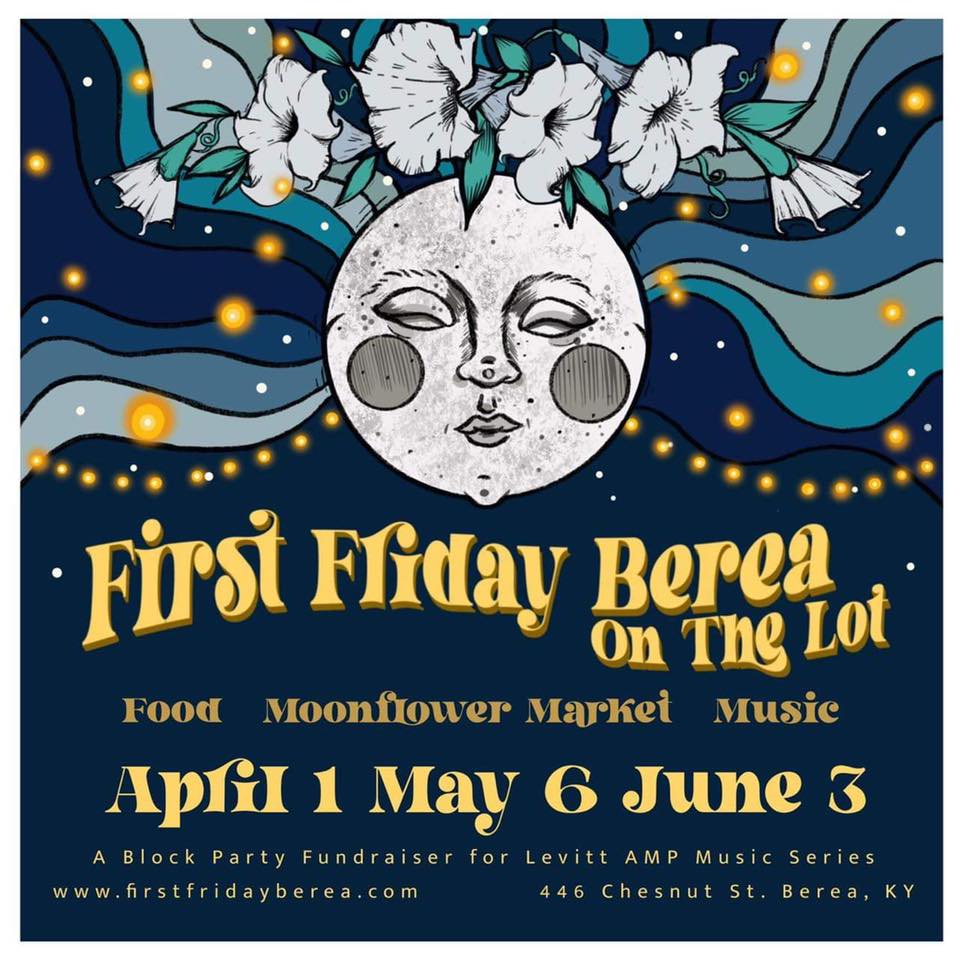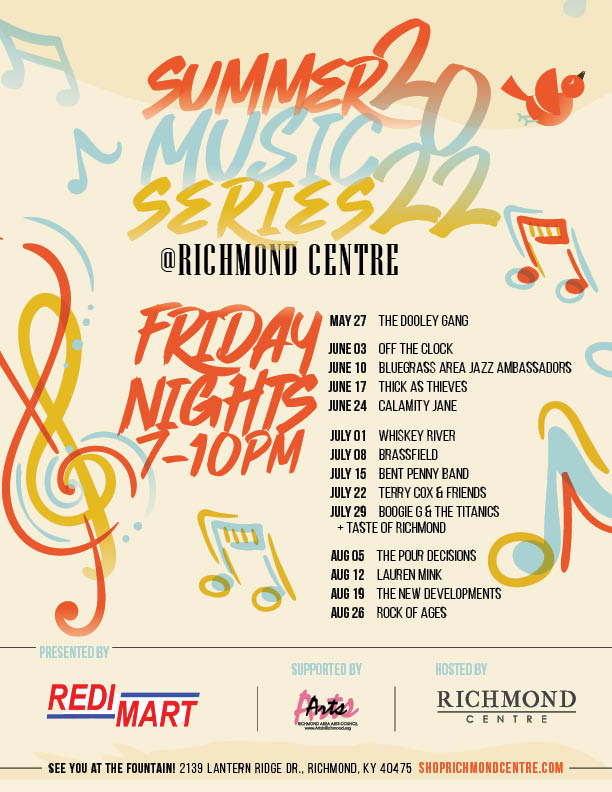 ---
The greatest combination of live music, amazing food and a farm-fresh setting you could ever imagine! Join us for an evening on the lawn between the historic 1839 Trustees' Office and the Shaker Village garden.
Music on the Lawn features live music, outdoor dining, drinks and specialty cocktails around the fire pit.
No admission is required. Music begins at 6:30 p.m.
* Outdoor dining is limited and weather-dependent.
* Seating on the lawn is limited. Please bring your own lawn chair.
* Admission required for tours and exhibits.
*Outside alcoholic beverages are prohibited.
Call 859.734.5411 or email info@shakervillageky.org for more information.
---
Special Festivals!
---
The Great American Brass Band Festival is a FREE, family event held annually in beautiful Danville, Kentucky on the campus of Centre College and downtown Danville. 2022 will be our 32nd festival and every year has been made possible by the generous donations of our sponsors, donors and volunteers.
---
Who's hungry? Crave is back in action this July! An epic festival of food and live music right here in good ol' Lexington, Kentucky. Seriously, y'all; it's epic. There are over 50 food restaurants, chefs, food trucks, craft beer & cocktails, kids stuff, a car show and 13 musical acts performing over two days. Parking is free and it's only 8 bucks to get in. Kids under 10 are free. Located at the Bluegrass Fairgrounds at Masterson Station Park.
---
There will not be a Festival of the Bluegrass in 2022. We know there has been a lot of inquiry and we thank you for your patience. The Covid-19 pandemic has affected individuals and communities in different ways and our personal circumstances are such that we do not have the bandwith to make this event happen.
---