Summer is full of great music events all around Central KY! Many are FREE and great for all ages.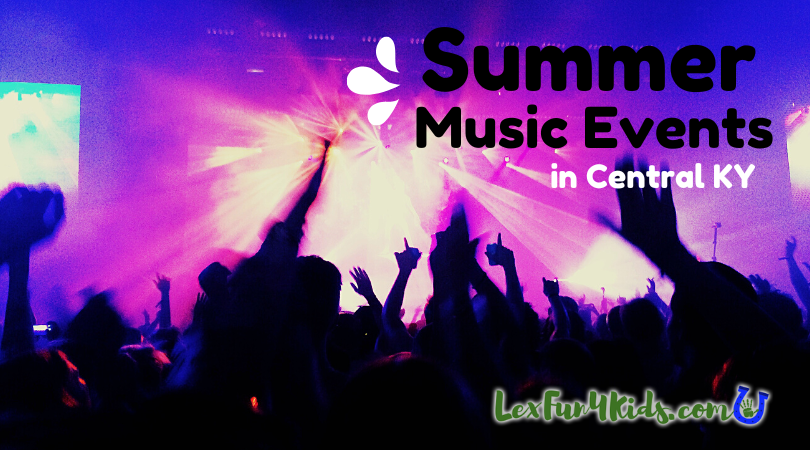 Tuesdays
Big Band and Jazz at Moondance Amphitheater and Ecton Park FREE
The return of spring means the return of one of Lexington's longest-running and most beloved concert series – Big Band & Jazz. With a full schedule of live music planned, concert-goers can enjoy weekly big band or jazz music at Moondance Amphitheater and Ecton Park. Picnics are encouraged and patrons should bring a lawn chair or blanket for seating.
Details
Tuesdays, May 16 – June 27, 2023 at Moondance Amphitheater
Tuesdays, July 11 – Aug. 15, 2023 at Ecton Park
7 – 8:30 p.m.
Free
Moondance Amphitheater Schedule
Moondance Amphitheater​
1152 Monarch St.
Lexington, Ky.
May 16 – The MetroGnomes
May 23 – Young at Heart Big Band
May 30 – Bluegrass Area Jazz Ambassadors
June 6 – Kentucky Jazz Repertory Orchestra
June 13 – Tim Lake and the Blue Jazz Persuaders
June 20 – Brett Evans Trombone Jazz Ensemble
June 27 – Lexington Summer Concert Band
Ecton Park Schedule
Ecton Park
956 Turkey Foot Rd.
Lexington, Ky. ​​​​​​
July 11 – DiMartino/Osland Jazz Orchestra
July 18 – Walnut Street Ramblers
July 25 – Miles Osland Little Big Band with Vince DiMartino
August 1 – Ross Whitaker Quintet
August 8 – Marlin McKay Quartet
August 15 – Osland/Dailiey Jazztet
---
Thursdays
Central Bank Thursday Night Live takes place every Thursday at Fifth Third Bank Pavilion in Tandy Park from 5:00 pm – 8:00 pm for beverages, tasty food, and of course, great music by live bands! April 6, 2023 – October 12, 2023
Apr 27 – Second Hand News
May 4 – Boogie G & the Titanics
May 11 – Ward Hayden & the Outliers
May 18 – Honeychild
May 25 – The Ranahans
Jun 1 – Five Below Band
Jun 8 – Positive Movement Band
Jun 15 – Paul Childers
Jun 22 – The Johnson Brothers
Jun 29 – Vanguard
Jul 6 – Lauren Mink Band
Jul 13 – The BANDj Experience
Jul 20 – Kimberly Carter & Carryin' On
Jul 27 – Nightflyer: the Ultimate Eagles Tribute Band
Aug 3 – 64west
Aug 10 – Tim Talbert Project
Aug 17 – The Twiggenburys
Aug 24 – Kenny Owens & Group Therapy
Aug 31 – Mercy Men
Sep 7 – Hi-5
Sep 14 – Witness Protection
Sep 21 – Canvas
Sep 28 – Rebel Without A Cause
Oct 5 – Mojo Tones
Oct 12 – Rags and Riches
Southland Jamboree is a free Bluegrass Music Concert on Thursday evenings during the summer at 7 p.m. at the Moondance Amphitheater in Beaumont Center. Food is available for purchase from food trucks, but you can also bring your picnic and cooler. Well-behaved dogs are also allowed.
Bring a lawn chair or a blanket, and join us for some bluegrass music! Play an instrument? Bring it with you and join us for the jam after the concert!
5/28/2023
Kickoff at Tahlsound on Southland Drive
6/01/2023
Fast Track
Mr. Gyro
–
6/08/2023
Ida Clare
Porterhouse BBQ
6/15/2023
Wildfire
Griffins
6/22/2023
The Daltons
Hillbilly Hibachi
6/29/2023
Branchwater Kin
Mr. Gyro
7/06/2023
Gibson Davis & Copper Valley
Griffins / Just Chillin Out
7/13/2023
Wolfpen Branch
Porterhouse BBQ
7/20/2023
Dove Creek
Hillbilly Hibachi / Just Chillin Out
7/27/2023
Kentucky Just Us
El Mexiquense
8/03/2023
Rickey Wasson Band
Porterhouse BBQ
8/10/2023
Old Towne Project
Griffins
8/17/2023
Hammertowne
Hillbilly Hibachi
8/24/2023
Fenced In
Porterhouse BBQ
8/31/2023
EKU Bluegrass Band
Hillbilly Hibachi
9/7/2023
possible rain date
Northside Nights at Castlewood Park
Lexington's newest outdoor concert series brings live music to the northside! Bring your lawn chairs and blankets for seating and enjoy a fun evening of great R&B, soul, funk and dance music.
Start time: 7:00 p.m.
---
Fridays
What better way to unwind after a long week than at an open-air concert with friends. Especially when the concert is free!
About Summer Nights in Suburbia
Moondance Amphitheater will once again offer a summer concert series featuring genres to include jazz, bluegrass, indie rock, blues and folk, just to name a few. In addition to the live music, there will also be food trucks. Bring your lawn chairs/blankets and come enjoy the music.
Fridays, May 26 – Sept. 1, 2023
Gates open at 5:30 p.m.
Show: 7 – 9 p.m.
Free
May 26 – The Other Brothers
June 9 – Bedford
June 23 – Run Katie Run
July 7 – The Minks
July 21 – Born Cross Eyed
August 4 – Milenio Salsa Band & The Salsa Center
August 18 – Honeychild
September 1 – Baja Yetis
---
We are delighted to announce the return of the Levitt AMP Berea Music Series.
---
The greatest combination of live music, amazing food and a farm-fresh setting you could ever imagine! Join us for an evening on the lawn between the historic 1839 Trustees' Office and the Shaker Village garden.
Music on the Lawn features live music, outdoor dining, drinks and specialty cocktails around the fire pit.
No admission is required, and music begins at 6:30 p.m.
* Outdoor dining is limited, and weather dependent.
* Seating on the lawn is limited. Please bring your own lawn chair.
* Admission only required if attending tours or indoor exhibits.
*Outside alcoholic beverages are prohibited.
Call 859.734.5411 or email info@shakervillageky.org for more information.
---
Special Festivals!
---
The Great American Brass Band Festival is a FREE, family event held annually in beautiful Danville, Kentucky on the campus of Centre College and downtown Danville. 2022 will be our 32nd festival and every year has been made possible by the generous donations of our sponsors, donors and volunteers.
---
Who's hungry? Crave is back in action this August! An epic festival of food and live music right here in good ol' Lexington, Kentucky. Seriously, y'all; it's epic. There are over 50 food restaurants, chefs, food trucks, craft beer & cocktails, kids stuff, a car show and 13 musical acts performing over two days. Parking is free and it's only 8 bucks to get in. Kids under 10 are free. Located at the Bluegrass Fairgrounds at Masterson Station Park.
---
There will not be a Festival of the Bluegrass in 2023. We know there has been a lot of inquiry and we appreciate the love. In addition, you have likely noticed that we do not maintain the Facebook Page and if you haven't, good for you. We have deactivated comments and private messages on that site. Have an address change, please let us know by visiting www.festivalofthebluegrass.com or emailing roy@festivalofthebluegrass.com or anna@festivalofthebluegrass.com.
---