Enjoy hands-on learning at Safe Haven Farm! Half and full day clinics are available for those ages 12-18. Beginner to advanced welcome. Learn training methods, games, equine science, and more! Each participant will be assigned their own horse! Spots are very limited.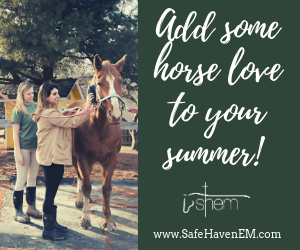 High School Girls Summer camp is a great learning experience for all! The goal of this camp is to allow for connection with other girls, the outdoors, and their horse. Our hope is that each young woman leaves feeling rested, more aware, and empowered to move forward in life! Each camper will be assigned their horse for the week. Camp activities include creative projects, team building games, learning horse basics, caring for their horse, farm chores, ground training with their horse, and riding lessons.
ELIGIBILITY
High School Girls 9-12th grade
AVAILABILITY
July 21-25th
LOCATION
Safe Haven Farm
COST
$350
**DISCLAIMER: Our overnight camps are a true, challenging "camping" experience. Campers will be challenged with long, hot days with a lot of physical activity.  Campers will sleep in the barn every night in a hammock and mosquito net. Adequate rest, privacy, and allotment for personal needs will be provided, however facilities are limited and we consider this part of the experience! Campers will not have access to cell phones and will be encouraged to "simplify" and "rough it" together!