Come join us for exciting, activity filled, brain stimulating, amazing full-day and half-day, weeklong STEM camps throughout the Summer. Newton's Attic offers camps for ages 6-16, with over 50 unique STEM programs. Your child is sure to find something they will love, and with our hands-on, individualized projects and small class sizes, you will love them, too.
Newton's Attic will offer both virtual and in-person camps for summer 2020.  We are working on the schedule and requirements as quickly as possible.  Our expected start date for virtual camps will be June 1 and in-person camps are expected to start on June 15.  There is a lot to work through so we ask for your patience as we make sure that we have the best plan possible to complete a safe summer camp season.  In-person camp slots will be SIGNIFICANTLY LIMITED this year so we recommend registering for those spaces as early as possible once we publish the schedule.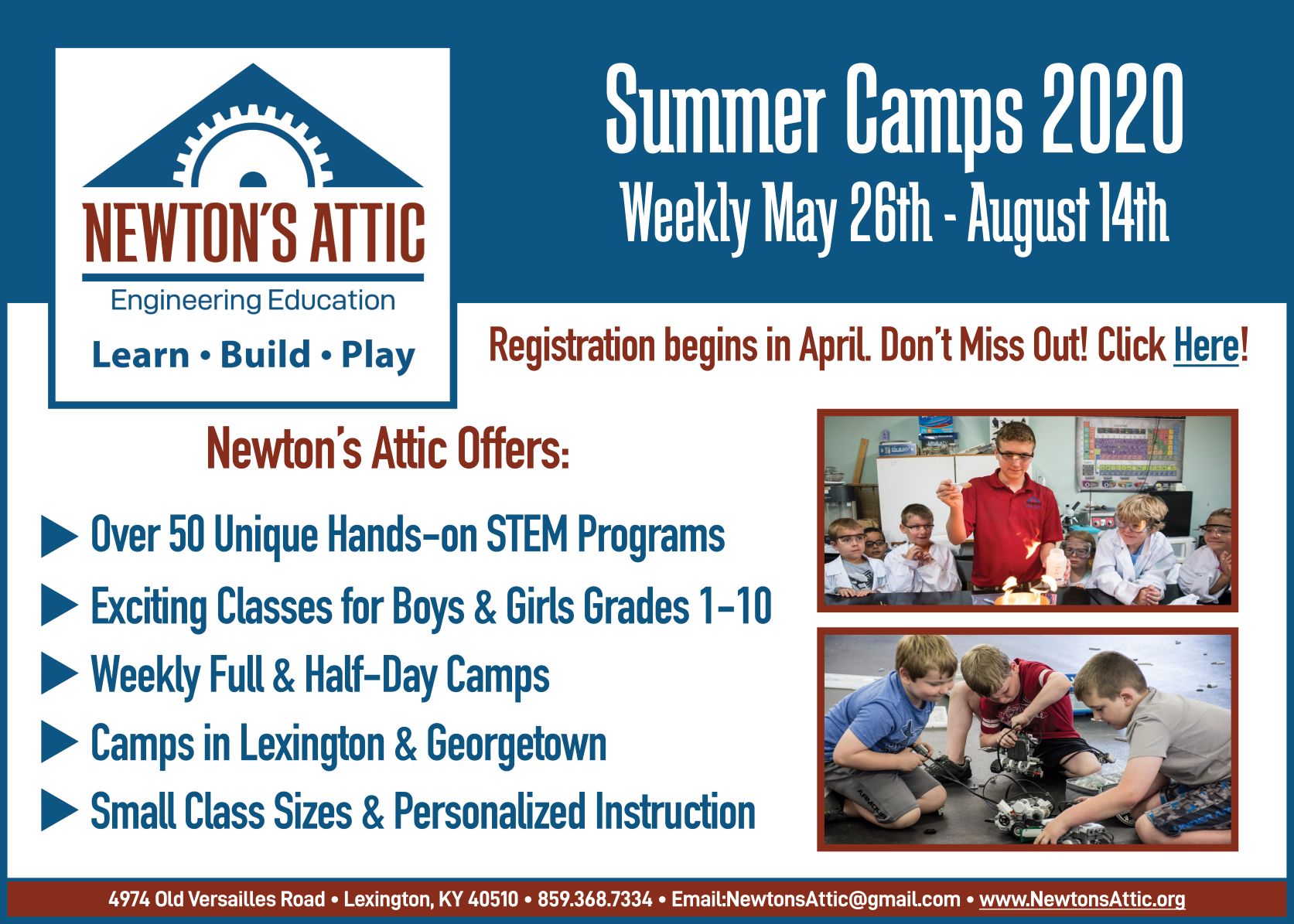 Camps run from May 26th – August 14th, 2020. Here are just a few of the programs we offer:
Robotics, Coding, Chemistry, Engineering, 3D Printing, Nerf Gun Mods and many more. Check us out today!
http://www.NewtonsAttic.org
Phone 859-368-7334

Don't forget about our Birthday Parties for kids of all ages!
We also offer Field Trips, After Schools Programs and Scouting Workshops throughout the school year.
Boys & Girls• Grades 1·12 
Half-and Full-day camps
Weekly May 28th -August 9th, 2020
All camps are only one-week long, Monday-Friday, but most are repeated multiple times throughout the Summer.
Flexible drop-off and pickup times (8:00 am – 5:00 pm) at no extra charge; earlier and later times by request for $5 per 15 minutes per child per day. Most camps are half-day, but two half-day camps are often combined for a full-day camp. Lunchtime supervision provided; bring your own lunch.
Full-day camps: 8:30 am -4:30 pm • Half-day morning: 8:30 am -12:00 pm • Half-day afternoons: 1:00 pm -4:30 pm.
Half-day camps range in price from $195 to $325 per week and full-day camps rom $390 to $495 per week.
Small class sizes and personalized instruction. Shop classes are limited to 8 students per instructor. Most computer classes are limited to 10 students per instructor.
If you find a class full, please register on the wait-list so that we can contact you if space becomes available. We do our best to accommodate wait-list students, who will be given priority if we are able to add another section of the class. We will then be in touch to confirm our ability to register your child.
If any class has not met the minimum of three students required for the class to run by one week prior to the start date, we may cancel the class to free up the instructor and class space for other classes which may have waiting lists. Should this happen, we will inform affected families immediately.
Use the grade your child will be entering next fall to determine age appropriate camps.
There are no classes on Memorial Day, May 27th or July 4th. The prices have been adjusted for the four-day camp week.
Newton's Attic: supplies the computers for all computer-based classes.