D & D Camps offer kids a unique gaming and camp day experience!
During our 1 and 2-week long camps, your young adventurer(s) will learn the basics of gameplay, develop unique characters, solve puzzles and problems, exercise their creativity, and collaborate with fellow players to create a one-of-a-kind story. Each camp caters to specific age ranges. Be sure to check out the details of each and choose the camp(s) best suited for your camper(s).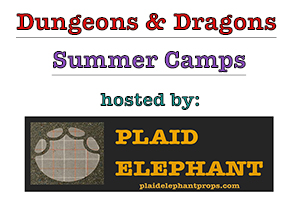 Use code: LexFun at checkout and save 10% on your enrollment costs.
*All camps will be held at the Unitarian Universalist Church of Lexington
3564 Clays Mill Road
Lexington, Ky 40503
*Campers need to bring their own lunch, drinks, and snacks each day.
*Full details of each camp are included in the camp descriptions on the website.
June 3rd-7th, 2019: Little Adventurers (ages 5-7)
June 10th-14th, 2019: Custom Miniature Camp (ages 10-18)
June 17th-21st, 2019: Adventurers Guild (ages 8-11)
June 24th-28th, 2019: Dungeon Master 101 Camp (ages 8-18)
July 8th-12th & July 15th-19th, 2019: Heroes of the Realm (ages 12-14)
July 22-26th & July 29th-Aug. 2nd, 2019: Legendary Heroes (ages 15-18)
To enroll your camper(s), visit:
Contact Mike with any question you have at: