The latest delicious 'gotta have it' treat is a hot chocolate bomb! Are you looking for where to buy hot chocolate bombs in Lexington in Central KY? I have created a list that is growing and growing as more local bakers begin to offer these sweet treats!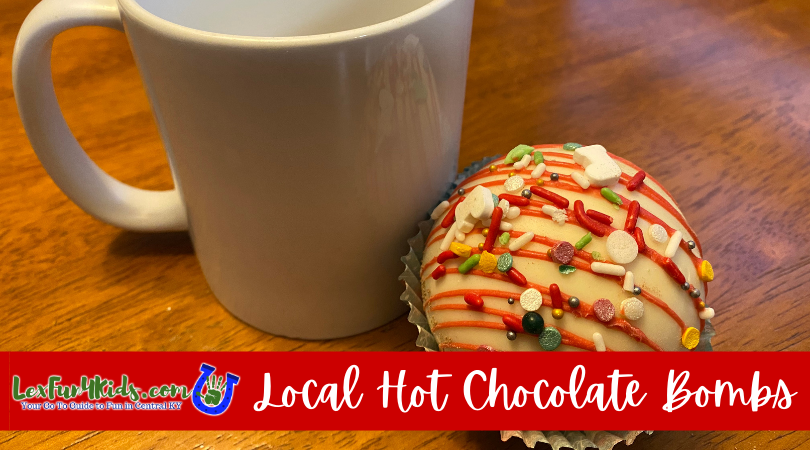 What is a Hot Chocolate Bomb?
Hot chocolate bombs are hollow spheres of chocolate that you place in your mug and pour steamed milk over to melt and release the inside yumminess!! Bombs can be made from white, milk or dark chocolate or even chocolate that is a variety of colors! Inside you can have hot chocolate mix, marshmallows, peppermints, or a variety of candy!
How can I make Hot Chocolate Bombs?
You can purchase items to make these treats at home. There are a variety of videos that show you how on platforms like YouTube or TikTok. Supplies can easily be purchased at local grocery stores but the tricky item to find right now are the silicon molds for the spheres. You can find some on Amazon but many are out of stock. Be watching or order now for perfect winter treats even after the holidays.
You'll need to melt your chocolate in a mold and let that cool. Pop them out of the molds once they are cool, fill one half with your hot cocoa mix, marshmallows and any other fillings then 'seal' two halves from your molds together with more melted chocolate. Then you can be creative with the outside and make drizzles of melted chocolate, sprinkles, or just leave them plain.
Where can I buy them locally?
There are lots of local bakeries as well as home bakers that are offering hot chocolate bombs for the holidays.
Bakeries
Backroads Bakery (Lexington)
Bluegrass & Buttercream (Danville)
Cookies by Charity (Versailles)
Desserts by Rebecca (Georgetown)
Something Sweet Cake Co. (Georgetown)
Home Bakers
Amy's Cakes N Cookies (Lexington)
Brown Sugar Girl (Lexington)
Candy's Confections (Lexington)
The Flour Pot (Lexington)
Kayleigh Adams Cakes and Events (Nicholasville)
Maddie's Cookie Co. (Lexington)
Malika Made Treats (Lexington)
Mystical Sweets (Nicholasville)
New Star South (Versailles)
Red Head Cupcakes (Frankfort)
So Sweet Bakery (Lexington)
Sweet Chocolate Confetti (Lexington)
Sweet Sensations (Lexington)
Wildcat Cookie Company (Nicholasville)
Where can I buy them at box stores or online?
Target
Costco
Numerous Etsy Retailers offer hot chocolate bombs
If you are a local business and you'd like to be added to our list please email lexfun4kids@gmail.com