Enjoy FREE Family Fun this July all around Central KY this month!  More will be added throughout the month so check back frequently!
As always – ALL the fun in Central KY can be found on the Lex Fun 4 Kids Events Calendar!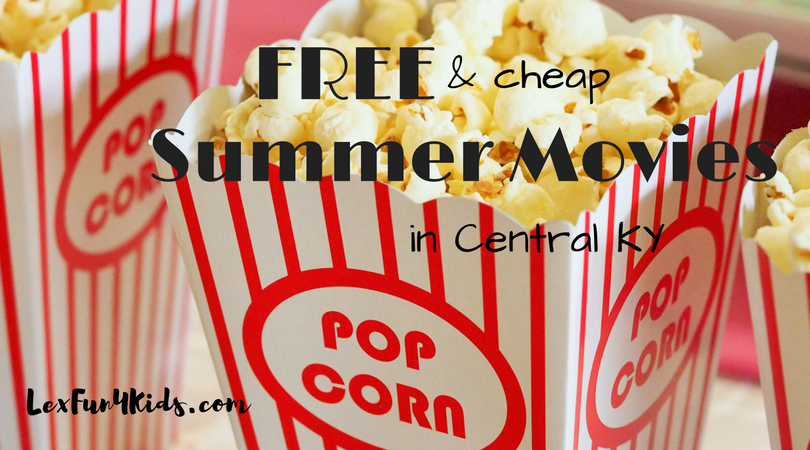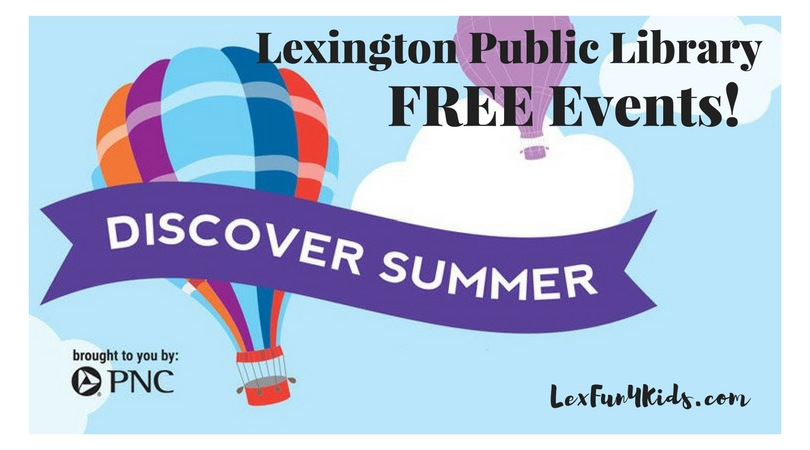 ---
These are my TOP PICKS!!  There are lots more on the Events Calendar!!
*Some events may require advance reservations – click on the event link for more information*
Click HERE for all the 4th of July fun!  Events start July 1st!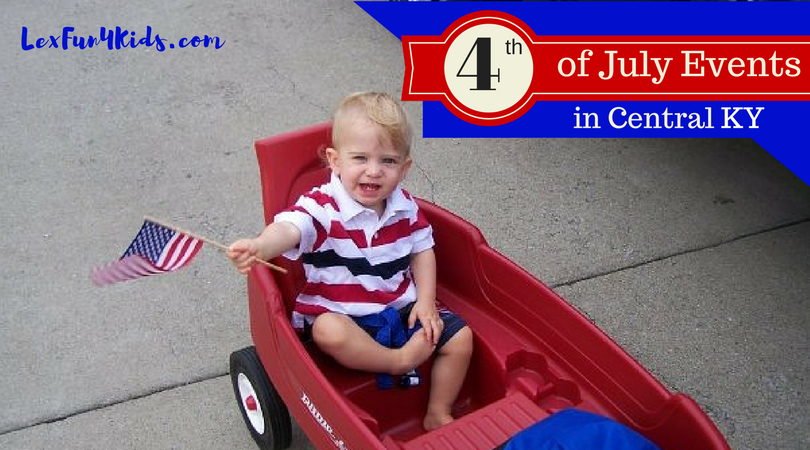 July 1
A Cup of Commonwealth Anniversary Street Fair 7 am – 2:30 pm
Home Depot Kids Workshop "Bug House" 9 am – Noon
Play in the Park – Park Yourself Downtown Event – 10 am
Be Quiet Story Time at Barnes and Noble 11 am
Old Glory Parade and Celebration (Stamping Ground) Noon – 6 pm
July 2
Crossroads Central KY Fireworks at Evans Orchard  7 pm – 10 pm
July 3
Great American Pie Contest and Ice Cream Social  12:00 pm, Fifth Third Bank Pavilion at Cheapside Park
Run/Walk Club at the Kentucky Horse Park 5 pm – 8 pm  ($5 Parking)
Southland Jamboree at Moondance Amphitheater (Held Every Monday Through the Summer)  7 pm
Patriotic Music Concert  8:00 pm,  Morrison Lawn, Transylvania University  *Rain Site, Mitchell Fine Arts Center
July 4
LOTS of special events happening!  CLICK HERE for all the scoop!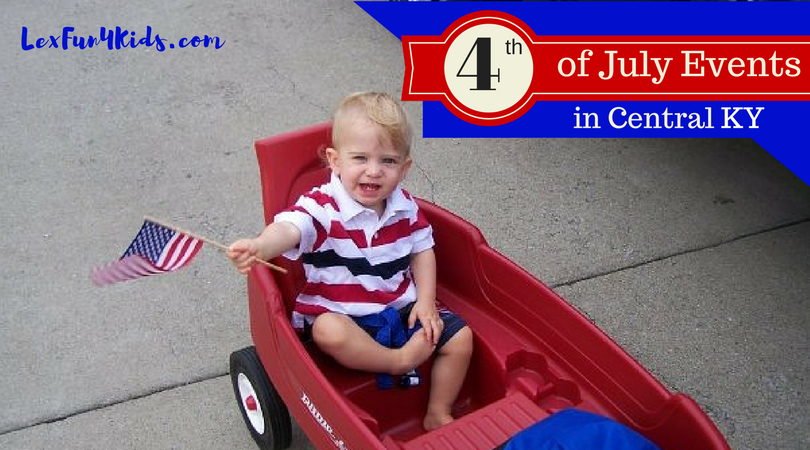 July 5
Summer Movies at Theatres of Georgetown (Storks)  10 am
First Steps Storytime at the Tates Creek Library 10:30 am
July 6
Summer Movies at Theatres of Georgetown (Storks)  10 am
Family Film: BIG HERO 6 at the Lexington Public Library Central Branch  1 pm – 3 pm
Phoenix Park Block Party 2 pm – 6 pm
Central Bank Thursday Night Live at Cheapside Pavilion  5 pm – 8 pm  (Held Every Thursday all Summer!)
July 7
Chevy Youth Baseball Clinic at Whitaker Bank Ballpark 9 am – Noon *Pre register
Snow Cones and More at the Beaumont Library 1 pm
Summer Nights in Suburbia at Moondance Amphitheater  7 pm (Held Every Friday Through the Summer)
Summer Concert Series at Richmond Center 7 pm – 10 pm (Held Every Friday Through the Summer)
July 8
Chevy Youth Baseball Clinic at Whitaker Bank Ballpark 9 am – Noon *Pre register
Park Yourself Downtown Event – 10 am
Sing-A-Long with Beauty and the Beast at Joseph Beth 11 am
Little Excavator Story Time at Barnes & Noble 11 am
Comics 101 at the Beaumont Library 2 pm *Pre register
Creatures of the Night at Raven Run 9 pm
July 9
Explore the Springs at McConnell Springs 2 pm
Water for Life Event at Jacobson Park  2 pm – 5 pm
Lexington Legends Kids Club Sunday 2 pm (Kids Club Members get in FREE)
July 10
Library CSI: Crime Solvers at the Beaumont Library 2 pm – 3 pm
Run/Walk Club at the Kentucky Horse Park 5 pm – 8 pm  ($5 Parking)
Southland Jamboree at Moondance Amphitheater (Held Every Monday Through the Summer)  7 pm
Camp Digital at the Central Library 6:30 pm – 8:30 pm *Pre register
July 11
Cow Apprecation Day at Chick Fil A – Free entree when you dress like a cow – All Day
Camp Digital: Minecraft at the Central Library 11 am
Moana at the Lexington Public Library Central Branch  1 pm – 3 pm
Big Band and Jazz at Ecton Park  7 pm – 8:30 pm  (Held Every Tuesday Night through the Summer)
July 12
Summer Movies at Theatres of Georgetown (Trolls)  10 am
Story Walk at McConnell Springs 11 am
Bags of STEAM Discovery Hour at the Beaumont Library 2 pm –  3 pm
Kids Community Chess Night at Crank & Boom Ice Cream 6:30 – 8 pm
July 13
Summer Movies at Theatres of Georgetown (Trolls)  10 am
Library CSI : Crime Solvers at the Central Library 2 pm *Pre register
The Peanuts Movie at the Lexington Public Library Central Branch  1 pm – 3 pm
Phoenix Park Block Party 2 pm – 6 pm
Central Bank Thursday Night Live at Cheapside Pavilion  5 pm – 8 pm  (Held Every Thursday all Summer!)
Jazz at the Library 7 pm
July 14
Sizzling Summer Event at the KY Children's Garden 10 am – 2 pm
Summer Nights in Suburbia at Moondance Amphitheater  7 pm (Held Every Friday Through the Summer)
Summer Concert Series at Richmond Center 7 pm – 10 pm (Held Every Friday Through the Summer)
Moonlight Movie Night at BCTC in Winchester (Sing)  7 pm
Fountain Films on Friday at Triangle Park (Spaceballs) 9 pm
July 15
FCPS Countdown to Kindergarten Kids  Free Pool Admission (All Day), Water Quality Event (10 – 12am), Ballet (10 – 11:30am) – All Day
Park Yourself Downtown Event – 10 am
Junior Naturalist "A Bug's Life" at McConnell Springs 10 am *Call to register
Pig the Pug Story Time at Barnes & Noble  11 am
Great, Now We Have Barbarians Story Time at Joseph Beth 11 am
Pirate Day! Free Photo Op and Craft at J's Place 11 am
Geoffrey's Day at Toys R Us 1 pm – 3 pm
July 16
Lexington Legends Kids Club Sunday 2 pm (Kids Club Members get in FREE)
July 17
Big Kid Workshop at J's Place 11:30 am
Run/Walk Club at the Kentucky Horse Park 5 pm – 8 pm  ($5 Parking)
Learn to Cartoon with Steve Harpster at the Beaumont Library 6:30 – 8:30 pm
July 18
The Good Dinosaur at the Lexington Public Library Central Branch  1 pm – 3 pm
Kids Art Day at Crank & Boom Ice Cream 5 pm – 8 pm
Big Band and Jazz at Ecton Park  7 pm – 8:30 pm  (Held Every Tuesday Night through the Summer)
July 19
Summer Movies at Theatres of Georgetown (Secret Life of Pets)  10 am
Learn to Cartoon with Steve Harpster at the Central Library 11 am *Pre register
July 20
Summer Movies at Theatres of Georgetown (Secret Life of Pets)  10 am
The BFG at the Lexington Public Library Central Branch  1 pm – 3 pm
Phoenix Park Block Party 2 pm – 6 pm
Central Bank Thursday Night Live at Cheapside Pavilion  5 pm – 8 pm  (Held Every Thursday all Summer!)
July 21
Summer Nights in Suburbia at Moondance Amphitheater  7 pm (Held Every Friday Through the Summer)
Summer Concert Series at Richmond Center 7 pm – 10 pm (Held Every Friday Through the Summer)
Moonlight Movie Night at BCTC in Winchester (Beauty and the Beast)  7 pm
Fountain Films on Friday at Triangle Park (Nightmare Before Christmas) 9 pm
July 22
Park Yourself Downtown Event – 10 am
Meet Clifford the Big Red Dog at Joseph Beth  11 am
What Do You Do With a Problem Story Time at Barnes & Noble 11 am
Revolutionary Kids Day at the Jack Jouett House  Noon – 5 pm
Stargazing at Raven Run 9 pm
July 23
Story Walk at McConnell Springs 2 pm
July 24
Run/Walk Club at the Kentucky Horse Park 5 pm – 8 pm  ($5 Parking)
July 25
Pete's Dragon at the Lexington Public Library Central Branch  1 pm – 3 pm
Big Band and Jazz at Ecton Park  7 pm – 8:30 pm  (Held Every Tuesday Night through the Summer)
July 26
Summer Movies at Theatres of Georgetown (Sing)  10 am
Discover Summer Wrap Up Party  at the Central Library 10 am
July 27
Summer Movies at Theatres of Georgetown (Sing)  10 am
Monsters University at the Lexington Public Library Central Branch  1 pm – 3 pm
Phoenix Park Block Party 2 pm – 6 pm
Central Bank Thursday Night Live at Cheapside Pavilion  5 pm – 8 pm  (Held Every Thursday all Summer!)
July 28
Summer Nights in Suburbia at Moondance Amphitheater  7 pm (Held Every Friday Through the Summer)
Summer Concert Series at Richmond Center 7 pm – 10 pm (Held Every Friday Through the Summer)
Moonlight Movie Night at BCTC in Winchester (LEGO Batman)  7 pm
Fountain Films on Friday at Triangle Park (Happy Gilmore) 9 pm
July 29
Little Explorers "Insect Search" at Raven Run 10 am
Meet Fairies from Pixie Hollow at Joseph Beth  11 am
Storytime in Celebration of Get Pop-Cultured with Barnes & Noble Featuring Good Morning, Superman!, Be A Star, Wonder Woman! and Bedtime for Batman  at Barnes & Noble  11 am
Hats off Day at the KY Horse Park 4 pm – 10 pm
July 30
Lexington Legends Kids Club Sunday 2 pm (Kids Club Members get in FREE)
July 31
Big Kids Workshop at J's Place 11:30 am
Run/Walk Club at the Kentucky Horse Park 5 pm – 8 pm  ($5 Parking)