Home Depot offers great Kid Workshops each month!
(Scroll down for information on upcoming clinics)
These are FREE and everyone is welcome!
Lowe's Build and Grow clinics ARE DISCONTINUED – Lowe's has closed this program.
Home Depot workshops are held all morning from 9 am – Noon.  They are now offering registration online and are suitable for kids 2 and up (With lots of adult help for the younger ones!).  When we attended a workshop they did not check registration so I'm guessing they do that for a guesstimate for supplies.  We got a cute apron and a pin to put on the apron that shows we completed that project.  There were snacks available the day we went.  You may want to set up some 'snack rules' prior to going since many were cookies and sweets.
See Below for information on upcoming clinics!


---
Build a Periscope
March 3, 2018
9 am – Noon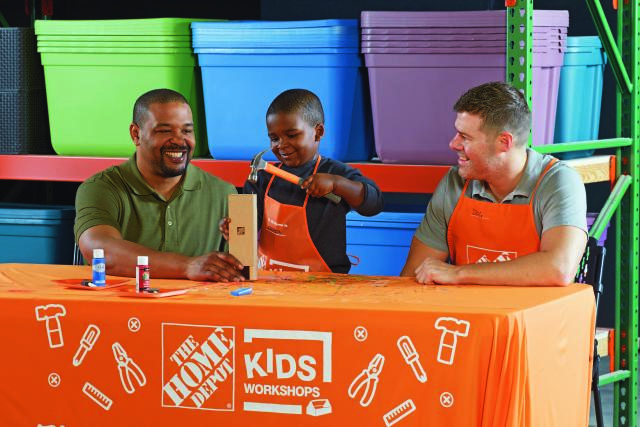 Hone your powers of observation in our hands-on workshop. Just like an above-water viewfinder or historical trench optical instrument, you and your child can construct a periscope to expand your view. Once the periscope is built, your child can decorate it with paint and stickers. All Kids Workshop attendees must be accompanied by a parent or adult at all times. All kids get to keep their craft, receive a FREE certificate of achievement, a Workshop Apron, and a commemorative pin while supplies last. Children must be present at the store to participate in the workshop and receive the kit, apron, and pin.