Lex Fun 4 Kids is your GO TO Guide for Family Fun in Lexington and Central KY!  There are many holiday events planned – be sure to check the FULL HOLIDAY FUN GUIDE for links to Santa Sightings, Nativities, Holiday Performances, and more.
Enjoy some additional special events this season!  If you have an event to add please email lexfun4kids@gmail.com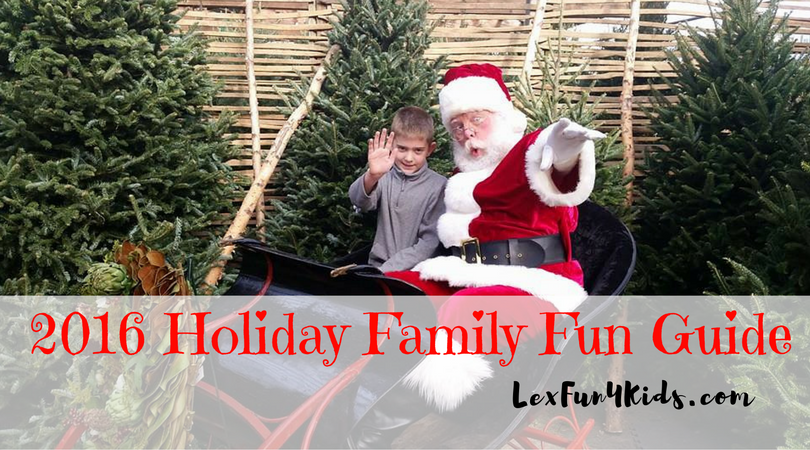 ---
 
November 25 – December 24th, 2016
Disney Store Holiday Wishes
Monday – Saturdays at 7:30 pm
Sundays at 5:00 pm
Join us each night for Disney Store's kiss goodnight and annual holiday family tradition, Holiday Wishes. Share the Magic and make a selfless holiday wish for someone special this season! Monday through Saturday at 7:30 p.m and Sunday at 5:00 p.m.  Enjoy a special presentation and craft!
My Old Kentucky Home State Park, Bardstown
Merry and Bright Victorian Christmas Tours, Nov. 26-Dec. 31
Guides in Victorian hoop skirts and gentleman in tailcoats sing the song "My Old Kentucky Home," on your tour of Kentucky's most famous landmark decorated for Christmas, My Old Kentucky Home! The mansion is adorned and decorated with beautiful 12′ tall Christmas trees, each with a unique Kentucky theme in every room, including the Commonwealth Tree, Meadows in the Bloom, Birds Make Music All the Day, & more! Garlands, mistletoe, stockings full of toys, the annual gingerbread model of the historic mansion made by our pastry chef, and nutcrackers stand guard over the mansion's many rooms! As you move forward to each room, experience a different era of Christmas, starting from colonial times, the early and late Victorian periods, all the way to the roaring 20's when the mansion was last owned by the Rowan family. Admission is $10. Discounts available for seniors, military and groups. Call 502-348-3502.
December 1st, 2016
Jan Brett Author Visit & Book Signing – Gingerbread Christmas
Joseph Beth Booksellers 10 am
December 3 – 4, 2016
Christmas Market at Michler's Greenhouse
Saturday, December 3rd from 11AM-5PM
Sunday, December 4th from 12PM-4PM
December 9 – 10th, 2016
The Polar Express
Sadieville City Hall, 605 Pike Street  6 pm
Georgetown/Scott County Public Library hosts the Polar Express in Sadieville, KY. Children come from all over Scott County to ride the Polar Express and meet Santa Claus. The conductor will take their tickets and they will board the train. A narrator reads the book, "The Polar Express" to all the children on a stationary train in Sadieville. After the trip, the children will meet Santa who gives them a bell, just like the one in the story. For more information please visit http://www.scottpublib.org/ or call 502-863-3566  (Tickets will be given out starting on December 1st at the library and in Sadieville – space is limited)
Fort Boonesborough State Park, Richmond
18th Century Christmas, Dec. 9-10
Visit the fort to see and hear the differences in the holiday celebrations of the season during the early settlement of Kentucky. The fort will be lighted by candlelight, with decorations in keeping with the traditions of the time. There will be living history interpretations of the traditions of various ethnic groups and nationalities during the season. Candle lanterns, bonfires, the Christmas guns, food and refreshments, music and dance, will all add to the atmosphere. Refreshments are included! This is a special program sponsored by the Fort Boonesborough Foundation. Admission is $7 for adults, $5 for children ages 6-12 and ages 5 and under are free. Visit www.fortboonesboroughlivinghistory.org for more information.
White Hall State Historic Site, Richmond
Victorian Christmas, Dec. 2-3, 9-10
The holidays are off to a festive start when you visit White Hall's Victorian Christmas for a Victorian Christmas. Costumed interpreters will be on hand as you stroll through the holiday bedecked rooms and learn about the Christmas customs celebrated today that were first made popular during the Victorian era.  Baked treats and hot apple cider complete this wonderful family event.  Tickets are $10 per person, children aged 5 and under are free.  Child and group rates are available, call the park at 859-623-9178 for more details.
December 9 – 11th, 2016
Ward Hall Candlelight Tours
1782 Frankfort Road
Ward Hall, completed in 1857, is considered one of the nation's finest Greek Revival-style mansions. Ward Hall's center hallway is dominated by a copy of George Peter Ward Hall Open House Southern Lights Stroll – Presented by the KHP Foundation Southern Lights – Presented by the KHP Foundation Raku Pottery Firing The Polar Express to Sadieville Ward Hall Candlelight Tours Alexander Healey's 1860 portrait of Sallie Ward, a celebrated Kentucky belle of her day. Take a candlelight tour from 6-9 p.m. For information visit http://www.wardhall.net
December 10, 2016
Natural Bridge State Resort Park, Slade
The Holidays at Hemlock Lodge, Dec. 10
We've decked the halls of Hemlock Lodge for the holiday season!   Enjoy a day at the park with Santa Claus, meals inspired by holiday traditions, and other activities. Call 606-663-2214.
December 16, 2016
Home Alone Movie Showing
The Lyric Theatre
6 pm FREE
The Preacher's Wife Movie Showing
The Lyric Theatre
8:30 pm FREE