Enjoy FREE Family Fun this August all around Central KY this month!  More will be added throughout the month so check back frequently!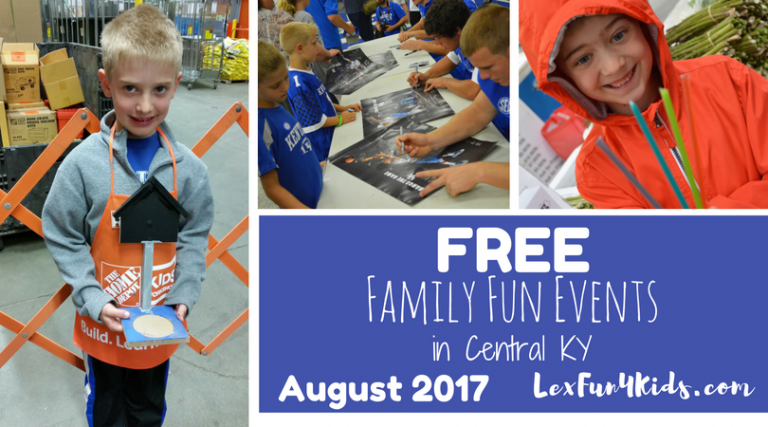 As always – ALL the fun in Central KY can be found on the Lex Fun 4 Kids Events Calendar!

These are my TOP PICKS!!  There are lots more on the Events Calendar!!
*Some events may require advance reservations – click on the event link for more information*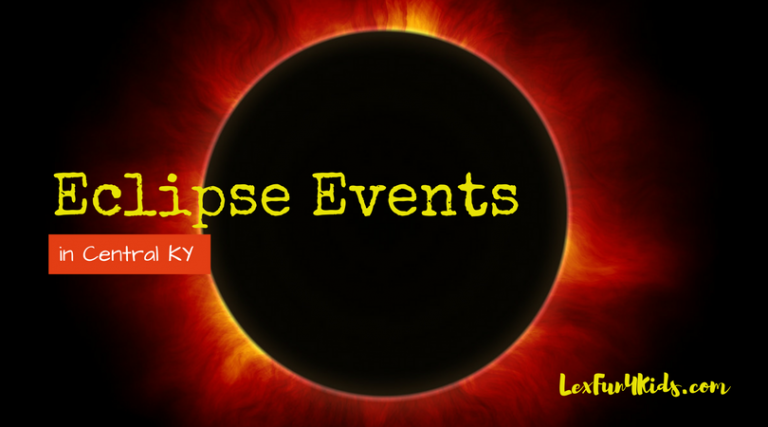 August 1
Toddler Story Time at Joseph Beth Booksellers 10:30 am
Toddler Time (A Bug's Life) at J's Place 11 am – 12:30 pm
Sketchup at the Northside Library 6 pm – 8 pm *Pre registration required
Big Band and Jazz at Ecton Park  7 pm – 8:30 pm  (Held Every Tuesday Night through the Summer)
August 2
Summer Movies at Theatres of Georgetown (Home)  10 am
Lexington Farmer's Market at The Summit 3 pm – 7 pm
August 3
Summer Movies at Theatres of Georgetown (Home)  10 am
Central Bank Thursday Night Live at Cheapside Pavilion  5 pm – 8 pm  (Held Every Thursday all Summer!)
Jazz at the Library 7 pm
August 4
Hunting & Fishing Day Celebration at Salato Wildlife Education Center 11 am – 4 pm
Summer Nights in Suburbia at Moondance Amphitheater  7 pm (Held Every Friday Through the Summer)
Summer Concert Series at Richmond Center 7 pm – 10 pm (Held Every Friday Through the Summer)
Fountain Films on Friday at Triangle Park (Mean Girls) 9 pm
August 5
UK Football Fan Day 9 am – 12:30 pm
Home Depot Kids Workshop (Penske Truck) 9 am – Noon
Back to School Rallies (Free Supplies – Must Register)  Registration 9 am – 11 am, Supplies passed out at Noon
LEGO Lab at the Eastside Library 10 am – Noon
iMovie Basics at the Northside Library 10 am – Noon *Pre registration required
LEGO Play Day at Joseph Beth 11 am
Peterrific and Aqualicious Story Time at Barnes and Noble 11 am
Back to School Carnival at the Lyric Theatre 11 am – 3 pm (Free school supplies, popcorn, games, activities)
Sampling Saturday at Good Foods Co-op 11 am – 2 pm
Back to School Blast at Douglass Pool Noon – 4 pm
Magic School Bus Explores the Eclipse at the Tates Creek Library 2 pm  *Pre registration required
Big Block Party at the Central Library 2 pm – 4 pm
Perseids Meteor Shower Watch at Raven Run 9 pm
August 6
Free Root Beer Float Day at A & W Restaurants
Lexington Area YoYo Club at the Village Branch Library 1 pm – 3 pm
August 7
Big Kids Workshop at J's Place 11:30 am – 12:30 pm
Run/Walk Club at the Kentucky Horse Park 5 pm – 8 pm  ($5 Parking)
Southland Jamboree at Moondance Amphitheater (Held Every Monday Through the Summer)  7 pm
August 8
Fire Safety Festival at Sky Zone Trampoline Park 10 am – 4 pm
Paddington Movie Showing at the Lexington Public Library Central Branch 1 pm
The Solar Eclipse is Coming at the Northside Library 2 pm
Solar Eclipse Science at the Beaumont Library 2:30 pm
3D Modeling with Sketchup at the Northside Library 6 pm – 8 pm *Pre registration required
Big Band and Jazz at Ecton Park  7 pm – 8:30 pm  (Held Every Tuesday Night through the Summer)
August 9
Toddler Story Time at Chick Fil A Hamburg 9 am
Story Walk at McConnell Springs 11 am
Goosebumps Movie Showing at the Lexington Public Library Central Branch 1 pm
Solar Eclipse Science at the Village Branch Library 2 pm – 3 pm
Lexington Farmer's Market at The Summit 3 pm – 7 pm
August 10
Zootopia Movie Showing at the Lexington Public Library Central Branch 1 pm
Solar Eclipse Science at the Eastside Library 2 pm *Pre registration required
Central Bank Thursday Night Live at Cheapside Pavilion  5 pm – 8 pm  (Held Every Thursday all Summer!)
Jazz at the Library 7 pm
August 11
Summer Nights in Suburbia at Moondance Amphitheater  7 pm (Held Every Friday Through the Summer)
Summer Concert Series at Richmond Center 7 pm – 10 pm (Held Every Friday Through the Summer)
Outdoor Movie Night (Ratatouille) at Good Foods Co-op  8 pm
Fountain Films on Friday at Triangle Park (The Mask) 9 pm
August 12
KET Super Saturday 9 am – 3:30 pm *Pre Register Online
Goodnight Lab: A Scientific Parody Story Time at Barnes and Noble 10 am
Pajama Story Time at Joseph Beth 11 am
UK Soccer Fan Day at The Bell 2 pm – 5 pm
Perseids Meteor Shower Watch at Raven Run 9 pm
August 13
Explore the Springs at McConnell Springs 2 pm
Lexington Legends Kids Club Sunday 2 pm (Kids Club Members get in FREE)
August 14
Baby Sensory Time – Blocks at the Central Library 10 am
Big Kids Workshop at J's Place 11:30 am – 12:30 pm
Run/Walk Club at the Kentucky Horse Park 5 pm – 8 pm  ($5 Parking)
Hidden Figures Movie Showing at the Lexington Public Library Central Branch 6:30 pm
Southland Jamboree at Moondance Amphitheater (Held Every Monday Through the Summer)  7 pm
August 15
Star Wars the Force Awakens Movie Showing at the Lexington Public Library Central Branch 1 pm
Kids Art Day at Crank & Boom Ice Cream Lounge 5:30 – 8:30 pm
Big Band and Jazz at Ecton Park  7 pm – 8:30 pm  (Held Every Tuesday Night through the Summer)
August 16
Imagination Station: You've Got Mail at the Central Library 10 am
Lexington Farmer's Market at The Summit 3 pm – 7 pm
Recess at the Village Branch Library 4 pm – 5 pm
Teen Space at the Village Branch Library 5:30 – 6:30 pm
August 17
Preschool Dance Party at the Eastside Library 11 am *Pre registration required
Central Bank Thursday Night Live at Cheapside Pavilion  5 pm – 8 pm  (Held Every Thursday all Summer!)
August 18
Solar Eclipse Drop in Craft at the Central Library 2 pm – 4 pm
Summer Nights in Suburbia at Moondance Amphitheater  7 pm (Held Every Friday Through the Summer)
Summer Concert Series at Richmond Center 7 pm – 10 pm (Held Every Friday Through the Summer)
Fountain Films on Friday at Triangle Park (Anchorman) 9 pm
August 19
Junior Naturalist "Plants" at McConnell Springs 10 am *Call the park to register
Woodland Art Fair 10 am – 6 pm
PSAT Practice Test at the Tates Creek Library 10 am – 4 pm *Pre registration required
Back to School Craftapalooza at Joseph Beth 11 am
Nothing Rhymes with Orange Story Time at Barnes and Noble 11 am
Kids Open Mic with John Crissman at Joseph Beth 2 pm
Solar Eclipse Drop in Craft at the Central Library 2 pm – 4 pm
Stargazing at Raven Run 8:30 pm
August 20
Woodland Art Fair 10 am – 5 pm
Ice Cream Social at McConnell Springs 1 pm – 3 pm
Lexington Legends Kids Club Sunday 2 pm (Kids Club Members get in FREE)
August 21
Solar Eclipse Drop In Viewing at the Beaumont Library 11 am – 2:30 pm
Solar Eclipse Celebration and Viewing at the UK Arboretum 1 pm – 4 pm ($2 suggested donation)
Run/Walk Club at the Kentucky Horse Park 5 pm – 8 pm  ($5 Parking)
Southland Jamboree at Moondance Amphitheater (Held Every Monday Through the Summer)  7 pm
August 22
Big Band and Jazz at Ecton Park  7 pm – 8:30 pm  (Held Every Tuesday Night through the Summer)
August 23
Toddler Story Time at Chick Fil A Hamburg 9 am
Lexington Farmer's Market at The Summit 3 pm – 7 pm
Recess at the Village Branch Library 4 pm – 5 pm
Teen Space at the Village Branch Library 5:30 – 6:30 pm
August 24
Central Bank Thursday Night Live at Cheapside Pavilion  5 pm – 8 pm  (Held Every Thursday all Summer!)
August 25
Friday Family Night at Hamburg Pavilion 5 pm – 8 pm
Summer Nights in Suburbia at Moondance Amphitheater  7 pm (Held Every Friday Through the Summer)
Summer Concert Series at Richmond Center 7 pm – 10 pm (Held Every Friday Through the Summer)
August 26
Little Explorers "Butterflies" at Raven Run 10 am *Register by calling the park
Drop In Craft at the Eastside Library 11 am – 1 pm
How to Get Your Teacher Ready Story Time at Barnes and Noble 11 am
The Case of the Missing Book at Joseph Beth 11 am
Nerf Fest at Toys R Us Noon
Versailles Twilight Festival 3 pm – 9 pm
August 27
Story Walk at McConnell Springs 2 pm
August 28
Run/Walk Club at the Kentucky Horse Park 5 pm – 8 pm  ($5 Parking)
Robocop Movie Showing at the Lexington Public Library Central Branch 6:30 pm
Southland Jamboree at Moondance Amphitheater (Held Every Monday Through the Summer)  7 pm
August 29
Dirty Dancing Movie Showing at the Lexington Public Library Central Branch 6:30 pm
Big Band and Jazz at Ecton Park  7 pm – 8:30 pm  (Held Every Tuesday Night through the Summer)
August 30
Art Start at the Beaumont Library 1:30 pm *Pre registration required
Lexington Farmer's Market at The Summit 3 pm – 7 pm
Recess at the Village Branch Library 4 pm – 5 pm
Teen Space at the Village Branch Library 5:30 – 6:30 pm
Roxanne Movie Showing at the Lexington Public Library Central Branch 6:30 pm
August 31
Central Bank Thursday Night Live at Cheapside Pavilion  5 pm – 8 pm  (Held Every Thursday all Summer!)
Spaceballs Movie Showing at the Lexington Public Library Central Branch 6:30 pm