The list of eclipse activities is growing!  Keep checking back for more updates!  Many offer free glasses but it will probably be while supplies last.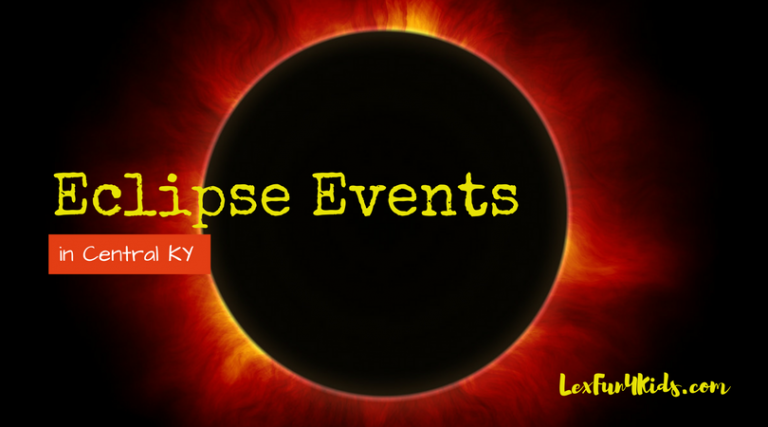 Wednesday, August 9th, 2017
Solar Eclipse Science at the Village Branch Library 2 pm – 3 pm
Thursday, August 17th, 2017
STEAM Club: There Goes the Sun (K – 5) at the Paul Sawyier Library (Frankfort) 4:30 pm, 5:30 pm *Pre register by age group
Eclipse Craft and Lecture at the Hummel Planetarium 4 pm – 6 pm (Middle school and up)
Friday, August 18th, 2017
Solar Eclipse Drop In Craft at the Central Library 2 pm – 4 pm
Solar Eclipse Night, Just for Kids – Hummel Planetarium show & activities 6 pm – 8:00 pm
Saturday, August 19th, 2017
Solar Eclipse Lecture at Hummel Planetarium 12:00 pm & 1:30 pm (Middle school and up, free glasses)
Solar Eclipse Drop In Craft at the Central Library 2 pm – 4 pm
Sunday, August 20th, 2017
Planetarium Shows at the Scott County Public Library 1 pm – 4 pm *Free glasses, first come first serve
Monday, August 21st, 2017
Park in the Dark KY Horse Park Viewing Party (Rolex Stadium)  (9 am -Glasses passed out) 1:30 – 3 pm  During the event, the eclipse will be broadcast on the scoreboard monitor in Rolex Stadium, kids crafts will be held 1:30 – 2:15 p.m., and there will be music and food trucks available. The park will also offer half-price admission for the day allowing guests to enjoy all of the normal schedule of demonstrations and shows in the morning, and shuttles will be available to take guests to and from Rolex Stadium for the viewing party.  In addition to the day's planned special activities, the first 250 park guests will be given free eclipse viewing glasses as part of their park admission, beginning at 9 a.m.
Eclipse Viewing at the EKU Observation Deck (across Kit Carson Drive from the Perkins Building and behind the Granny Richardson Springs One-Room Schoolhouse)  12:30 – 4 pm
Eclipse Day Celebration at The Living Arts and Science Center 1 pm – 4 pm (Free glasses for the first 300)
Solar Eclipse Celebration at the UK Arboretum  1 pm – 4 pm
Lexington Parks and Recreation Viewing Parties at McConnell Springs, Raven Run, and Thoroughbred Park 1 pm – 4 pm *Glasses provided
Solar Eclipse Drop In Viewing at the Beaumont Library 11:00 am – 2:30 pm
Live Stream Viewing at the Jessamine County Public Library  1 pm – 3 pm (Through the Eyes of NASA, with unprecedented live video of the celestial event. Viewers around the world will be provided a wealth of images captured before, during, and after the eclipse by 11 spacecraft, at least three NASA aircraft, more than 50 high-altitude balloons, and the astronauts aboard the International Space Station – each offering a unique vantage point for the celestial event)
Eclipse Craft and Safety Viewing Info at the Scott County Public Library – All Day
NASA Live Stream at the Paul Sawyier Library in Frankfort – Times TBD but should be around 1 pm – 4 pm
Kentucky State Parks have lots of events planned at locations near or in the path of totality.  CLICK HERE