Two hundred forty three years ago Lexington and the surrounding Bluegrass was a woodland paradise for pioneers seeking freedom and land of their own. William McConnell and a group of explorers were camping down by the Springs when word came of the Battle of Lexington and the start of the Revolutionary War. In honor of that event, the explorers decided to name our community Lexington, and did so in 1779 when the town was founded.
Enjoy celebrating Lexington's history at the Annual McConnell Springs FREE Founders' Day event!
Review
My son and I went out for the 2017 event and we had such a fun time exploring all the events going on!  He loved the tomahawk throw, got the chance to shoot with a bow and arrow, played games, saw great artifacts and crafts and enjoyed seeing various 'camps' set up recreating what life was like in the late 1700s.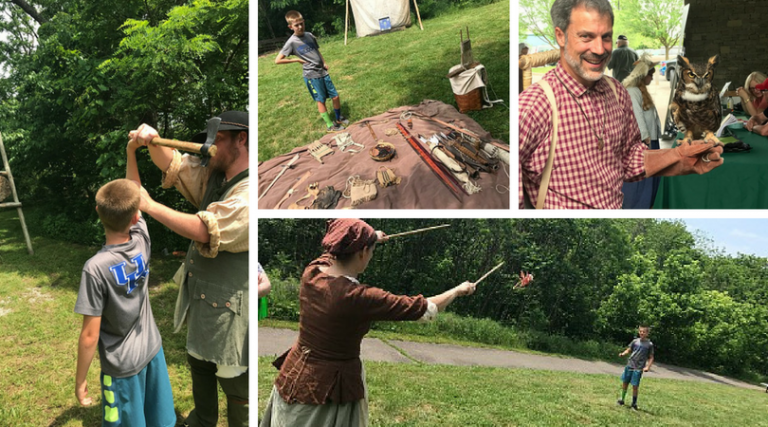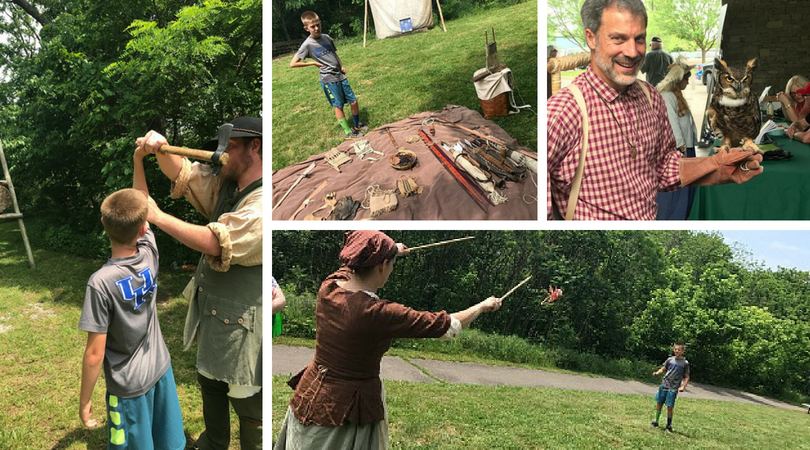 When you arrive there are activities in the visitor's center, music, food for purchase and even more just at the front of the center.  As you walk through McConnell Springs you'll see 'camps' set up that are showing how life was like in the 1700s.  You can see and touch goods that are recreations of items they would have made and used during their time as pioneers exploring and building their lives in Central KY.
There are games to try and even a bow and arrow and tomahawk throw.  My son spent much of his time there!  It's a great way to experience history right here locally!  You can stay for just a little or spend the day.  There are picnic tables you can use if you choose to pack a lunch.  Parking and admission is FREE!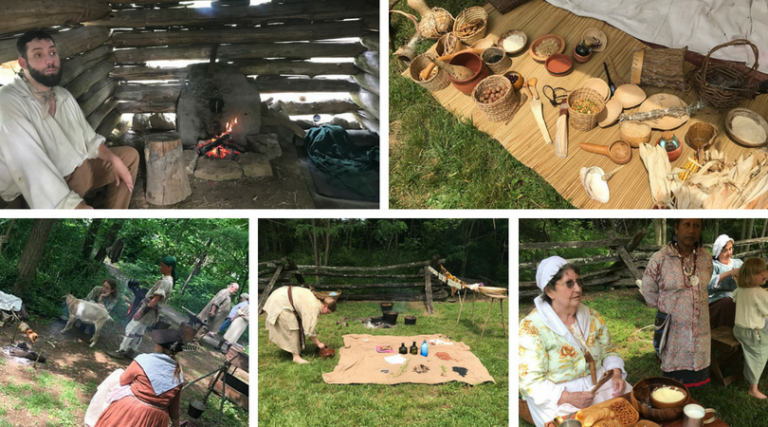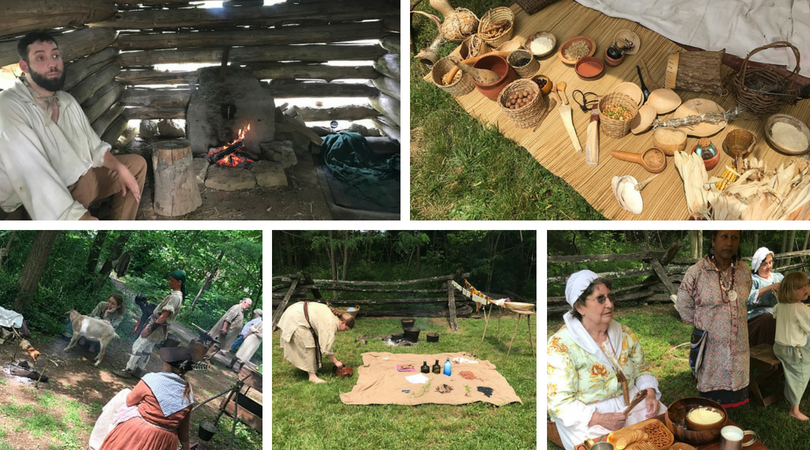 2018
With Spring comes our 24th annual Founders' Day celebration at Lexington's McConnell Springs on Saturday, May 19, 2018.
Experience frontier life of 1775 for yourself!  Founders' Day is held from 10 a.m. to 4 p.m. There will be traditional musical entertainment; guided tours of the park's 26 acres of woodland trails; colonial crafts such as woodworking, quilt making, weaving & gunsmithing.  Exhibits of colonial tools & Indian artifacts. Demonstrations of pioneer cooking and blacksmithing. And a special frontier living history area around our primitive log cabin.  Children's activities include bow and arrow, tomahawk throw, pioneer kids toys & games.  This is a FREE family event, come spend the day! Lunch cooked onsite by the Friends of McConnell Springs as a special fundraiser for park events. This is a rain or shine event; sunscreen, rain gear and insect repellent may be needed.  Visitors taking guided tours are encouraged to wear hiking shoes.
Time Travel to 1775 Visit Founders' Day May 19
Main Stage
10:00 Bagpipe & Drum Corps / Kentucky Frontier Folk parade / Opening
10:30 Moira Levant – Traditional Irish Fiddler
11:00 Traditional KY Folk Songs – Robert Tincher
12:00 Stories from Early Kentucky Life – Eddie Price / Bob Thompson
1:00 Si Bheag, Si Mhor – Scots-Irish Ballads & Love Songs – Jonathan Hagee – Colonial Balladeer – Moira Levant – Traditional Irish Fiddler
2:00 Fred Keams – Native American Indian Flute
3:00 Jake Book – Early American Musical Tapestry
Amphitheater & Concurrent Programs
11:00 – 3:00 Winchester Dulcimer Group – Strings of Friendship Tent – by pond
12:00 – 3:00 Moira Levant – Roving Fiddler
10:30 – 4:00 Various Frontier Life demonstrations (cabin & meadow)
11:00 – 3:00 Traditional Music in the Exhibit Room
10:30 – 10:55 Frontier Folk talk – Pioneer Gear (Clothing, Gear & Weapons)
11:00 – 11:45 John Kiefer – Geology Tour
11:15 – 11:45 Building of the Log Cabin at McConnell Springs (at the cabin)
1:00 – 1:30 Jerry McClure – Native American Indian Storyteller
2:00 – 2:45 John Kiefer – Geology Tour
2:45 – 3:00 Kentucky Flintlock Longrifle demonstration
3:00 – 3:45 Frontier Life at the Founding of Lexington (at the log cabin)
Scheduled times and presentations may change before May 19.