It's SNOW DAY TIME!!!
Be watching this page for updates on current deals.  I try to update the page the day before or the day of and add deals as they are announced so be watching and checking back frequently.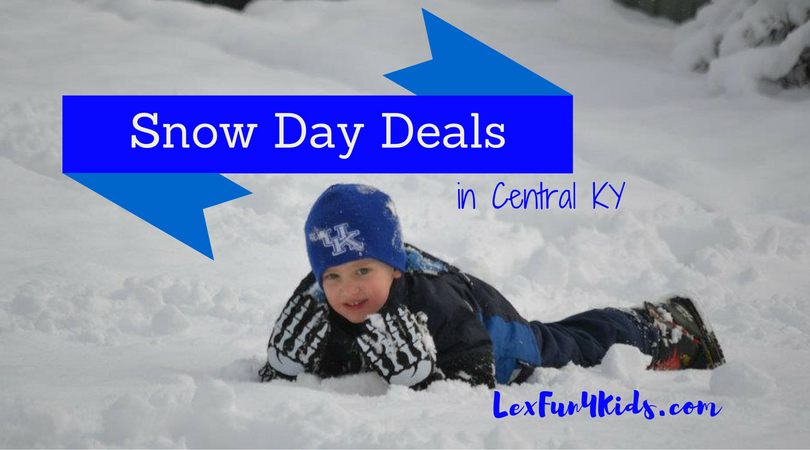 Be safe!  Please don't travel if conditions are unsafe.
Please note some locations may close, open at a later time, or open then close early.  Call ahead or check their Facebook, website, or Twitter for updates.
*I'll confirm any deals for the current date ASAP!  Remember, many towns have some of these places outside of Lexington – some even IN Lexington honor their deals for families coming in from out of town when school is cancelled in your district!!  Call ahead to find out if they'll still honor the deal when YOUR county is out and Fayette isn't.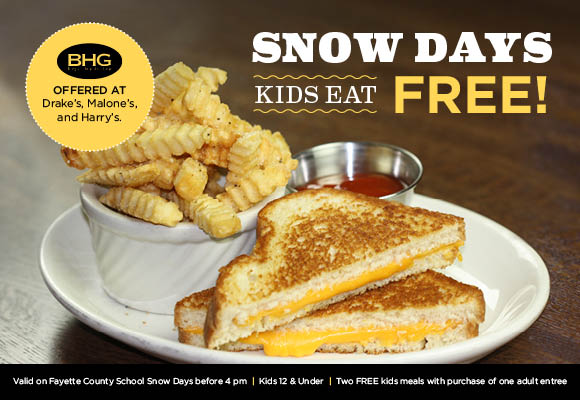 2017 
Amerisport always has $5/hr drop off/in open gym ($25 max per day)
Sutton's – Free Kids Meal w/adult meal purchase on FCPS Snow Days
Malone's, Harry's and Drake's – Free Kids Meal on FCPS Snow Days before 4pm. Valid for kids 12 & under, two free kids meals with the purchase of one adult entrée.
Newk's – 99 Cent kids meal w/adult meal purchase
Saul Good Restaurant and Pub – 1/2 price food from 11:30 am – 3 pm at all locations (Usually excludes kids meals so we just grab a big pizza and salad!)
Smashing Tomato – $1.99 Kids Meals (Pizza and drink)
Texas Roadhouse – Kids eat for 99 cents w/adult meal purchase, 11 am – 4 pm…BOTH locations!!! (Offer is good for kids 12 and under, dine in only and excludes Ranger Meals)
Explorium and the YMCA usually offer snow day programming.  Check their website or Facebook for more information.
---
 School's Out Programs