There are some great things you can enjoy with kids for FREE indoors in Lexington and Central KY!  Check out these great ideas for ways to have some family fun indoors!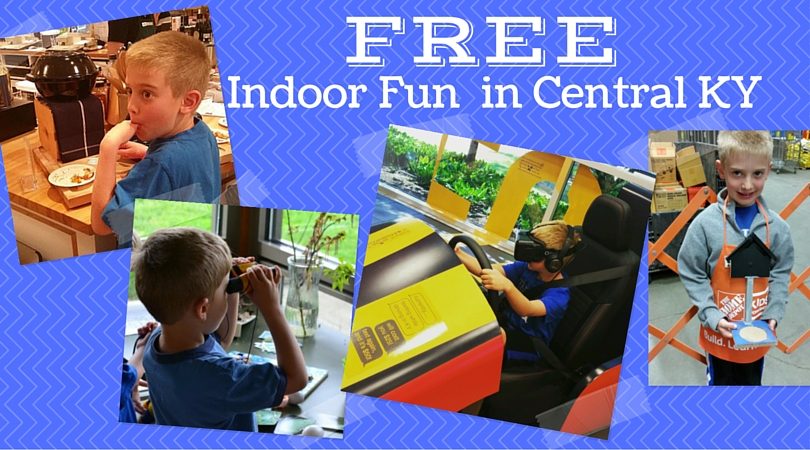 Explore the UK Art Museum or the 21c Museum Hotel's art exhibit
Check out Lowe's – they offer free kids' workshops each month plus my kids love to hop on the riding mowers, play in the showers, and even put on a cooking demo in the display kitchens.
Go visit the pet store.
Enjoy an event at a local bookstore or library
Tour Toyota in Georgetown, Old KY Chocolates in Lexington, Boone Creek Creamery in Lexington, or Ale 8 One in Winchester (Plus many more!)
Check out a UK Swimming and Diving meet
Attend a Family Fun and Learning Night at the Carnegie Center
Tour the Kentucky State Capitol building in Frankfort
Hop in the car and cross the Kentucky River on the Valley View Ferry or stop by an area construction site to watch.
Go volunteer!  Many places in town offer ways to give back with kids.
Try a free Junior Chef cooking class at Williams Sonoma.
Enjoy the nature center at McConnell Springs, Raven Run or the Arboretum
Enjoy exploring at Cabela's.  It's an outdoor (fishing/hunting/etc) store.  There is a cool display in the back with taxidermized animals.  You can also enjoy learning about all the animals through narrated videos and hear their calls using the interactive screen at the display.
Special Events!
Hats off Day  (Explore the indoor KY Horse Park museums and exhibits!  Held each summer.)
Explorium   (FREE on New Year's Day for the whole family and on MLK Jr. day for kids)
For $6 or less
Make plans to attend the Kentucky Sport Boat and Recreation Show at Lexington Center – Zip line across Rupp (min. 70 lbs), go fishing, ride a pony, and hop on all the boats, rvs, 4 wheelers and more!
Stop by all the animals and indoor exhibits at Salato Wildlife Center.  The bird blind is a wonderful spot to relax!  You can head outside for a few then back inside to their nature center.  Outdoor exhibits are a short walk from the nature center so if there's a break in the rain, you get too hot or cold you can head back inside!  (Open March – November)
Visit the Hummel Planetarium in Richmond at EKU (Adults $6, Kids 4 – 17 $4, Kids under 3 FREE)
Tour the Aviation Museum of Kentucky (Adults $10, Children (0-5 years) Free, Children/Youth (6-16 years) – $6.00)
Check out a UK Gymnastics Meet, Women's Basketball Game, or Volleyball Match 
Enjoy a movie deal – many have freebies or special prices for certain shows