21c Museum Hotel recently opened in downtown Lexington and offers a great Kids Exploration Package.  Our family recently stayed and we have a review of all the fun!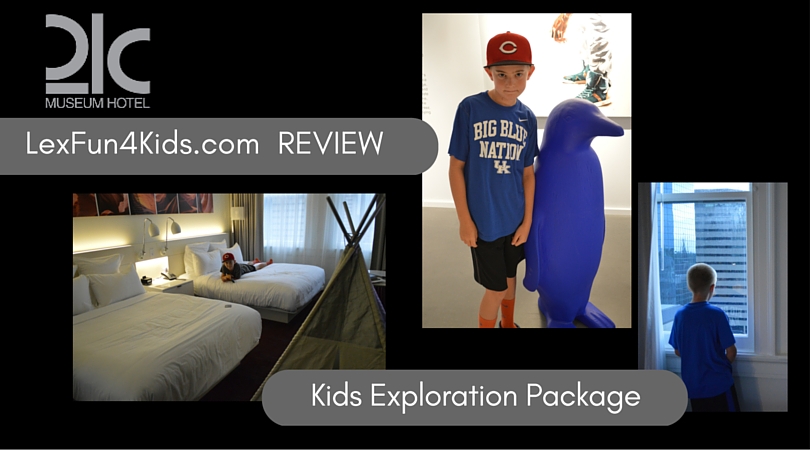 Lexington is a great place to live, work and play!  Myself, my husband and my boys were all born right here in Lexington and we have grown up enjoying all the city has to offer.
There are great places to explore right here in the city and 21c is one new one we recently checked out.  We don't have any big summer vacation plans so a 'staycation' was a great idea.  We planned our stay for a Thursday night so we could enjoy the fun of Thursday Night Live happening just across the street from the hotel.   TNL runs from April until October each year and features live music as well as food and drink vendors.
The hotel was great to send out info prior to our stay.  We received a few reminder emails about the special Kids Exploration Package we chose.  This package features a room with two queen size beds, a small tent for the kids to hang out in while you're in the room, milk and cookies delivered to the room in the evening, a Kids iSpy Scavenger Hunt paper for the hotel, and 2 tickets to the Explorium (our local 'children's museum') that is located just a few blocks away.
We knew we were staying downtown on a weeknight and parking would be tricky so we decided to have the hotel valet our car.  The kids thought that was awesome when we pulled up, they welcomed us, helped us out of the car then the staff opened the doors for us as we entered.  Pretty cool for some kiddos who haven't spent much time in 'fancy' hotels.  It was $20 and well worth the ease of pulling right up and walking in then right back out in the morning.
We checked in with ease and learned about how the hotel and museum is laid out.  21c Museum Hotels feature art museums right inside their hotels and they are free and open to the public.  There are multiple galleries to explore and they even offer free docent guided events on certain days.  For the current events schedule CLICK HERE.   We headed up to our room and got to see more art just outside the elevators on each floor.  For information on the current exhibit at the hotel CLICK HERE.
When we arrived on our floor it was great to see the original features of the building that 21c took over.  The First National Building is 103 years old and is on the register of historical places.  After a $40 million renovation the building was transformed but still has some of the features of the past.  You can still see the original mail slot and tile work on each floor.  We wanted to learn more about the building once we were there.  It would be great for the hotel to include a packet with some old photos of the building from decades ago.  Kentucky.com has some in their archive you can find more information on the hotel's start in Lexington here.  A great photo from 1938 shows the building along with shops around it.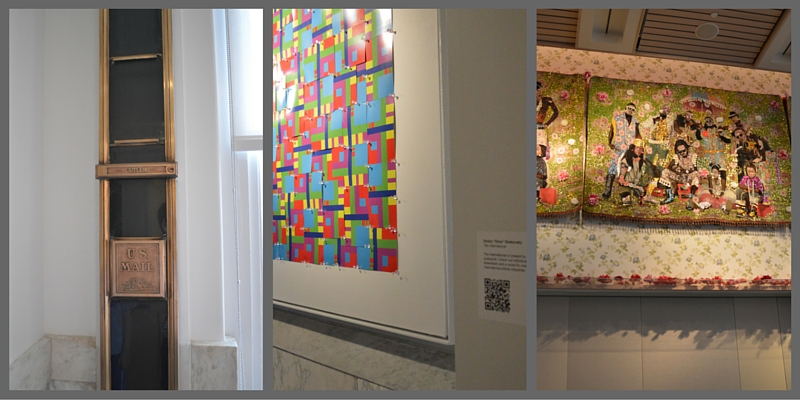 We loved the view from our room on the 11th floor.  We could see the work on the old courthouse, the people gathered at Thursday Night Live, the big 5/3 ''Blue" building and more.   Our room also featured art work on the wall.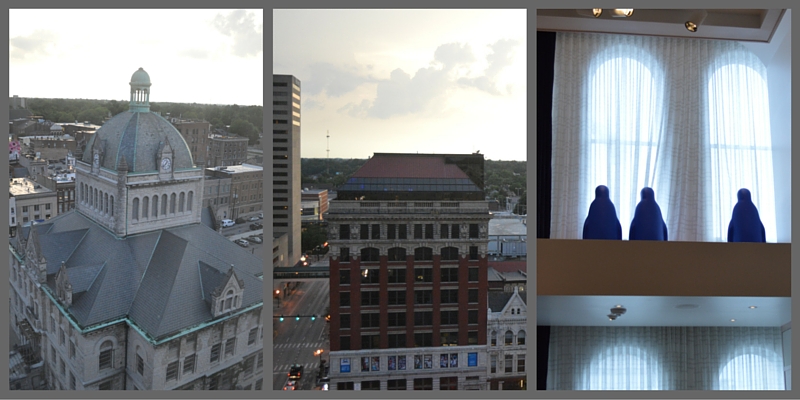 After we dropped our bags and checked out the sleek bathroom and fun tent set up in the room we headed down to Thursday Night Live.  We enjoyed live music and food for a while then headed back to our hotel for our milk and cookies.
We had our milk and cookies waiting for us when we got back from TNL and they were still warm.  My youngest told me it was the best chocolate chip cookie he had ever had.  It was pretty darn good.  They didn't last long enough for me to get a good photo!  They also had turn down service with dark chocolate.  I had to explain the rules of the mini bar to the kids as well.  It was fully stocked with snacks and drinks available for purchase and they also had complimentary water bottles and tea/coffee.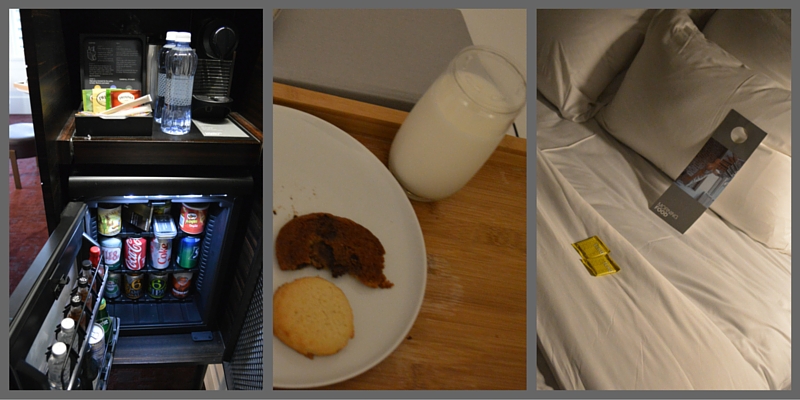 The kids loved taking a big bubble bath and using the special Malin+Goetz Peppermint Shampoo and Cilantro Conditioner.   We took a few last looks out at the Lexington downtown scene at dark and watched the cars and people out in the downtown streets.  It was a great way to enjoy our city from a new perspective!
We settled in to bed and the kids went right to sleep.  I could still hear the noise from the downtown bars until well after midnight.  If you're a light sleeper or your kids are you may want to request a room that doesn't face the 5/3 pavilion if it's a time when the bars will be open.  Since it's summer the bars had their doors all open and the music could easily carry.  I was able to sing along with Chris Stapleton a little after midnight.
We didn't try any room service but information is available online.  You can also check out the Lockbox restaurant for breakfast, lunch or dinner.  The name Lockbox was chosen since the building was originally a bank and the bank vault is still inside the hotel.  You can make a special reservation for a meal right in the original safe!
We did wander the hotel more in the morning.  We checked out the art galleries and of course the famous blue penguins perched throughout the building.  The kids had fun counting how many they could find as part of their iSpy Scavenger Hunt included in the Kids Exploration Package.  We stopped in the gift shop to see a few of the items there and of course count more penguins.  There are little penguins you can purchase to take home too!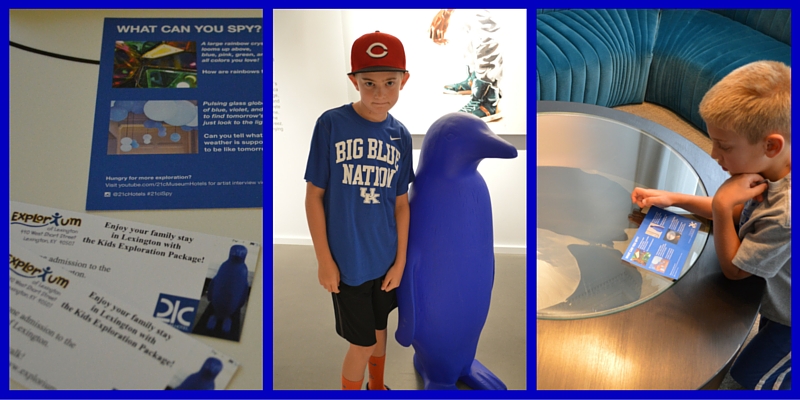 The Explorium tickets don't have an expiration date so we decided to save those for another day.  We'll get to head back downtown for more fun!
We had a great Lexington 'staycation' and my kids and I both really enjoyed staying downtown!  It was also a nice treat to stay in a 'fancy' hotel for something special.  If you have family coming to town, are visiting Lexington with kids, or want to enjoy a 'staycation' like us check out the 21c Kids Exploration Package.
For more information on 21c Lexington CLICK HERE