If your family needs to apply for free and reduced lunch benefits in Fayette County Public Schools you must go ONLINE and sign up.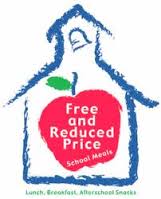 The 2022-23 school year applications for a student's free/reduced eligibility are available online. Even if you are in a CEP School where all students receive free lunch your information is still needed!
---
2022 Info
Elementary: Athens-Chilesburg, Brenda Cowan, Cassidy, Clays Mill, Garrett Morgan, Maxwell, Rosa Parks, Stonewall, Veterans Park, and Wellington
Middle: Beaumont, Edythe J. Hayes, Jessie Clark, and SCAPA at Bluegrass
High: Henry Clay, Lafayette, and Paul Laurence Dunbar
Other programs: STEAM Academy
Find your household size in the chart below. If your income is less than that listed for your household size, your children might qualify for meal benefits and you should continue to the next set of instructions.
If you received a "directly certified" (DC) letter stating that a child is a DC student — receiving free meals for 2022-23 — then you do NOT need to complete an application. However, you must inform Programs Assistant Jessica Morgison if any children in the household currently attending FCPS are not listed in the letter.
What is a DC student? Students may be directly certified (DC) when they receive certain federal benefits, including Supplemental Nutrition Assistance Program (SNAP) and the Kentucky Transitional Assistance Program (K-TAP). Students whom the district identifies as homeless, Head Start, migrant, or runaways are also considered DC. Some foster children and some children receiving Medicaid may also qualify as DC.
If your family did NOT receive a DC letter, then income eligibility or other categorical requirements are in effect, and a parent/guardian should complete the meal application below.
Families must reapply each school year. The district will notify you when the application has been processed.
Students who do not qualify will pay full price for breakfast and lunch.
---
CEP Schools for 2022 – 2023
In these schools ALL students receive free lunch but your information is still needed! Please complete the form online to be counted so schools have an accurate count of needs.
All students enrolled in CEP schools will receive breakfast and lunch at no cost throughout this school year. However, it is still important for families to complete an application for non-meal related benefits associated with student free/reduced data. CEP schools call this the Educational Benefits Form. Filling it out helps both the student's family and the schools.
Elementary: Arlington, Ashland, Booker T. Washington, Breckinridge, Cardinal Valley, Coventry Oak, Deep Springs, Dixie, Garden Springs, Glendover, Harrison, James Lane Allen, Julius Marks, Lansdowne, Liberty, Mary Todd, Meadowthorpe, Millcreek, Northern, Picadome, Russell Cave, Sandersville, Southern, Squires, Tates Creek, William Wells Brown, and Yates
Middle: Bryan Station, Crawford, Leestown, Lexington Traditional Magnet, Morton, Southern, Tates Creek, and Winburn
High: Bryan Station, Frederick Douglass, and Tates Creek
Other programs: Audrey Grevious Center, Carter G. Woodson Academy, Carter G Woodson Preparatory Academy, Family Care Center, Fayette County Preschool Center, Martin Luther King Jr. Academy, Opportunity Middle College, Rise STEM Academy for Girls, Success Academy, The Learning Center, and The Stables
---
There are even more great resources available on Lex Fun 4 Kids!