Check out all the scoop on EnterTRAINment Junction, in Cincinnati!   It's a great family fun spot for kids and adults.  Recently, one of my Lex Fun Friends recently went on a visit with her son and has a great review so you can plan your next trip!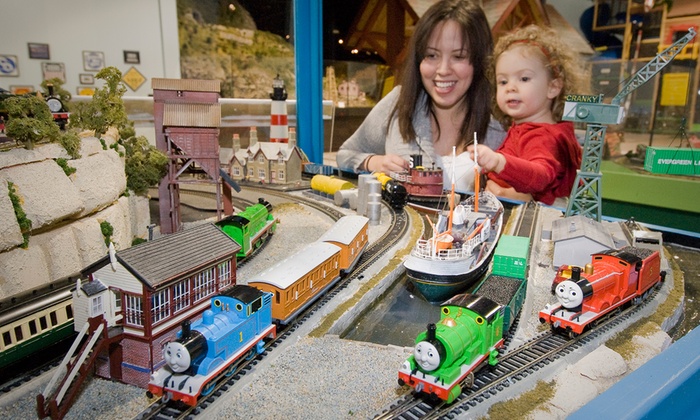 Hours and Info
Entertrainment Junction has a variety of ticketing options including a Do-It-All ticket.  They offer specials throughout the year.  For info on specials and current tickets click HERE.
80,000 square feet of unmatched family fun featuring two world class attractions.
Hours of Operation*
10am – 6pm: Monday – Saturday
12pm – 6pm: Sunday
Closed for Maintenance!  Wednesday, January 6,13,20,27.
*Closed on Easter, Thanksgiving, Christmas Day and 1/6, 1/13, 1/20, 1/27/21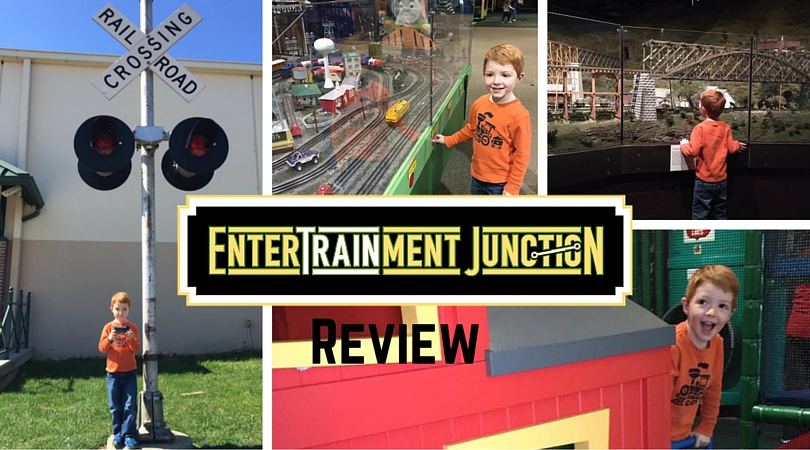 EnterTRAINment Junction is 80,000 Square feet of unmatched family fun featuring two world class attractions.  At EnterTRAINment Junction, you can Marvel at the world's largest indoor train display (that's 25,000 sq. ft. of model trains on an enormous train layout), slide, climb and crawl in a spectacular children's play area, discover at the imaginative railroading museum, and from Memorial Day thru Labor Day you can engineer your own locomotive around a track in a hand-cranked railroad car or ride our narrow gauge train ride.  Also, guests can enjoy the greatest funhouse on earth.  It's like an theme park and it's all indoors!
They were voted Ohio's Best Family Entertainment Center and are fast becoming THE Cincinnati Train Display and one of many fun things to do in Cincinnati and Dayton, and one of the premiere attractions in Southwestern Ohio.
You can see the world's largest indoor train display with an area of over half a football field and includes over 2 miles of track, 90 G-scale locomotives and 1000 cars, the railroad museum that shows how trains shaped the growth of the US, and our kid's play area every day we are open.  You won't want to miss the newest attraction the     A-Maze-N FunHouse: The Greatest FunHouse on Earth.  Throughout the year they have seasonal and special events for everyone to enjoy. Click here for event dates and information.
Location
EnterTRAINment Junction is conveniently located at 7379 Squire Court in suburban West Chester (12 minutes due west of Kings Island.)  EnterTRAINment Junction is off I-75, 30 minutes north of downtown Cincinnati and 25 minutes south of downtown Dayton, at the Tylersville Rd. exit (#22). Go East.  Right on Kingsgate.  Right on Squire Court.
TRAIN JOURNEY
Train Journey – the World's Largest Indoor Model Train display
Imagination Junction – children's interactive play area
American Railroading Museum – how railroads have changed our lives
Expo Center – The World's Most Complete Collection of Marbles, Neil Young's Lionel Traveling Train Display, the Greater Cincinnati Railway Society's historical library and more.
Adult  $14.95
Senior (65+)  $11.95
Children (3-12)  $11.95
2 and under  FREE!
Rides are not included in Train Journey ticket price. Socks must be worn on the children's climbing structure.
Ask about our special group rates!
$9.95
Includes:
NEW – Crazy Caper
Mirror Maze
Clown College – Featuring a Tilt Room & an Ames Room!
Outer Limits – Featuring Claustrophobic Hall, Vortex Tunnel & a Black Light Room
Curtain Chaos
And Much More!
Review
If you have a child who is even a little bit interested in trains…I highly recommend a trip to EnterTRAINment Junction!  We were looking for something to do during spring break so we decided to check it out…I had heard about it from a couple of friends but honestly did not know what to expect other than it had a lot of trains!
It's easy to get to and conveniently located north of Cincinnati off of I-75 (just 2 exits north of IKEA for those who have been there) and it's right off the highway so it's easy to find.
We spent much of our time there walking through the huge indoor train display (an area of over half a football field and includes over 2 miles of track, 90 G-scale locomotives and 1000 cars) and my son was mesmerized!  For older kids, they have a scavenger hunt and give you a list of things to find throughout the model train layouts and when we were there they had also hidden a bunch of Mickey Mouse and friends figures throughout which my son loved trying to find (easier for the younger kids).
Partway through the model train display is a great play area that has things for all ages.  There's a small train layout that the kids operate themselves by pressing buttons, there are a few wooden train tables, a large wooden train and caboose they can climb on and pretend to shovel coal and a huge climbing structure with slides and ropes (like a fast food play area but MUCH bigger!).  And bonus….there's plenty of benches for parents to sit and watch.
Interspersed throughout the train display was a railroad museum with information about the history and workings of the railroad and trains.   A little too involved for my five year old, but would appeal to an older child or adults you had with you.
We paid a little extra to enter their newest attraction the "A-Maze-N FunHouse" which my son absolutely loved!  It had four areas – a Curtain Maze, a Black Hole area with a spinning tunnel, a mirror maze and clown college.
Lastly, if you go from Memorial Day thru Labor Day, you can enjoy their outdoor attractions and engineer your own locomotive around a track in a hand-cranked railroad car or ride on a narrow gauge train.
They do have a small food counter in the lobby that serves hot dogs, soft pretzels, drinks, etc.  But we stopped and had lunch before we got there and dinner on the way home after we left.   They say no food or drink allowed in the model train display/museum/play areas but I would imagine non-messy snacks and cups for young kids wouldn't be noticed.
Plan to spend about 3-4 hours there if you do both attractions (Model trains/play area and FunHouse).  For that amount of time, I felt like it was affordable, especially if you search online for a coupon or Groupon or other deal.
I'd say it's a great place to bring kids, especially if they are a train-lover like mine!
-Jennifer
If you're up for more fun in the Cincinnati area try a Reds game, enjoy Sawyer Point downtown, or enjoy a stop by a LaRosa's pizza on your way home!