The Cincinnati Museum Center features numerous museums including the Duke Energy Children's Museum, Museum of Natural History and Science, Cincinnati History Museum and an IMAX theater.  The museum is minutes from downtown Cincinnati.  It can be an all-day adventure or an addition to a Cincy trip.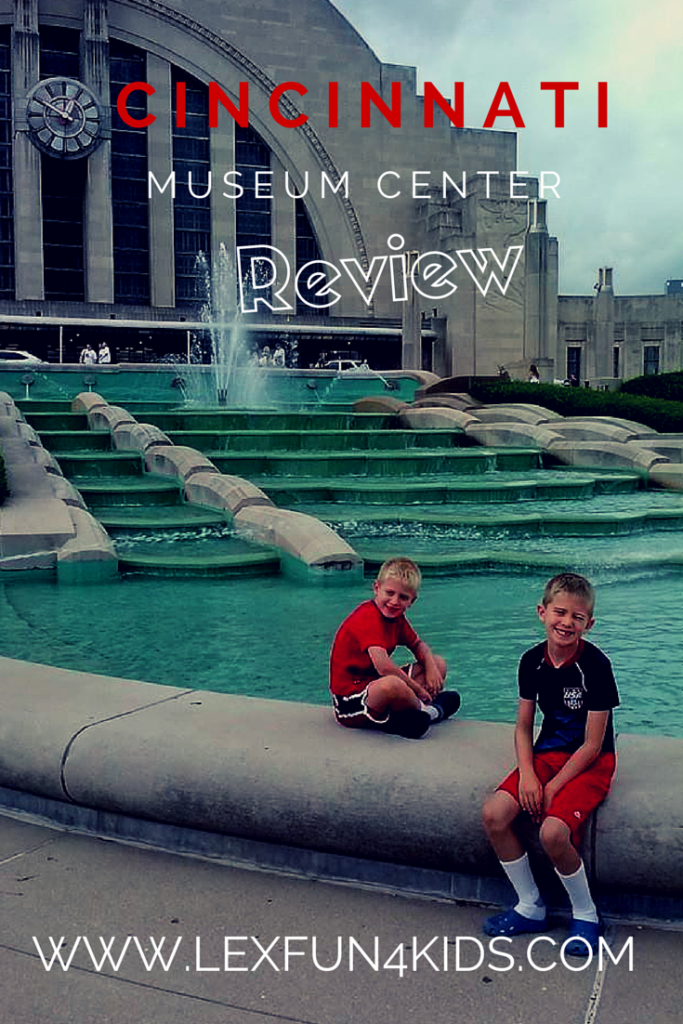 My family and I have enjoyed a family membership for many years because a quick trip over the bridge into Cincy is easy and provides hours of fun for us!  The family membership includes free parking (usually $6) and discounts to IMAX shows, admission to the Holiday Junction event, and more.  We like the membership because we usually make it up a few times a year and we love Holiday Junction so just a few trips up makes it worth the investment.
The museum is housed in the Cincinnati Union Terminal.  This is a giant train station opened in 1933 and is still in use today.  There are lots of tracks behind the center and you can even enjoy a trip up to the viewing area to take in the sights from the top of the center (continue reading for the scoop on that!).
Hours, Directions, Maps, and more!  CLICK HERE
My kids are excited from the moment we arrive.  Even before you enter the museum your kids will want to stop and enjoy the giant fountain in front of the center.
Once inside it's fun to stop and take in the art painted on the giant rotunda.  The rotunda is spans 180 feet and is 106 feet tall.  There are 15 local trades/businesses represented on the mural so it's fun to see if you can identify them all.  If you need tickets you will get in line as you enter the rotunda but I recommend purchasing ahead of time online to save you a wait.  If you have a season pass you can enjoy the perk of skipping the lines all together or purchasing additional tickets at the special season members line.
The entrances to all museums are around the rotunda.  There is the Duke Energy Children's Museum just down the escalator as well as the entrance to any traveling special exhibits.  The Natural History and Science museum is off to the right and you can even see the giant dinosaur bones from the doors.  The Cincinnati History Museum is to your left and that is where you'll enter for Holiday Junction as well.
There are special events held throughout the museums all day long.  Grab a schedule online before you go and see what kind of extras they have that day.
There are restaurants with food available for purchase and tables in the rotunda for you to stop and enjoy a meal.  We usually pack a lunch and grab it from the car when we're ready to eat.  We've also actually ordered a pizza from LaRosa's (a local yummy pizza spot) and had it delivered!  No joke! 513-347-1111
The place is awesome!  When you enter you'll see a few areas at the entrance but there is so much to explore.  Check your watch and plan your time accordingly so you save time for all the cool things to see.
There is a ball play area with pulleys, hoops, and more.  Kids of all ages enjoy watching the balls move from one point to the next in this exciting area.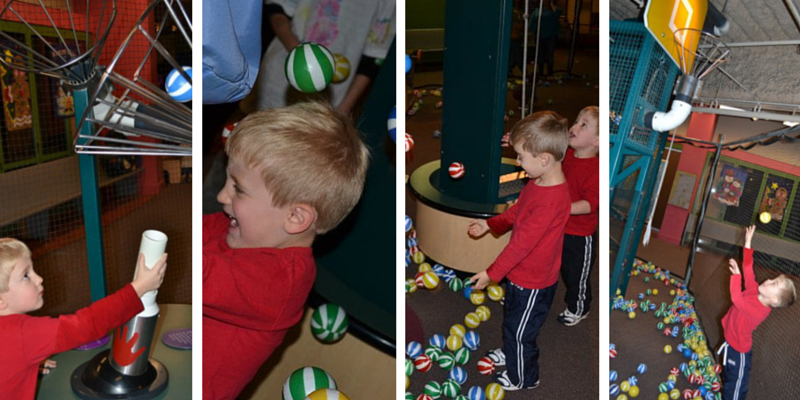 In the Kid's Town little ones love playing house, working at a diner, shopping or working at the Kroger grocery store, driving the city bus, taking care of furry friends as a veterinarian, or selling lemonade at the lemonade stand!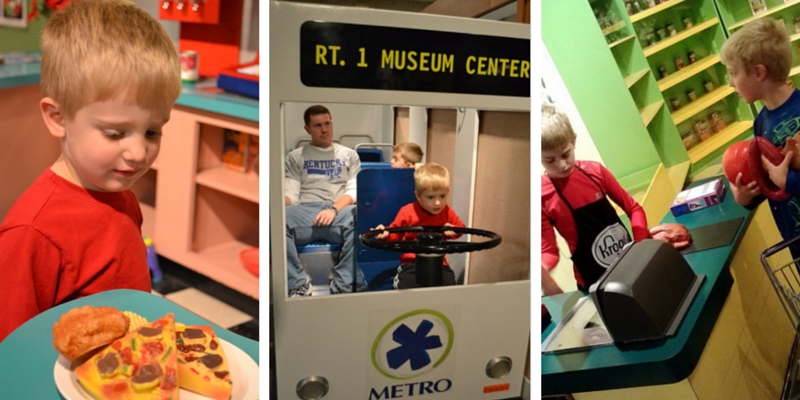 Kids can enjoy playing with wooden trains, Duplo bricks, foam blocks, a wooden framed house, and more!
Work the construction zone by driving the dump truck, operating the crane, loading the 'rocks' into the giant hauling bag, and more.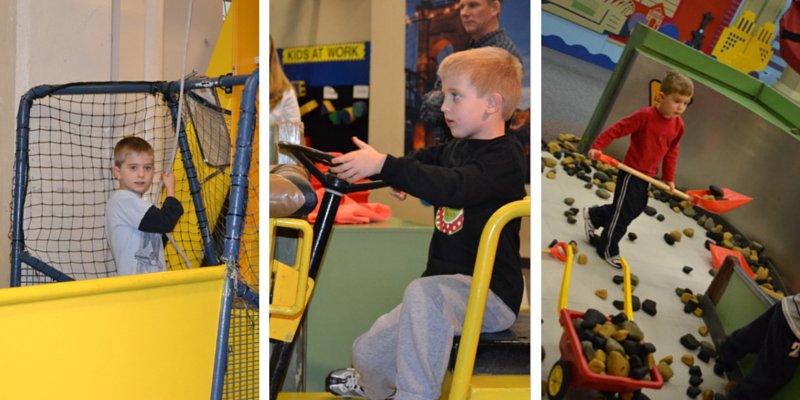 Enjoy watching your child's best dance moves if you are there when the theatre opens for a Dance Party.
Walk through the exhibits featuring many other cultures while your kids get hands on and play instruments, try out homes that represent how kids around the world live, put on a puppet show and more.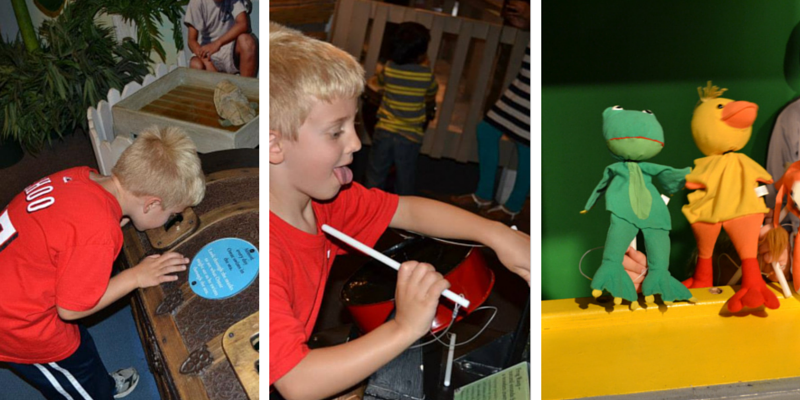 Crafts and activities are offered daily so check the schedule to see what you can enjoy while you're there.
Head through an animal exhibit with fish, animal bones, taxidermied animals and more.
Kids of all ages enjoy The Woods!  Step into what feels like a real deciduous forest and climb ladders, crawl through rope bridges, slide down the tree slides, sneak up to the clubhouse, and more!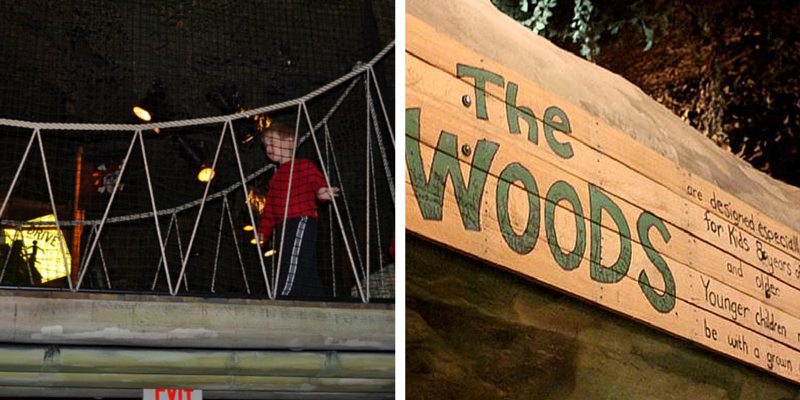 Try to stay dry as you watch kids play in the water table area.  With buckets, boats, and pipes it's easy to get splashed so watch out!  There are small waterproof smocks available for kids but be sure to roll up their sleeves (or just pack extra clothes!).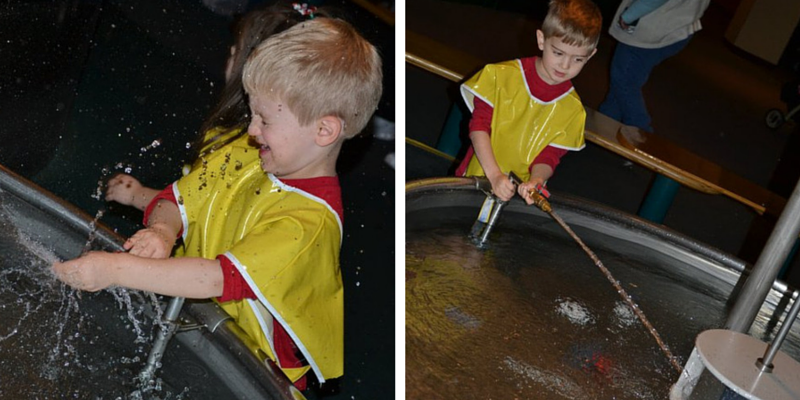 There is a great toddler area called Little Sprouts Farm open just for kids ages 4 and under.  There is a museum employee at the gate to ensure only little ones get in and only adult accompanied little ones get out.  There are small slides, a sand area, and more specially designed for the littlest guests.  Enjoy Story Tree Time each Wednesday at 11 am.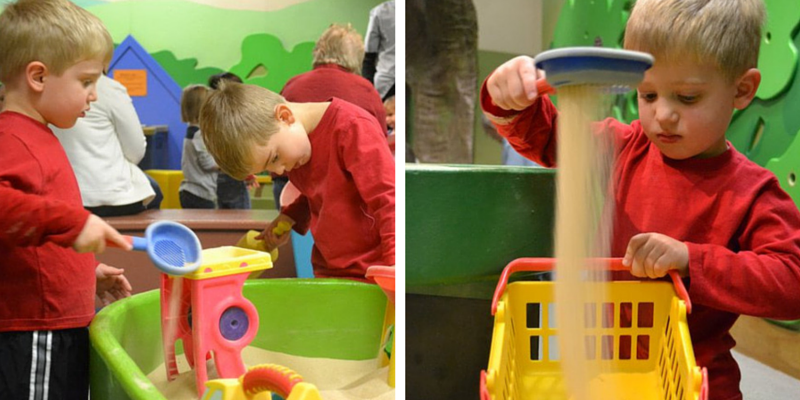 The entrance weaves you through a model exhibit of what Cincinnati was like in year's past.  It's fun to see tiny trains, planes, and trolleys make their way through the mini city.  There are areas dedicated to different time periods and you eventually end up way back in the time of the first peoples.  My kids love boarding the giant steam boat, walking through the woods and seeing Native American families, and playing on a flat bottom house boat.  Each holiday season a special area in the History Museum transforms into Holiday Junction, featuring model train displays, displays of toys through the ages, a small train ride for little ones to ride ($1/Free for members), Santa Claus visits, and more.
Enjoy fossils, bones, a replica limestone cave, life during the ice age, and more.  We love a chance to have fun and learn something too!  The Natural History and Science Museum features a Dinosaur Hall with great examples of many types of prehistoric animals, a cave with an underground stream, waterfall and even their own Brown Bat colony, an time warp back 19,000 years ago to the ice age, and even hands on fun in the STEM lab and Nature's Trading Post.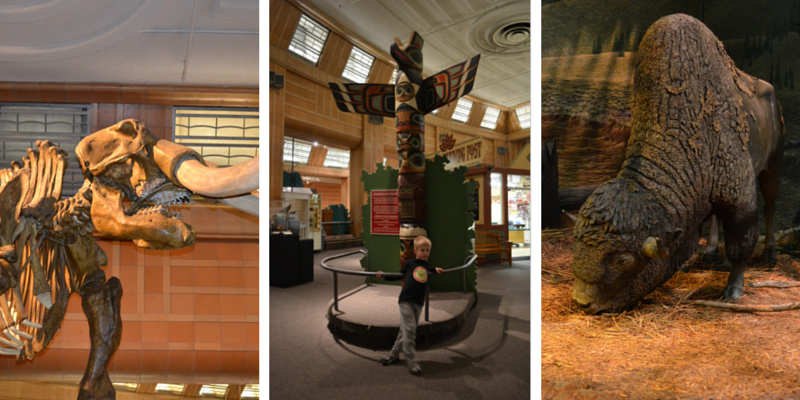 Most people don't know how to sneak up and enjoy this hidden spot.  Just head up the stairs on the right before you enter the IMAX at the back of the center.  Once up you can find lots of train memorabilia, some freebie train coloring things (the one we had included a special certificate that we mailed in and got a cool Jr. Conductor badge).  We enjoyed looking out over the Queensgate Freight Yard and seeing the many trains switching in the yard behind the center.  There are huge picture windows for great views.  Tower A is open Wednesday – Sunday from Noon – 4 pm.  During the holidays it is open daily for longer hours.  *2020 Hours had changed due to the recent renovations.  Call ahead to see if the area is open.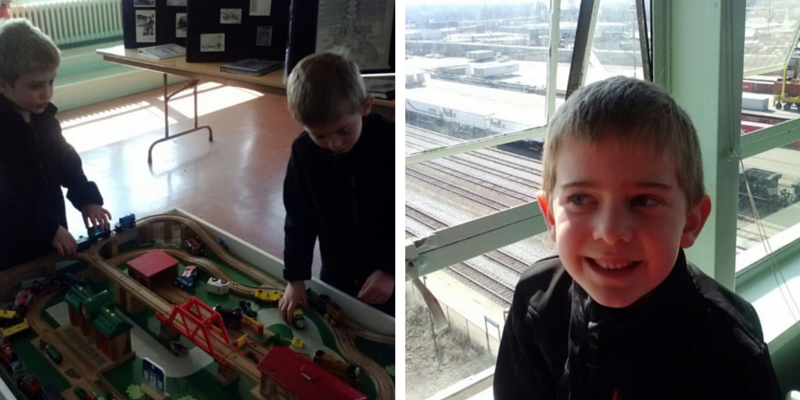 If you're up for more fun in the Cincinnati area try a Reds game, enjoy Sawyer Point downtown, or enjoy a stop by a LaRosa's pizza on your way home!